Cherry Crumb Pie
This post may contain affiliate links, meaning that I may receive a commission at no cost to you if you use a link provided. All opinions shared are my own. You can review my full disclosure policy here.
Cherry Crumb Pie can be made with fresh or frozen cherries, flavored with a hint of almond extract, and topped with a sweet crumble topping. Easy and delicious!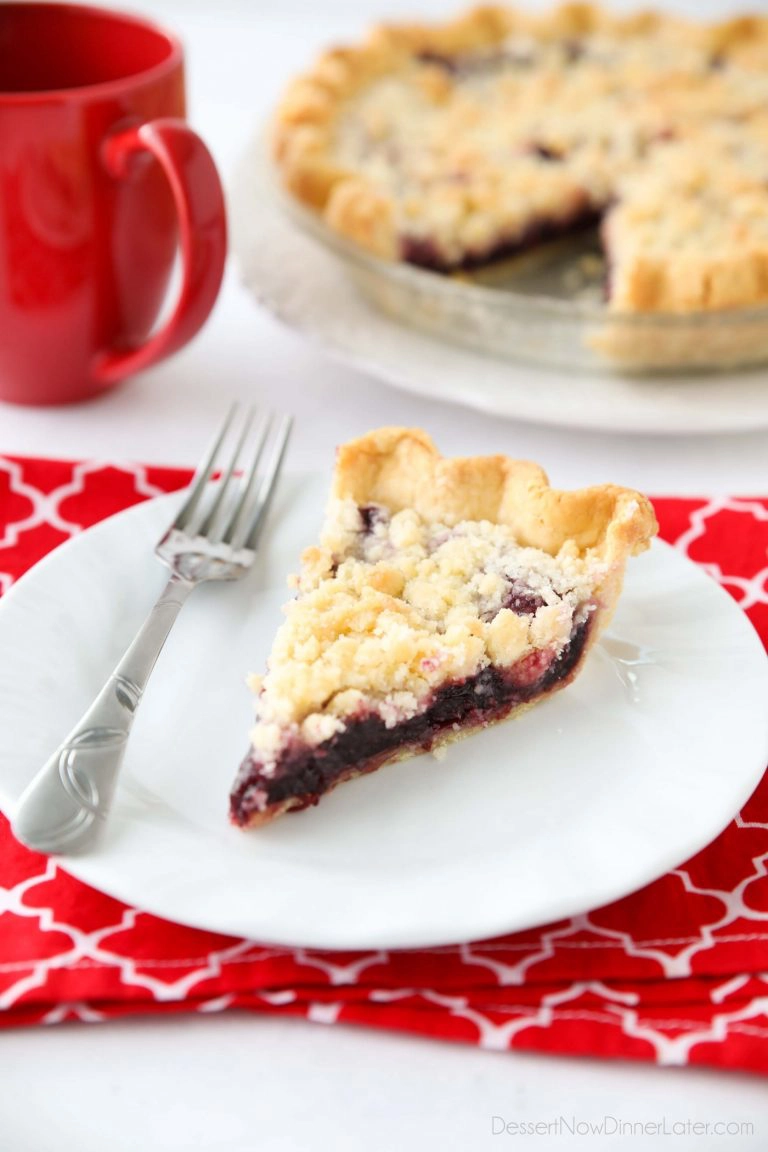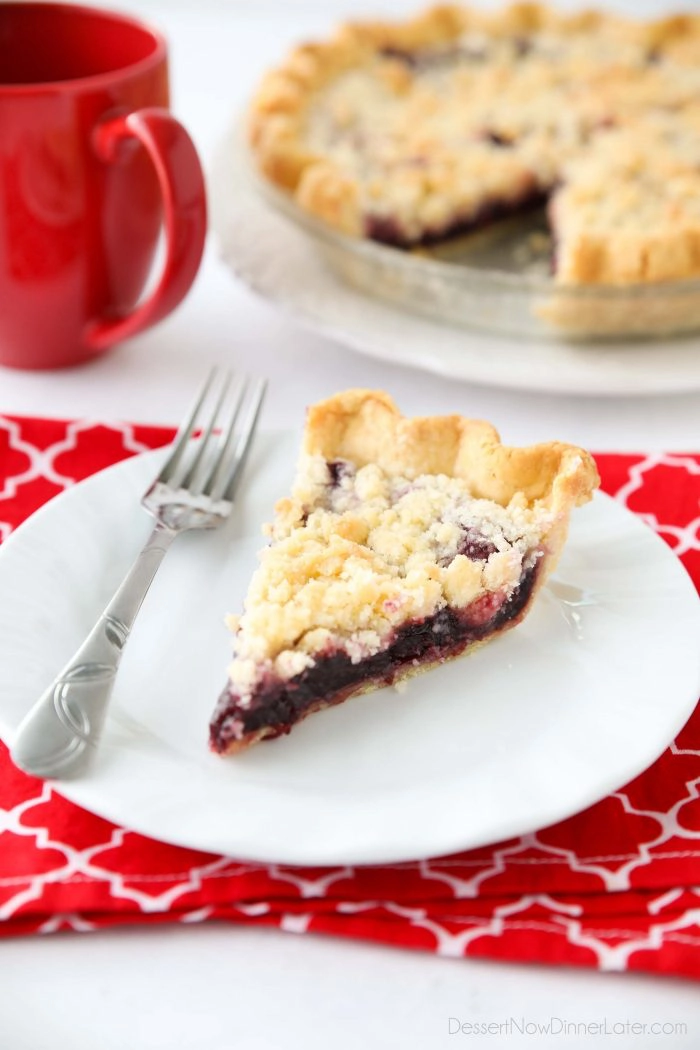 Homemade pie is a must for holidays. Growing up, my mom and I would bake pies the day before Thanksgiving and Christmas. It's one of our favorite holiday desserts, and most cherished traditions.
I also made pie crust from-scratch in a bakery that I worked in. Mixing the dough by hand, and using a sheeter to roll the crusts. Imagine making 30-50 pies in one day. Talk about a lot of work! It was fun though. I always have considered pie crust my "play-dough." The only downside to the bakery pies was that we used pre-made filling. This Cherry Crumb Pie is all homemade though.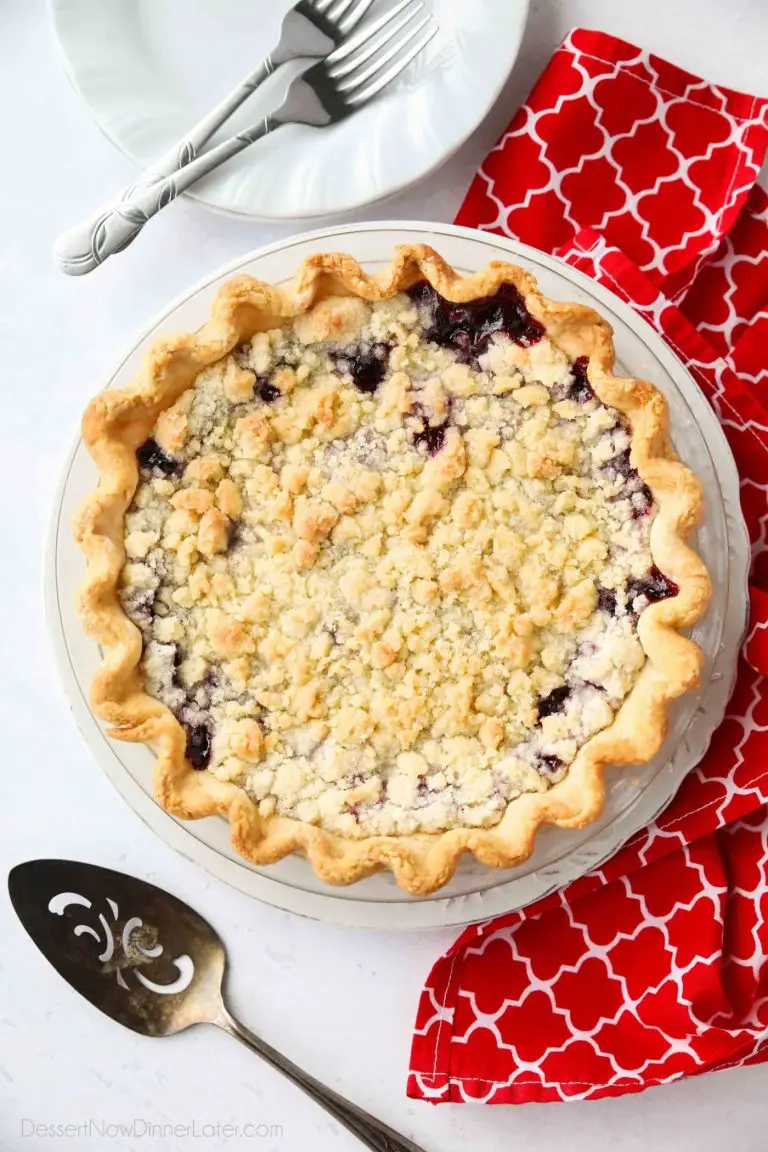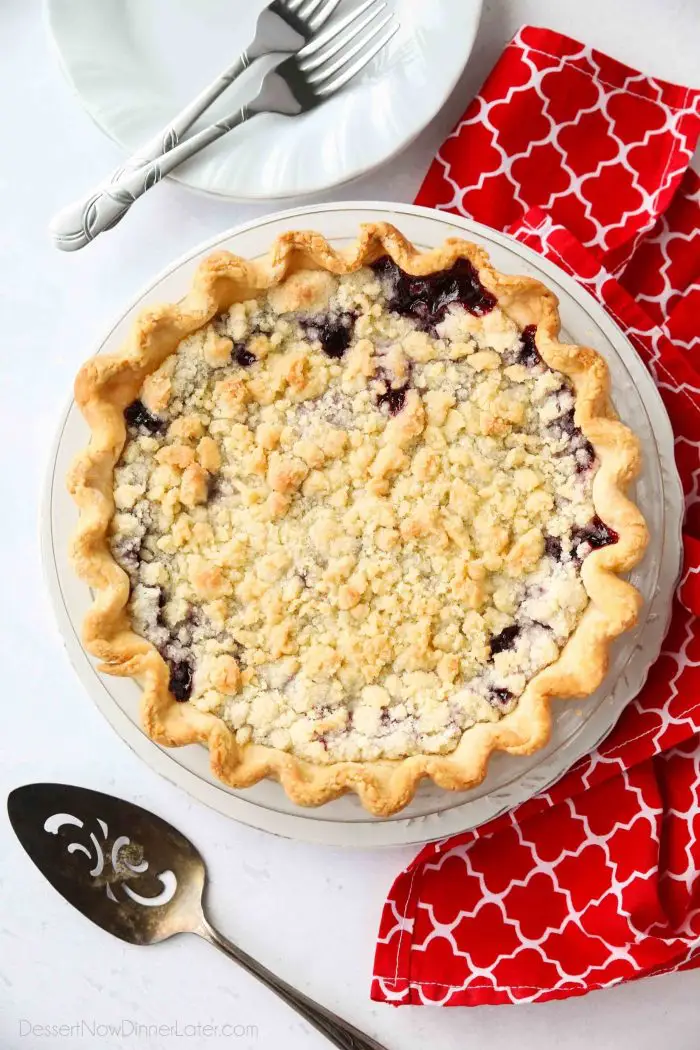 Cherry Crumb Pie
Even though apple pie is our family's favorite, cherry pie is another great classic. I used to be a huge fan of (canned) cherry pie filling as a kid, but I think cherry flavored medicines ruined it for me.
After baking this pie, I will say that homemade cherry pie filling is 1,000 times better than the store-bought version. I've been converted back to loving cherry pie!
The crumb topping makes it even better than a classic cherry pie with two pastry crusts. It adds an extra layer of sweetness and a satisfying crunchy texture.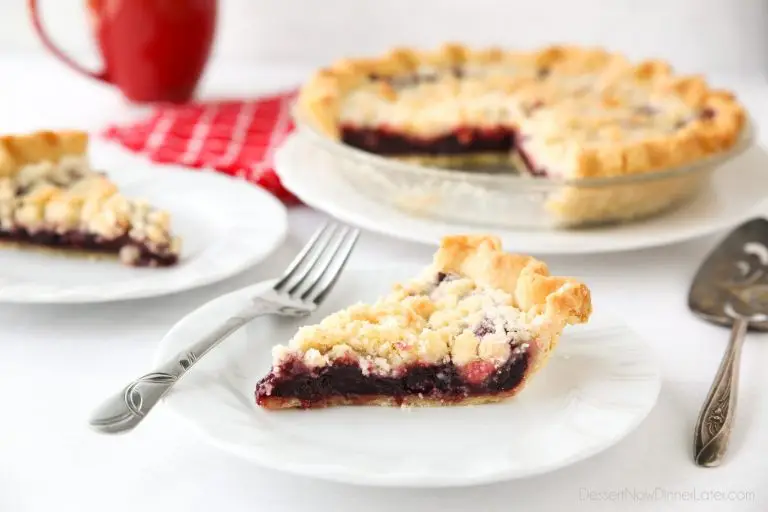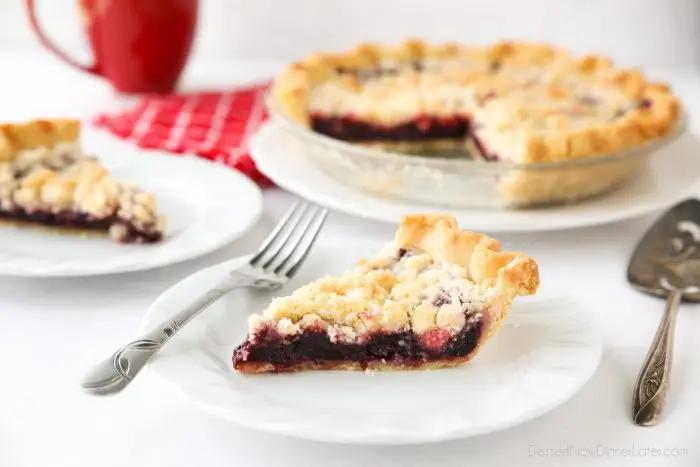 Fresh or Frozen Cherries?
I used frozen dark sweet cherries for this Cherry Crumb Pie, but you can use fresh cherries as well.
For best results, frozen cherries will need to be thawed and the filling pre-cooked. Even though I've had success with baking a frozen mixed berry pie, the filling bubbles over the streusel topping quite a bit if it's too saucy. (Take it from my experience.) If you want to use frozen cherries without pre-cooking the filling, you might be able to get away with it by draining the liquid after they've been thawed.
Fresh cherries need time to macerate with some sugar and lemon juice to release some of the natural juices before baking. I also prefer to pre-cook the fresh cherries to help them pop, and soften more. If you like chunky cherry pie, you can place them straight into the pie shell and bake them, without cooking them first.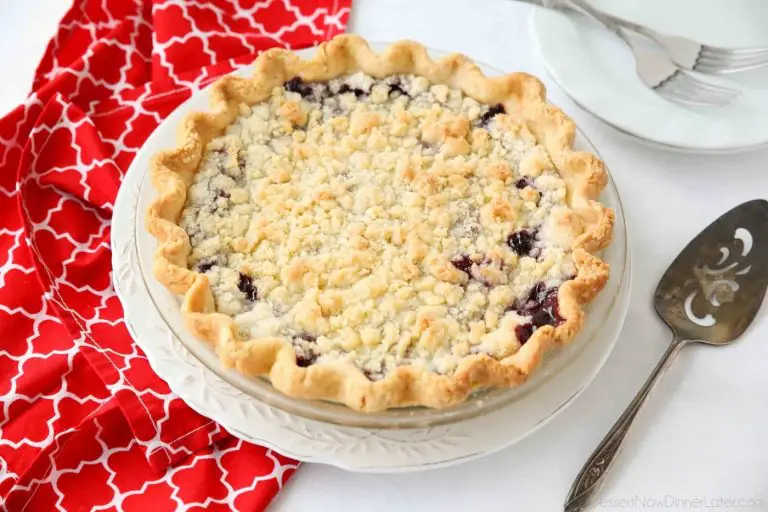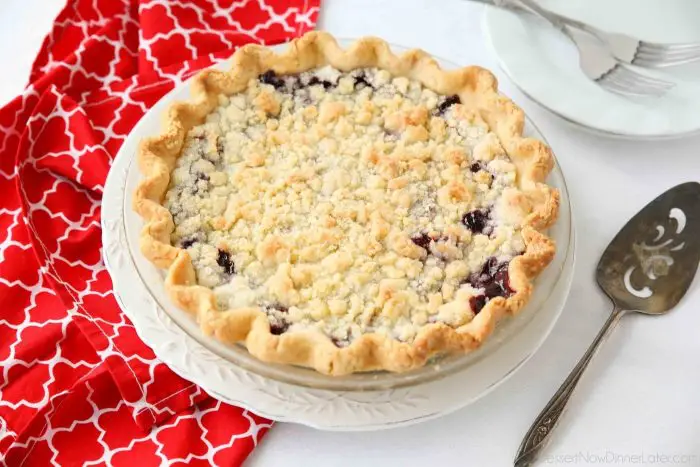 Additional Notes
This recipe doesn't use a lot of sugar with the cherries because of the additional sugar in the crumb topping. It balances out really well.
If baking a traditional pie with a top and bottom crust, you may want to increase the sugar, especially if using sour cherries instead of sweet cherries. Taste testing as you bake is always a good idea, and everyone's preferences are different.
One last note, do not skip the almond extract! Almond and cherry are a classic combination that work really well together. It's a small amount, but makes the flavor pop that much more. Enjoy!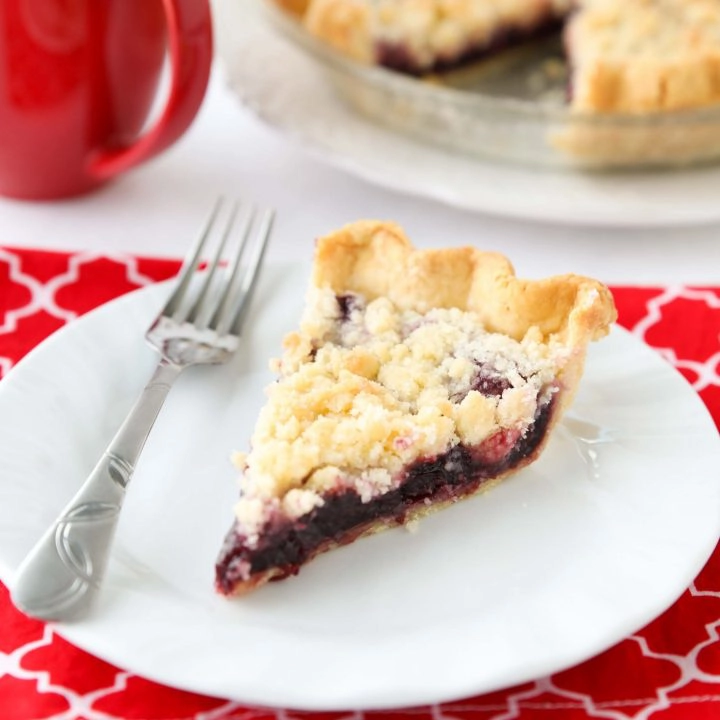 Cherry Crumb Pie
Prep Time: 1 hour
Cook Time: 45 minutes
Total Time: 1 hour 45 minutes
Yield: 8 servings
Cherry Crumb Pie can be made with fresh or frozen cherries, flavored with a hint of almond extract, and topped with a sweet crumble topping.
Ingredients
Pie Crust:
1 1/2 cups all-purpose flour (stir, spoon, & level)
1/2 tsp salt
1/2 cup butter flavored shortening
1/2 large egg*
1/2 Tbsp white vinegear
2 1/2 + Tbsp COLD (ice) water
Cherry Filling:
1/2 cup granulated sugar (more for sour cherries)
2 Tbsp cornstarch
16 oz bag frozen pitted dark sweet cherries, thawed (*See notes for fresh cherries.)
1 Tbsp butter
1/2 tsp almond extract
Crumb Topping:
2/3 cup all-purpose flour (stir, spoon, & level)
2/3 cup granulated sugar
6 Tbsp butter, cold, cut into cubes
Instructions
Pie Crust: Stir flour and salt together in a large bowl. Cut in the shortening with a pastry blender or fork until small crumbs form. *Whisk egg and add half of it to the dough. Add the vinegar and water. Stir until dough starts to come together, adding more ice-cold water by the Tablespoon if needed. Empty dough onto clean surface and use hands to shape dough into a flat disc. Wrap in plastic wrap and place in the refrigerator to keep cold.
Cherry Filling: In a large saucepan, whisk together the sugar and cornstarch. Add thawed cherries, all the juices from the cherries, and butter to the pan. Cook on low heat until the mixture thickens and comes to a boil, stirring constantly. Remove from heat and stir in the almond extract. Set aside to cool slightly.
Crumb Topping: Combine ingredients in a large bowl. Use a pastry blender, fork, and/or fingers to combine until crumbs start to clump together. Refrigerate until needed.
Preheat oven to 350 degrees Fahrenheit.
To Assemble: Remove pie crust from refrigerator. Sprinkle work surface with flour and roll pie crust from the center outwards, rotating pie crust and adding more flour as needed to keep from sticking to the counter. Roll dough into a large circle 1/4-inch thin. Gently fold in half. Lift crust and place it in a standard 9-inch pie dish. Unfold crust and use hands to fit the crust to the shape of the pan. Cut off or tuck excess crust underneath and crimp the edges. (See this post for a step-by-step pie crust tutorial.)
Spread the prepared cherry pie filling into the crust, and sprinkle crumb topping evenly.
Bake at 350˚F for 40-45 minutes until streusel topping is lightly brown and filling bubbles near the edges. Cover edges of crust with foil if needed. Store covered at room temperature for 3-5 days.
Notes
*For Fresh Cherries: Use 3 cups pitted cherries (cut in half, if desired). Toss with sugar, cornstarch, almond extract, and 1 tsp lemon juice. Let macerate (release juices) for 30 minutes. Either pre-cook cherry mixture with butter as directed in recipe, or cut the butter into small pieces, add it to the cherries, then pour un-cooked cherries directly into the pie shell. Top with crumb streusel and bake. May take up to 1 hour to bake fully, if the filling is not pre-cooked.
*Consider placing a foil lined baking sheet on the rack below the pie to catch any spills.
Recommended Products
As an Amazon Associate and member of other affiliate programs, I earn from qualifying purchases.