Dinner Rolls
This post may contain affiliate links, meaning that I may receive a commission at no cost to you if you use a link provided. All opinions shared are my own. You can review my full disclosure policy here.
This classic homemade dinner rolls recipe is soft, fluffy, light, and buttery. The perfect bread for any meal or holiday feast.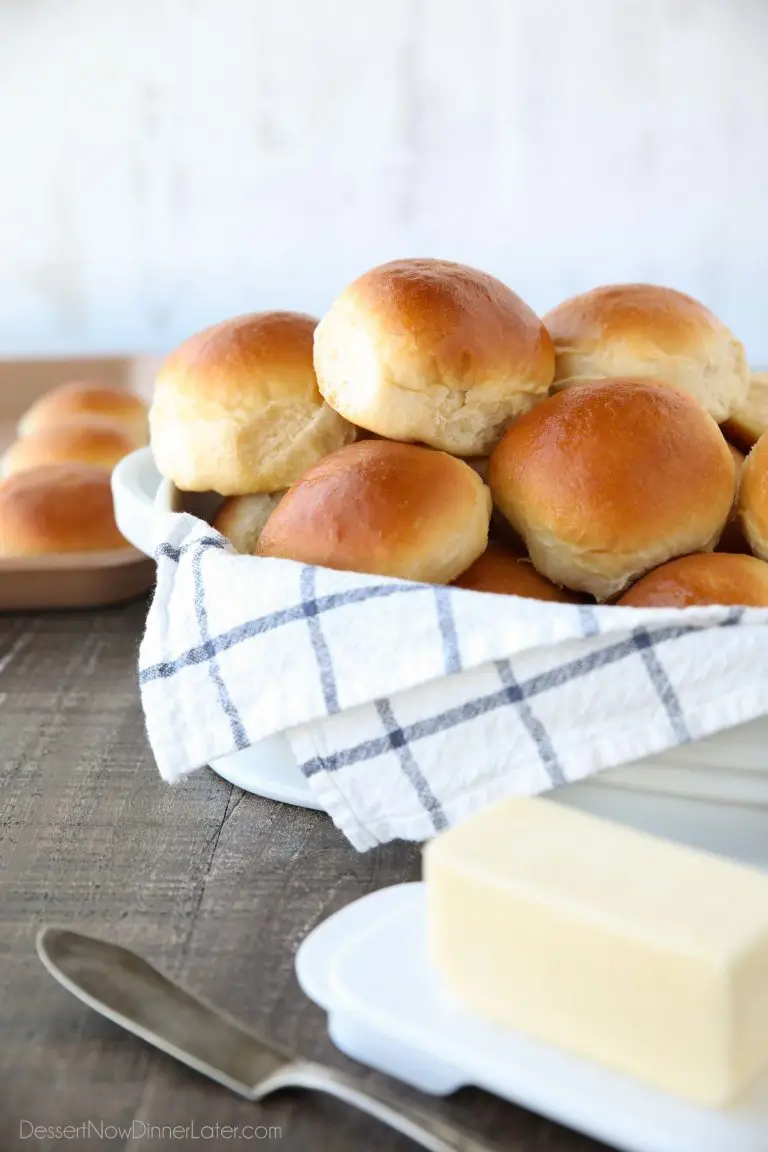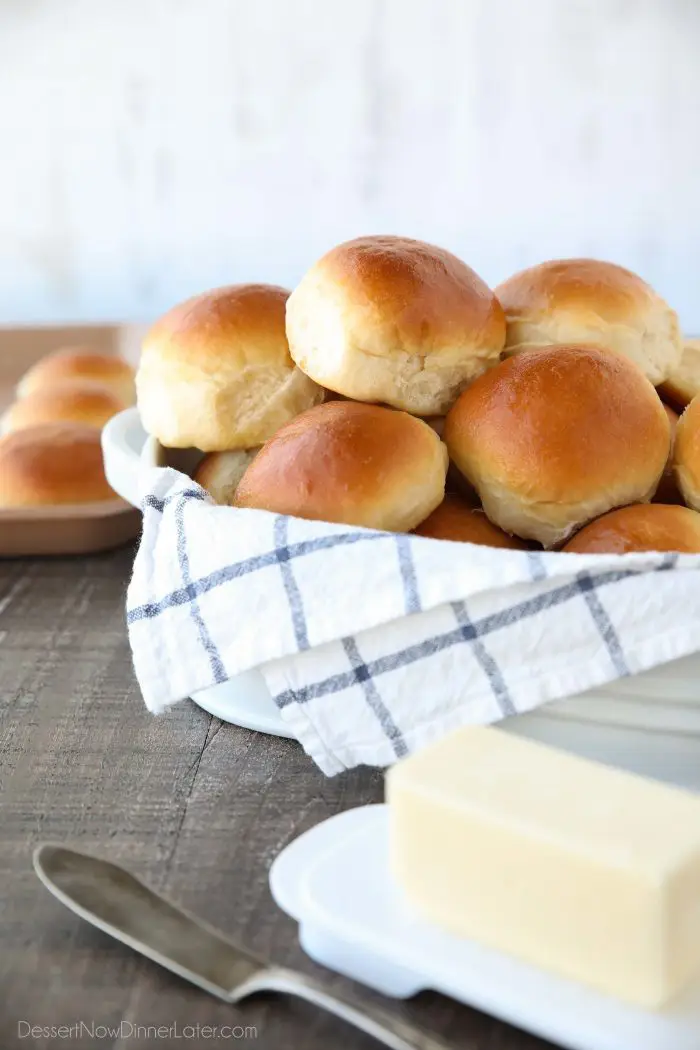 There's nothing quite like fresh bread, hot from the oven. I've taken my favorite 100% whole wheat rolls recipe, and altered it to make these classic white dinner rolls.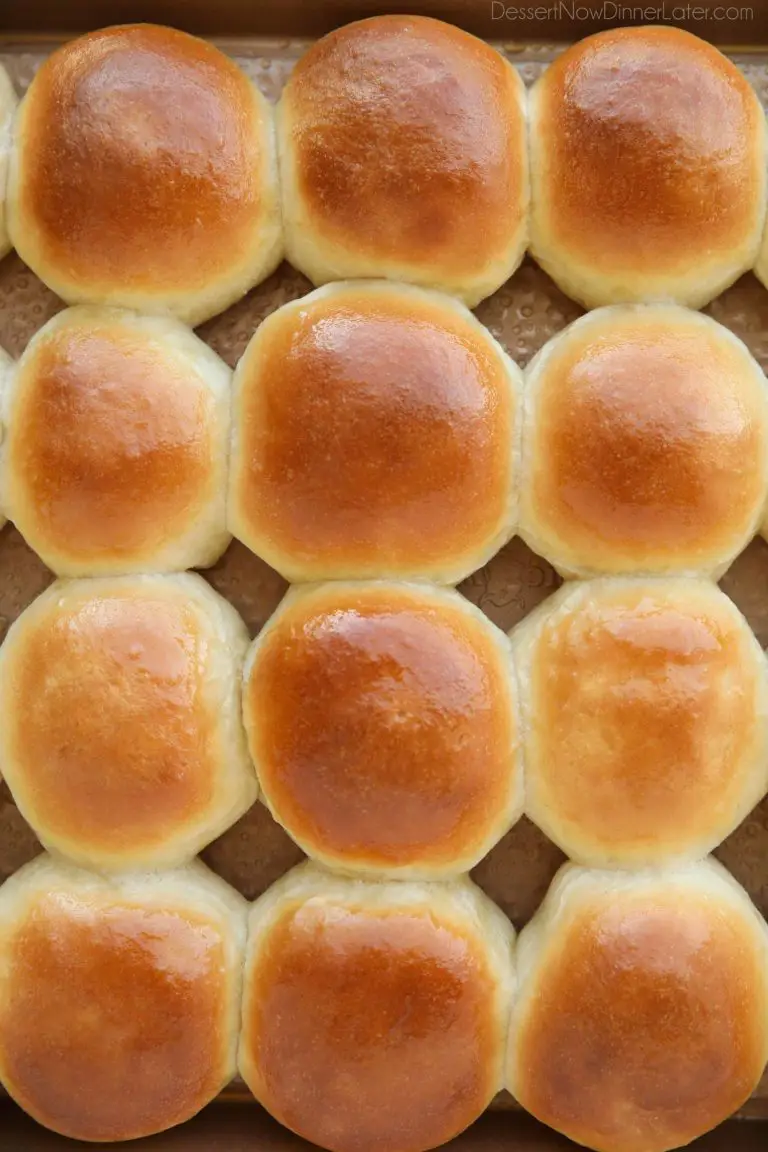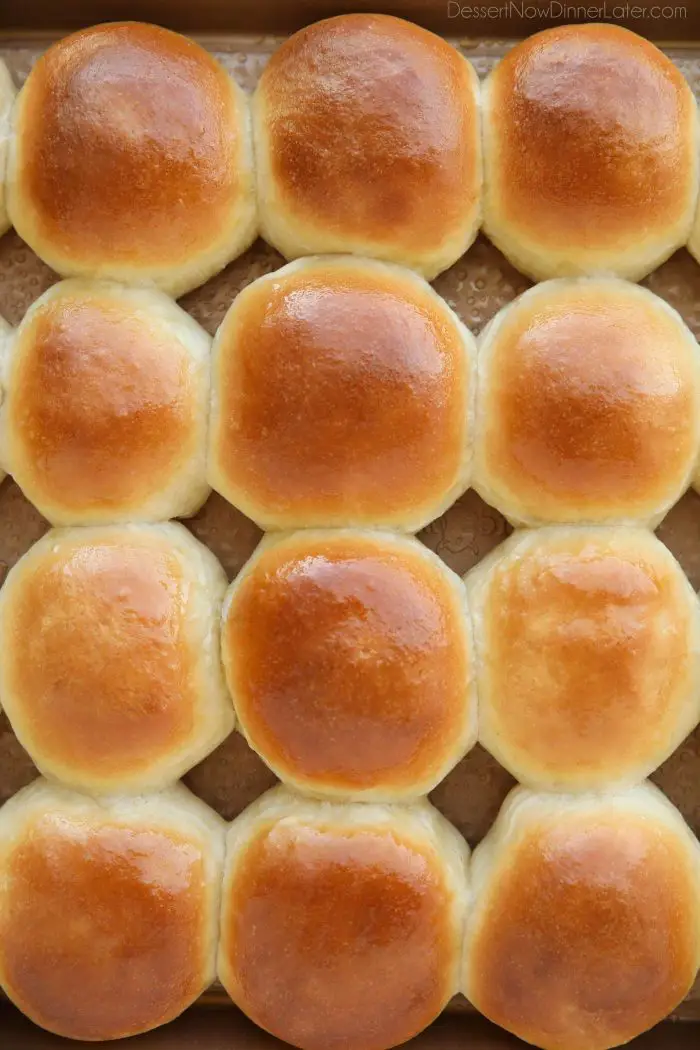 How to Make Soft and Fluffy Dinner Rolls
There are three key ingredients used in bread dough to make it soft and fluffy: eggs, milk, and butter. These dinner rolls have all three.
Eggs are a leavening agent that will help the bread rise higher. The fats from the yolk also help to tenderize the crumb and lighten the texture a bit.
Milk creates breads which are richer and have a more velvety texture. It also makes a softer crust that will brown more quickly due to the sugar and butterfat in the milk. Milk also lengthens the shelf life of bread.
Butter adds flavor, texture (makes it more tender), and improves the keeping quality.
Commercial bakeries use "conditioners" and preservatives (aka chemicals) in their bread dough to keep it soft and long lasting.
Homemade bread just won't be as soft or long lasting as the chemical-filled versions you find at the store, but these three ingredients will help your homemade bread not be heavy and dense. If there's one thing homemade bread has got over store-bought bread, is that it's definitely more filling and satisfying.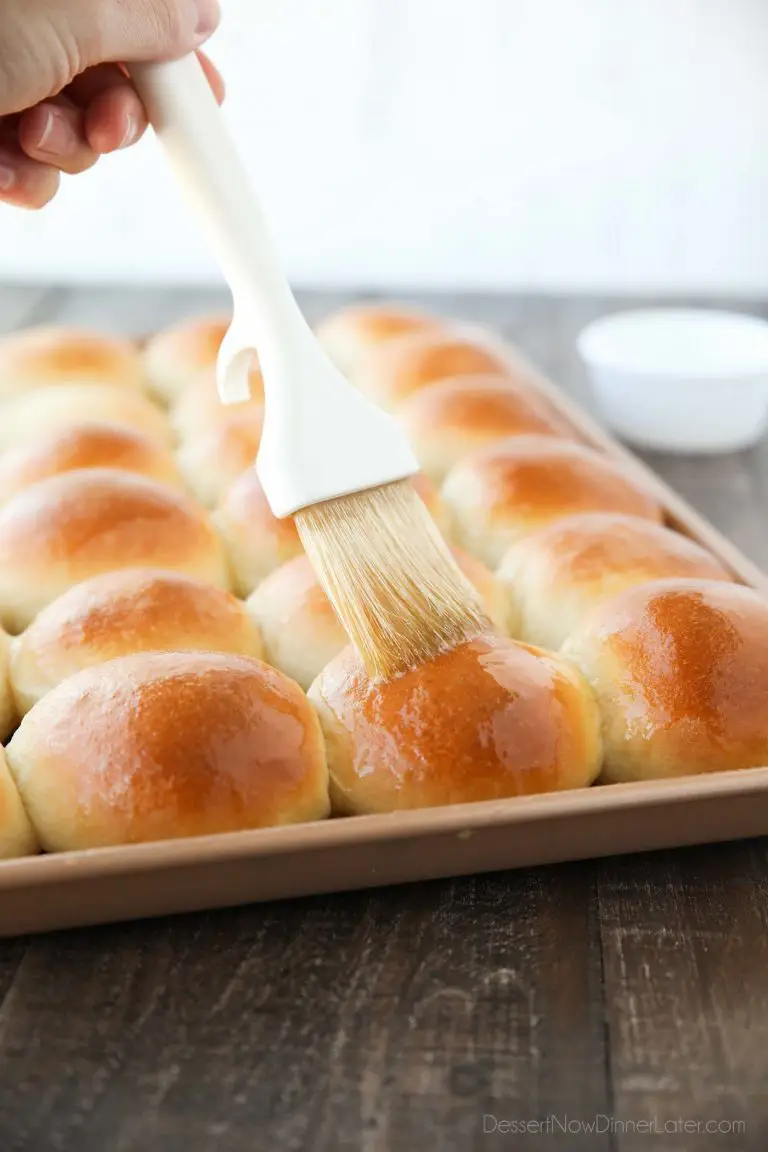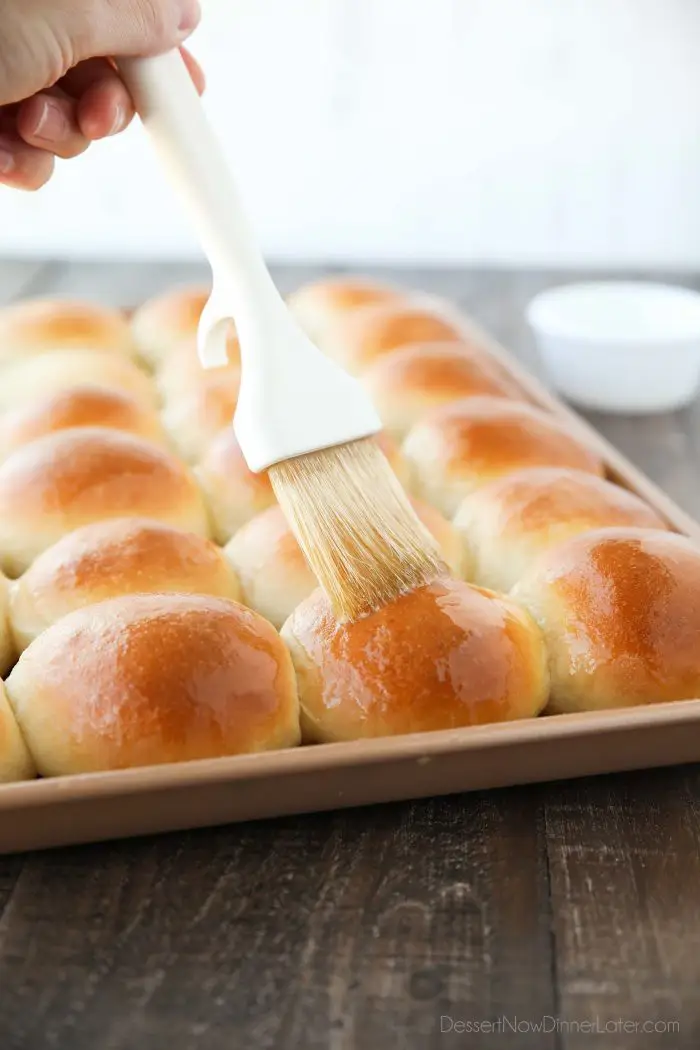 How to Knead Dough
Kneading dough by hand can be tricky because you will be tempted to use too much flour, resulting in a heavy, dense dough. The dough for these dinner rolls is also naturally more tacky because it is enriched with lots of butter and eggs.
One trick is to add half of the flour to the wet ingredients in a bowl and stir until it's thick. Then add the remaining flour to your work surface and knead the dough into the flour until it all comes together.
Grab the side of the dough furthest away from you and fold it in half towards you. Use the heels of your hands to press it down and away from you. Give the dough a quarter turn and continue folding and pressing the dough with the heels of your hands.
Use a dough/bench scraper to lift the dough if it sticks to the counter. Very lightly sprinkle with extra flour if needed.
Knead until smooth, silky, and elastic, about 10 minutes. It should still be slightly tacky to the touch.
Mixing bread with a machine is ideal. Kneading dough by machine will typically cut the kneading time in half to only five minutes. I highly recommend a Bosch Mixer. The dough hook helps the bread move around the bowl even at the very bottom, and the mixer is powerful enough to handle bread dough with ease.
My family has owned a Bosch Mixer ever since I can remember. I didn't even know what a KitchenAid Mixer was until I got to college. My mom gave me her Bosch once she bought a newer model, and I used it for several years and gave it to my brother once I got a newer model. Point is, it's still going 25-30 years later. Definitely worth it if you bake a lot, especially breads.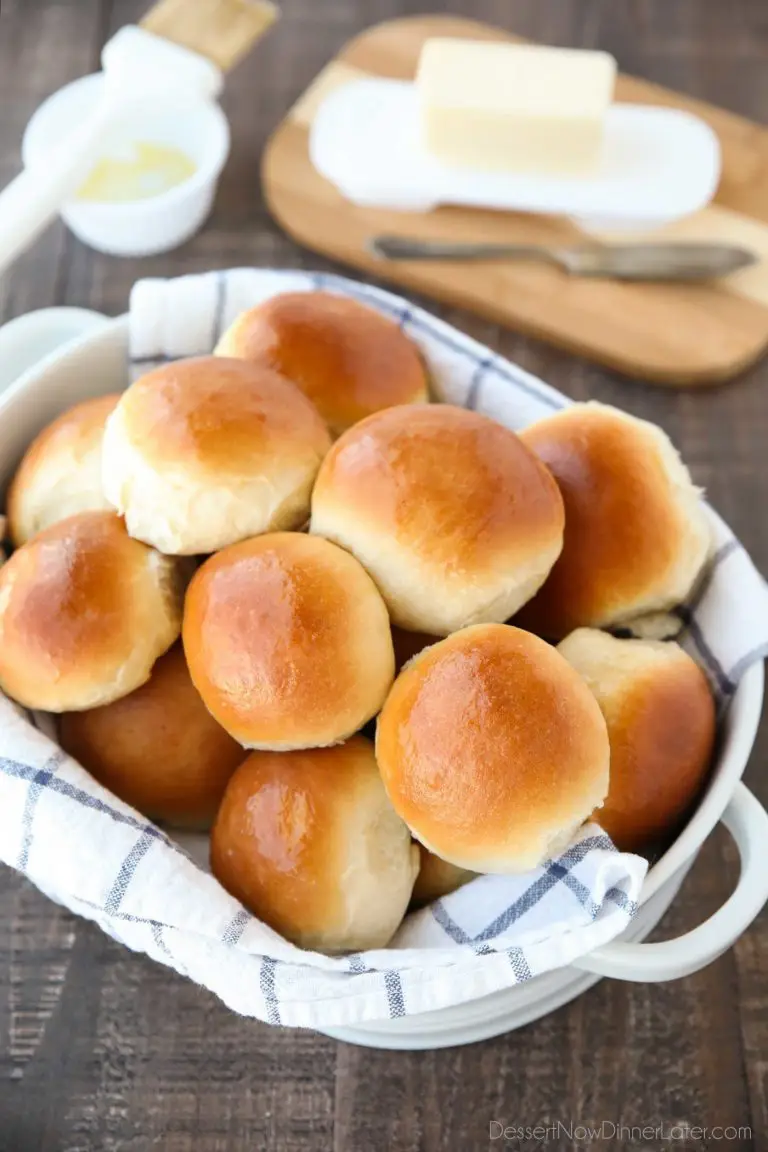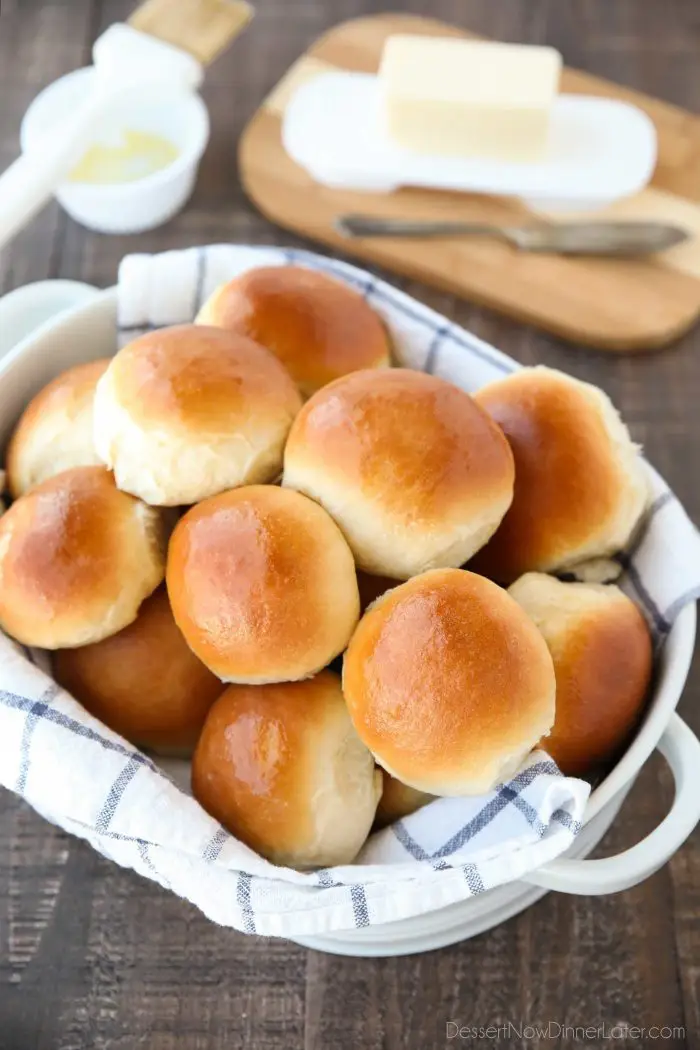 How to Make Dough Rise Faster
Making homemade bread and dinner rolls of any kind can be a time consuming process, but totally worth the effort. This is what I do to make dough rise faster.
Use a rapid-rise yeast. Rapid-rise yeast comes in smaller granules, which makes it activate and rise faster. This type of yeast may also be labeled as "instant yeast" or "quick-rise yeast."
Warm a microwave or oven with water for proofing the dough. A warm, moist environment will help the dough rise faster.

For the microwave: Warm a glass of water for 2 minutes on high in the microwave. Leave inside. Add the bowl of dough to the microwave to proof for 30-45 minutes.
For the oven: Warm a large, oven-safe bowl of water for 2 minutes at the lowest temperature setting on your oven. Turn oven off. Leave the bowl of water inside and add the oven-safe bowl of dough to proof for 30-45 minutes.

Place shaped bread near a preheated oven. This is your best bet once the dinner rolls have been shaped, since they won't fit in the microwave and you need your oven preheating.

Turn on the oven to the temperature you will be baking the bread at. Gently cover the rolls with a kitchen towel or lightly greased plastic wrap and place them near, but not on, the preheated oven. The counter space right next to the oven will work. Check your oven for a heat vent and set the bread closest to that side. The heat coming from the oven will speed up the rising process.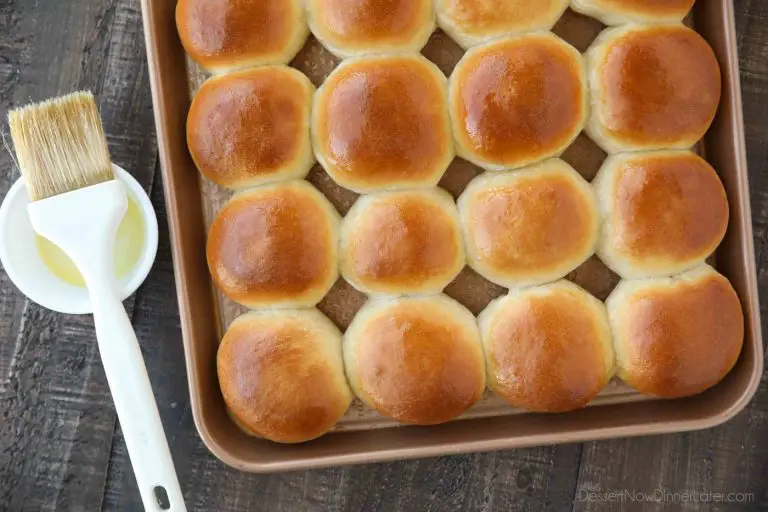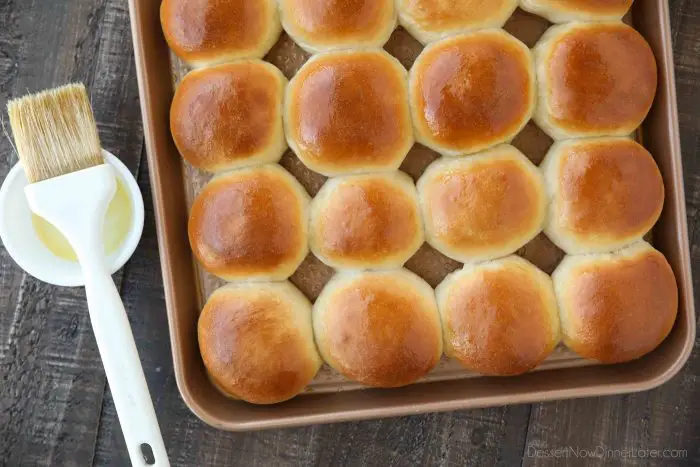 How to Shape Dinner Rolls
First things first, the best way to achieve uniform rolls is to weigh them. These dinner rolls are about 2-2.25oz each.
I don't typically weigh my rolls, but will flatten the dough after it has risen, and divide it as evenly as I can. This recipe makes 24 dinner rolls.
To shape the dinner rolls, I don't actually roll them. It's time consuming and they still don't turn out perfectly round. In the bakeries I worked in they actually had a machine that divided and rolled the dough perfectly. It was amazing!
My favorite method to shape dinner rolls by hand is to cup my hand and push the dough through the thumb and pointer fingers. (See this post here for a photo tutorial.) Pinch the ends and place the rolls seam-side down onto a greased baking sheet. (I use a 12×18-inch pan.)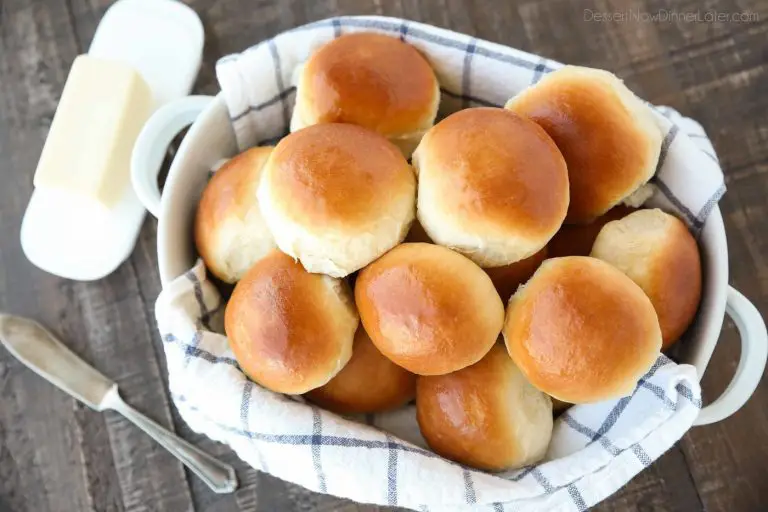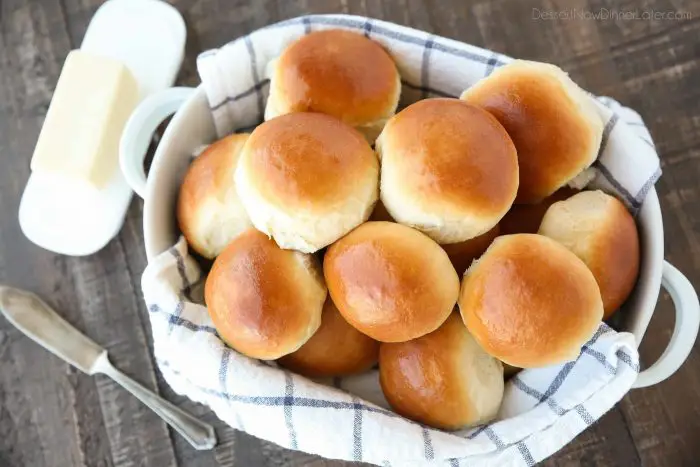 These dinner rolls bake up in 15-20 minutes. Remember that they will brown quickly because of the milk, but aren't they beautiful? They taste great too! Perfect for those holiday gatherings.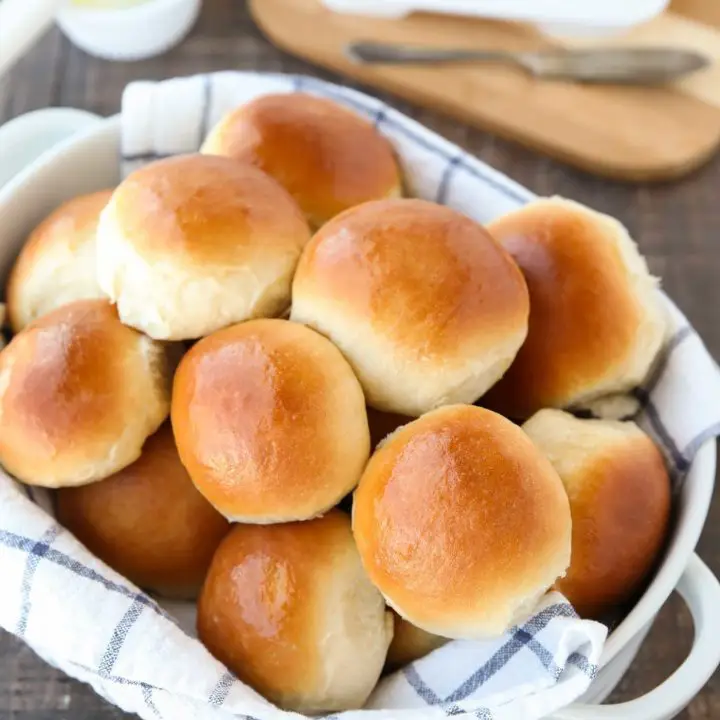 Dinner Rolls
Prep Time: 15 minutes
Cook Time: 15 minutes
Resting Time: 1 hour
Total Time: 1 hour 30 minutes
Yield: 24 dinner rolls
This classic homemade dinner rolls recipe is soft, fluffy, light, and buttery. The perfect bread for any meal or holiday feast.
Ingredients
1/2 cup warm water (110˚F)
2 Tbsp yeast (quick rise or instant dry yeast)
6 Tbsp butter, softened
1/3 cup granulated sugar
2 large eggs
1 cup warm milk (110˚F)
2 tsp salt
5 - 5 1/2 cups all-purpose flour (stir, spoon & level)
2 Tbsp melted butter, for brushing rolls
Instructions
Stir yeast in warm water to dissolve. Set aside.
In the bowl of a stand mixer fitted with the paddle attachment, cream together the butter and sugar. Add eggs. Mix well and scrape bowl. Add the milk, salt, and yeast mixture. Mix to combine.
Stir, spoon, and level 5 cups of flour. Add to the wet mixture. Switch to a dough hook and knead for 5 minutes, until a soft dough is formed. Add extra flour 1 Tbsp at a time, as needed. Dough will be sticky, but should pull away from the sides of the bowl.
Grease a large bowl with cooking spray. Scrape dough out of mixing bowl and into the greased bowl. Lightly spray the top of the dough with cooking spray and cover with plastic wrap. Let rise for 30-45 minutes in a warm place.
Turn dough out onto a lightly floured surface. Flatten dough and divide into 24 pieces with a dough cutter/bench scrape.
To shape rolls: Cup your hand and push the dough through your thumb and pointer fingers. (See image in this post.) Pinch the ends and place the rolls seam-side down onto a greased baking sheet about an inch apart. (I use a 12x18-inch pan.)
Cover rolls with greased plastic wrap and let rise for another 30-45 minutes in a warm place.
Preheat oven to 350 degrees Fahrenheit. Bake for 15-20 minutes or until golden brown and baked through. Remove from oven and brush hot rolls with 2 Tbsp melted butter. Enjoy!
Notes
*Best eaten the day made. Store leftovers in a zip-top bag.
*To Reheat Rolls: Wrap rolls in foil and place in a 350ºF oven for 5-7 minutes. 
Recommended Products
As an Amazon Associate and member of other affiliate programs, I earn from qualifying purchases.