Crispy Baguettes
This post may contain affiliate links, meaning that I may receive a commission at no cost to you if you use a link provided. All opinions shared are my own. You can review my full disclosure policy here.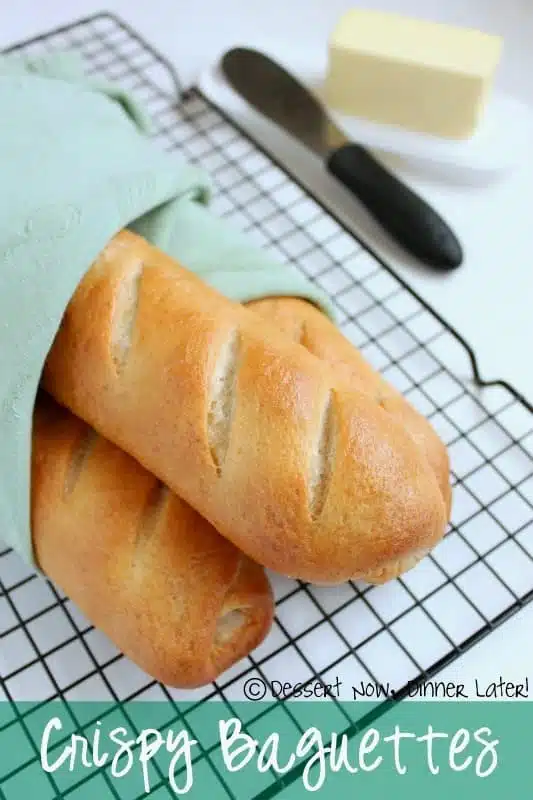 I was making a recipe for soup the other day (that recipe will be posting on Sunday, so stay tuned) & it had some yummy, crispy, cheesy toasts that went with it. The recipe called for a baguette to make these toasts with & I just really didn't want to spend $3 for one loaf, so I made my own.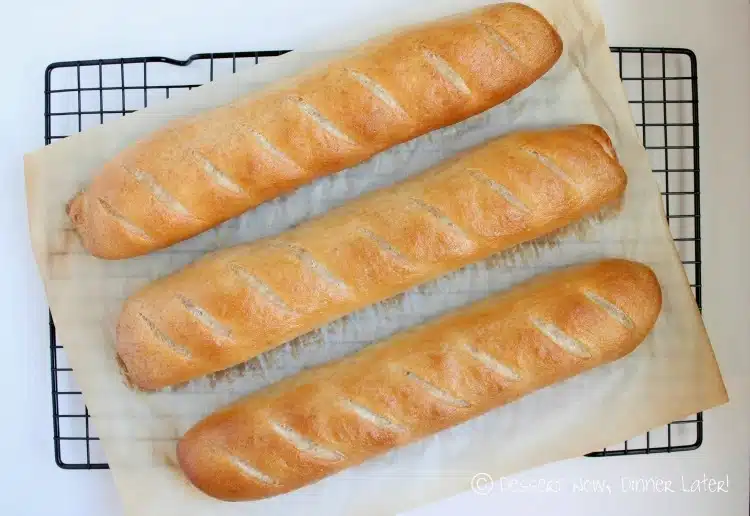 The only problem is that these are extremely time consuming & I think they would have turned out a little more rustic looking had I had a rectangular baking stone or even a baguette pan to bake them on. I ended up using my baking sheet like the stone, heated in the oven before putting the loaves on top, but it obviously didn't give the same results you would get with the proper pan. They were crisp, but looked more like french bread, rather than artisan bread. They still worked out just fine & my kids kept asking to eat the "special bread," so I deemed this a blog-worthy recipe. If you have a low-key weekend coming up, give these a try!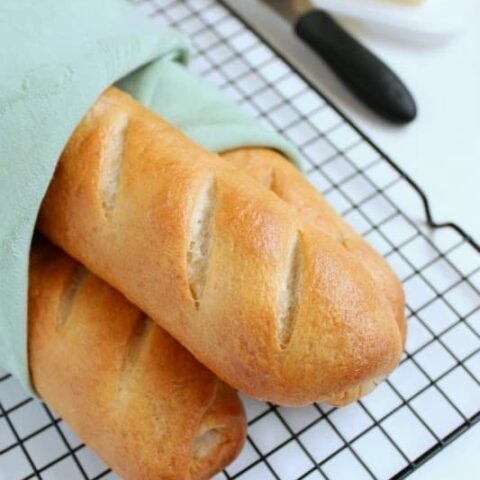 Crispy Baguettes
Ingredients
Starter:
1/2 cup cool to lightly warm water
1/16 tsp active dry yeast
1 cup bread or all-purpose flour
Dough:
1 tsp active dry yeast
1 to 1 1/4 cups lukewarm water*
all of the starter
3 1/2 cups bread or all-purpose flour
1 1/2 to 2 tsp salt, depending on personal taste
Instructions
Make the starter by mixing the yeast with the water (I used slightly warmer than cool water because I keep my yeast in the freezer), then mixing in the flour to make a soft dough. Cover & let rest at room temperature for 14 hours; overnight works well. The starter should have risen & become bubbly.
After your starter has sat for 14+ hours make the dough. In the bowl of a stand mixer, dissolve the yeast into the water. Then add the starter, flour & salt. Mix & knead everything till you've made a soft, somewhat smooth dough; it should be cohesive, but the surface may still be a bit rough. This takes approximately 5 minutes on speed 2 of a stand mixer.
Place the dough in a lightly greased medium-sized bowl. Cover the bowl & let the dough rise for 3 hours, gently deflating it & turning it over after 1 hour, then again at the 2 hour mark.
Turn the dough out onto a lightly greased work surface & divide it into three equal pieces. Shape each piece into a rough, slightly flattened oval. Cover with greased plastic wrap & let them rest for 15 minutes.
Working with one piece of dough at a time, fold the dough in half lengthwise, & seal the edges with the heel of your hand. Flatten in slightly & fold & seal again.
With the seam-side down, roll the dough back & forth with your hands from the center outwards until you create a 15" log. Place logs seam-side down into the wells of a baguette pan or onto a lightly greased OR parchment-lined sheet pan. Cover with lightly greased plastic wrap & allow the loaves to rise until they've become very puffy, about 1½ hours.
Towards the end of the rising time, preheat your oven to 450*F; if you are using a baking stone, place it on the LOWEST rack.
Using a sharp knife held at about a 45 degree angle, make several vertical slashes in each baguette. Spritz the baguettes heavily with warm water; this will help them develop a crackly-crisp crust.
Bake the baguettes until they're a very deep golden brown, 25 to 30 minutes. Remove them from the oven & cool on a rack. Or for the very crispiest baguettes, turn off the oven, crack it open about 2", & allow the baguettes to cool in the oven.
Notes
*Use the lesser amount of water in the summer (or in a humid environment), the greater amount in winter (or in a dry climate), & somewhere in between the rest of the year.
Nutrition Information:
Amount Per Serving:
Unsaturated Fat: 0g