Cinnamon Rolls Neighbor Gift
This post may contain affiliate links, meaning that I may receive a commission at no cost to you if you use a link provided. All opinions shared are my own. You can review my full disclosure policy here.
I am excited to share a fun Christmas neighbor gift with you today as part of a virtual bake sale! We actually did this for our neighbors last year, so I thought it would be perfect to share for this fun round-up of cute holiday treats.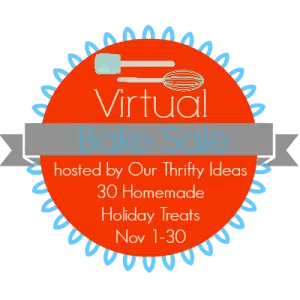 You know how almost everyone bakes a treat & gives it out to their neighbors during the holidays? Well, do you ever find yourself eating all the sugary treats until you are sick? Or you feel bad, but you end up throwing some of it in the trash anyways because you can't eat that many sweets all at once? This neighbor gift is the perfect solution!
You make cinnamon rolls, freeze the dough & icing & give it to them in a cute cellophane bag with a nerdy tag line & the the baking instructions. Then they can make these for breakfast Christmas morning, or at their own leisure well after Christmas has passed. Your neighbors will love you! You can also cheat & buy Rhodes frozen cinnamon or orange rolls. You can even use the cans of cinnamon rolls or a tube of cookie dough to make it easier on you, but I love homemade. Here is how you do it: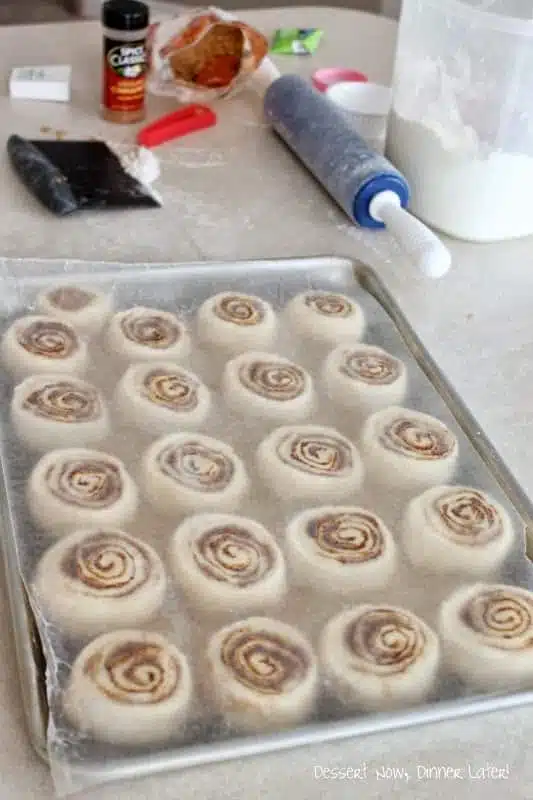 Make the cinnamon rolls (HERE'S MY BEST RECIPE). Place them on a baking sheet lined with parchment, wax paper, or a silicone baking mat. Place a piece of wax or parchment paper over the top so they don't dry out. Let them puff up a little bit at room temperature (they don't rise as well after they have been frozen.)  Freeze them for several hours (about 3-4 hours).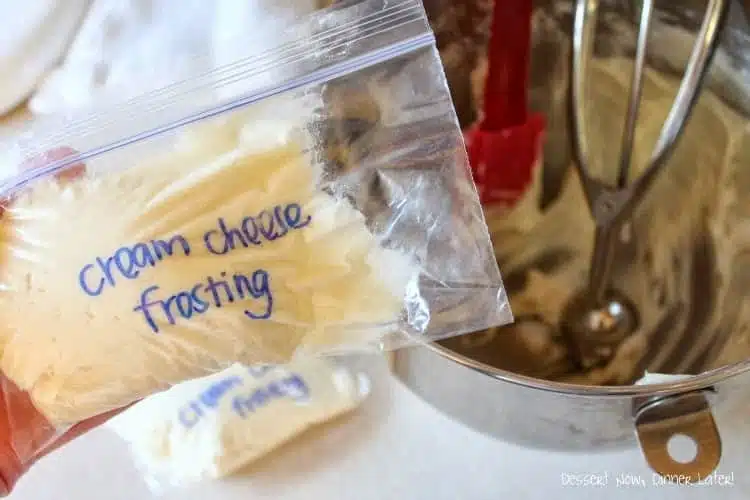 Meanwhile prepare some icing. I like to make cream cheese frosting (8oz cream cheese, 4 Tbsp butter, 1 tsp vanilla, 2 cups powdered sugar). Scoop the frosting into snack sized zip-top baggies that have been labeled. I find it easiest to use a cookie scoop so the frosting doesn't get all over the bag when you are filling it up. Refrigerate until ready to assemble.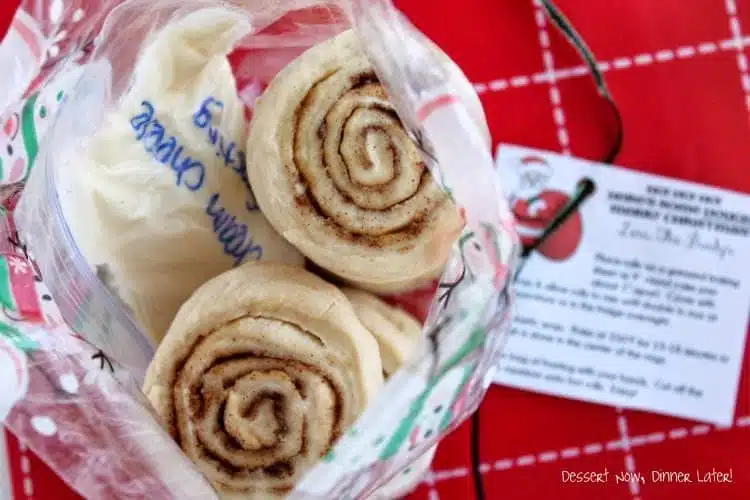 Place 8 rolls into a sturdy cellophane bag: 2 stacks of 4 rolls. Place a bag of frosting in between or behind the rolls. Twist tie the bag shut, make a label & then tie the label & instructions onto the bag with a ribbon. Voila! Keep frozen & deliver to your neighbors. My recipe will make at least 16 rolls; enough for 2 bags. If you double or triple the recipe, you can stack the rolls on top of each other before freezing, as long as there is wax paper between the layers; just cover the pan with plastic wrap as well so the sides don't dry out.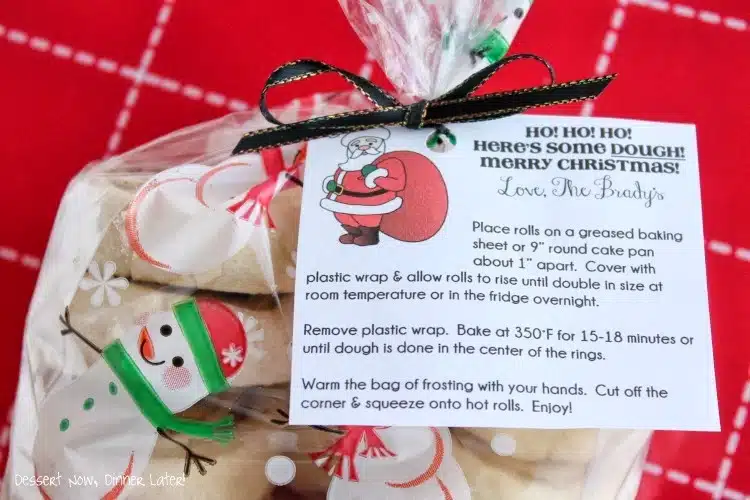 *A couple of notes. The Dollar Tree cellophane bags aren't so sturdy. You will need to double bag them if you use those ones. Also, let your neighbor know that these need to be frozen until ready to use (That would suck if they placed them on the counter & didn't really look at what they were right away.) Hint at using the rolls for Christmas breakfast, or that they can be saved for later. Be proud that you gave your neighbor something they will actually eat & not toss in the trash like some of the other neighbor gifts!