Cran-Apple Crisp
This post may contain affiliate links, meaning that I may receive a commission at no cost to you if you use a link provided. All opinions shared are my own. You can review my full disclosure policy here.
You may or may not be sick of sweets about this time of the month, but I am going to share this dessert with you anyway, because it is SOO good! I am a lover of all things tart & sweet and this is a great combo of both of those things. And of course, cranberries are in abundance this time of year.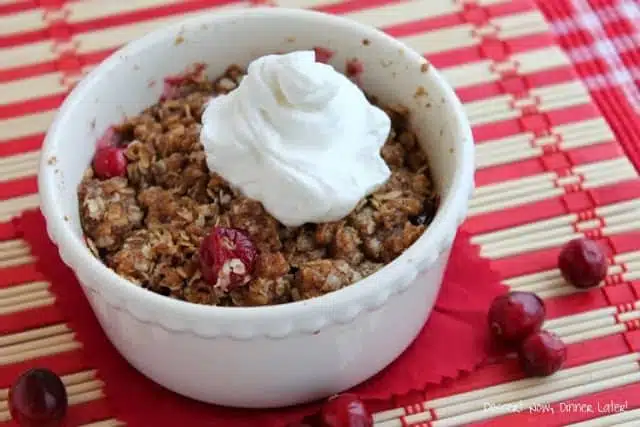 The best part of this dessert is the crisp on top. I think it's my new favorite! I love the addition of the honey & the fact that it's got less flour & more oats than my go-to streusel topping recipe. The cinnamon & allspice pair really well with the apples & cranberries too.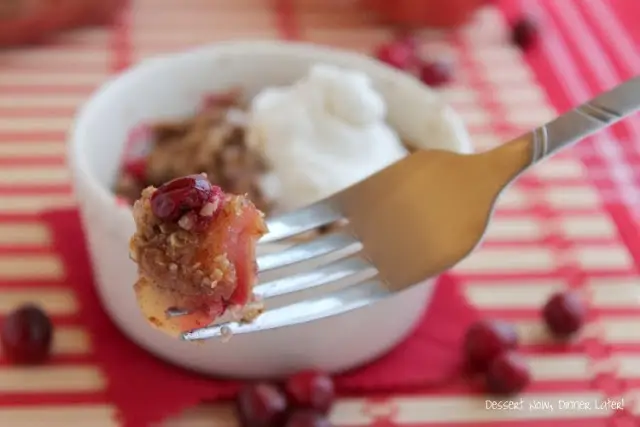 Now, a lot of people like to use Granny Smith apples when they make pies or crisps, but I wanted a sweet apple to counter the tart cranberries. This time I used Cameo apples, but any sweeter apple will do: Braeburn, Fuji, Gala, etc. And whoever eats red or golden delicious apples is crazy, because they are gross! Sorry, just my random feelings about certain apples. Make this soon!!!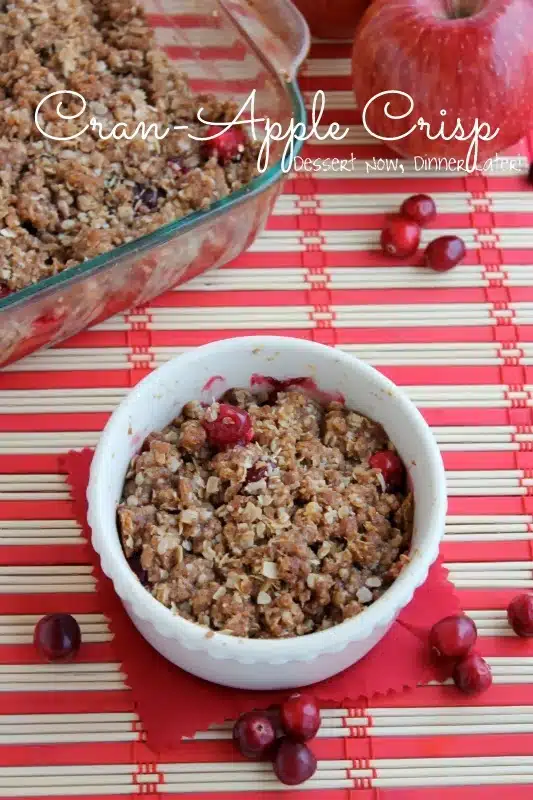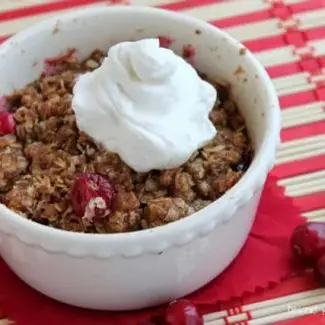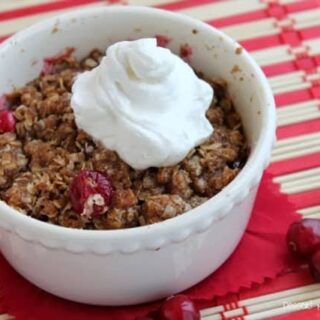 Cran-Apple Crisp
Ingredients
Fruit Layer:
4 medium sweet apples (Cameo, Braeburn, Fuji, Gala, etc. peeled, cored & thinly sliced (about 3 1/2 to 4 cups worth of apples))
2 cups fresh cranberries, rinsed
1/4 cup white granulated sugar
1 mandarin orange, zest & juice (can substitute a small lemon or half of a regular orange)
Crisp Topping:
1 1/4 cups oats
1/4 cup flour
2 tsp cinnamon
1/2 tsp allspice
1/2 cup brown sugar
1 Tbsp honey
6 Tbsp butter, unsalted, room temperature
1/8 tsp salt
Instructions
Place peeled, cored, & thinly sliced apples into a large bowl. Add the rinsed cranberries, white sugar, and the zest & juice of one mandarin orange. Toss to coat all the fruit evenly & set aside.
Prepare crisp by combining the oats, flour, cinnamon, allspice, brown sugar, honey, butter & salt in a bowl. Crumble with a fork or pastry blender until small chunks are formed.
Place fruit & juices into a greased 8x8" square glass baking dish or ramekins. Top with crumble. Bake at 350*F for 35-40 minutes or until bubbling on the sides and in the center, & the apples are fork tender. Allow to rest for 5 minutes to absorb juices before serving. Top with freshly made sweetened whipped cream (1 cup heavy cream with ¼ cup powdered sugar & a splash of vanilla) or vanilla bean ice cream.
Nutrition Information:
Yield: 12
Amount Per Serving:
Unsaturated Fat: 0g