Fresh Peach Pie
This post may contain affiliate links, meaning that I may receive a commission at no cost to you if you use a link provided. All opinions shared are my own. You can review my full disclosure policy here.
This Fresh Peach Pie has a no-bake filling that uses fresh, uncooked peaches and a simple homemade glaze inside of a crisp pie crust. A great recipe for fresh peaches!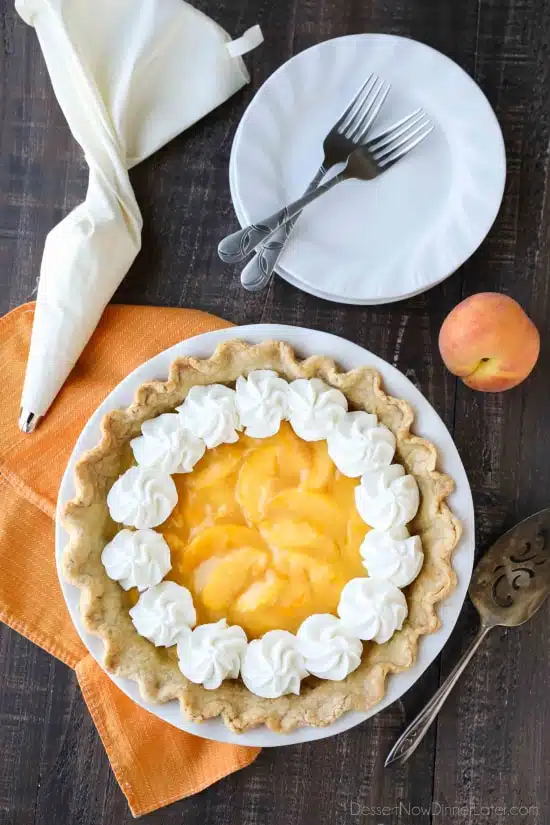 In Brigham City, Utah, they have a city celebration called, "Peach Days." It all started in 1904 as a day-off from the harvest and a time to celebrate "an abundance of the best peaches in Utah." The event takes place in September, the weekend following Labor Day.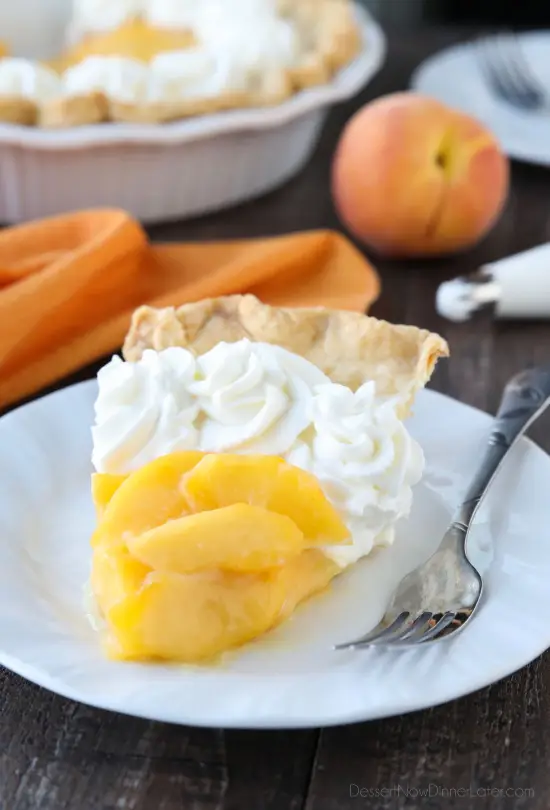 We love to go to Peach Days as a family. There are so many fruit orchards and produce stands along the highway in Brigham City. We almost always buy a box of peaches to take home with us. Of course we always stop at the festivities to get some peach cobbler, and a fresh peach pie as well.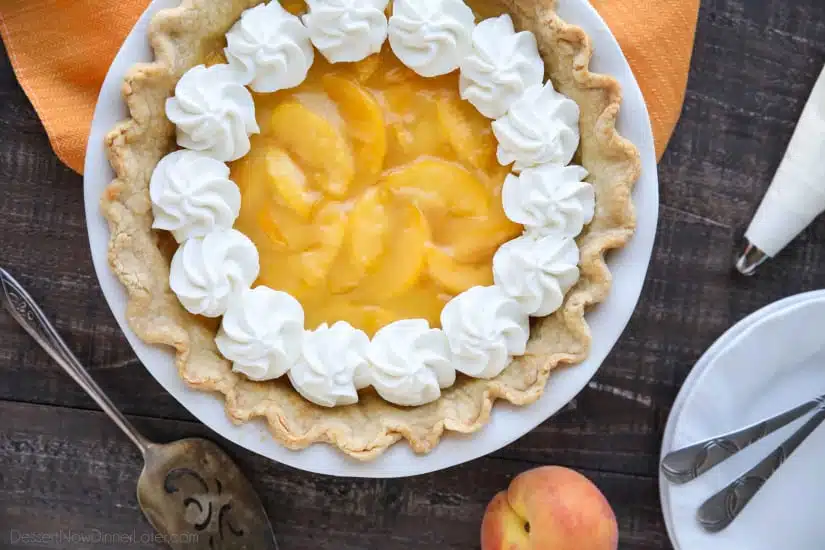 Fresh Peach Pie
The fresh peach pie I'm talking about does NOT bake the filling. Instead it uses fresh sliced peaches tossed in a glaze that is placed inside of a baked pie crust. It's absolutely delicious!
At peach days, they have pre-baked mini pie crusts, and will scoop the fruit and glaze mixture into the crust before they hand it to you. If you've never had a fresh fruit pie, you are missing out!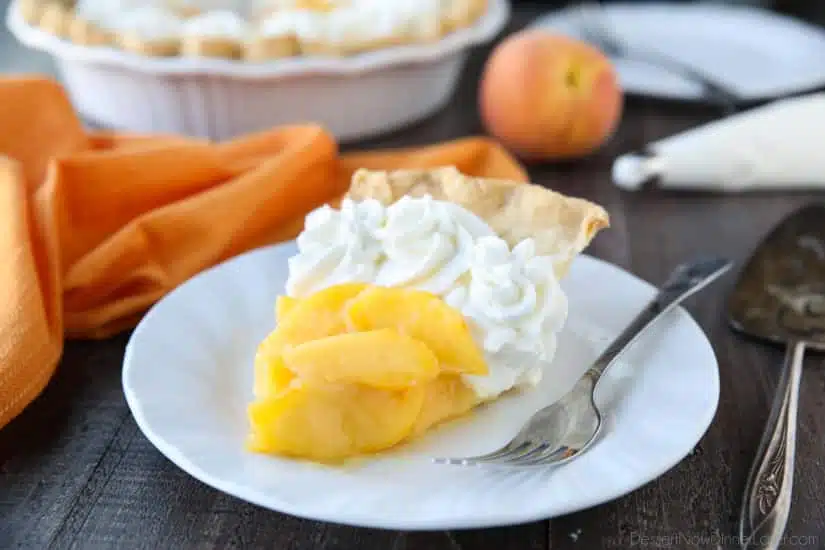 This fresh peach pie is a lot like how you would make a fresh strawberry pie. So I took that recipe and altered it with peaches.
I found a similar fresh peach pie recipe from my friend Lauren, that uses almond extract in the glaze, so I added that to mine and it really enhanced that peach flavor! I'm so excited to share this fresh peach pie recipe with you!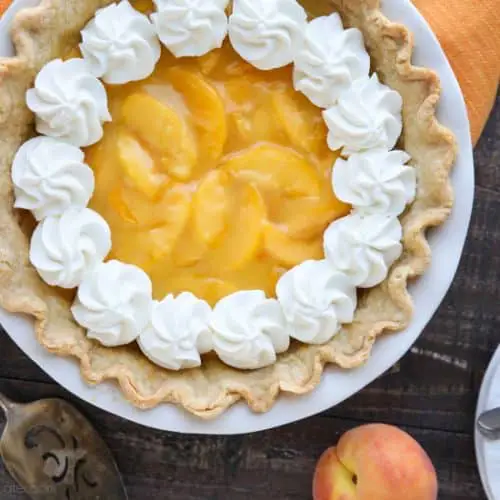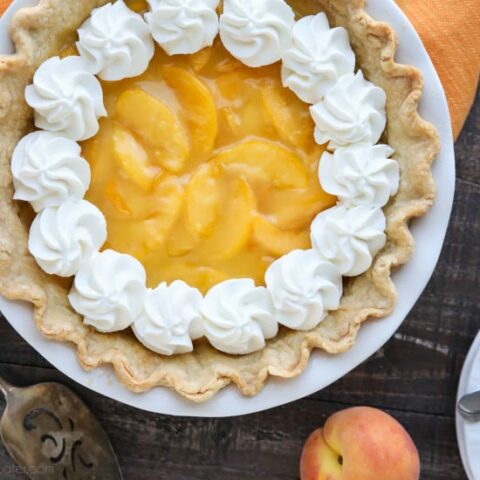 Fresh Peach Pie
Prep Time: 20 minutes
Cook Time: 40 minutes
Resting Time: 45 minutes
Total Time: 1 hour 45 minutes
Yield: 8 slices
Ingredients
Fresh Peach Filling & Glaze:
2 1/2 lbs fresh peaches, peeled and sliced (about 7 peaches; 4 1/2 cups peeled and sliced), DIVIDED
3/4 cup granulated sugar
1 Tbsp lemon juice
3 Tbsp cornstarch
1 Tbsp unsalted butter
1/2 tsp almond extract
pinch salt
Pie Crust:
1 1/2 cups all-purpose flour
1/2 tsp salt
1/2 cup shortening
1/2 egg, whisked
1/2 Tbsp white vinegar
2-3 Tbsp COLD water
1/2 lb dry beans (to use for baking the crust)
Whipped Cream (Optional):
1 cup heavy cream
1/4 cup powdered sugar
Instructions
Peel and slice peaches; be sure to remove and discard the core. (Here is a great method.) Toss with the sugar and lemon juice in a large bowl. Let sit for 30-45 minutes until juices release from the fruit.
Meanwhile, make the pie crust. Combine the flour and salt in a large bowl. Stir. Cut in shortening with a pastry blender or fork until small pea size pieces. Add the egg, vinegar, and water. Mix with your hands. Keep adding water, a little at a time, if needed, until the mixture is less crumbly and starts to come together. Empty the contents from the bowl onto the counter. Shape into a round disc. Wrap the disc in plastic wrap and CHILL DOUGH in the freezer for 15 minutes. This gives the dough time to rest and keeps the shortening from melting.
Once the dough has chilled, flour your surface and rolling pin. Unwrap dough and roll from the center outwards into a large circle about 1/4" thick. Transfer dough to pie dish. Form the dough as close the the sides and angles of the pie dish as possible. Leave a good 1/2" of crust over the edge, cut off any excess. Tuck the overlapping crust and crimp the edges.
Poke holes into the bottom of the crust with a fork. Place a piece of parchment paper inside the crust and fill with about 1/2 pound of dry beans (to use as weights). Bake at 350 degrees Fahrenheit for 20 minutes. Pull the parchment with the beans out of the crust. (Discard the beans or save them for future pies.) The bottom of the crust will look wet. Return the crust to the oven for 12-15 minutes to finish baking the bottom part of the crust. Cool completely.
Drain the peaches and reserve the juices. Juice should equal about 3/4 cup. If not, add water to reach 3/4 cup. Place 3/4 cup of juice, 1/2 cup of peach slices (about 1 peach), and 3 Tbsp of cornstarch in a blender. Blend until smooth. Place mixture into a small saucepan. Cook over medium heat until boiling and thick, whisking constantly. Remove from heat. Add 1 Tbsp butter, 1/2 tsp almond extract, and a pinch of salt. Whisk to combine. Cool slightly.
In the bowl of a stand mixer with the whisk attachment, beat the heavy cream and the powdered sugar until stiff peaks form.
Toss the peach slices with the cooled glaze and pour into the cooked pie shell. Top with whipped cream. For best results serve immediately. **Crust will absorb juices and soften, so don't fill the crust until ready to eat.**
Notes
*Can substitute a frozen pie crust for homemade. Or even a pre-made graham cracker crust would be delicious.
Nutrition Information:
Yield: 8
Amount Per Serving:
Unsaturated Fat: 0g