Strawberries & Cream Pie
This post may contain affiliate links, meaning that I may receive a commission at no cost to you if you use a link provided. All opinions shared are my own. You can review my full disclosure policy here.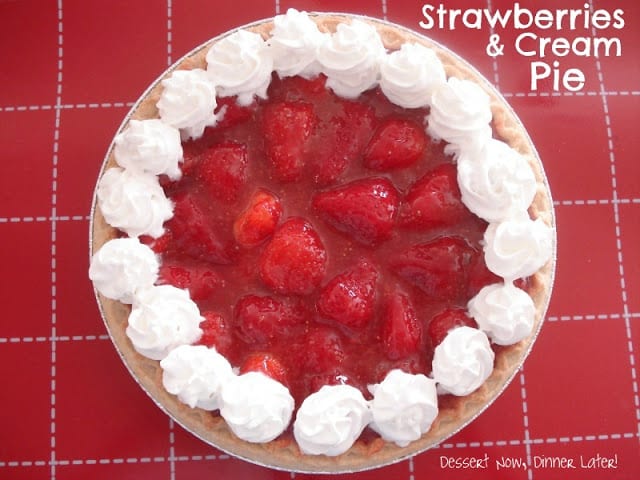 There is nothing better than fresh fruit in the summertime. I love strawberries & they are so inexpensive that I am always buying them. I made this recipe because I was in the mood for strawberries & pie. This was ridiculously amazing! It was just sweet enough without feeling like you are eating spoons of sugar, like other strawberry pie recipes can be like. It is creamy, fruity, & perfectly sweet. Pretty much heaven in a pie form.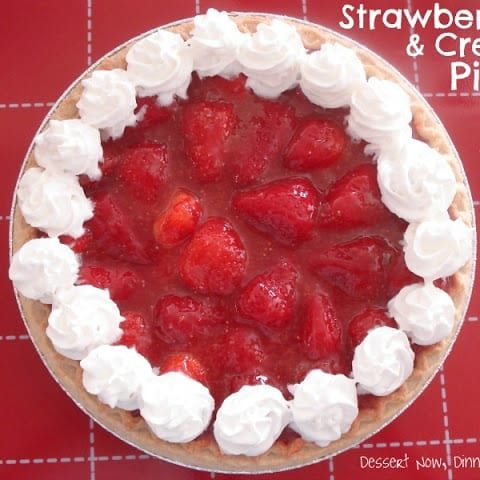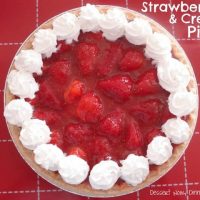 Strawberries & Cream Pie
Ingredients
1 pie crust (homemade or frozen will do)
2-3 cups strawberries (hulled, divided)
3/4 cup water
3/4 cup sugar
2 1/2 Tbsp cornstarch
8 oz pkg. Neufchatel cream cheese
5 Tbsp sugar
1/2 (8oz) tub light cool whip
Instructions
Dock the raw pie crust with a fork to make holes for ventilation. Cut a circle of parchment/wax paper & put inside shell. Place dry beans on top of parchment to cover the bottom of the crust so it won't shrink while baking. Bake at 350*F for 13-15 minutes. Remove parchment with beans & finish cooking for 7-8 minutes or until golden brown. If preparing a frozen purchased crust, bake according to directions on package. Let cool.
Puree one cup of strawberries with the water in a food processor. Halve the other strawberries & set aside.
In a saucepan, combine ¾ cup sugar & cornstarch. Stir in strawberry/water puree & bring to a boil, stirring constantly. Once it reaches a boil, stir & cook for 3 minutes. Remove from heat & let cool.
In a stand mixer whip the cream cheese with 5 Tbsp of sugar. Add cool whip & continue whipping until mixture is semi-stiff (leaves ripples in the mixture with the whisk attachment.)
Assemble the pie by spreading the cream cheese mixture in the bottom of the shell, then spread half of the strawberry glaze. Next, layer the fresh strawberry halves. Finish with the leftover glaze. Let refrigerate for 1 hour. Serve with whipped cream.
*The pie is best served the day it's made. The glaze loses it's shine & bold red color the longer it is saved in the fridge. You want the pie to be in the fridge just long enough for the cream cheese to set.