Strawberries and Cream Crumb Bars (+ More Strawberries & Cream Desserts)
This post may contain affiliate links, meaning that I may receive a commission at no cost to you if you use a link provided. All opinions shared are my own. You can review my full disclosure policy here.
These strawberries and cream crumb bars are sweet and creamy with a buttery crumb crust and topping.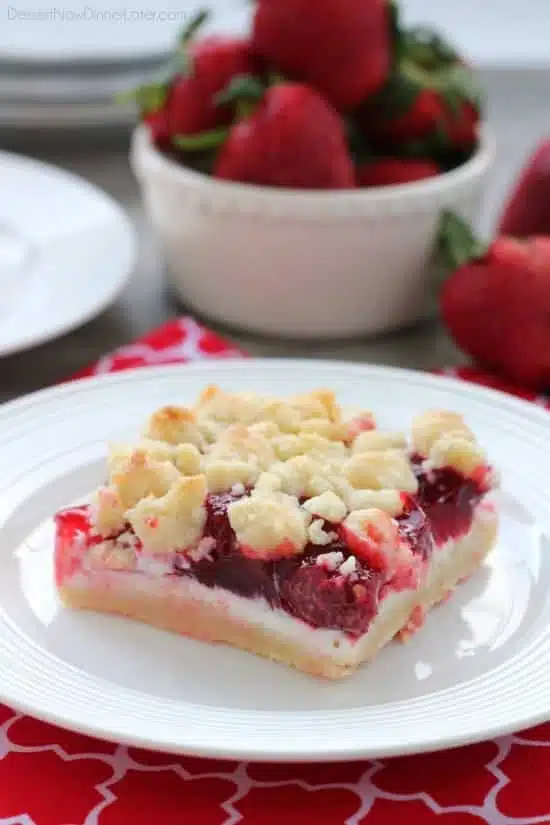 Crumb desserts are like a whole other level of delicious. I've made this particular crumb crust and topping in my Blueberry Crumb Bars, this Lemon Curd Dessert, and now these strawberries & cream bars. I just keep coming back to it. Why mess with a good thing?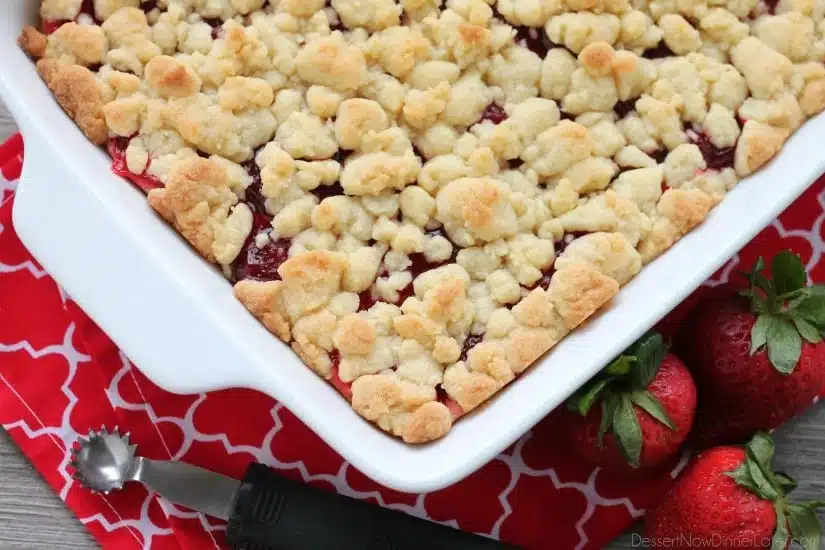 The crust is buttery and sweet, and crunchy yet tender. My fork can't keep up with my mouth. Can't stop. Won't stop! The layers of cream cheese and strawberry pie filling topped with the buttery streusel make this dessert a three-in-one: Pie, cheesecake, and dessert bar. It's like a roller coaster ride for your mouth. You don't know what to expect next, but you like it.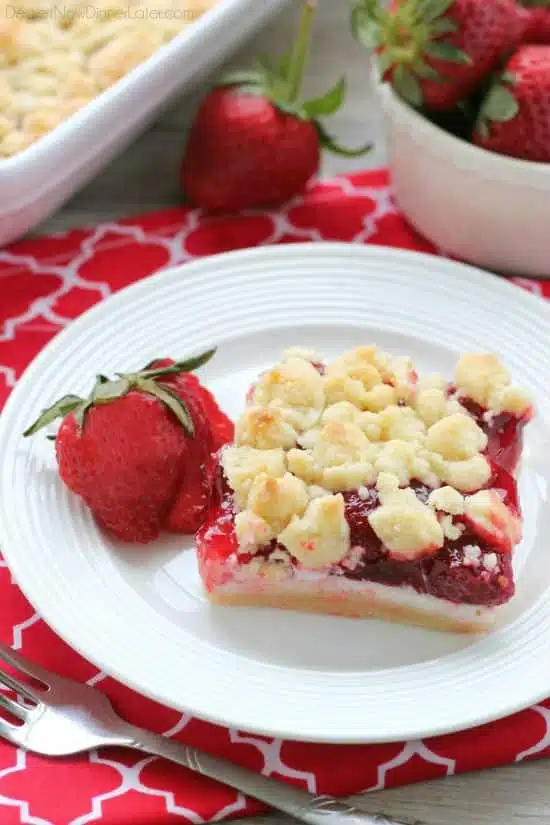 As I'm sitting here typing this, my husband has asked me what my favorite pie is. Does he even know me? I love pie! I broke it down into categories because it's just not fair to only pick one. Categories included: chocolate, fruit, cream, and other. These strawberries and cream crumb bars can totally go into the other category because of the pie filling.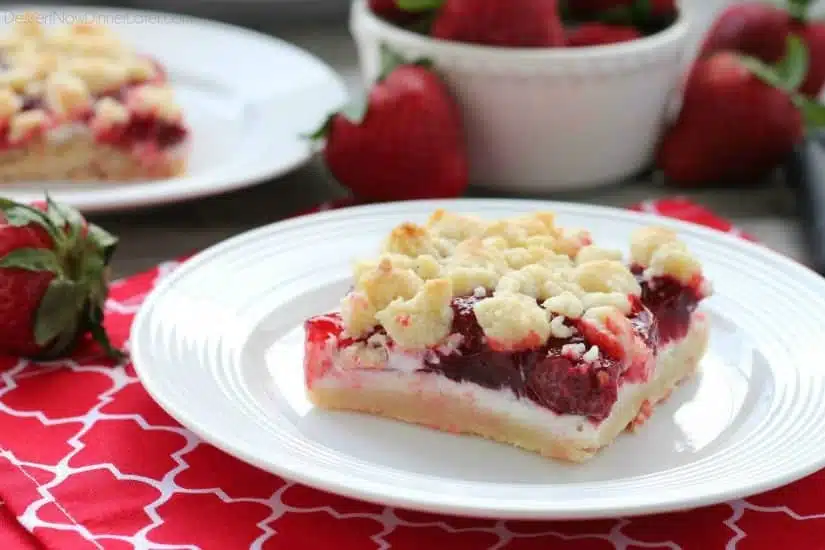 I still can't pick my favorite though. I love all pies in all shapes and forms. This "pie" happens to be easier than rolling a crust, and the cream cheese layer cuts the sweetness and adds that creamy element. De-licious!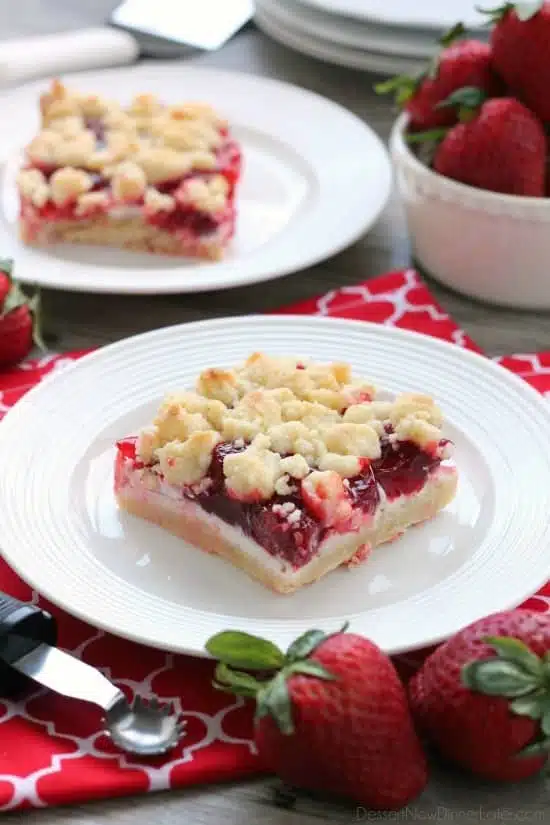 I'm so glad I plated these up and delivered them to neighbors asap. My waistline was at stake. It was a close one! Hey, I totally forgot to mention that today is National Strawberries and Cream Day. It's a thing people, so celebrate by making this or any of the desserts my friends made in the roundup below.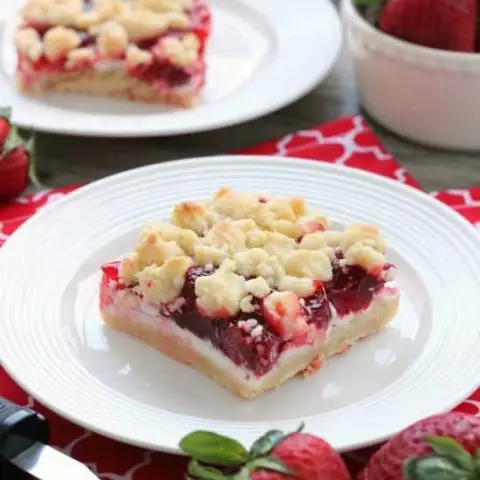 Strawberries and Cream Crumb Bars
These strawberries and cream crumb bars are sweet and creamy with a buttery crumb crust and topping.
Ingredients
Crust & Crumb Topping:
3 cups all-purpose flour (stir, spoon & level)
1 cup granulated sugar
1 tsp baking powder
1/2 tsp salt
1 cup (2 sticks) butter, cold
1 large egg
Cream Cheese Layer:
8 oz cream cheese
1/2 cup granulated sugar
1/2 tsp almond or vanilla extract
1 (21oz) can strawberry pie filling
Instructions
Mix the flour, sugar, baking powder, and salt in the bowl of a stand mixer. Add the butter one Tablespoon at a time and mix until the mixture resembles fine crumbs. Add the egg and mix until incorporated.
Press ⅔ of the mixture onto the bottom of a greased 13x9-inch baking dish. Bake at 375 degrees Fahrenheit for 8 to 10 minutes or until the crust is matte (not shiny) and starting to lightly brown. Allow to cool slightly.
In a large bowl with a hand mixer, beat the cream cheese, sugar and extract until sugar dissolves and no lumps appear. Dollop the cream cheese mixture over the warm crust. Gently spread evenly with a spatula. The cream cheese mixture will sink into the crust a little bit, that's okay, just use small dollops and gently spread it together.
Dollop the strawberry pie filling in small spoonfuls over the cream cheese layer. Gently spread evenly with a spatula.
Crumble the remaining crust evenly over the top of the strawberry pie filling. Bake at 375 degrees Fahrenheit for another 20 to 25 minutes until the top is lightly brown and the filling is bubbling in the center. Allow to cool completely before cutting and serving.
If you enjoyed this recipe, check out these other Strawberries & Cream desserts!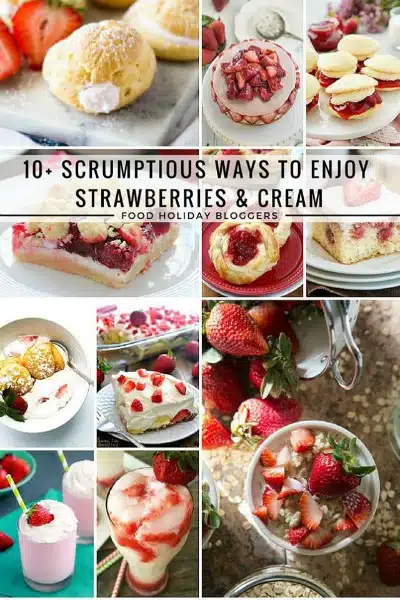 Strawberry Cream Shake // One Sweet Appetite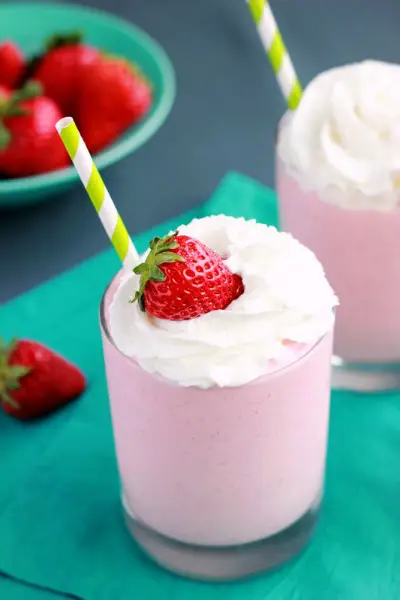 Strawberries and Cream Whoopie Pies // Sugar & Soul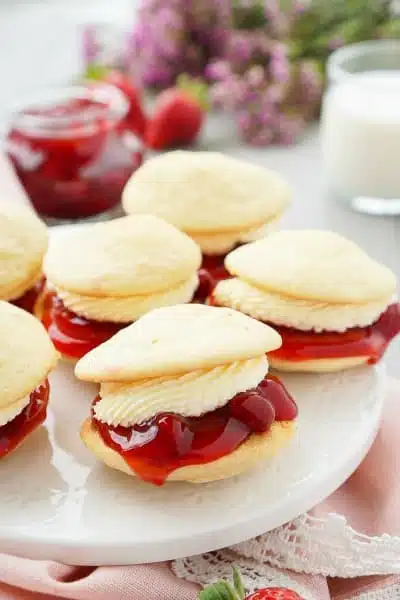 Strawberries & Cream Oatmeal // Tried and Tasty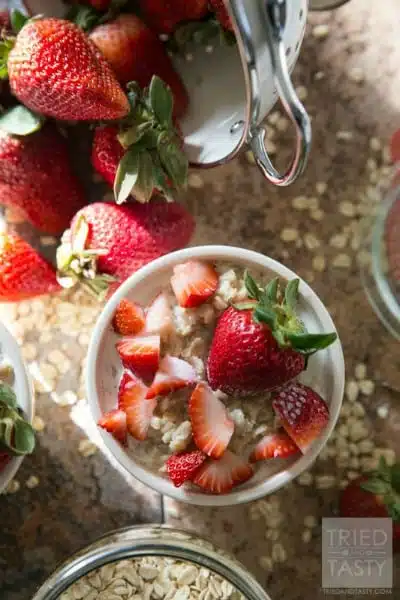 Strawberries and Cream Puffs // Eazy Peazy Mealz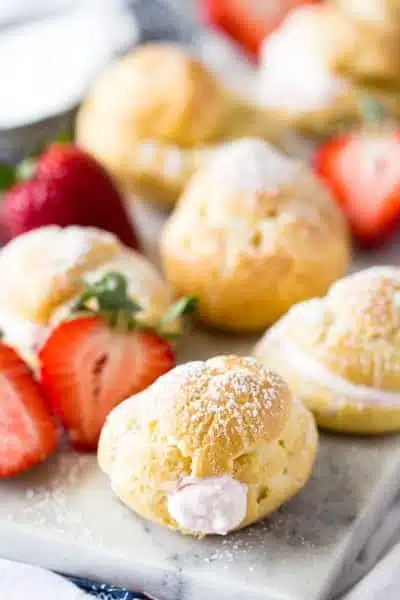 Strawberries & Cream Beignets // A Dash of Sanity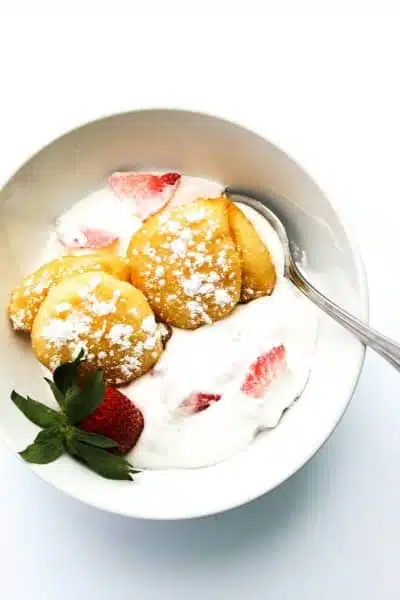 Strawberries and Cream Poke Cake // Like Mother Like Daughter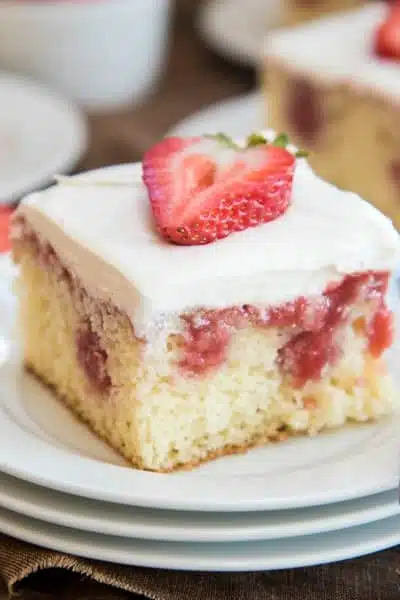 Strawberries and Cream Danishes // A Kitchen Addiction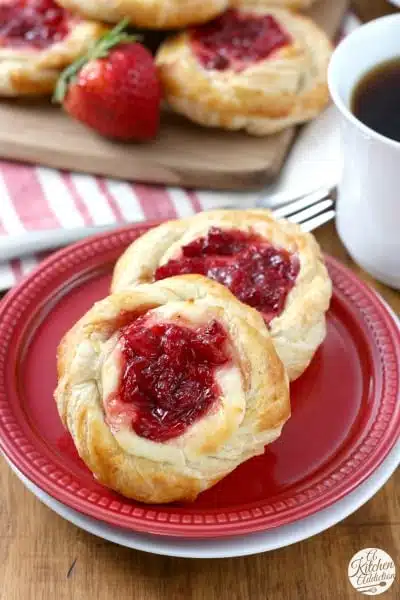 Strawberries and Cream Sodas // Cucpake Diaries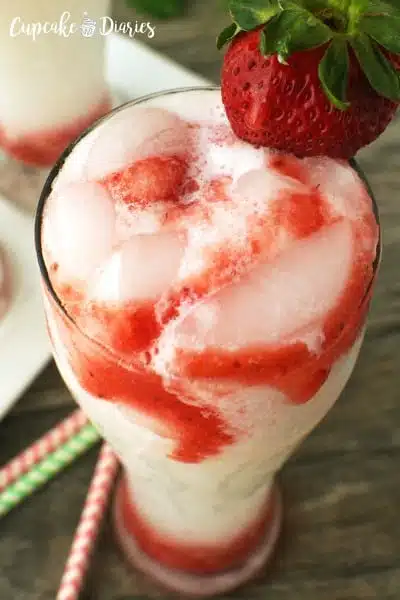 Strawberries & Cream Lush Dessert // Lemon Tree Dwelling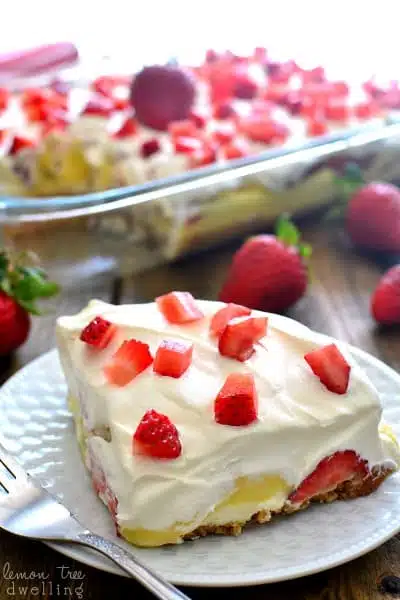 Slow Cooker Strawberries and Cream Cheesecake // Life Made Sweeter