Strawberry Cream Cheese Frosting
This post may contain affiliate links, meaning that I may receive a commission at no cost to you if you use a link provided. All opinions shared are my own. You can review my full disclosure policy here.
Strawberry Cream Cheese Frosting is easy to make with jam. It's fruity, creamy, and slightly tangy. Perfect for spreading or piping onto cakes and cupcakes.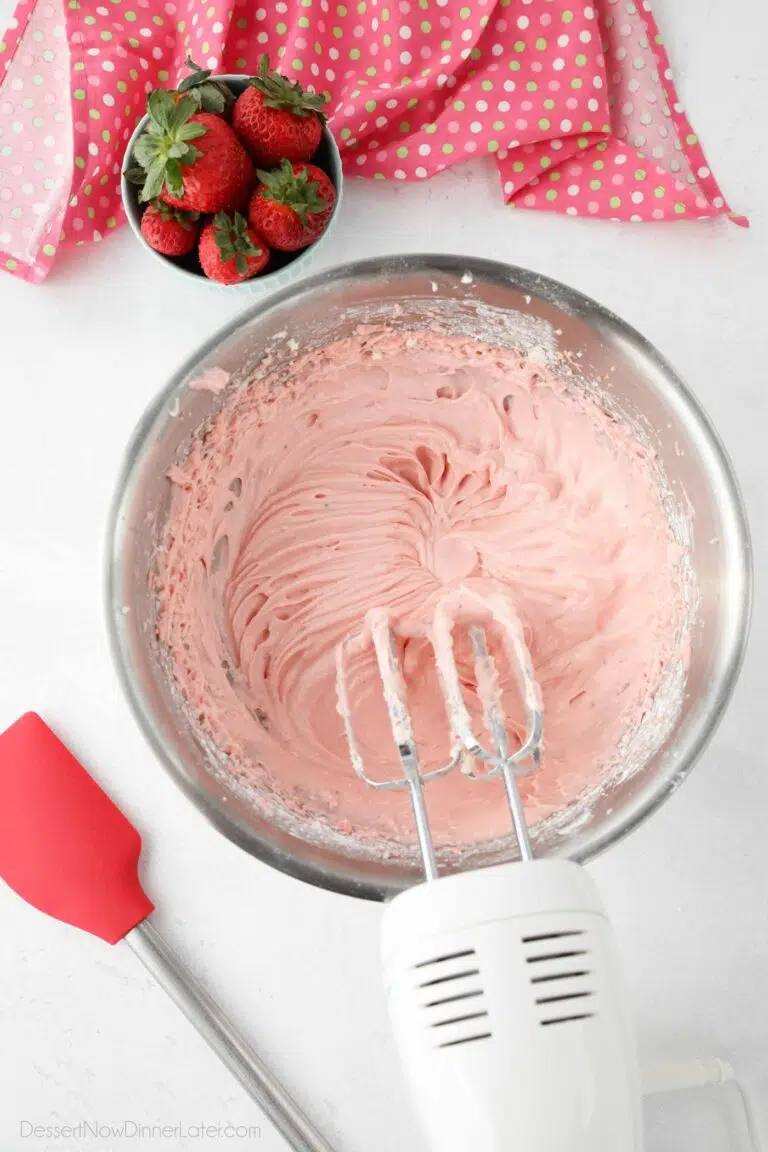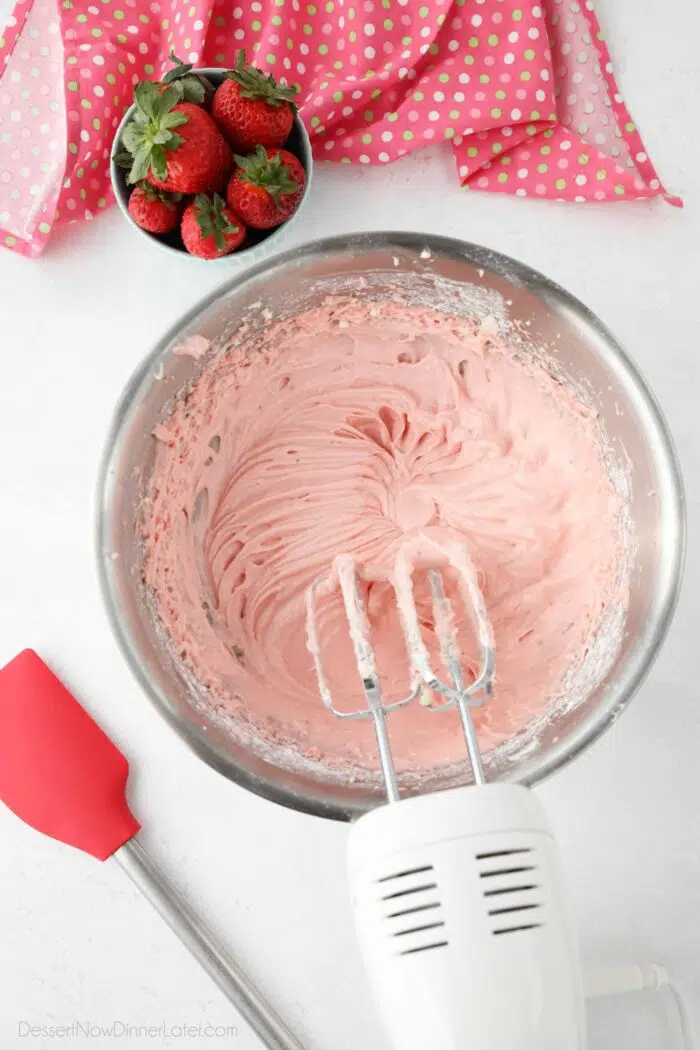 Strawberry cream cheese frosting is a staple for cakes and cupcakes alike. The fruity flavor is great on strawberry, vanilla, chocolate, coconut, and even lemon or lime cakes.
With a little food coloring, it's perfectly pink for Valentine's Day as well.
Strawberry Cream Cheese Frosting with Jam
This strawberry cream cheese frosting uses strawberry jam or strawberry preserves to give the frosting its fruity flavor. I do this with my strawberry buttercream frosting as well.
Jam is a thick spread made from crushed or puréed fruit and sugar. Preserves are another thick fruit spread made from whole fruit cooked with sugar, creating a chunkier spread.
Pick a brand that looks thick through the jar and has little to no added sugar. Since there will be powdered sugar added for the frosting, you don't want it to be overly sweet. I like to use Smucker's Natural Strawberry Fruit Spread.
If using preserves, keep in mind the size of strawberry chunks. You don't want one with very large pieces. Especially if you plan to put the strawberry frosting in a piping bag.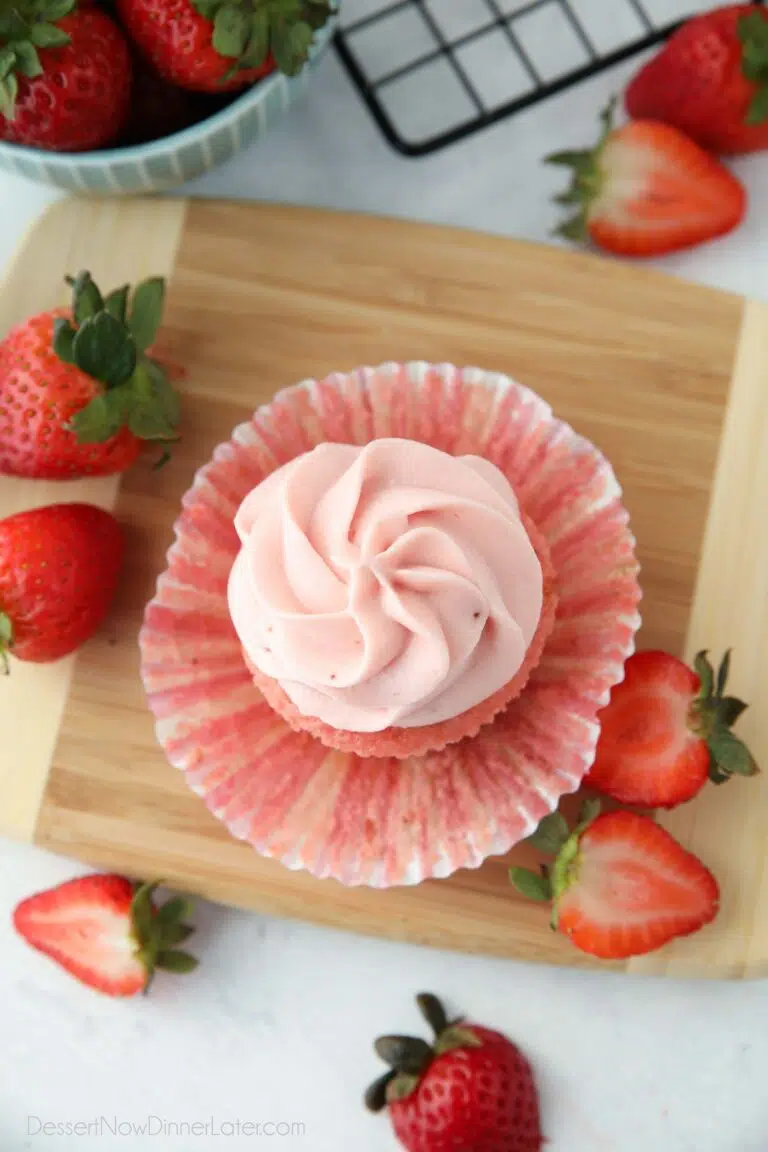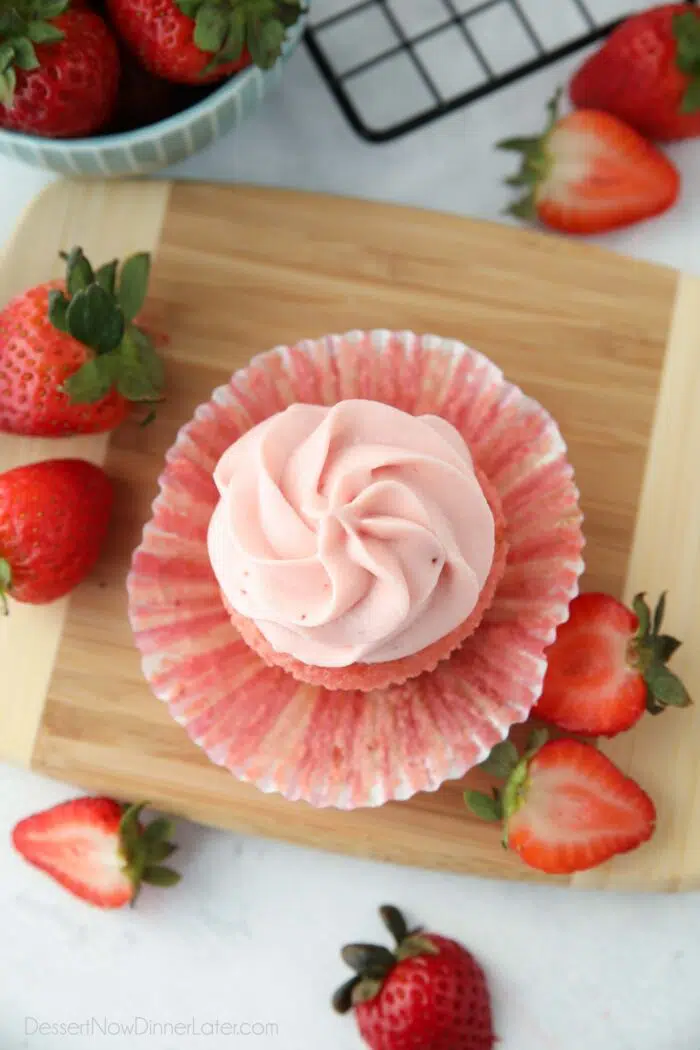 Can I make strawberry frosting with fresh strawberries?
Of course you can make your own jam with fresh strawberries for this frosting. You will need to make it ahead of time and allow it to cool completely before using it.
Try my low sugar strawberry freezer jam. It's easy to make in the microwave.
You can also purée fresh strawberries (strain it to remove the seeds, if desired), add a little sugar and a splash of lemon juice. Then cook it on the stovetop, stirring frequently until the fruit reduces to a thick, jammy texture; about 40-50 minutes. Cool completely. Then use it in the strawberry frosting recipe below.
Cooking the fruit is important! If you just added strawberry purée to the frosting, you wouldn't be able to use very much of it before the frosting becomes overly soft and runny. Plus you'd miss out on a lot of strawberry flavor.
Using jam packs the frosting with flavor because the fruit is concentrated during the cooking process. Strawberry frosting made with jam will still be sturdy enough for spreading and piping without adding gobs of extra powdered sugar. Plus it's an easy ingredient to find at the store or make from home.
Frozen strawberries can be cooked down for this recipe. Just keep in mind they will put off more liquid than fresh berries, so it may take longer to reduce and thicken.
You can always mix a Tablespoon or two of cornstarch with the sugar that you add to the puréed strawberries to help it thicken sufficiently as it cooks. I do that when I make pie filling like in this Blueberry Cream Cheese Pie.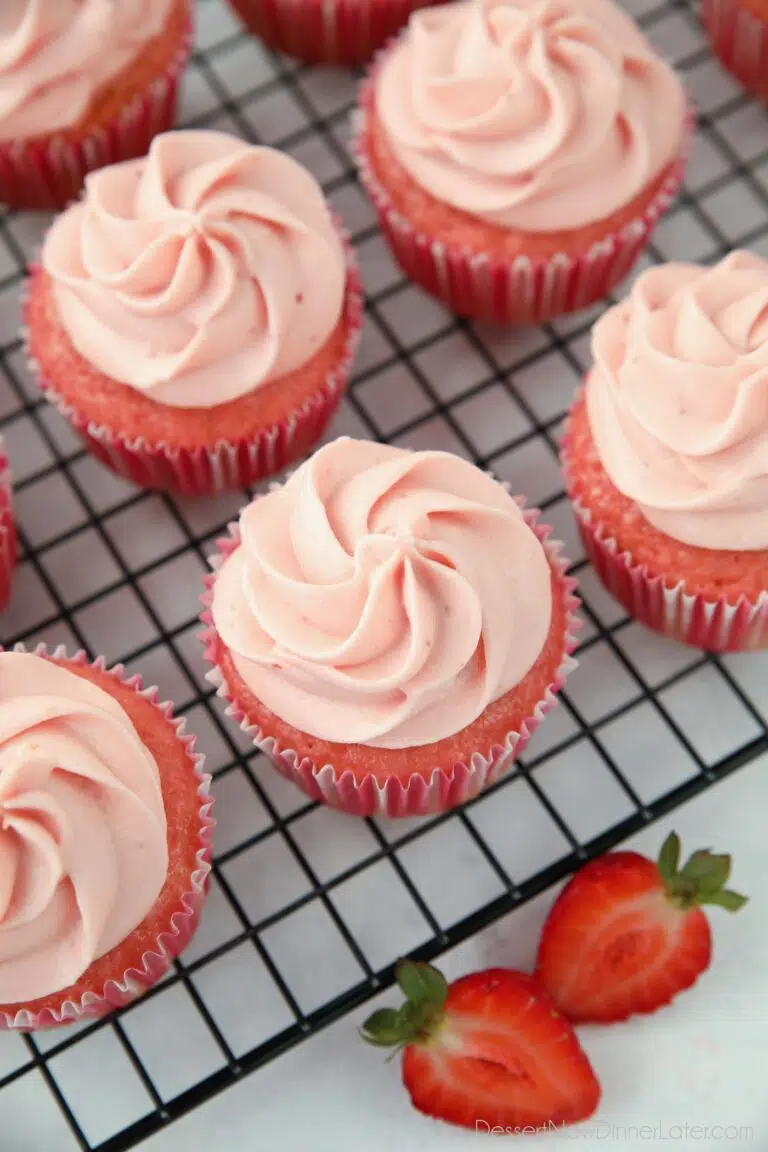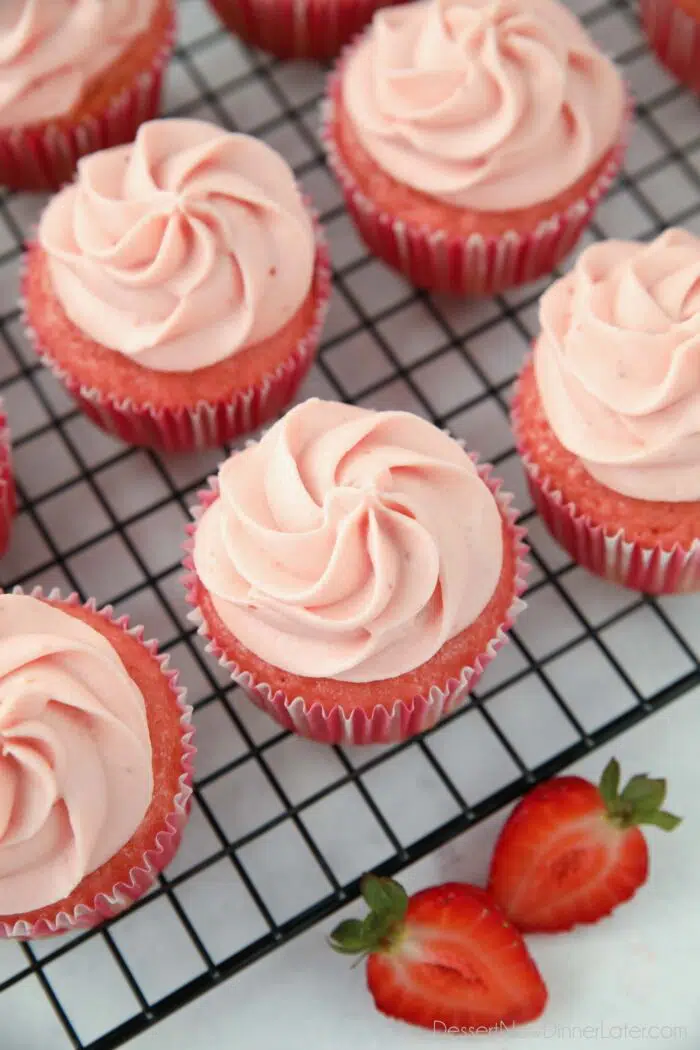 Ingredients
You will need 6-7 ingredients for this strawberry cream cheese frosting.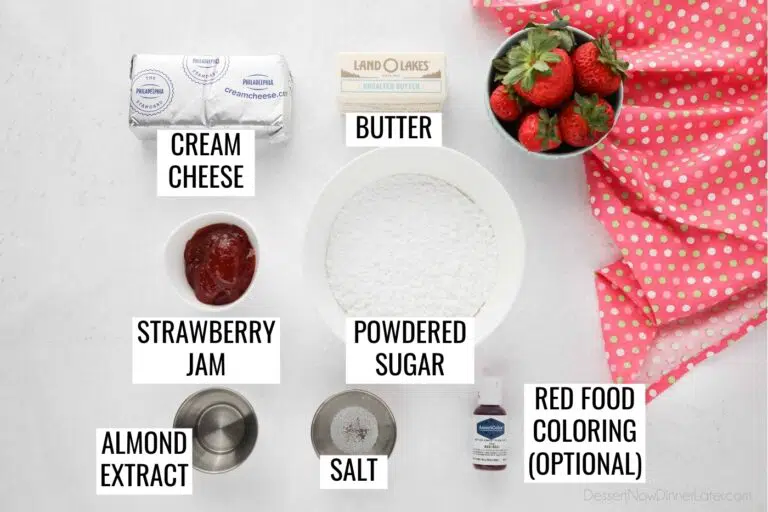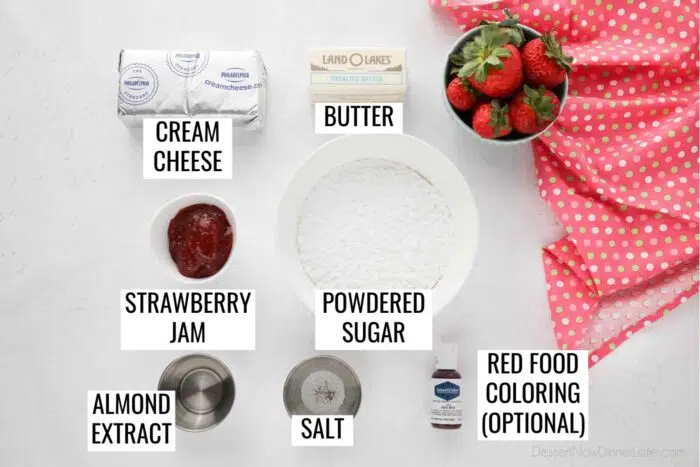 Cream Cheese – Typically I use Neufchatel cream cheese for all of my cream cheese frostings to save a few calories and fat, but unfortunately it did NOT work for this recipe. Use FULL FAT brick cream cheese, cold. Straight from the fridge.
Butter – At room temperature. If you use both cream cheese and butter at room temperature the frosting will undoubtedly be too soft and need refrigeration. It seems off, but it works. Use unsalted butter to control the amount of salt in the recipe.
Strawberry Jam – Or strawberry preserves or strawberry jelly. Use one that looks thick and has little to no added sugar. Keep in mind if you plan to pipe it, you will want one with little to no chunks of fruit.
Powdered Sugar – There's only 1 1/2 cups of powdered sugar in this recipe to sweeten the frosting slightly and add body and volume.
Almond Extract – You can use vanilla extract if you don't like almond, but almond is perfect for enhancing fruit flavors and you only need a small amount; 1/4 teaspoon.
Salt – To cut some of the sweetness and enhance flavor.
Red Food Coloring (Optional) – To make it more pink. The jam will only tint it very subtly.
How to make Strawberry Cream Cheese Frosting
Now that you've got your ingredients, it's easy to make this strawberry cream cheese frosting with an electric hand or stand mixer.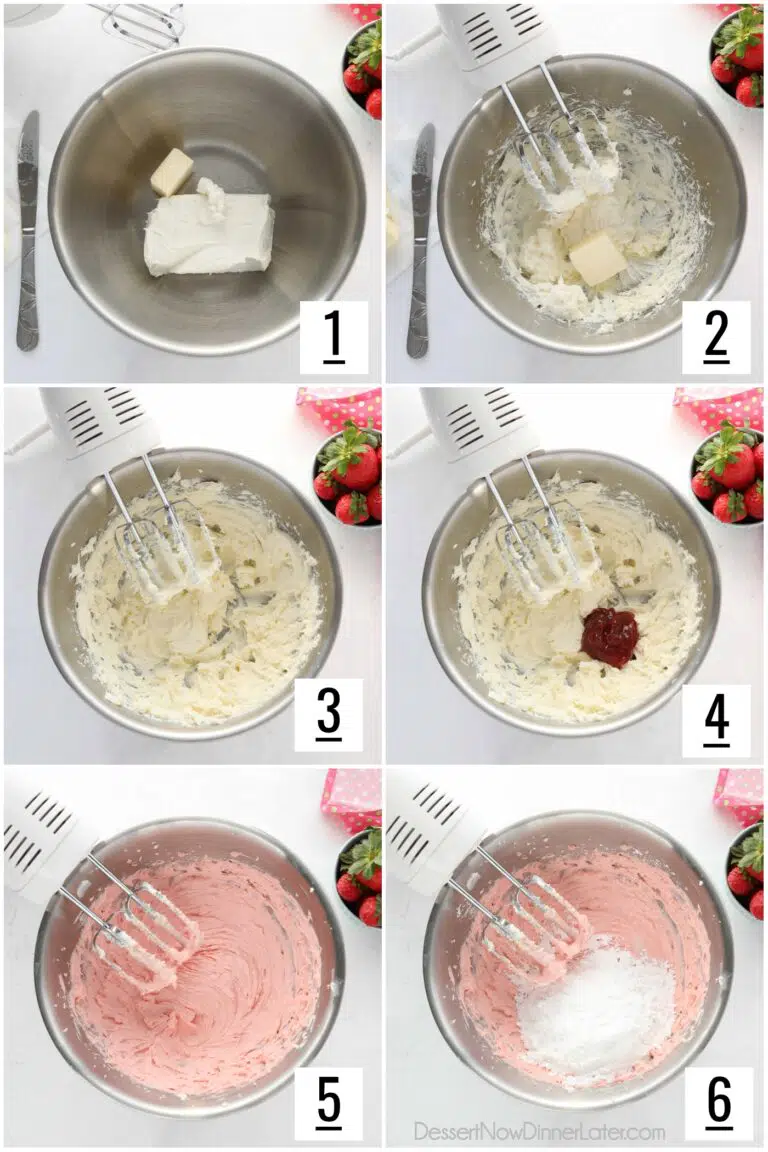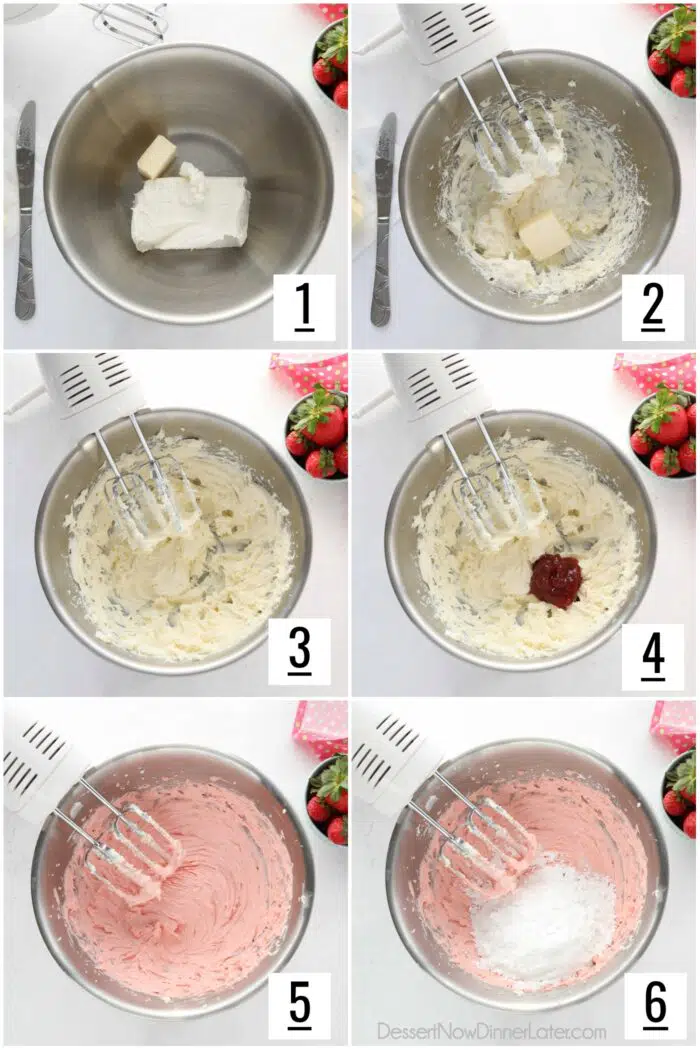 Place cold cream cheese in a large bowl with 2 Tablespoons of room temperature butter.
Beat with an electric hand mixer adding 2 Tbsp of butter at a time.
Beat until creamy and smooth.
Add jam, extract, salt, and food coloring.
Mix until incorporated.
Add powdered sugar. Mix until just combined.
NOTE: You may need to refrigerate the frosting for 10-20 minutes before piping it onto cupcakes, or you can use it immediately to spread onto cakes.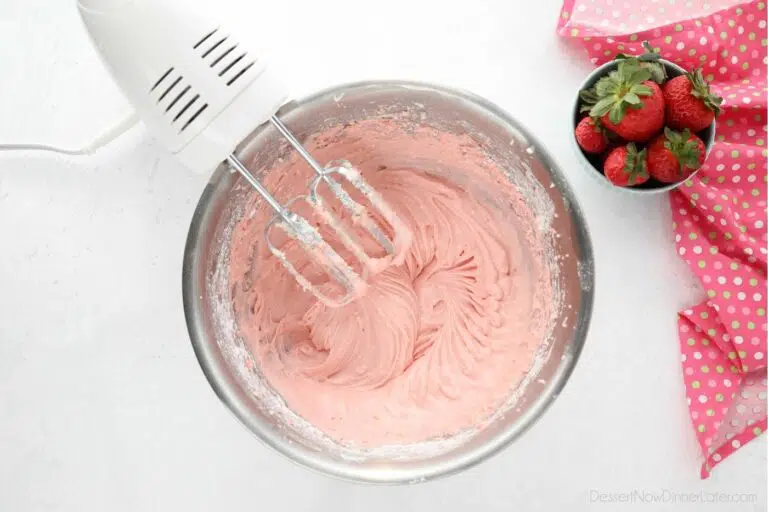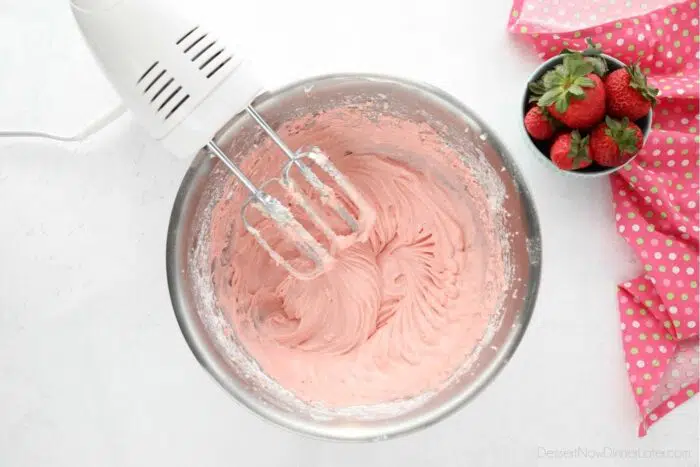 Tips For Success
Use COLD cream cheese and ROOM TEMPERATURE butter. I am always asked if I really mean cold cream cheese and YES, I mean it! The room temperature butter helps soften the cream cheese as it is beaten in gradually. Don't worry, the lumps will disappear. I do find it better to use the hand mixer for cream cheese frostings so you can beat the areas that need extra mixing, more precisely.
Do not over-mix cream cheese frosting! The trick to a thick and sturdy cream cheese frosting is to not over-mix it. Generally you can beat it quite a bit until you add the powdered sugar and flavorings. But after that you only want to mix it until the powdered sugar disappears, or it can get stringy, gooey, and sticky due to the starch content. Keep in mind if you are mixing extra long when combining the cream cheese and butter, it may heat up from the friction and get overly soft as well.
When in doubt, refrigerate it. If you've followed all steps as written and the strawberry cream cheese frosting is still too soft — refrigerate it. It doesn't take long for the butter inside to firm back up, especially if in a stainless steel bowl. Refrigerate it for 10-20 minutes, then fill your piping bag and top your cupcakes.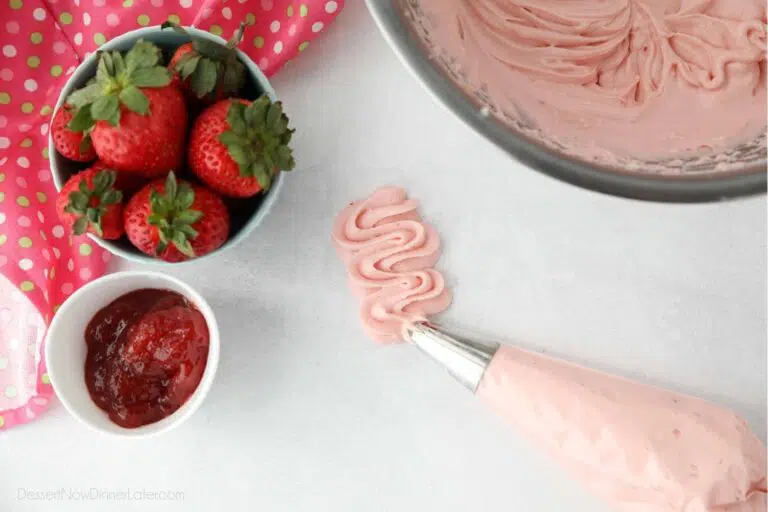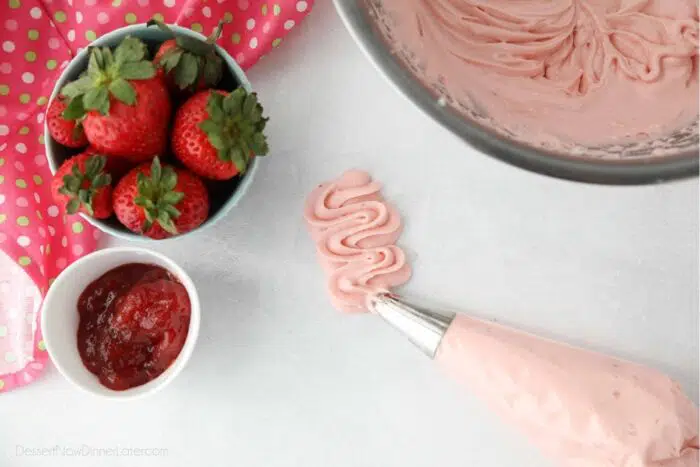 More Cream Cheese Frosting Recipes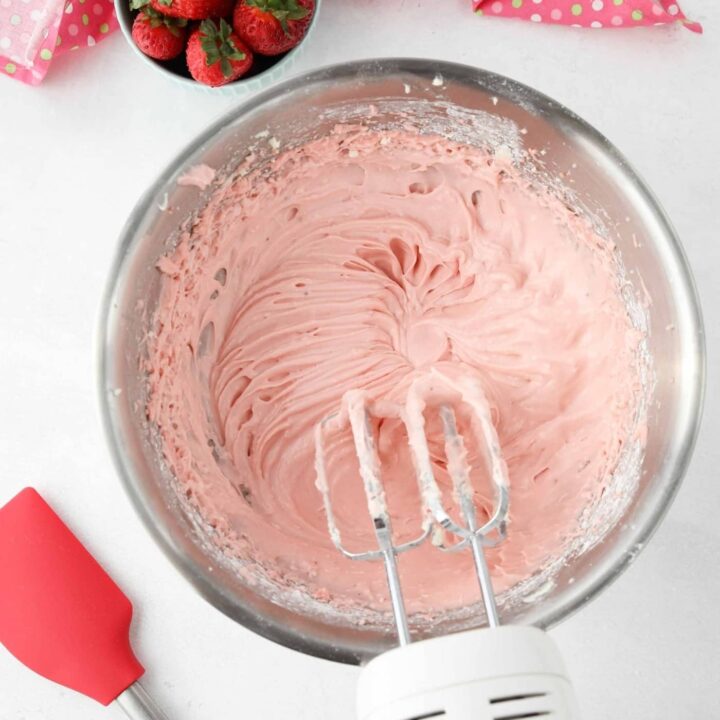 Strawberry Cream Cheese Frosting
Prep Time: 5 minutes
Total Time: 5 minutes
Yield: 2 cups frosting, which will frost about 16 cupcakes.
Strawberry jam is used to flavor this easy cream cheese frosting.
Ingredients
8 ounces full-fat brick cream cheese, cold
1/2 cup (1 stick) unsalted butter, room temperature
1/4 cup natural strawberry preserves (or low-sugar jam)
1/4 tsp almond or vanilla extract
1/8 tsp salt
1 drop red food coloring, optional
1 1/2 cups powdered sugar
Instructions
Place cold cream cheese in a large bowl with 2 Tablespoons of room temperature butter.
Beat with an electric hand mixer adding 2 Tbsp of butter at a time, mixing thoroughly after each addition, until creamy and smooth.
Add jam, extract, salt, and food coloring. Mix until incorporated.
Add powdered sugar. Mix until just combined. Do not over-mix.
Use immediately, or refrigerate for 10-20 minutes first, if too soft to pipe.
Notes
Store cream cheese frosting in an airtight container in the refrigerator up to 7-10 days.
Store decorated cakes/cupcakes covered in the refrigerator up to 3-4 days.
Pull frosted cakes/cupcakes from fridge and allow to sit at room temperature at least 30 minutes before consuming to take the chill off the cake.
Recommended Products
As an Amazon Associate and member of other affiliate programs, I earn from qualifying purchases.
Nutrition Information:
Yield: 16
Serving Size: 1
Amount Per Serving:
Calories: 108
Total Fat: 5g
Saturated Fat: 3g
Trans Fat: 0g
Unsaturated Fat: 2g
Cholesterol: 15mg
Sodium: 67mg
Carbohydrates: 15g
Fiber: 0g
Sugar: 13g
Protein: 1g
This data was provided and calculated by Nutritionix, and is an estimation only.