Vanilla Cupcakes Recipe + Video
This post may contain affiliate links, meaning that I may receive a commission at no cost to you if you use a link provided. All opinions shared are my own. You can review my full disclosure policy here.
This vanilla cupcakes recipe is easy, classic, moist, fluffy, and perfectly sweet. Great for birthdays, weddings, or any occasion. These basic cupcakes are a must for your recipe box.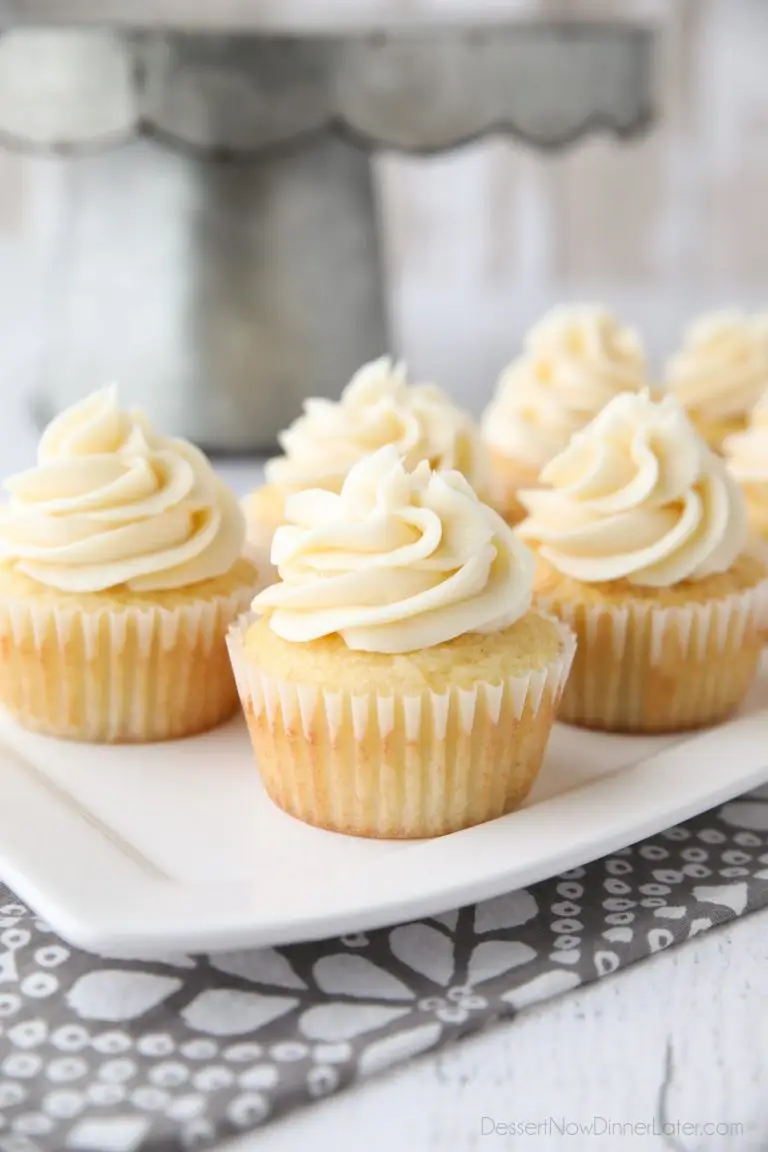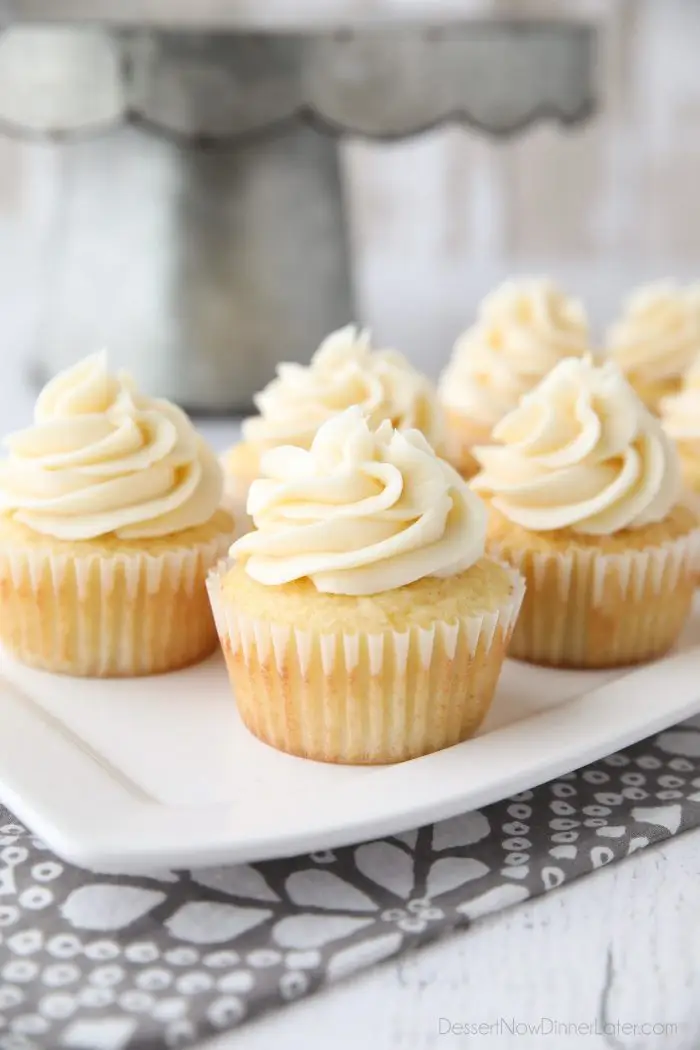 This is our favorite vanilla cupcakes recipe. It's made with basic, everyday ingredients, is light, moist, versatile and easy to make. It makes a great base for muffins, or add sprinkles for funfetti cupcakes.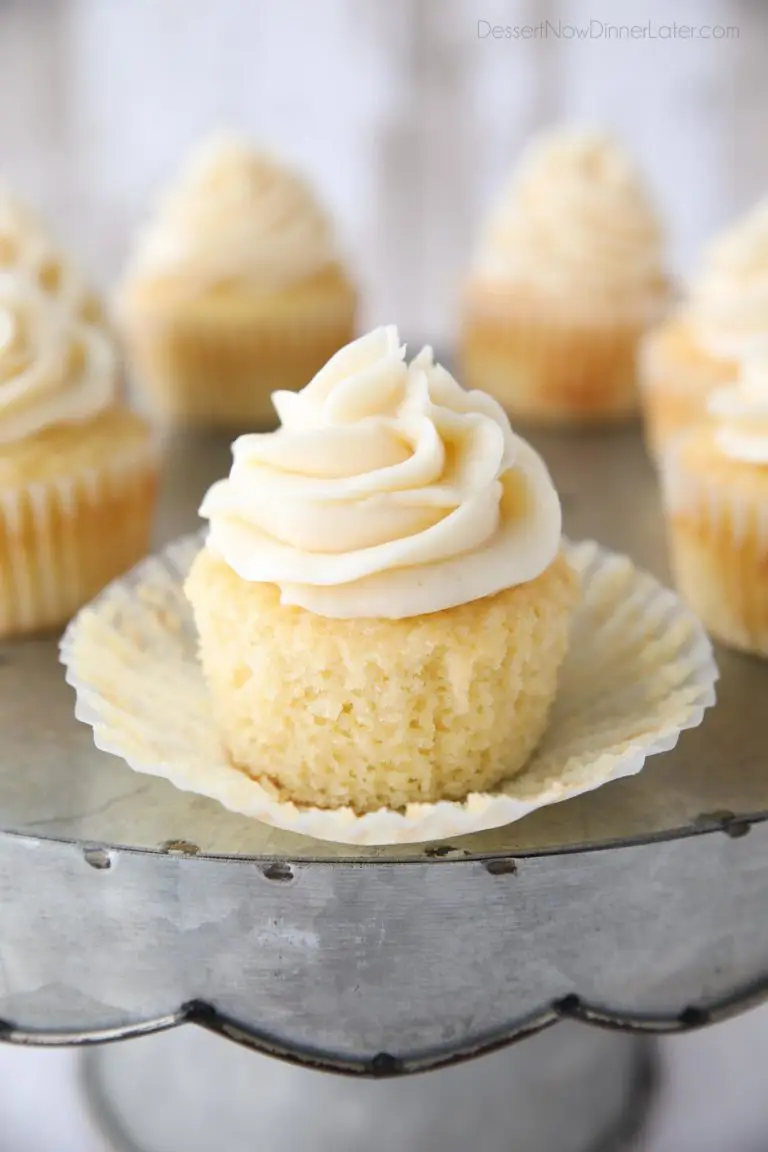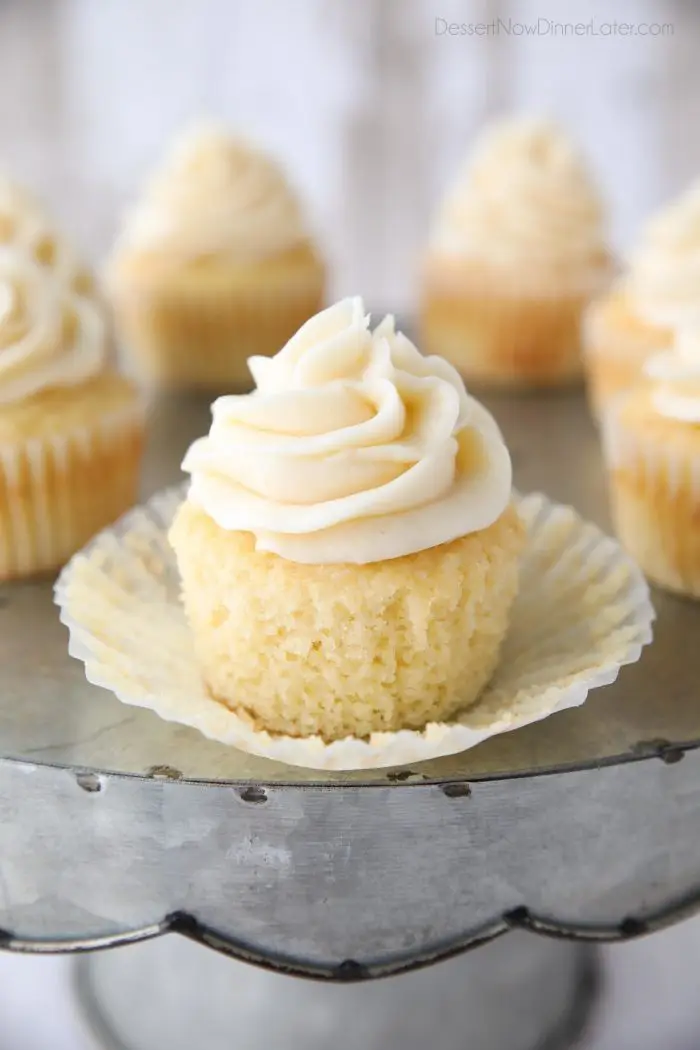 Vanilla Cupcakes Recipe
Most of the ingredients for this vanilla cupcakes recipe can be found in your home pantry.
All-Purpose Flour – Be sure to stir the flour first to incorporate air, then gently spoon it into the measuring cup, and finally level it off with the back of a knife. Flour settles as it is stored, and scooping flour straight into the cup will create a heavy, dense baked product.
Baking Powder – Baking powder will make the cupcake rise, create a tender crumb and light cake.
Salt – A little salt is added to intensify the flavors.
Oil – Oil adds moisture while keeping the texture of the cake light. Use a flavorless oil like canola or vegetable.
Granulated Sugar – Just enough sugar is added for the perfect amount of sweetness. Since cupcakes are typically frosted, you don't want to overdo it here.
Eggs – Eggs help with the leavening (rise of the cupcake), moisture, and structure of the cake.
Vanilla Extract – Pure vanilla extract or vanilla bean paste will provide the best flavor.
Buttermilk – Buttermilk tenderizes the crumb and boosts the chemical reaction of the leavening ingredients. TIP: If you don't have buttermilk, you can make it by mixing the 1/2 cup of milk called for in the recipe with 1 tsp of vinegar or lemon juice and letting it sit for 5 minutes before using it.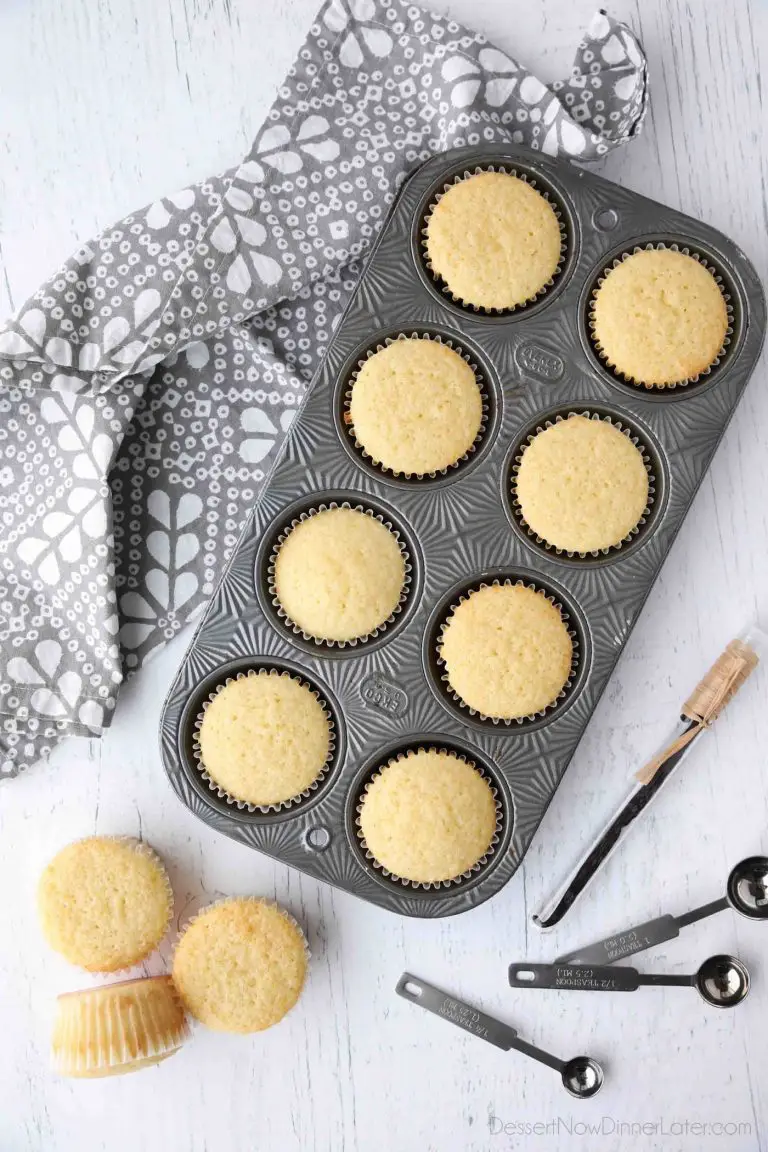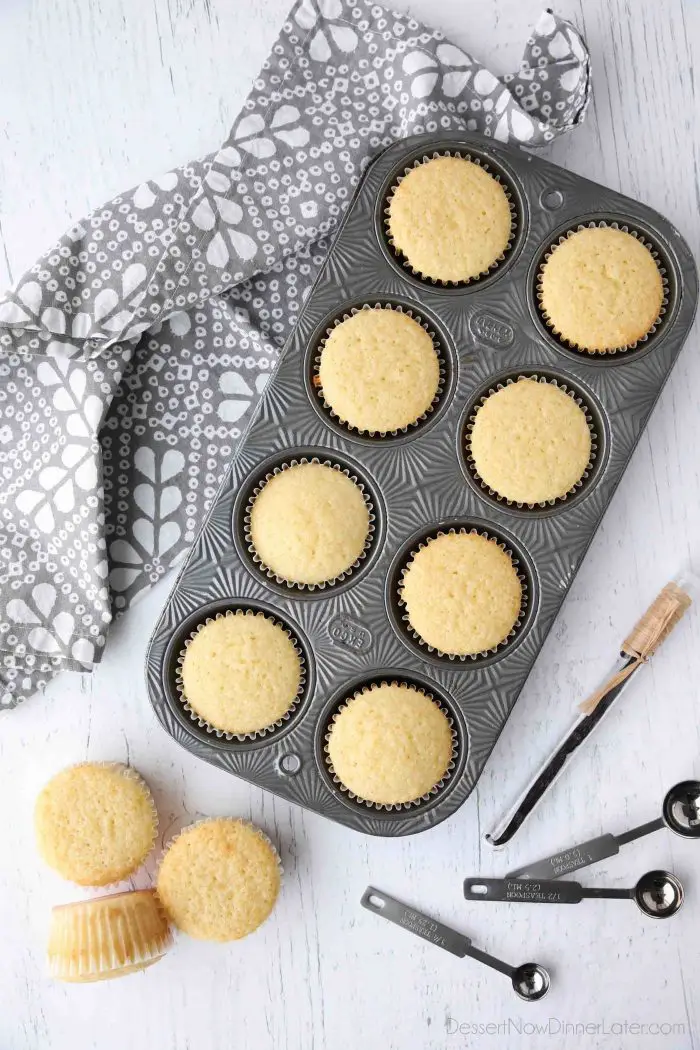 Baking Tips
Sift the dry ingredients. Since we are using all-purpose flour instead of cake flour in this vanilla cupcakes recipe, I highly recommend sifting the dry ingredients. This can be done with any fine mesh sieve. I love using this 6-inch round sifter. Sifting the dry ingredients will help distribute things better and create a lighter, fluffier cupcake. Be sure to stir, spoon, and level the flour when it's measured as well, so that it's not packed into the measuring cup.
Use a scoop for filling the cupcake liners. I like to use a #24 scoop to fill the cupcake liners about 2/3 full. This creates consistently sized cupcakes and ensures the cupcakes will all bake evenly.
As much as you want that perfect 12 cupcakes only recipe, it is better to have extra cupcakes, than a huge mess in your oven and cake stuck to your muffin tin. Do not overfill your cupcakes!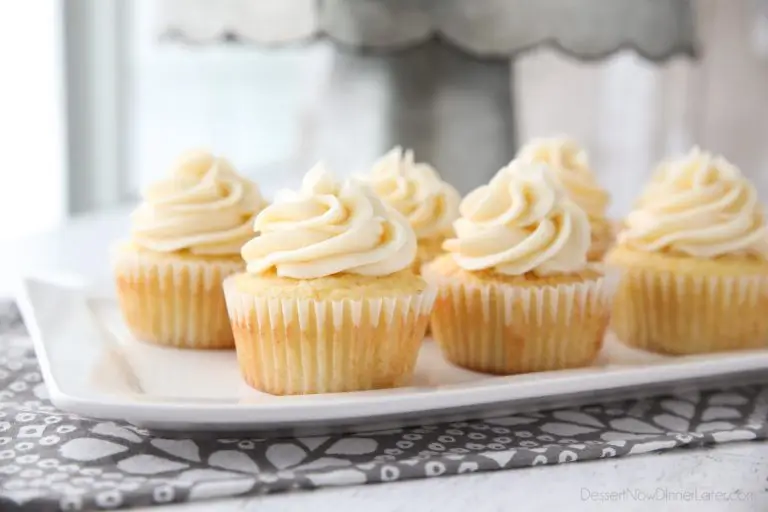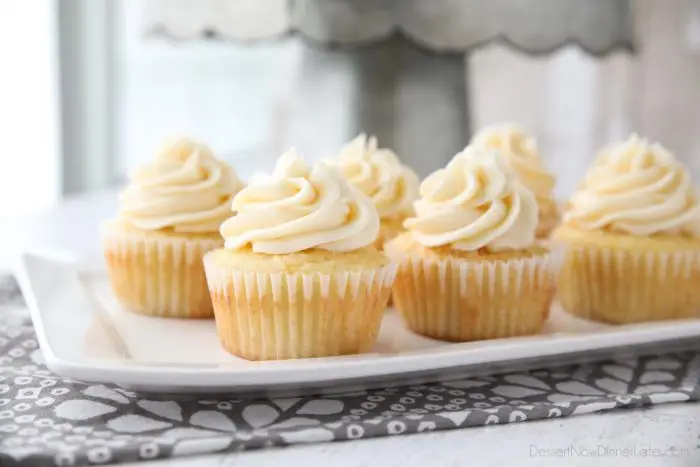 Frostings for Vanilla Cupcakes
Vanilla cupcakes go well with basically any frosting. Vanilla, chocolate, fruit-flavored, you name it. Here are some of my favorites: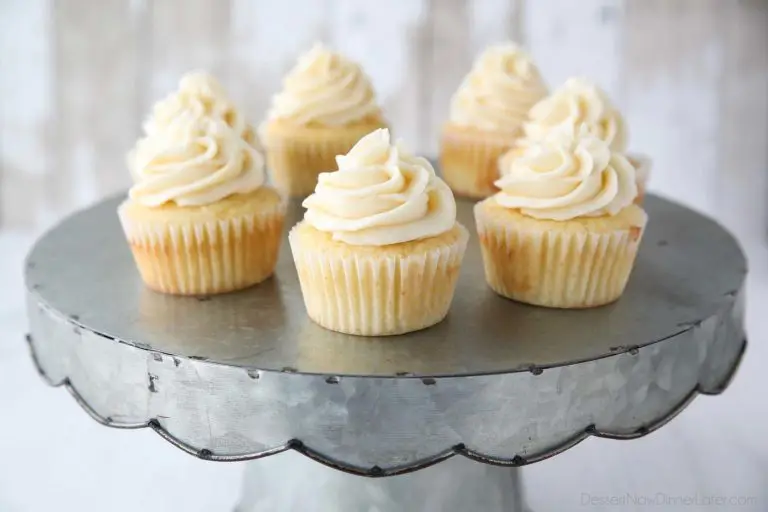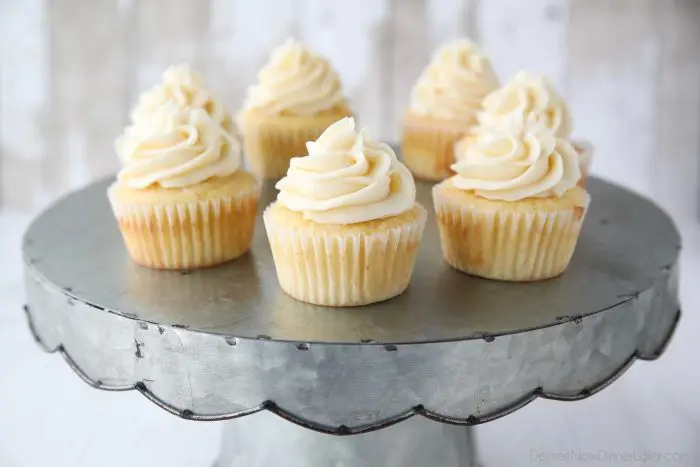 Having a good base cake recipe is vital for any baker, and with this vanilla cupcakes recipe in your back pocket, you can be ready for that next party.
Be sure to grab my recipe for classic Chocolate Cupcakes as well. Another must-have for every recipe box.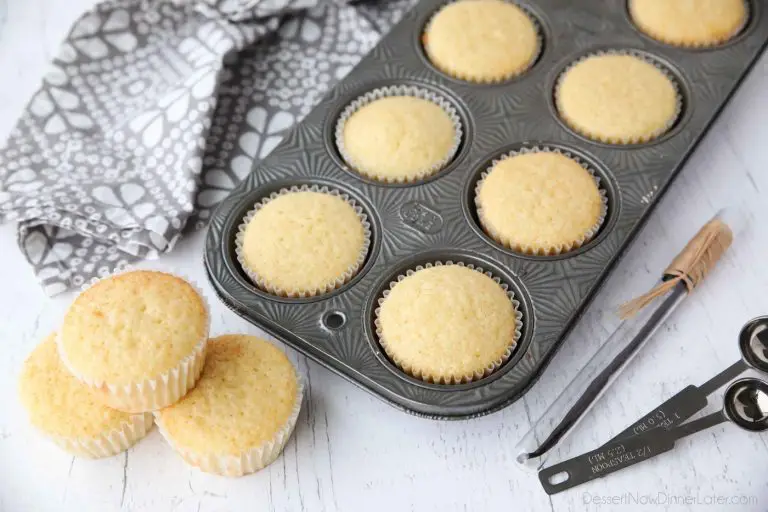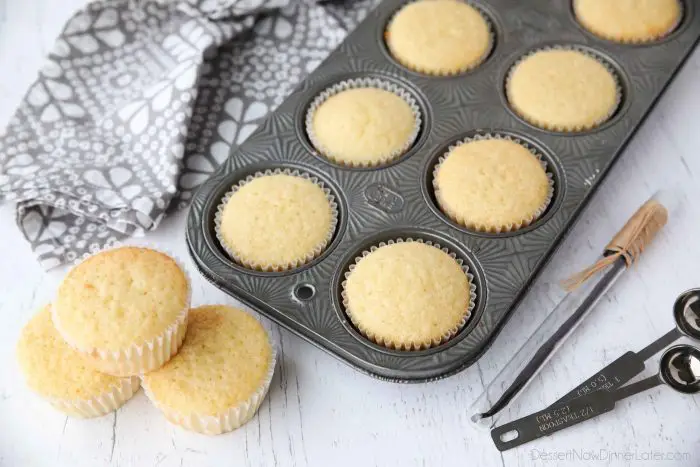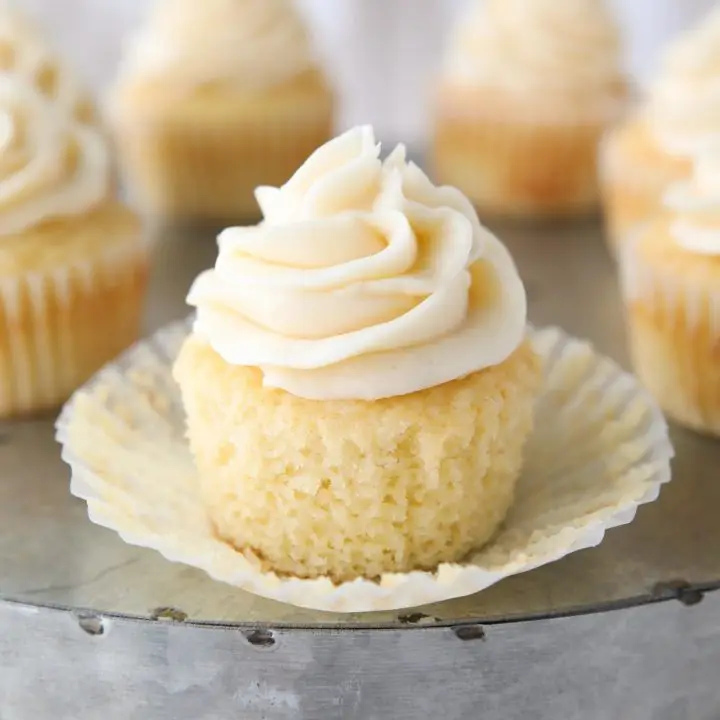 Vanilla Cupcakes Recipe
Prep Time: 15 minutes
Cook Time: 15 minutes
Total Time: 30 minutes
Yield: 14 cupcakes
Ingredients
1 1/4 cups all-purpose flour (stir, spoon, & level)
1 tsp baking powder
1/2 tsp salt
1/2 cup oil (canola/vegetable)
1 cup granulated sugar
2 large/XL eggs, room temperature
2 tsp vanilla extract
1/2 cup buttermilk (or milk with 1 tsp vinegar/lemon juice)
Instructions
Preheat oven to 350 degrees Fahrenheit (375˚F for high altitude). Line muffin tin(s) with cupcake liners.
In a medium bowl, sift together the flour, baking powder, and salt. Set aside.
In a large bowl, whisk together the oil and sugar. Add the eggs one at a time, whisking well after each one. Add the vanilla and mix together.
Add half of the dry ingredients. Mix until just combined. Add all of the buttermilk. Mix until combined. Fold in the remaining dry ingredients until just combined. Do not over mix!
Scoop batter 2/3 full (with a #24 scoop) into the prepared cupcake pans (about 14 cupcakes). Do not over-fill!
Bake for 15 to 20 minutes until a toothpick inserted into the center comes out clean or with a few moist crumbs.
Notes
*Allow cupcakes to cool completely before decorating with frosting.
*If making buttermilk with milk and vinegar/lemon juice, allow mixture to rest for 5 minutes before using.
Recommended Products
As an Amazon Associate and member of other affiliate programs, I earn from qualifying purchases.