These Funfetti Rainbow Cupcakes are colorful inside and out! Homemade funfetti cupcakes are moist and full of sprinkles. Then topped with a colorful buttercream rainbow and mini marshmallow clouds. Super fun for birthday cupcakes or perfectly festive for St. Patrick's Day!
Rainbow Cupcakes are so colorful and happy! They are perfect for spring, summer, or unicorn birthday parties. The festive colors work for boys or girls. Add a pot of gold and they're perfect for St. Patrick's Day!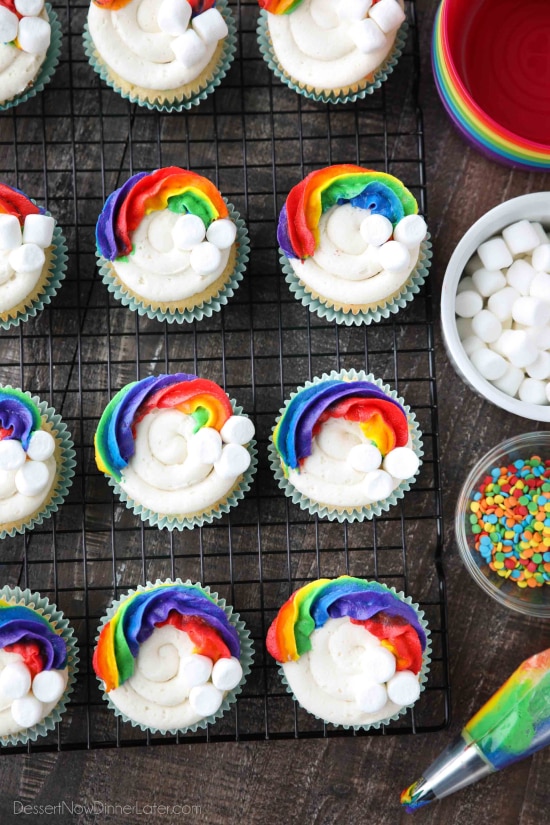 COOKING RAINBOW CUPCAKES
There are many ways you can make these multi-colored cupcakes. Coloring and layering the cake batter like a rainbow is super fun. For these rainbow cupcakes, I made a homemade funfetti cake batter with colorful sequin sprinkles. (Regular sprinkles are fine too.)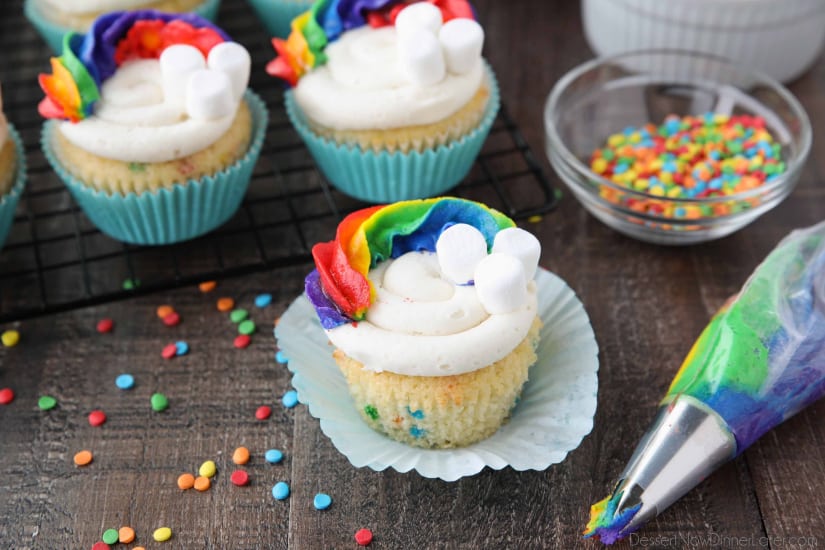 RAINBOW ICING
Besides the multi-colored confetti sprinkles in the cake, the rainbow for these cupcakes is in the swirled frosting on top. You could color all of the frosting and pile it on high, but I thought it would be fun to make an arched rainbow with marshmallow clouds.
First, I used a Wilton 2A tip to pipe a swirl of plain white frosting onto the cupcake.
To make the rainbow icing you will use red, orange, yellow, green, blue, and purple food coloring gel and mix the colors individually.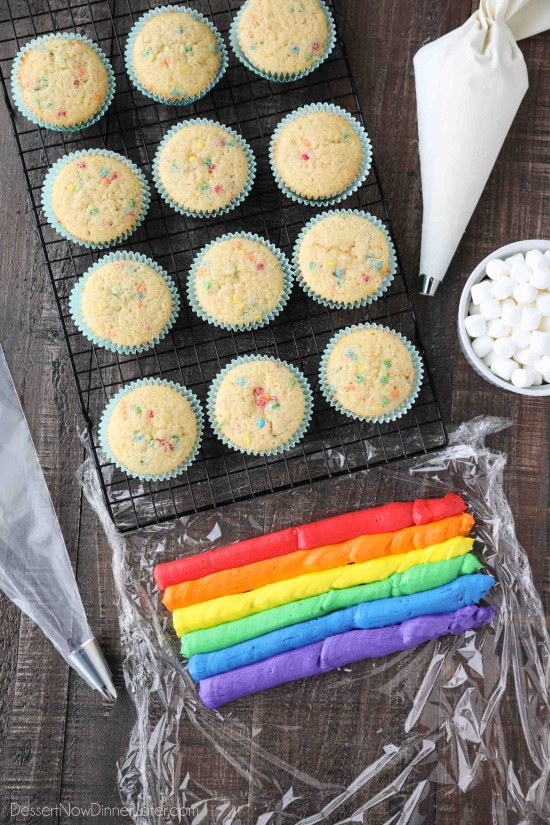 Layer the colors in order of a rainbow onto a piece of plastic wrap. (Red, orange, yellow, green, blue, and purple.)
You can spread the colored frosting onto the plastic wrap with a spatula. Or you can place the colored frosting into separate sandwich-size zip-top plastic bags, cut off the corner, and pipe each one into a straight line onto the plastic wrap. (This is what I did.)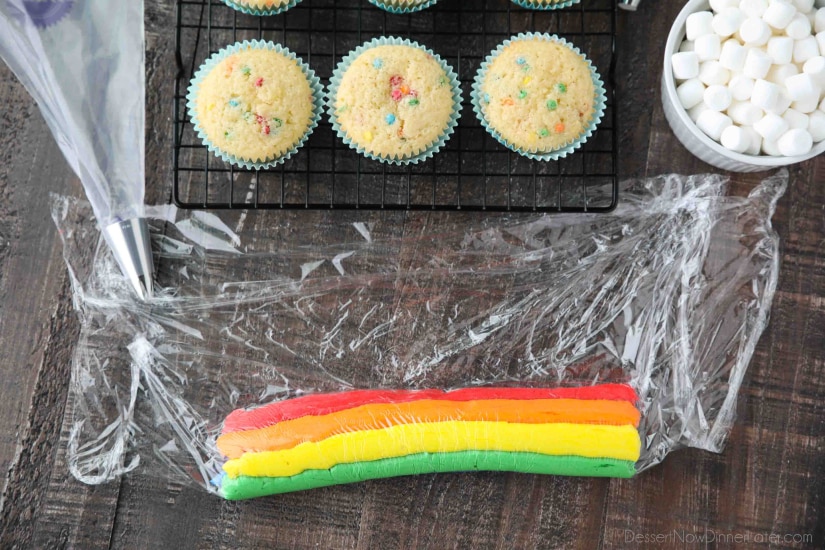 Lift and fold the plastic wrap in half. (The colored icing will stack on top of each other.) Then roll the rainbow icing into a log inside the plastic wrap. Twist the ends. Cut off one end, right next to the frosting, and slide it into a piping bag fitted with either a Wilton 1M or 2D tip.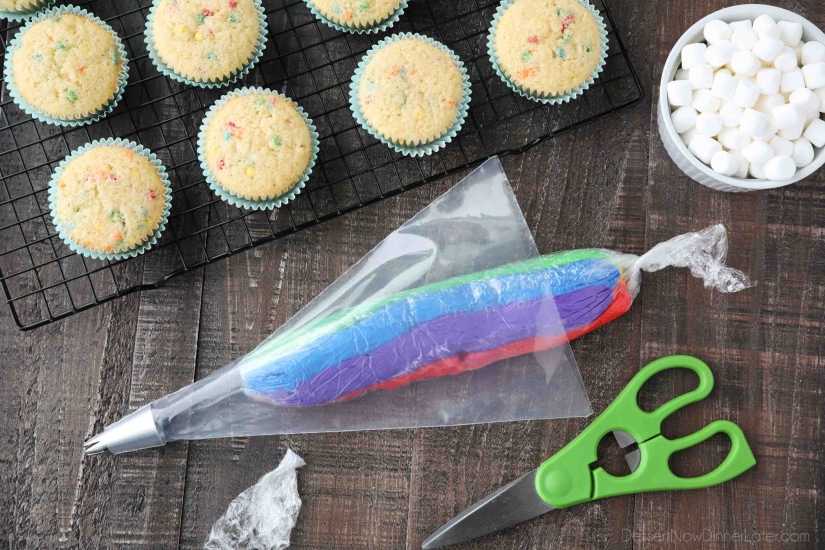 PIPING THE RAINBOW
Pipe the rainbow icing into an arch on the top half of the cupcake, TWISTING the bag as you squeeze to show off all the colors. Add a few mini marshmallows at one end of the rainbow for clouds.
NOTE: Twisting the bag while squeezing is slightly tricky! Slow and steady works best. I recommend testing the technique on a plate first.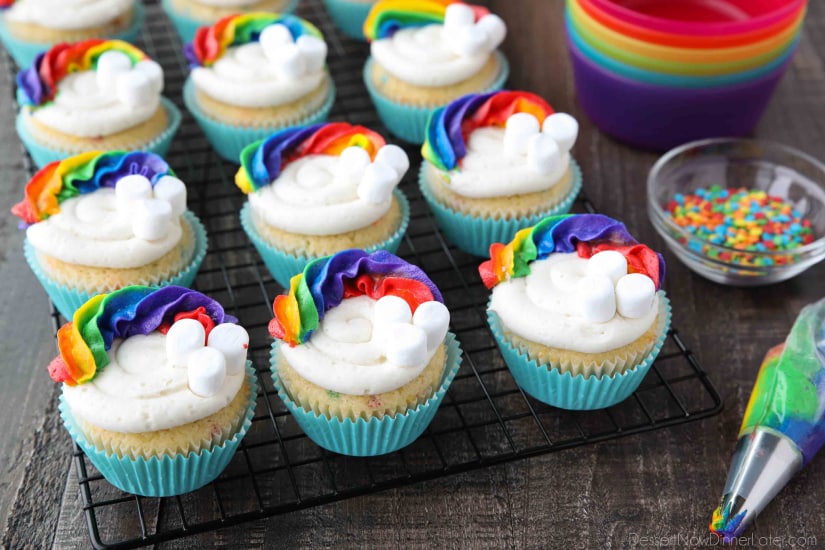 These funfetti rainbow cupcakes are delicious, moist, and full of colorful sprinkles. The rainbow icing on top creates a super fun and whimsical display. Kids and adults alike will want to sink their teeth right in!