Pumpkin Bundt Cake
This post may contain affiliate links, meaning that I may receive a commission at no cost to you if you use a link provided. All opinions shared are my own. You can review my full disclosure policy here.
This pumpkin bundt cake is a fall favorite. Moist pumpkin cake that's not too sweet, full of pumpkin spices, and topped with cream cheese frosting. A classic fall dessert!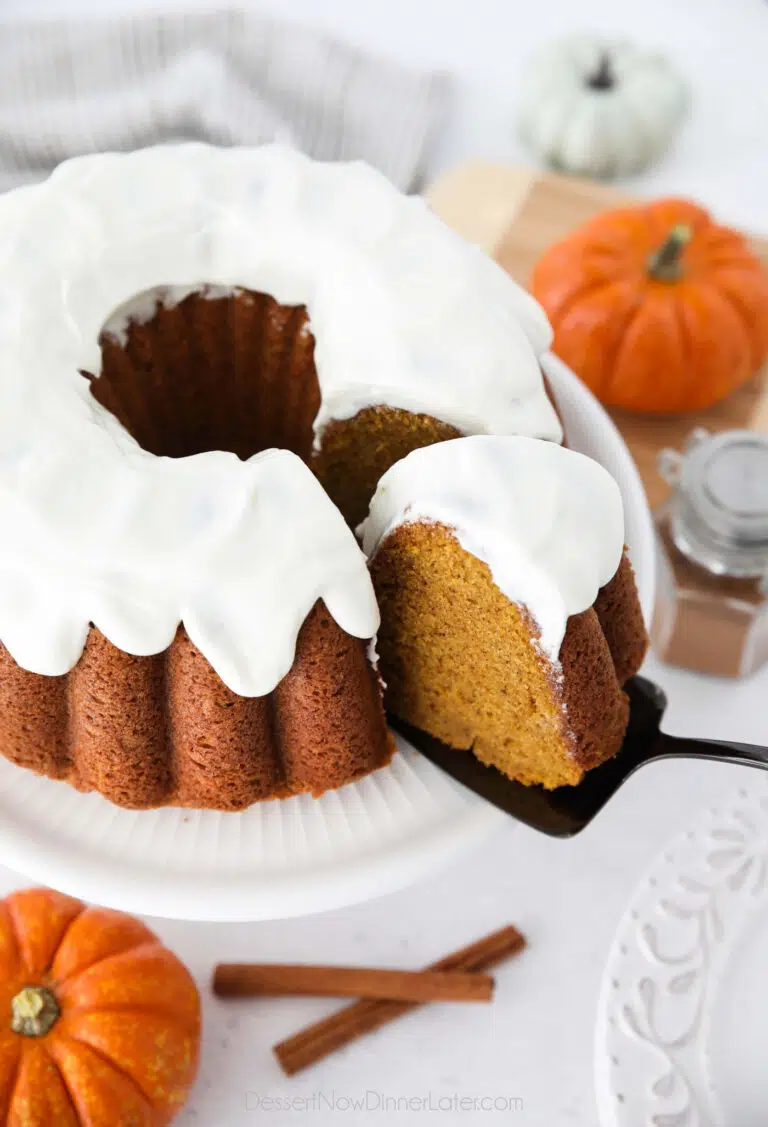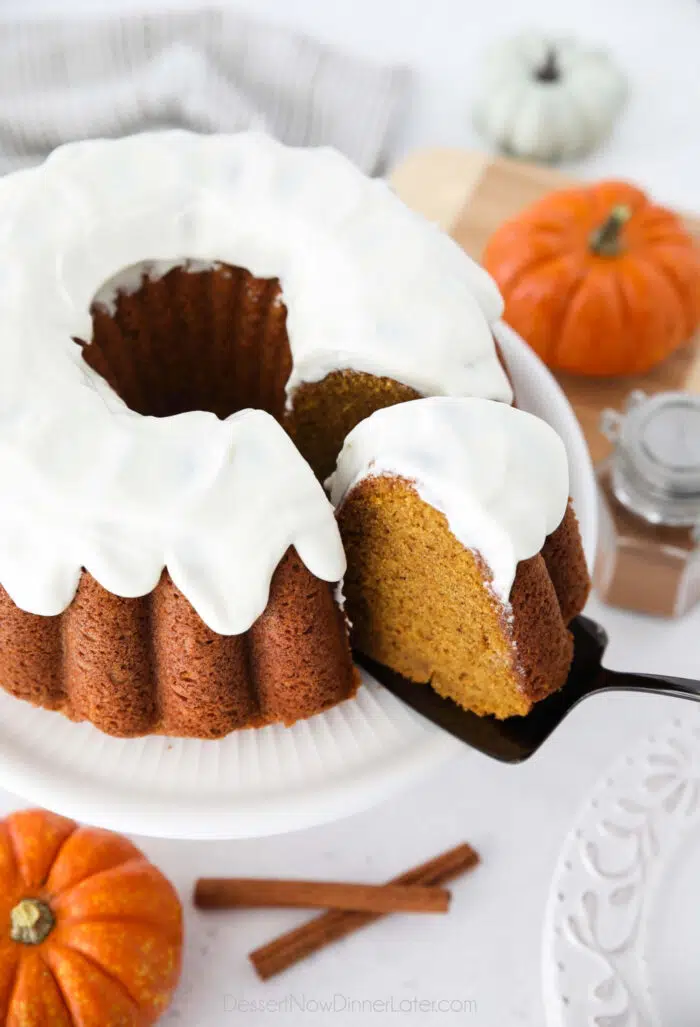 What's so great about bundt cakes?
Bundt cakes are beautiful to look at and delicious to eat. Plus, they're great for entertaining — as they serve a lot (up to 20 people!)
In fact, the word "bundt", derived from the German word bundkuchen, literally means "a cake for gathering." How quaint!
The doughnut shaped cake with its fluted sides gives the cake a decorative sculpted shape that requires little embellishment — no fancy frosting techniques required. Although I can't say no to cream cheese frosting. (As you can see in my photos.)
Bundt cakes are also a lot like muffins — almost a dessert, but totally acceptable to eat for breakfast. And cake for breakfast is always a good thing!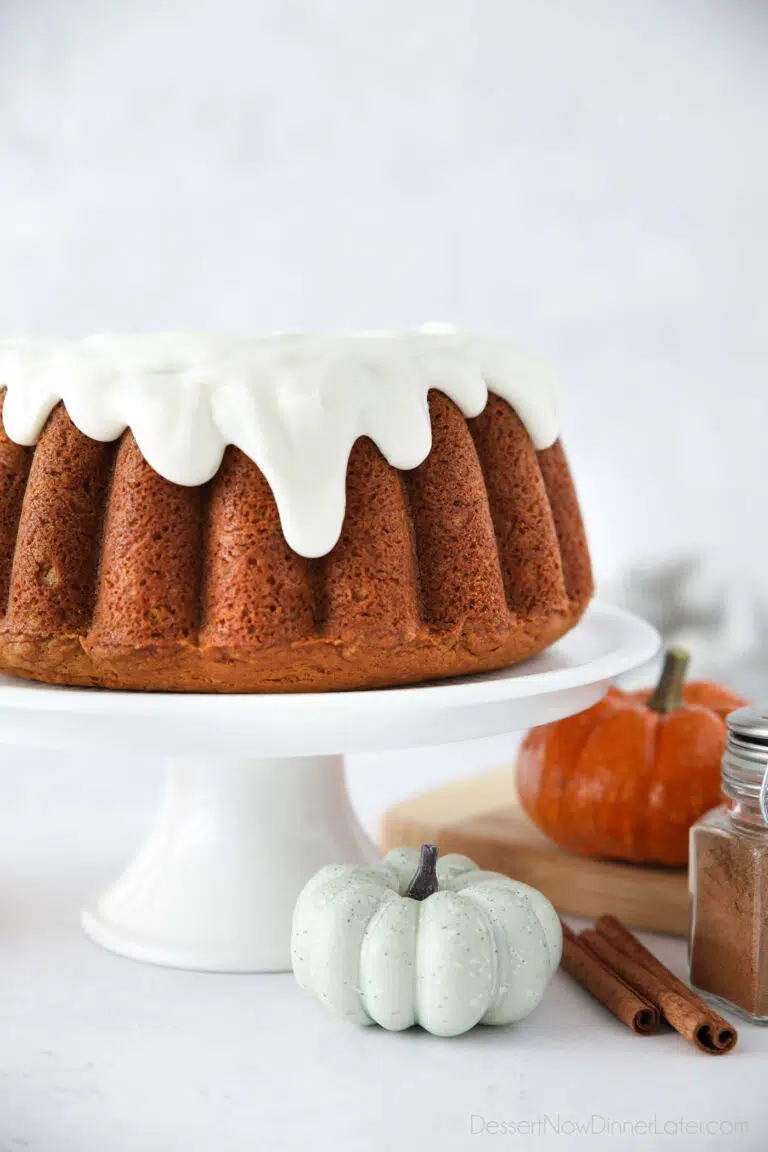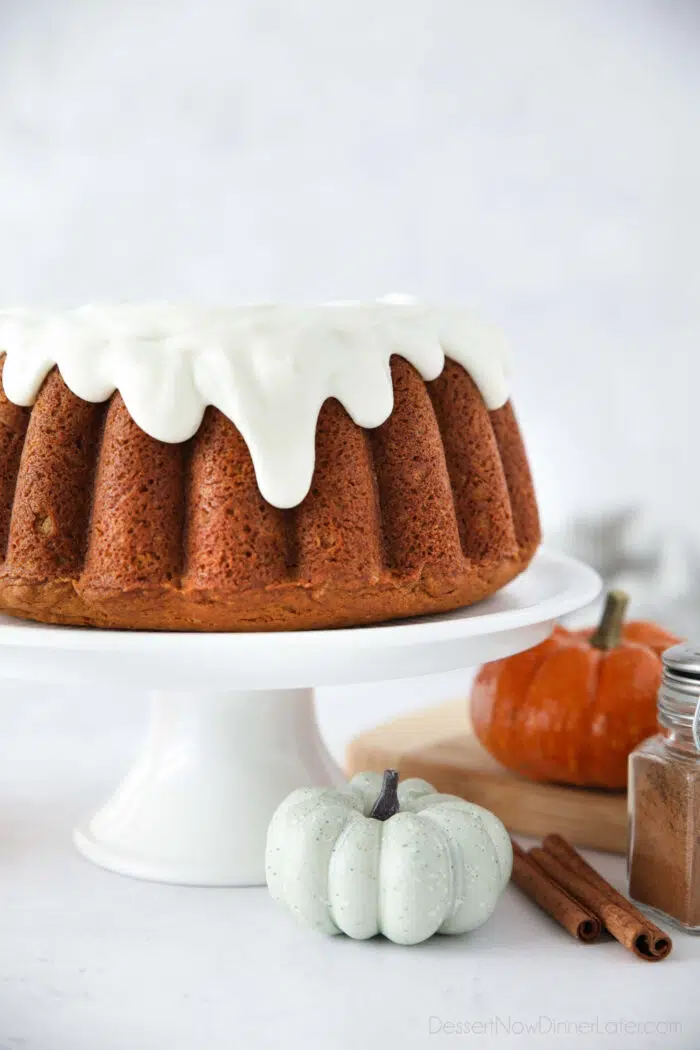 Can you use a cake mix in a bundt pan?
If you're not much of a baker, you can simply use any box of cake mix for a bundt cake. Or even doctor it up like my Vanilla Pudding Bundt Cake.
If you prefer to make a bundt cake from scratch, you can successfully bake the batter for any two 9-inch layer cakes in a standard 10-inch or 12-cup bundt pan. (That's roughly 6-7 cups of cake batter.)
If you don't try this pumpkin bundt cake, maybe my Lemon Poppy Seed Bundt Cake or Lime Bundt Cake will spark your taste buds.
Bundt cakes are easy, yet elegant (much better looking than a sheet cake) and can be made in a variety of flavors.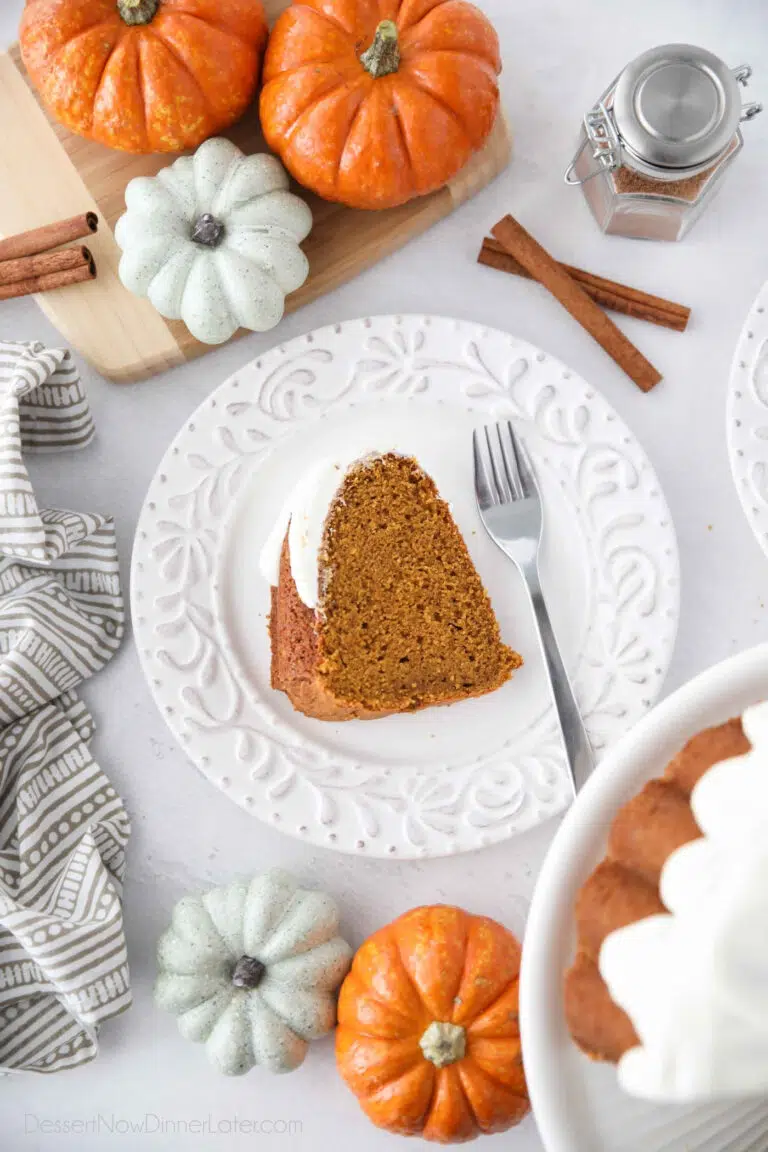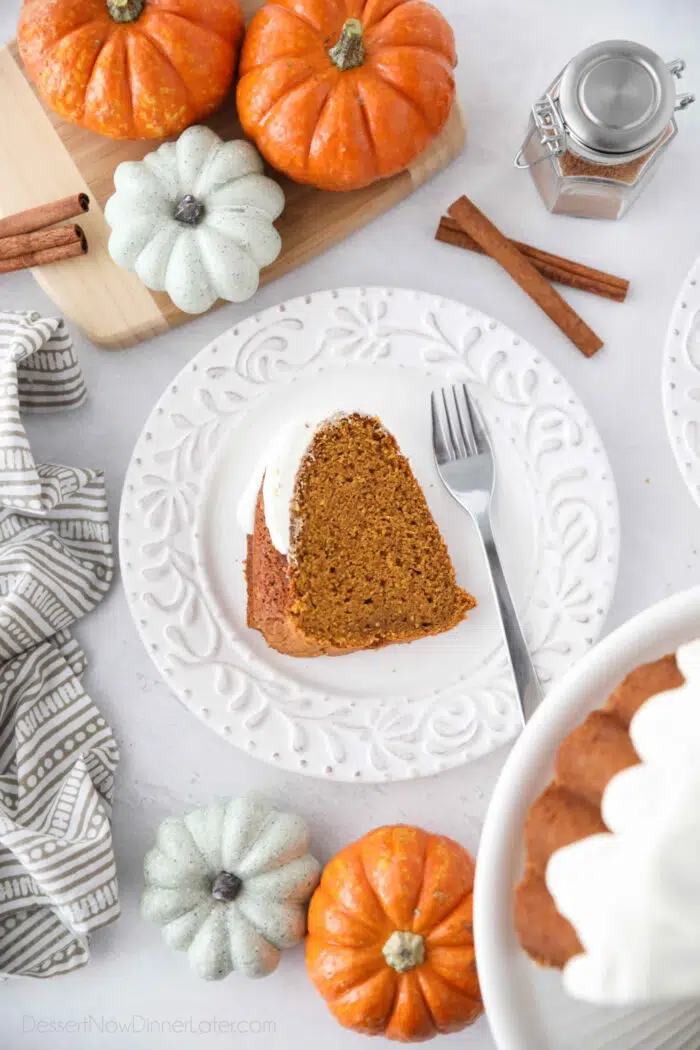 Pumpkin Bundt Cake with Cream Cheese Frosting
This pumpkin bundt cake can easily replace pumpkin pie for Thanksgiving. What makes this recipe so great?
It uses 1 full can of pumpkin — no leftovers sitting in the fridge! This also gives the cake a great pumpkin flavor and super moist, velvety crumb.
There's far less sugar in it than other recipes — almost half as much!
I use my homemade pumpkin pie spice for the perfect blend of spices. (Store-bought is fine too though.)
It's topped with a delicious, fluffy cream cheese frosting. (Optional, but delicious!)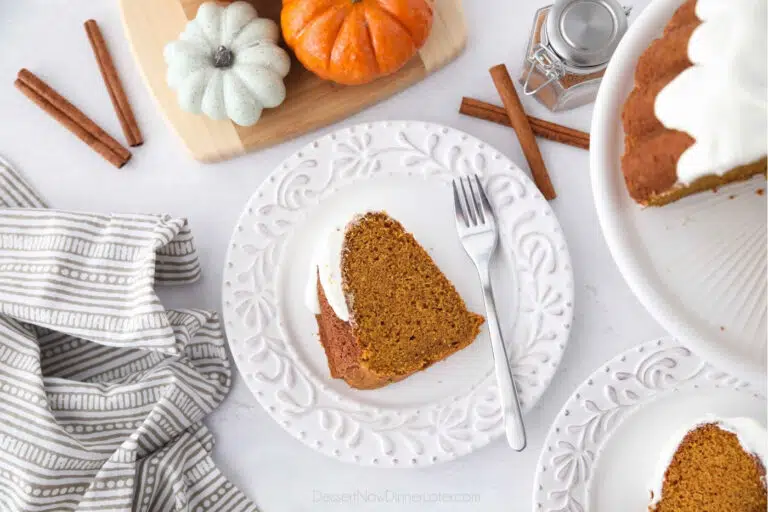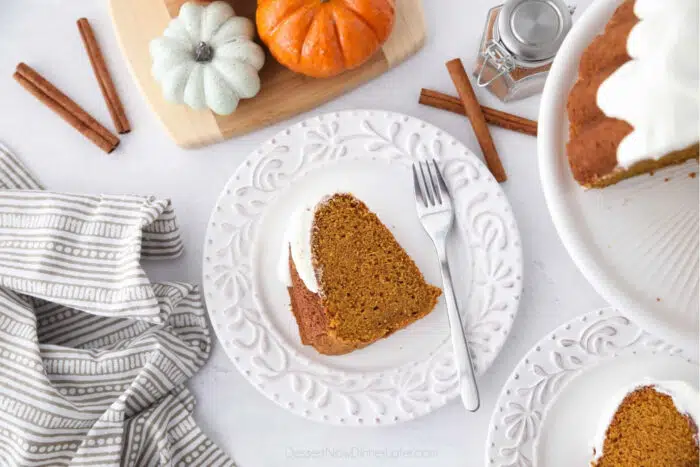 Recipe Testing
I've actually made a chocolate pumpkin marble cake in a bundt pan on my blog almost 9 years ago. I'm sure it was delicious, but I wanted to use one of my more-recent recipes that I know I am confident with.
So for this pumpkin bundt cake, I stuck with my pumpkin chocolate chip bread recipe that underwent much testing to use a whole can of pumpkin. (It makes 2 loaves of pumpkin bread.) That recipe took me at least 4-5 tries to get right and I was thrilled with the final result.
I simply re-used that recipe here, without the chocolate chips, baked it in a bundt pan, and added the cream cheese frosting. The frosting is actually more like an icing because it's thinner than frosting, but not quite a glaze. It's even kind of fluffy. Delicious!
Pumpkin Bundt Cake Recipe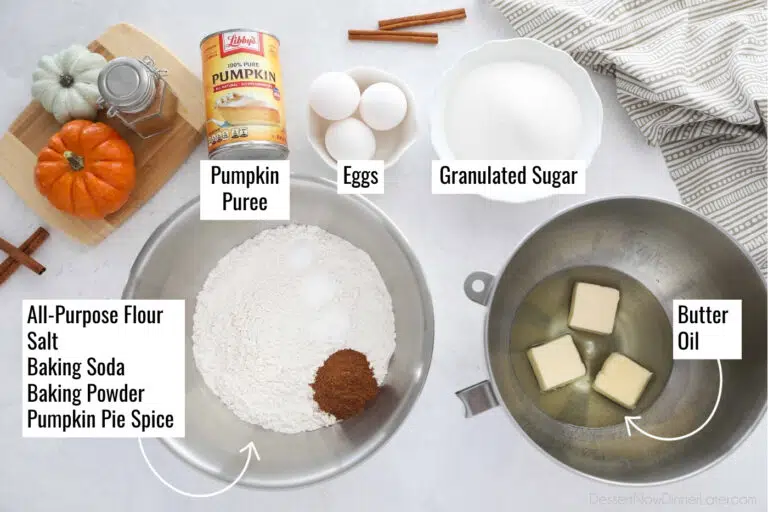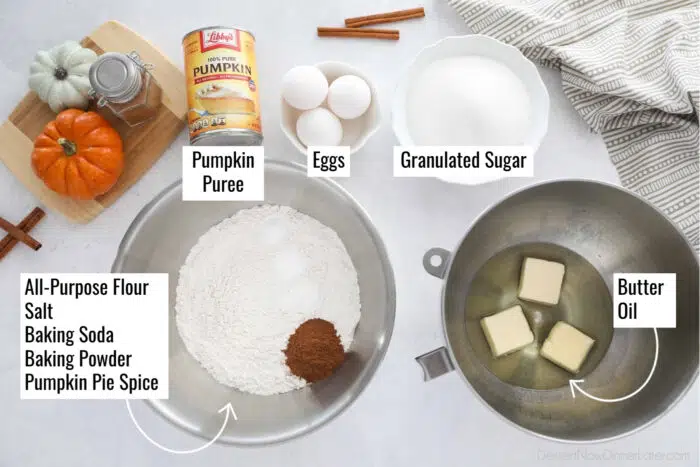 For this recipe you will need:
Dry Ingredients:

All-Purpose Flour
Salt
Baking Soda
Baking Powder

Wet Ingredients:

Unsalted Butter
Oil (Canola or Vegetable)
Granulated Sugar
Eggs
Pumpkin Purée (Not to be confused with pumpkin pie mix. It's 100% pure pumpkin – no sweeteners, spices or other ingredients.)
(Full printable recipe card is at bottom of post.)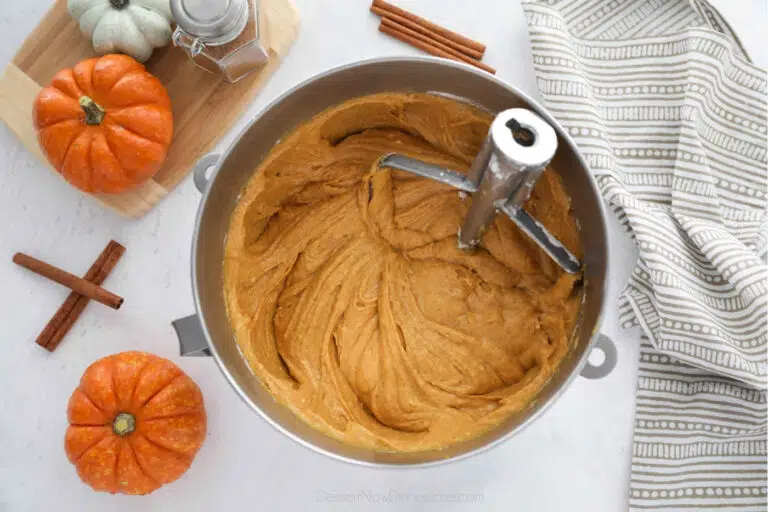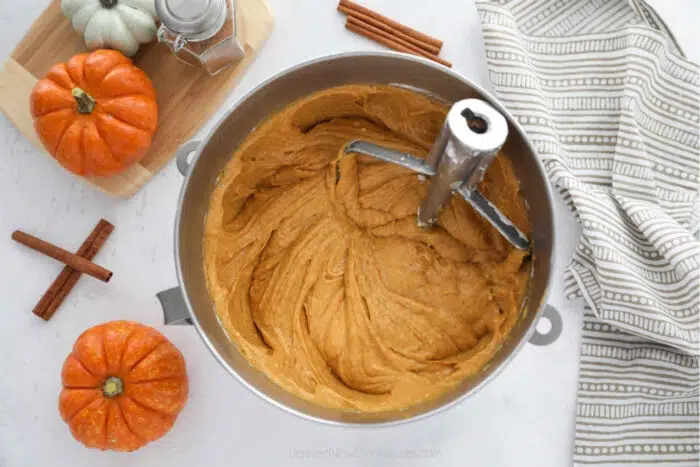 Instructions
To make this pumpkin bundt cake:
Combine the dry ingredients in a bowl.
Cream the butter, oil, and sugar until light and fluffy with an electric mixer. Add the pumpkin and eggs. Mix to combine.
Add the dry ingredients to the wet ingredients and mix until just combined.
Bake in a bundt pan for about 45-50 minutes, or until done.
Allow the cake to cool. Then top the cake with cream cheese icing, if desired.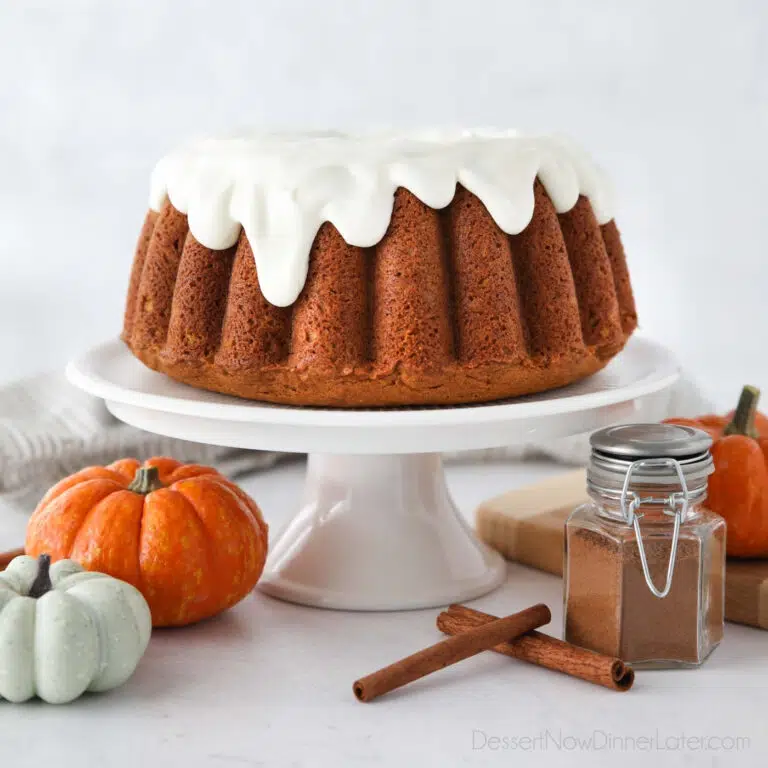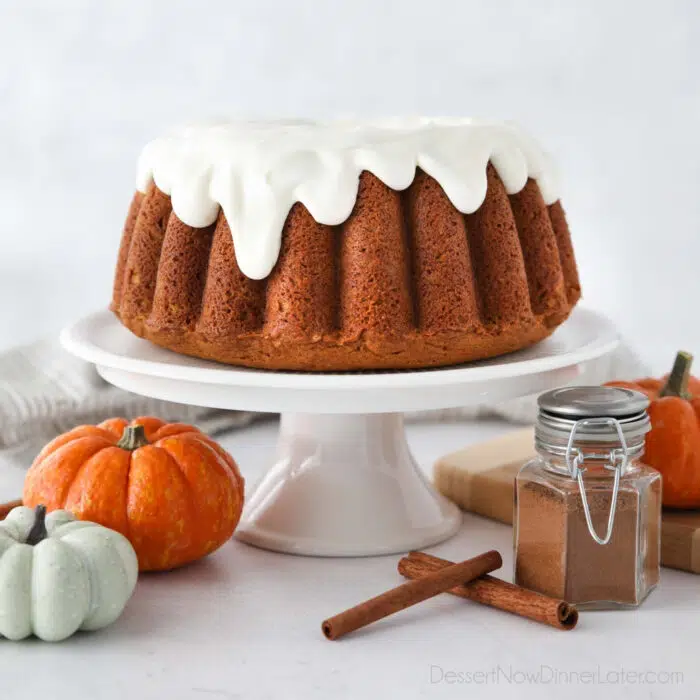 How to Grease a Bundt Pan
Making bundt cakes can be intimidating because, although beautifully ornate in their design, the fluted sides can make it tricky for the cake to release from the pan without sticking or tearing.
Traditionally, you would brush or rub a thin coat of butter or shortening in the dish and sprinkle it with a thin coat of flour, tapping off any excess, to prevent the cake from adhering to the pan. (Only do this just prior to filling with the cake batter so it doesn't dry out.)
While this is generally a tried and true method, I like to keep it simple and use Baker's Joy. It's a baking spray that already contains flour. Two steps done in one, and it works like a charm.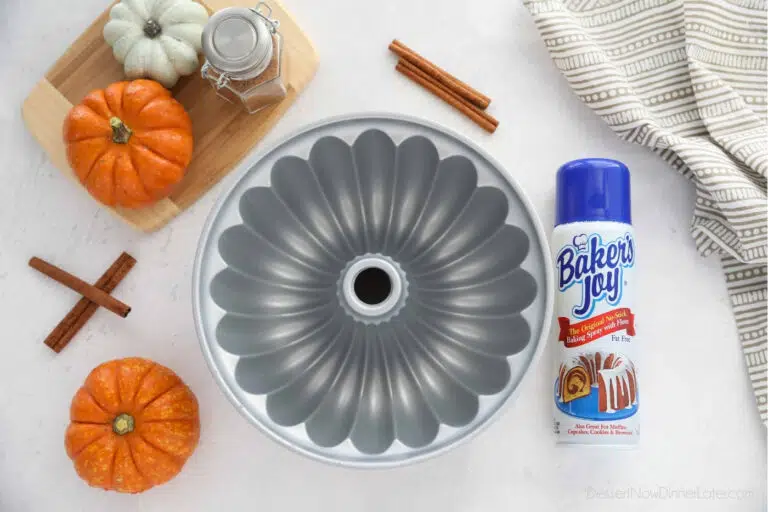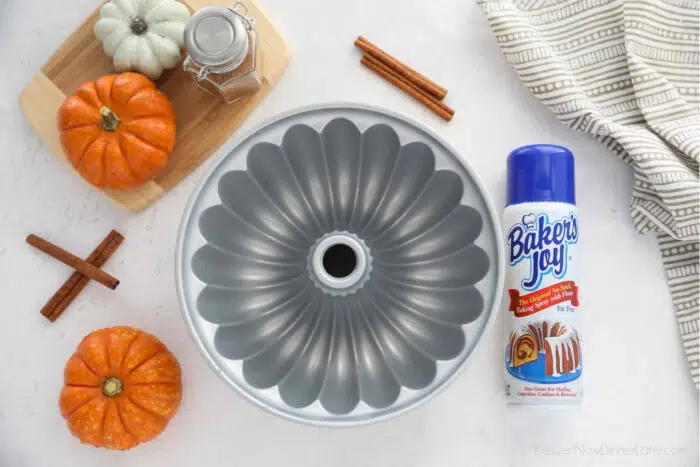 Bundt Cake Tips
How do I know when the bundt cake is done?

Insert a toothpick or cake tester. Insert it into the cake at the thickest part. If it comes out clean or with a few moist crumbs (not wet batter) it is done.
Do a finger check. You can also gently press the cake with your finger. If it springs back slightly (doesn't leave an indent), then it is done.
Check the internal temperature. Most bundt cakes are done when they reach an internal temperature of about 200°F.

How to get a bundt cake out of the pan?

Allow the cake to rest in the pan for 10 minutes. This allows the cake time to continue to pull away from the edges and firm up a bit. A process that starts as it finishes baking.
Place a cooling rack or serving platter on top of the bundt pan. Use oven mitts to protect your hands, and invert the cake (flip it over).
Leave the bundt pan on top of the cake for few minutes. You can gently, yet firmly tap the platter on the counter or shake the cake downwards, while pinching the bundt pan and platter together, to try and help it release. Then carefully lift the pan up and off the cake. (I use a butter knife to get between the pan and plate for easy leverage.)
There are plenty more great tips for how to make a bundt cake if you are a beginner and striving for success. Start with this pumpkin bundt cake recipe. It's not fall without it!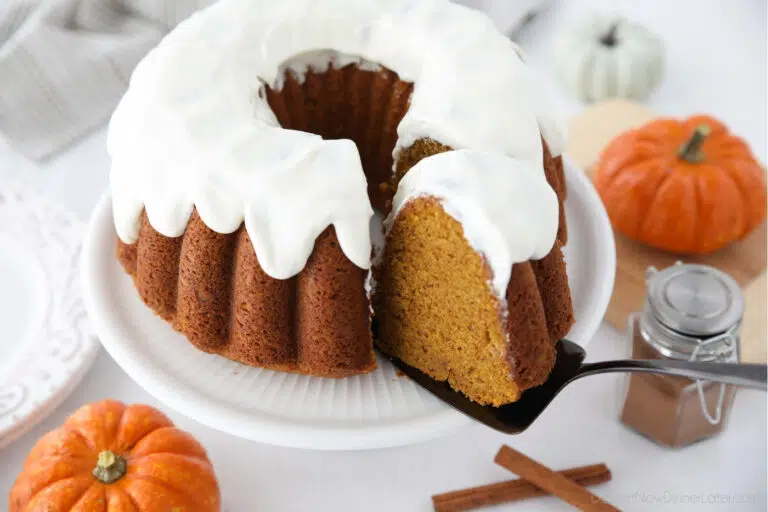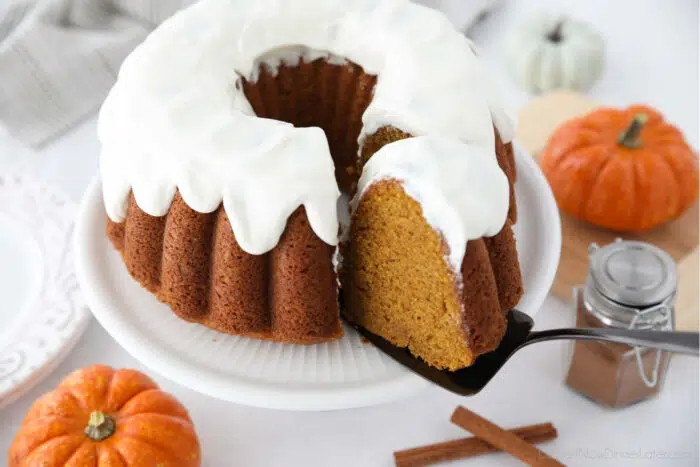 More Pumpkin Desserts that are Better than Pie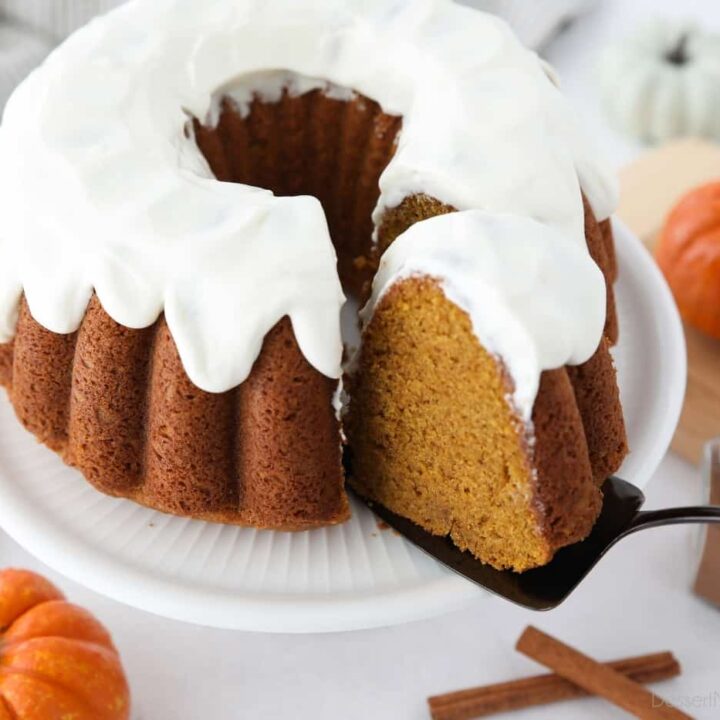 Pumpkin Bundt Cake
Prep Time: 15 minutes
Cook Time: 45 minutes
Total Time: 1 hour
Yield: 20 servings
This Pumpkin Bundt Cake is moist, richly spiced, packed full of pumpkin flavor, and topped with lightly sweet cream cheese frosting.
Ingredients
Cake:
2 3/4 cups all-purpose flour
1 tsp salt
1 tsp baking soda
1 1/2 tsp baking powder
4 1/2 tsp pumpkin pie spice
6 Tbsp unsalted butter, room temperature
3/4 cup oil (canola/vegetable)
1 1/2 cups granulated sugar
1 (15oz) can pumpkin purée (100% pumpkin)
3 large eggs
Icing:
3 oz cream cheese
3 Tbsp unsalted butter, soft/room temperature
3/4 cup powdered sugar
1 tsp vanilla extract
2 Tbsp milk
Instructions
Preheat oven to 350 degrees Fahrenheit.
Combine flour, salt, baking soda, baking powder and pumpkin pie spice in a bowl.
Cream the butter, oil, and sugar until light and fluffy with an electric mixer. Add the pumpkin and eggs. Blend until combined. Scrape bowl.
Slowly add the flour mixture and mix on low until just incorporated. Do not over-mix.
Grease and flour a 10 or 12 cup bundt pan (or use baking spray with flour - Baker's Joy). Pour batter into prepared bundt pan.
Bake pumpkin bundt cake at 350˚F for 45-50 minutes or until a toothpick inserted into the thickest part of the cake comes out clean and the cake springs back when touched.
Allow cake to cool for 10 minutes before inverting onto a wire rack or serving platter. Carefully remove bundt pan and cool completely.
Use an electric hand mixer to beat the cream cheese and butter together in a large bowl. Add the powdered sugar and vanilla. Mix. Add the milk 1 Tablespoon at a time, while mixing, until the desired consistency is reached. Spread or pipe icing over the cooled cake, as desired.
Notes
Pumpkin Pie Spice is made with cinnamon, ginger, nutmeg, cloves and allspice. Use the link to make your own if you can't find it at the store.
For a thinner glaze use: 2 oz cream cheese, 2 Tbsp butter, 1/2 cup powdered sugar, 1 tsp vanilla, and 2 Tbsp milk. Drizzle over cake.
Cover well and store cake at room temperature up to 2 days or in the fridge up to 5 days. Let cake come to room temperature before eating.
Recommended Products
As an Amazon Associate and member of other affiliate programs, I earn from qualifying purchases.
Nutrition Information:
Yield: 20
Serving Size: 1/20
Amount Per Serving:
Calories: 289
Total Fat: 16g
Saturated Fat: 5g
Trans Fat: 0g
Unsaturated Fat: 10g
Cholesterol: 46mg
Sodium: 243mg
Carbohydrates: 34g
Fiber: 1g
Sugar: 20g
Protein: 3g
This data was provided and calculated by Nutritionix, and is an estimation only.