Pumpkin Swirl Cheesecake Bars
This post may contain affiliate links, meaning that I may receive a commission at no cost to you if you use a link provided. All opinions shared are my own. You can review my full disclosure policy here.
Pumpkin Swirl Cheesecake Bars have a buttery gingersnap crust, with ribbons of creamy vanilla and spiced pumpkin cheesecake marbled on top. A delicious dessert for fall or Thanksgiving.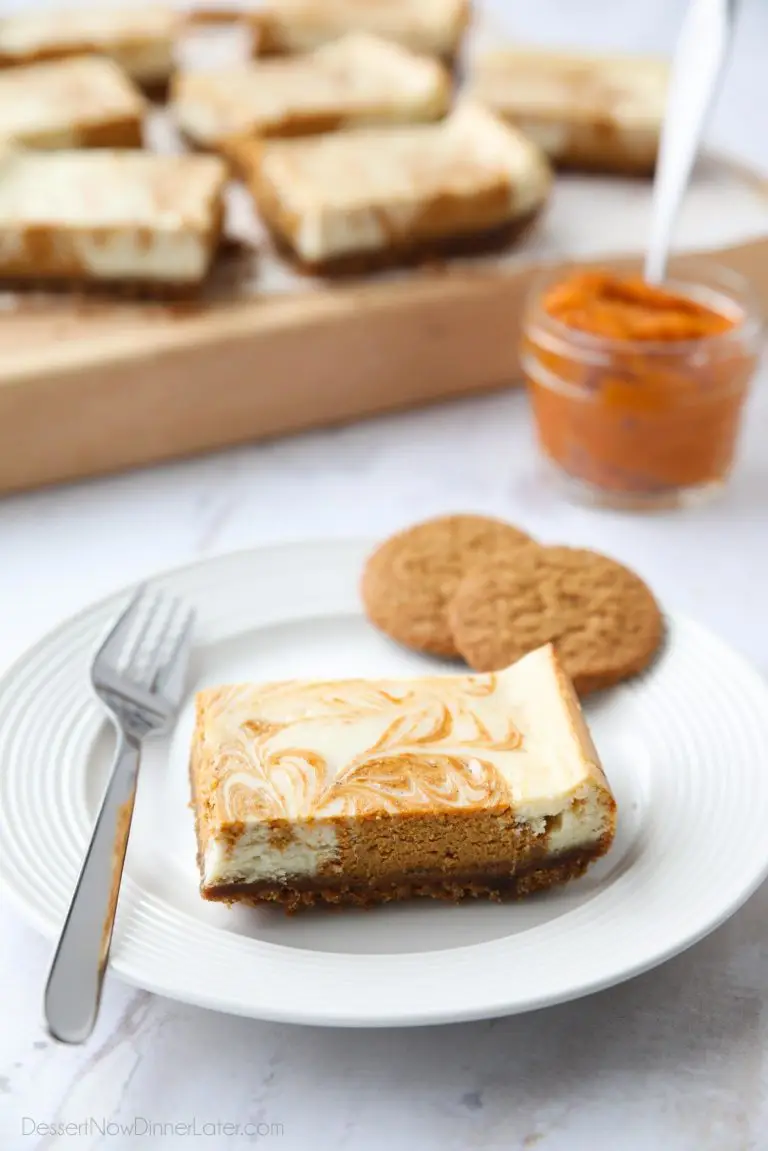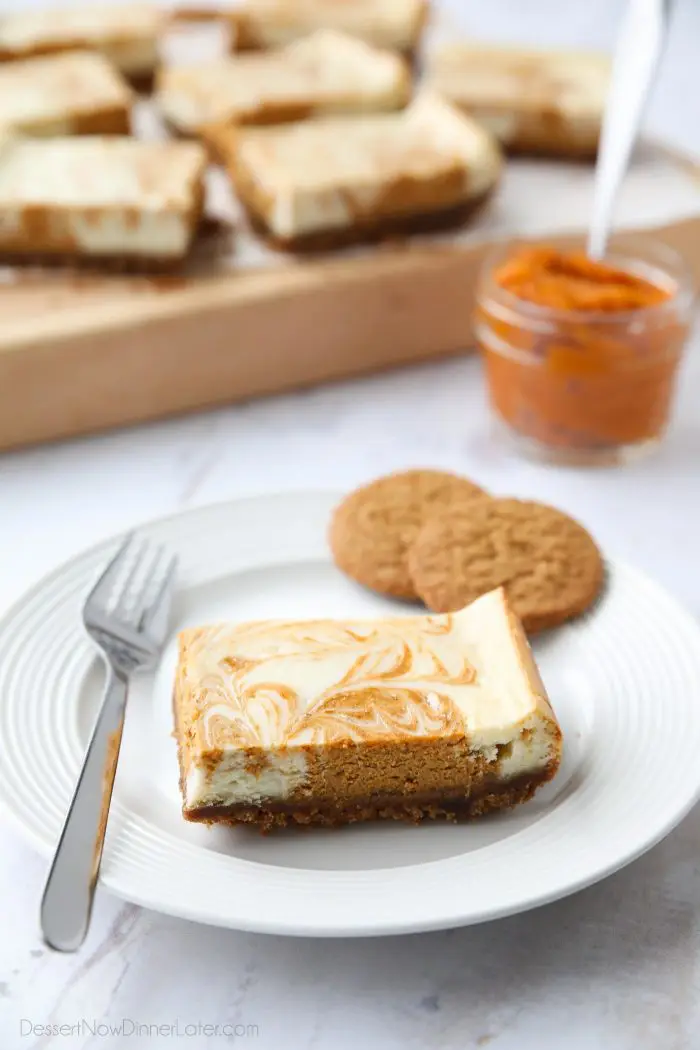 I'm personally not a fan of pumpkin pie, but when it comes to pumpkin cheesecake I'm all in! These pumpkin swirl cheesecake bars combine classic cheesecake, with a spiced pumpkin cheesecake, on top of a delicious gingersnap crust.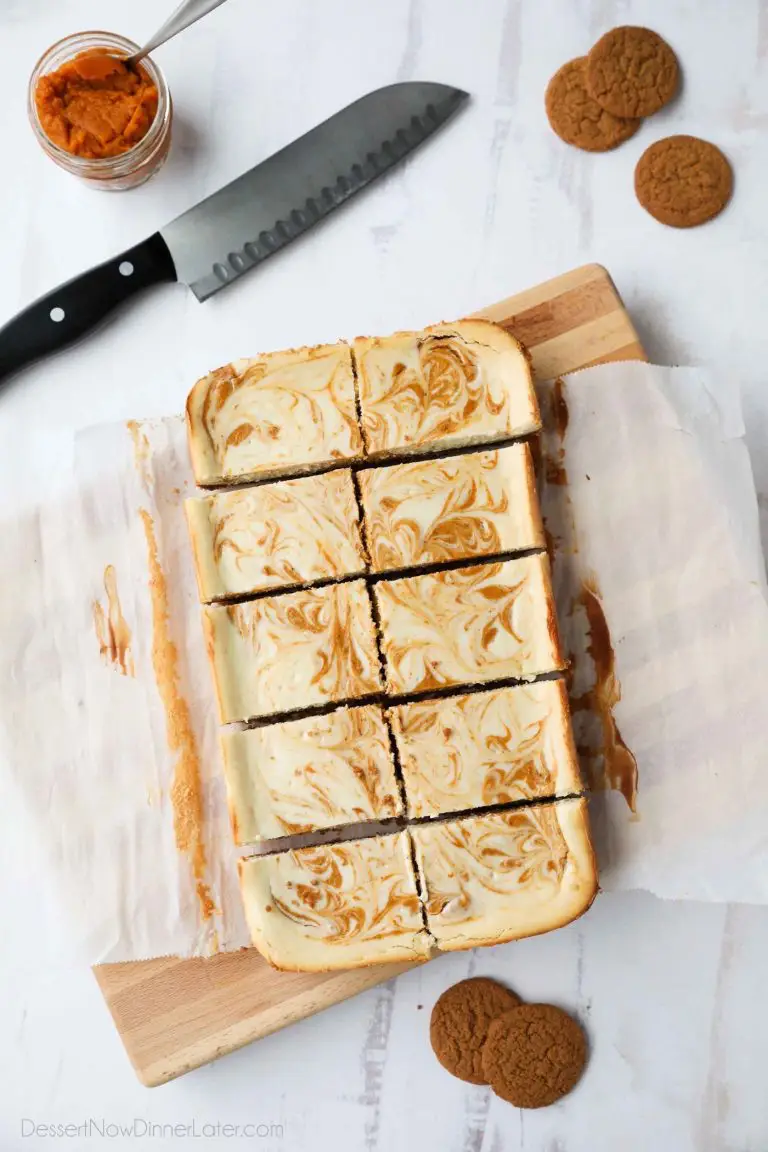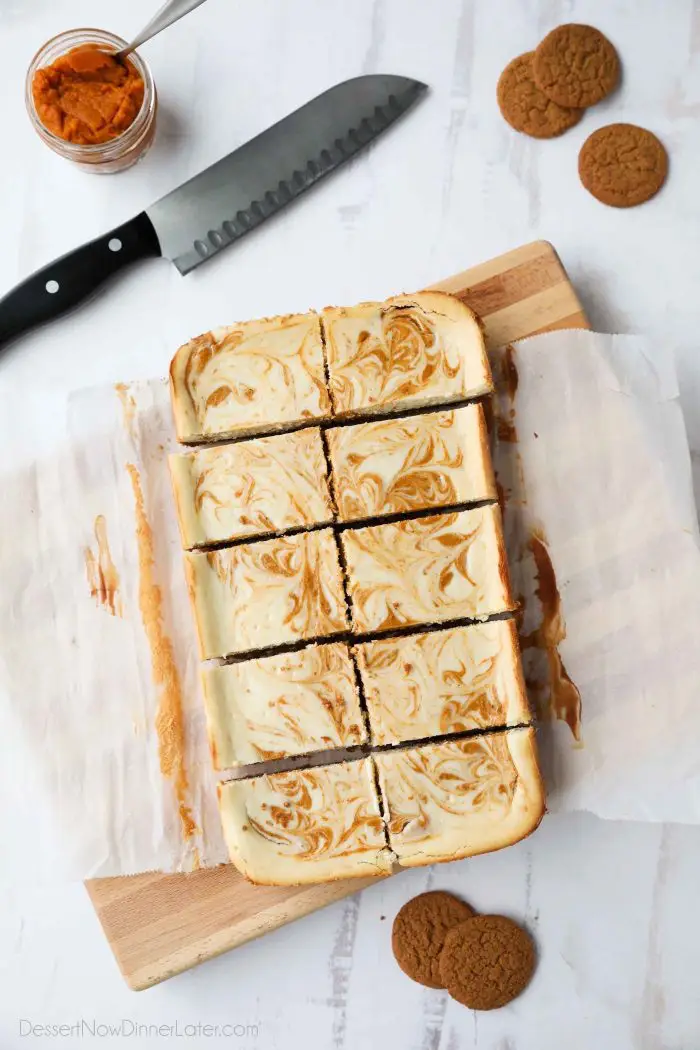 I used an 11×7-inch baking dish for these cheesecake bars, which gives you ten perfect portions. Cheesecake bars bake quicker than a traditional cheesecake; and if you use parchment paper, you can lift the bars straight out of the pan for easy cutting.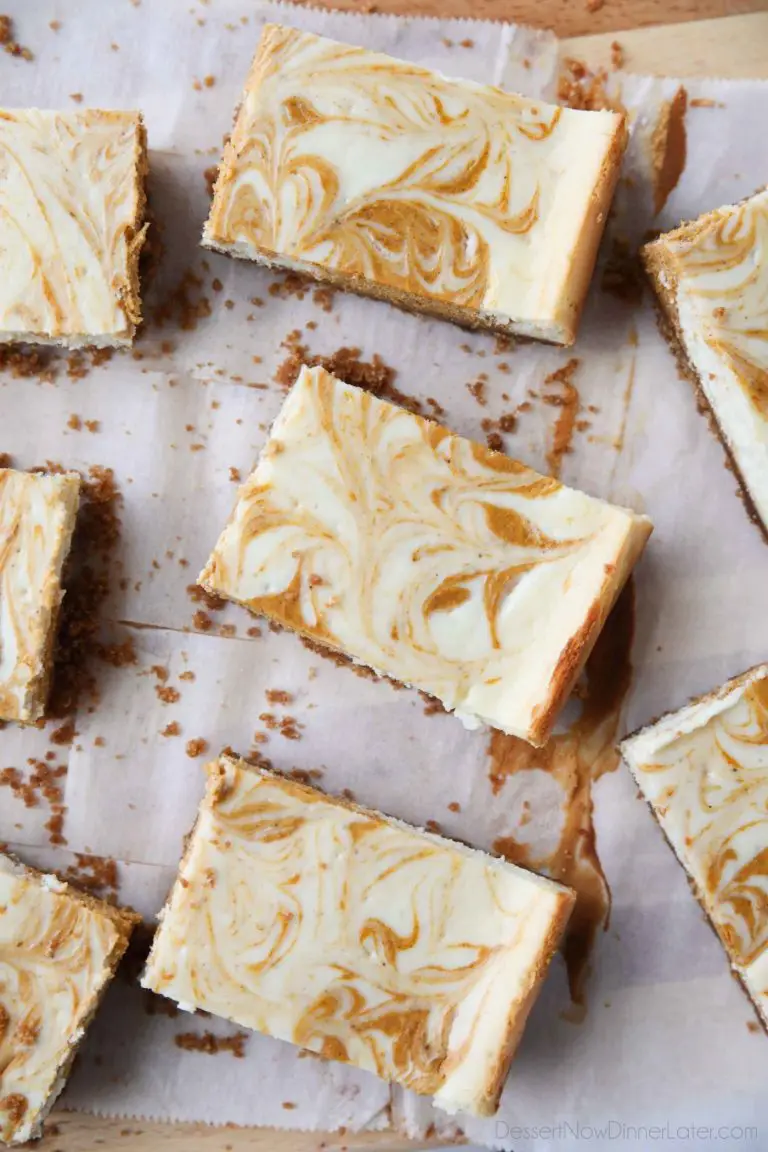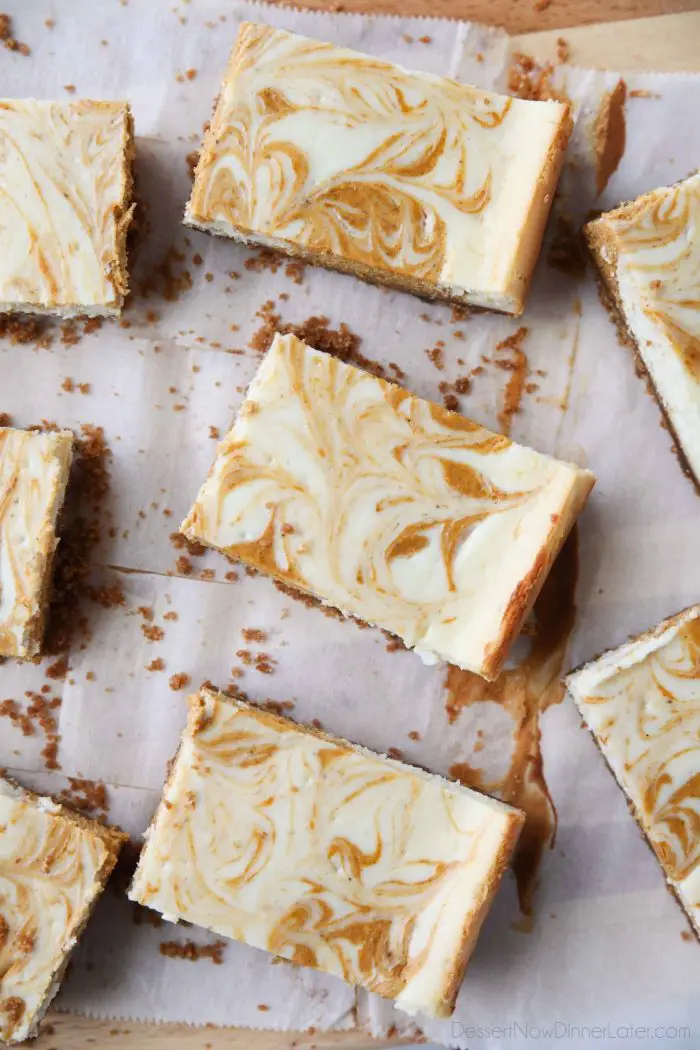 Pumpkin Swirl Cheesecake Bars
The swirls in these pumpkin cheesecake bars are incredibly appetizing to look at and fun to eat. I've also got some pumpkin swirl brownies, that are just as pretty and delicious. The wonderful thing about marbling your dessert is that it's a marriage of flavors in every bite.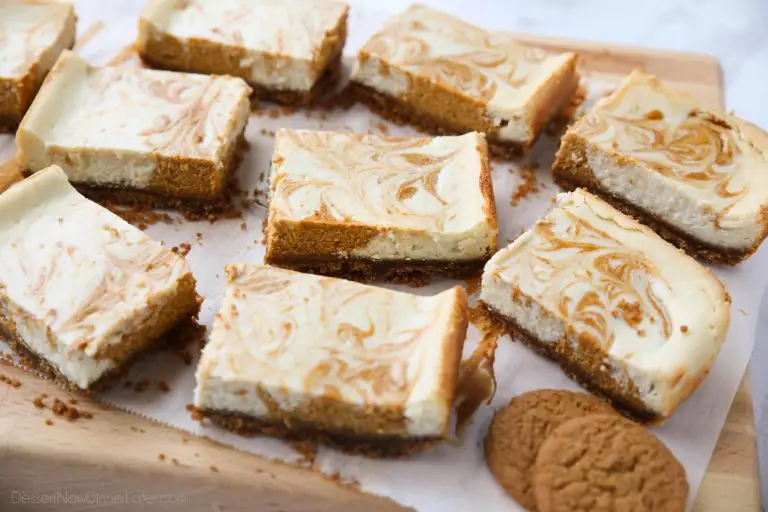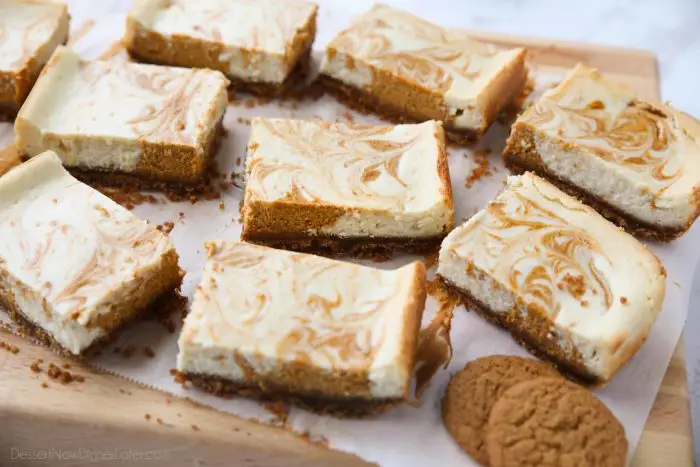 The gingersnap cookie crust gives these pumpkin swirl cheesecake bars added flavor and spice. They're perfect for fall or would make a great Thanksgiving dessert.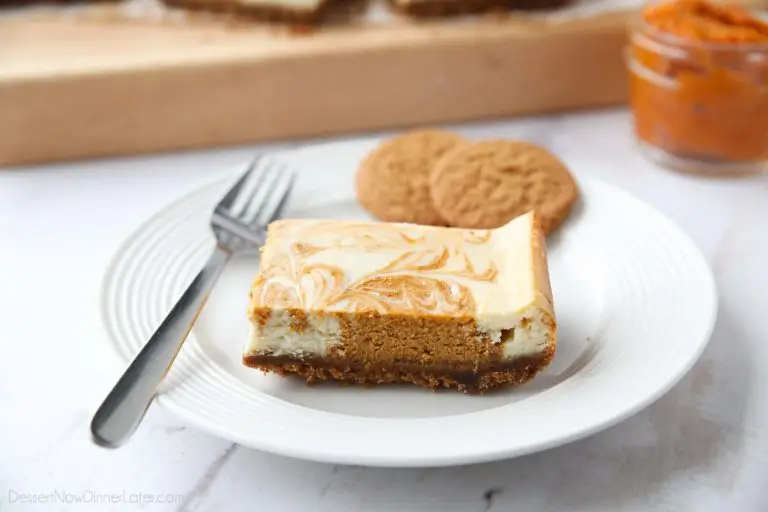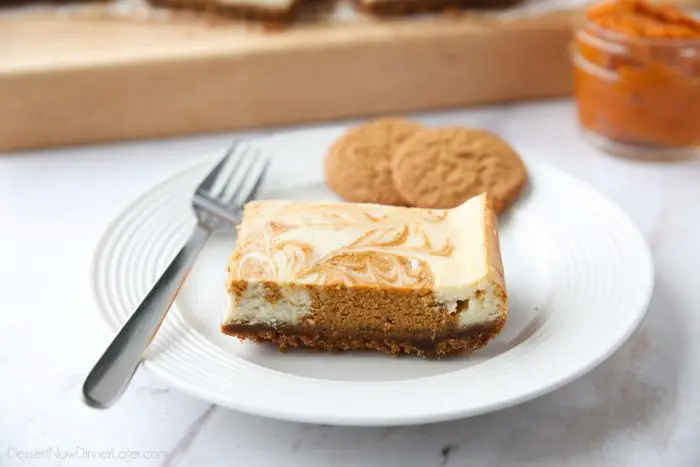 If you're a fan of pumpkin and cream cheese together, you might also want to try my Pumpkin Cheesecake Dip and Cream Cheese Filled Pumpkin Bread.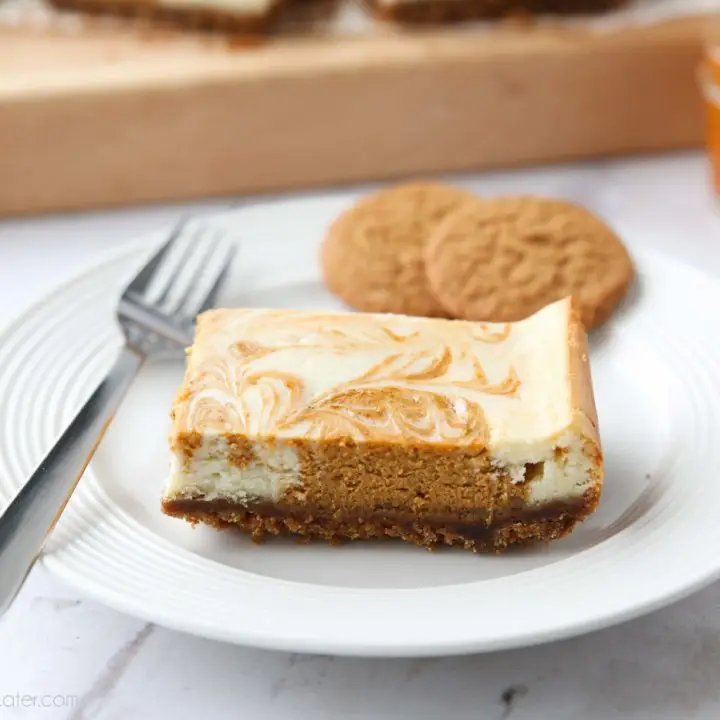 Pumpkin Swirl Cheesecake Bars
Prep Time: 20 minutes
Cook Time: 55 minutes
Chill Time: 3 hours
Total Time: 4 hours 15 minutes
Yield: 10 servings
Pumpkin Swirl Cheesecake Bars have a buttery gingersnap crust, with ribbons of creamy vanilla and spiced pumpkin cheesecake marbled on top.
Ingredients
For the Crust:
2 cups gingersnap cookie crumbs (about 35-40 cookies)
2 Tbsp granulated sugar
6 Tbsp butter, melted
For the Filling:
16 oz (two 8oz bars) cream cheese, room temperature
1 cup granulated sugar
1 Tbsp all-purpose flour
pinch of salt
1 tsp vanilla extract
2 large eggs, room temperature
1/2 cup + 2 Tbsp pumpkin puree (not pumpkin pie filling)
1/2 tsp ground cinnamon
1/4 tsp ground nutmeg
1/4 tsp ground ginger
1/8 tsp ground cloves
Instructions
For the Crust:
Preheat oven to 350 degrees Fahrenheit. Line the bottom of an 11x7-inch baking dish with parchment paper that hangs over the edges.
Crush gingersnap cookies in a food processor until fine crumbs. Add sugar and melted butter. Pulse until crumbs are coated in butter. Pour crumbs into the prepared dish and press flat into an even layer.
Bake crust for 10 minutes. Transfer pan to a wire rack to cool completely.
For the Filling:
Reduce oven temperature to 325 degrees Fahrenheit.
In a large bowl, beat the cream cheese and sugar until fluffy and smooth with an electric hand mixer. Add flour, salt, and vanilla; beat until combined. Add eggs, one at a time, mixing until just combined. Set aside.
In a separate bowl, whisk together the pumpkin puree, cinnamon, nutmeg, ginger, and cloves. Add 1 cup of the cream cheese mixture to the pumpkin mixture and stir together until fully incorporated.
Pour the white cheesecake mixture over the cooled crust. Dollop spoonfuls of the pumpkin mixture evenly over the white layer. Use a wooden skewer or toothpick to swirl the two mixtures into a marbled pattern.
Bake at 325˚F for 45-50 minutes until cheesecake is set. Transfer to a wire rack and let cool completely at room temperature.
REFRIGERATE until chilled, about 2-3 hours. Use parchment paper to lift the cheesecake out of the pan. Cut into bars and serve.
Notes
*Tip when cutting: Rinse knife with hot water and dry with a towel before each cut, for smooth slices.