Almond Crusted Chicken Salad with Creamy Poppyseed Dressing
This post may contain affiliate links, meaning that I may receive a commission at no cost to you if you use a link provided. All opinions shared are my own. You can review my full disclosure policy here.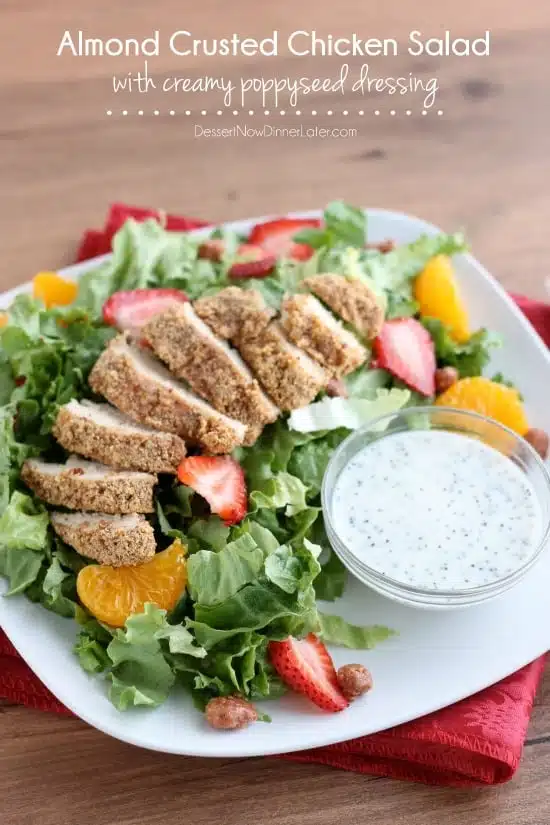 I have been drooling over all of the salad recipes on pinterest lately and so I decided to come up with my own. I have been really wanting to bread some chicken with some almond flour that I have had in my freezer for the last couple of months since I did my Gingerbread Macarons in December.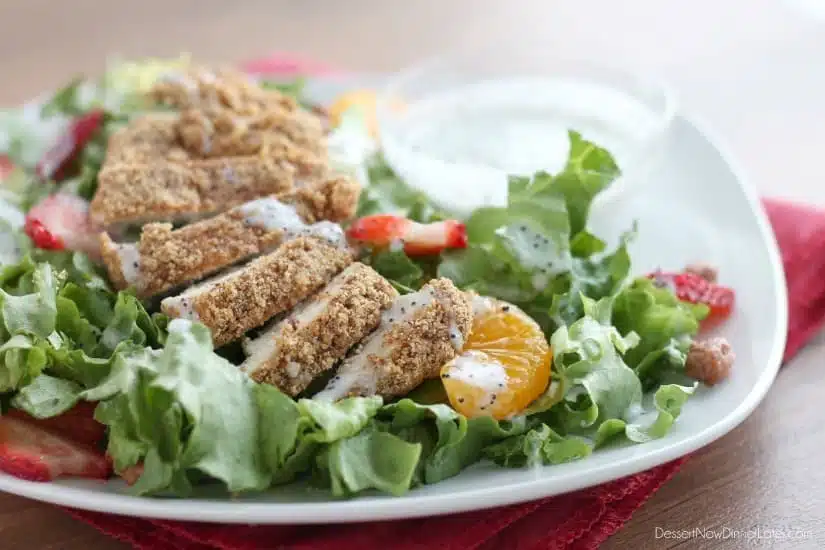 I have only ever had almond crusted chicken once when I was in high school. We had "A-day/B-day" classes, so in my senior year on B-days, I would try out the culinary program at the tech college to see if it was what I really wanted to do. The culinary students ran the cafeteria at the school, and we made almond crusted chicken one of the days. All I remember is it was good, and I am so happy I made this salad!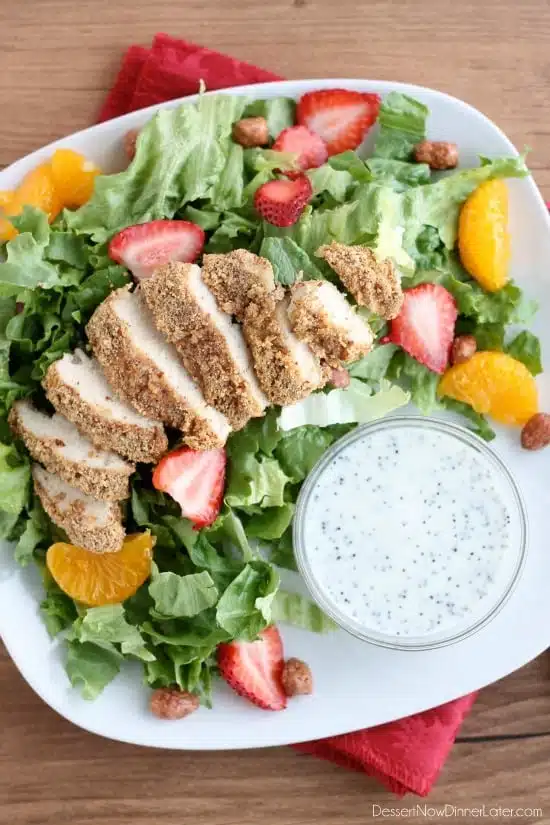 This almond chicken is "lighter" than a deep fried battered chicken breast because it's baked in the oven, but it isn't very "crusty" just being baked. So feel free to fry it in a shallow layer of oil in a frying pan, if you really want that crispy crust. It was still yummy with the dressing and fruit in the salad, but the chicken was more "breaded", than "crusted." There are little sacrifices, like crispy deep fried texture, that might be missing from a favorite dish turned healthy, but that's okay because this is still a fabulous dish, baked or fried.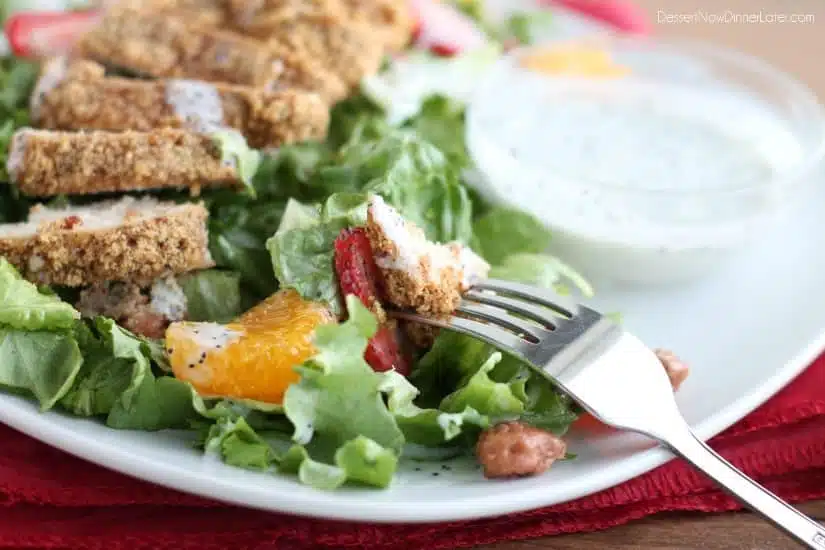 If you are looking for a light springtime salad that has a healthy, greek yogurt based dressing. Look no further! You will love this one!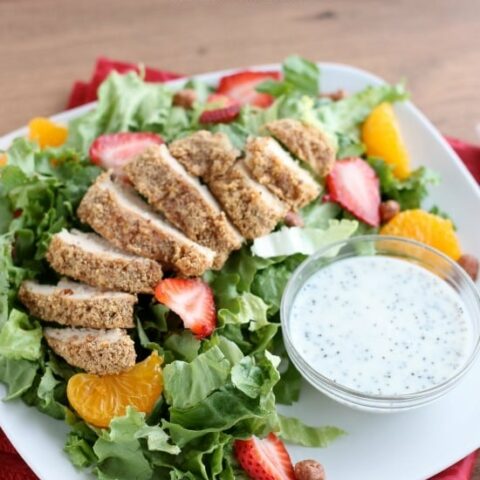 Almond Crusted Chicken Salad with Creamy Poppyseed Dressing
Ingredients
Chicken:
1 egg
1 Tbsp water
1 cup natural roasted almond flour
4 chicken breasts
salt and pepper
Dressing:
1/4 cup sugar
2 to 3 Tbsp apple cider vinegar
1 Tbsp olive oil
1 (5.3oz) cup Chobani Plain Greek Yogurt (just shy of 2/3 cup)
1 1/2 tsp poppyseeds
Extras:
Green Leaf Lettuce, chopped
Mandarin Orange Segments
Sliced Strawberries
Butter Toffee Almonds
Instructions
Preheat oven to 425 degrees Fahrenheit. Place a wire cooling rack inside of a baking sheet.
On a plate, whisk together the egg and water. On a second plate, place the almond flour. Season both sides of each chicken breast with salt and pepper. Dip the chicken in the egg mixture, then dredge the chicken in the almond flour until coated well. Place breaded chicken onto prepared baking sheet with a cooling rack inside. (This helps the heat rotate around the chicken, preventing the breading from getting soggy on the bottom.) Repeat with each chicken breast.
Bake for 20 to 25 minutes or until the chicken reaches 165 degrees Fahrenheit internal temperature.
Meanwhile, prepare dressing by whisking all the ingredients, but the poppyseeds. Once smooth, lightly stir in the poppyseeds. Keep refrigerated.
Assemble salad by placing lettuce on a plate. Sprinkle mandarin orange segments, strawberry slices, and butter toffee almonds over the lettuce. Slice a warm chicken breast in thin slices, then place it on top of the salad. Drizzle with dressing. Enjoy!
Notes
*You can optionally fry the breaded chicken in a small layer of oil in a frying pan over medium heat for 5 minutes on each side or until the internal temperature reaches 165 degrees Fahrenheit for a crispy, less healthy chicken breast OR pan fry the chicken in 1 Tbsp of Coconut Oil (which is really good!)
Nutrition Information:
Yield: 4
Amount Per Serving:
Unsaturated Fat: 0g
Dressing recipe lightly altered from Mel's Kitchen Cafe