Kielbasa Pasta Bake
This post may contain affiliate links, meaning that I may receive a commission at no cost to you if you use a link provided. All opinions shared are my own. You can review my full disclosure policy here.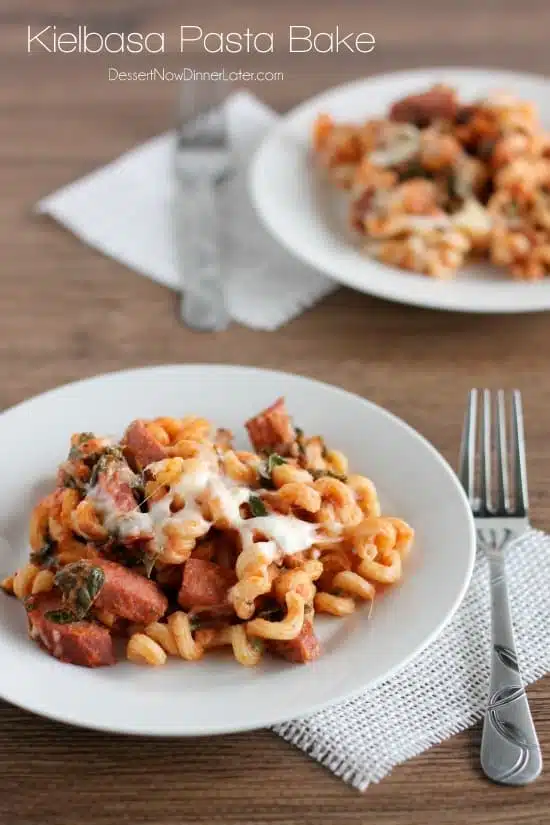 Happy Easter! I hope you all enjoy your day with family and take time to ponder the wonderful life and Atonement of our Savior, Jesus Christ!
You all aren't sick of pasta or dinners by now, are ya? I kind of went on a dessert strike so that I wouldn't go crazy. It's much easier for me to plan new dinners and blog them, than use all of the precious hours in my day baking and photographing desserts (even though that's more fun), plus I was eating way too much sugar. So if you haven't noticed, I have a dessert post in-between a couple of dinner posts, just to keep it balanced. It's good to have new dinner ideas though, right? I hope so!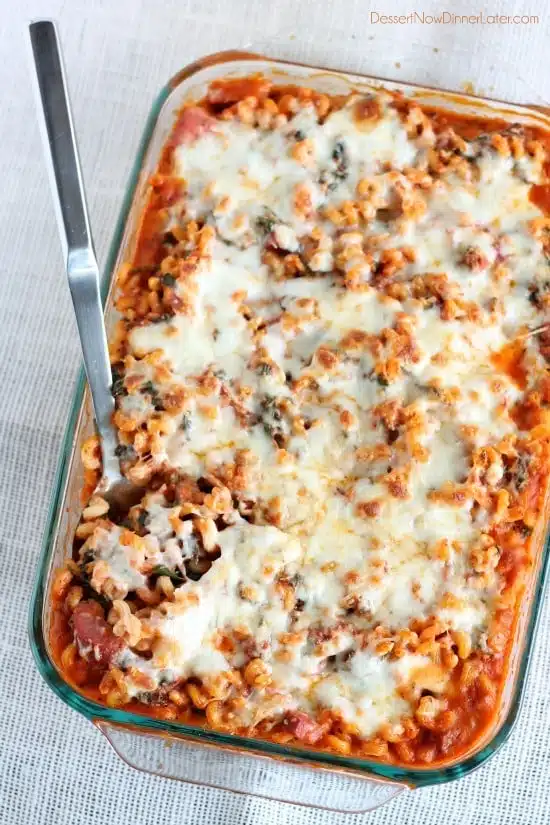 I'm not sure if many of you cook dinner with kielbasa/smoked sausage. We really like it! One pound of kielbasa is typically around $2 to $3 and it's a fun ingredient to alternate between our typical chicken or ground beef dinners.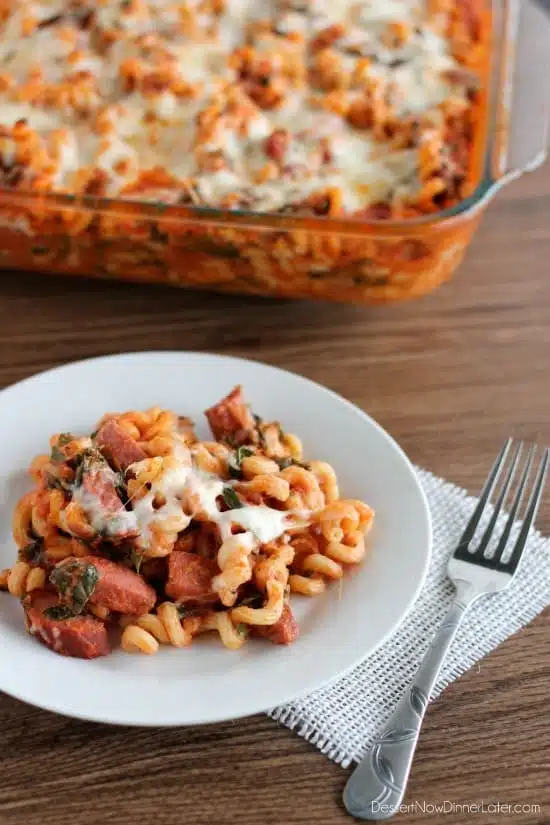 One of our favorite dinners using kielbasa is Quick Sausage Jambalaya. It's full of veggies, rice and has a nice heat to it. In the summer we like to put smoked sausage in a foil packet with summer vegetables and grill it with seasonings. It's amazing on top of our favorite Garlic Parmesan Orzo.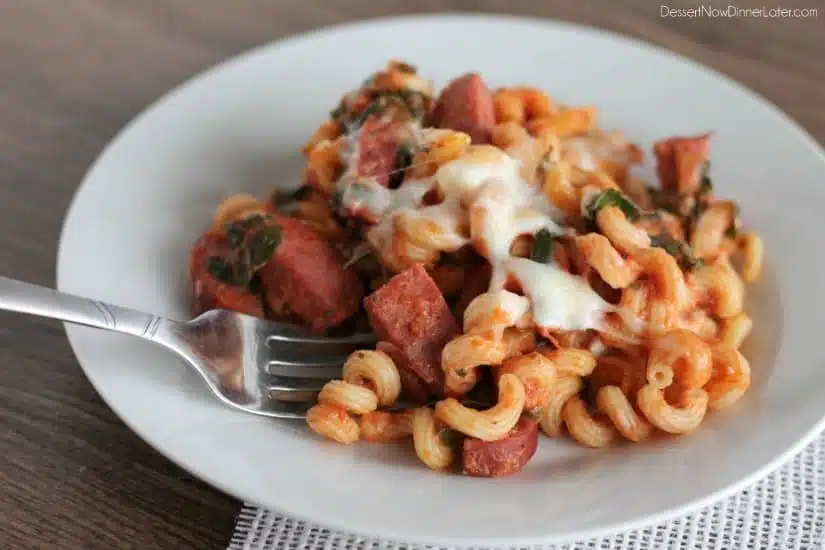 There are lots of things you can do with smoked sausage/kielbasa. This Kielbasa Pasta Bake is a totally new dinner to us, but it was really good and makes a lot! So if you have a big family, or hungry teenagers, this would be perfect, and it's not too expensive to make either. It's a cheesy pasta dish with Italian seasoned tomato sauce and ribbons of spinach. Enjoy!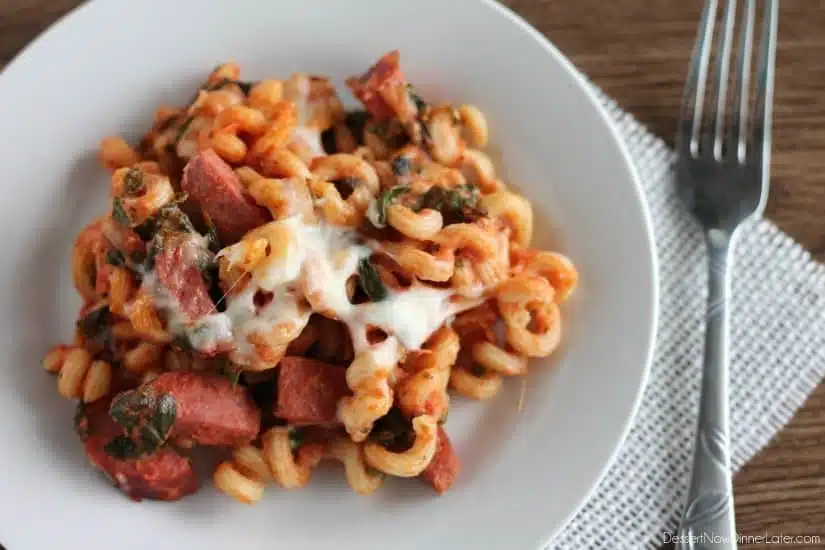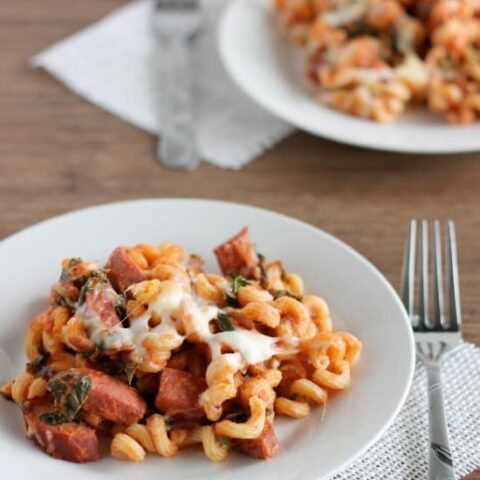 Kielbasa Pasta Bake
Ingredients
1 Tbsp olive oil
1 medium red onion, diced
4 cloves garlic, minced (about 2 tsp)
1 (28oz) can crushed tomatoes
1 (8oz) can tomato sauce
1 tsp dried oregano
1 tsp dried basil
1/2 tsp garlic powder
1/2 cup half & half
1 (10oz) bag fresh spinach, thinly sliced
12 oz pasta
1 (12oz) package Kielbasa or Turkey/Chicken Sausage, halved lengthwise, and sliced 1/4" thick
2 cups shredded mozzarella, divided
1/2 cup shredded parmesan
Instructions
In a large stock pot, heat oil. Saute onion and garlic until onion is translucent. Add crushed tomatoes, tomato sauce, herbs and seasonings. Add half & half and spinach; stir until spinach welts. Simmer and keep warm, stirring occasionally.
Cook noodles 1 minute under al dente. Fold noodles into the sauce, add sausage and 1 cup of mozzarella; stir well. Pour mixture into a greased 13x9-inch pan. Top with the remaining 1 cup mozzarella and ½ cup of parmesan cheeses.
Bake, uncovered, at 400 degrees Fahrenheit for 20 to 30 minutes or until the sauce is bubbly, the cheese browns, and everything is heated through.
Nutrition Information:
Yield: 6
Amount Per Serving:
Unsaturated Fat: 0g