Grilled Chicken & Apple Salad
This post may contain affiliate links, meaning that I may receive a commission at no cost to you if you use a link provided. All opinions shared are my own. You can review my full disclosure policy here.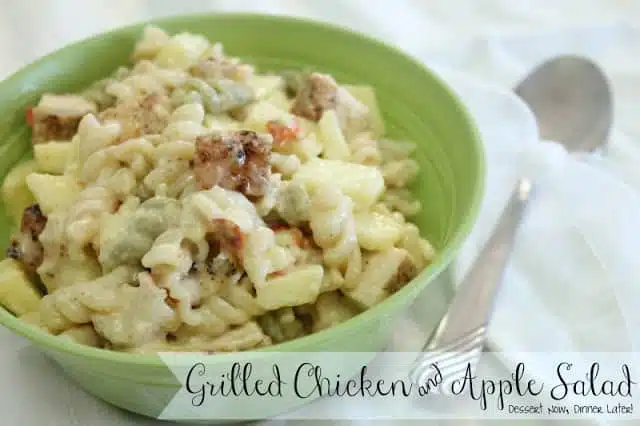 I got this recipe at least 10 years ago. It was one they handed out at the grocery store including a sample to try. I was in home economics in high school at the time & cooking was one of my favorite things, so I loved to collect recipes… & try samples.
Anyway, my husband & I love to eat this for dinner especially in the summer, since it is quick to put together with the help of the grill. This grilled chicken & apple salad is always a hit at parties as well. Sweet & savory combinations are my favorite, which is why I like this salad so much.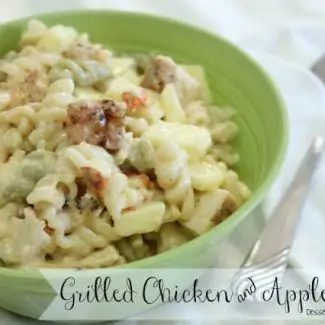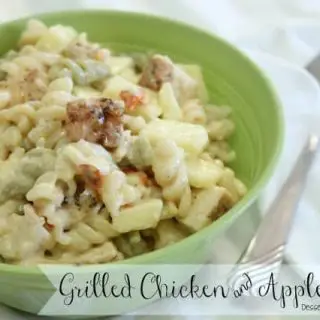 Grilled Chicken & Apple Salad
Ingredients
1 lb boneless skinless chicken breasts
Your favorite chicken seasoning (Salt & Pepper is fine too.)
1 package Betty Crocker Suddenly Salad CAESAR Pasta Salad Mix
1/3 cup Miracle Whip Salad Dressing
1/4 cup apple juice
1 large unpeeled apple, cored, thinly sliced, & then diced
1/2 cup chopped pecans (OPTIONAL)
Instructions
Brush grill rack with vegetable oil. Season chicken with desired seasonings & grill until golden brown & no longer pink in the center. Cool.
While chicken is grilling, fill a large saucepan ⅔ full of water. Heat to boiling. Stir in contents of Pasta-Vegetable pouch. Gently boil uncovered 12 minutes; stirring occasionally, until tender. Drain pasta. Rinse with COLD water. Shake to drain well.
Stir seasoning mix, miracle whip & apple juice in large bowl. Cut chicken into chunks. Stir chicken, pasta, & apples into seasoning mixture. Just before serving, toss with chopped pecans. Cover & refrigerate leftovers.