Caesar Pasta Salad
This post may contain affiliate links, meaning that I may receive a commission at no cost to you if you use a link provided. All opinions shared are my own. You can review my full disclosure policy here.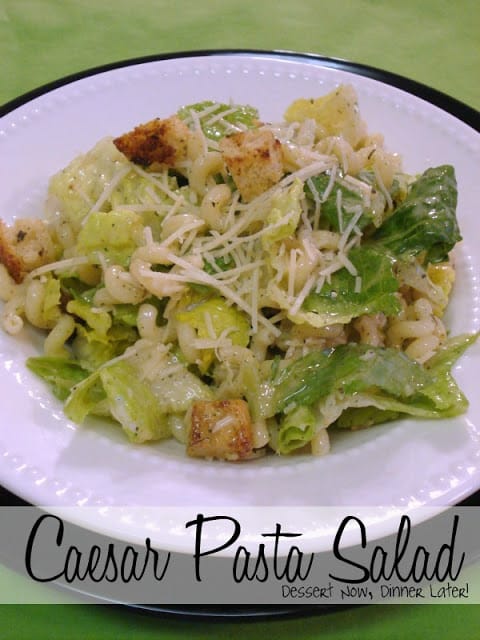 So this whole week has been leading up to this recipe. Ciabatta made into croutons just to top this yummy salad! My husband saw this on our menu for the week & he kept telling me he couldn't wait until I made this. He was not disappointed & neither was I.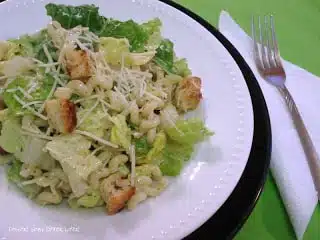 This salad is full of wonderful textures & flavors. We loved it! It's probably more of a summer dish for potlucks/parties, but we were really excited for this salad. Too bad it was snowing like crazy the day we made this, we probably should have had soup to warm up. Haha. That's okay because this salad was wonderful & really quick to whip up. Putting this on our make again soon list!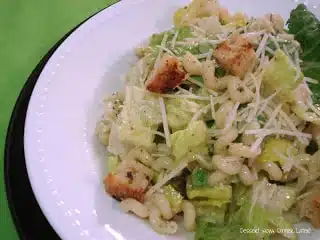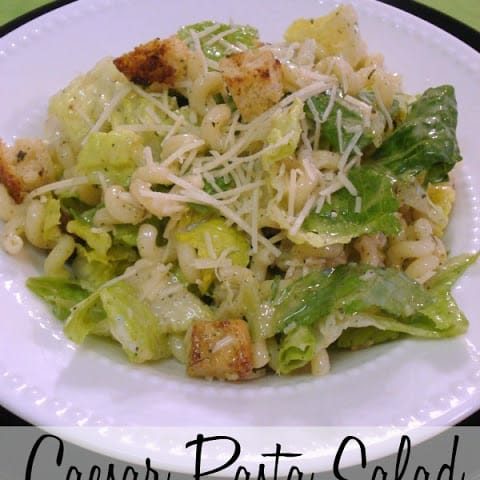 Caesar Pasta Salad
Ingredients
Caesar Dressing:
3 Tbsp mayonnaise
1 Tbsp Dijon mustard
2 tsp minced garlic
1 1/2 Tbsp fresh lemon juice
2 tsp white wine vinegar
1/4 tsp kosher salt
1/4 tsp freshly cracked black pepper
1/2 cup pure or light olive oil (not extra virgin)
Salad
1 1/2 cups pasta, uncooked (can use any small pasta about 6oz)
1 1/2 Tbsp or 1/2 packet Italian Dressing Mix
1-2 heads romaine lettuce, torn (about 12 cups)
1 1/2 cups croutons
1 cup shredded parmesan cheese
Instructions
Prepare dressing by combining mayonnaise, mustard, garlic, lemon juice, vinegar, salt & pepper in a blender & process until smooth. With blender running on low speed, slowly pour olive oil in a steady stream just until fully incorporated. Place dressing in refrigerator until ready to use.
Cook pasta according to directions on package. Drain & then rinse the pasta under cold water until pasta is no longer warm. Drain thoroughly. Place pasta in a LARGE bowl. Sprinkle the pasta with the Italian seasoning. Toss.
To the bowl of pasta, add torn lettuce, croutons & parmesan cheese. Drizzle with prepared caesar dressing & toss lightly with salad tongs. Serve immediately.