Almond Coconut Chocolate Chip Cookies
This post may contain affiliate links, meaning that I may receive a commission at no cost to you if you use a link provided. All opinions shared are my own. You can review my full disclosure policy here.
Almond Coconut Chocolate Chip Cookies are loaded with sliced almonds, shredded coconut, chocolate chips and flavored extracts for an Almond Joy inspired twist on the traditional chocolate chip cookie.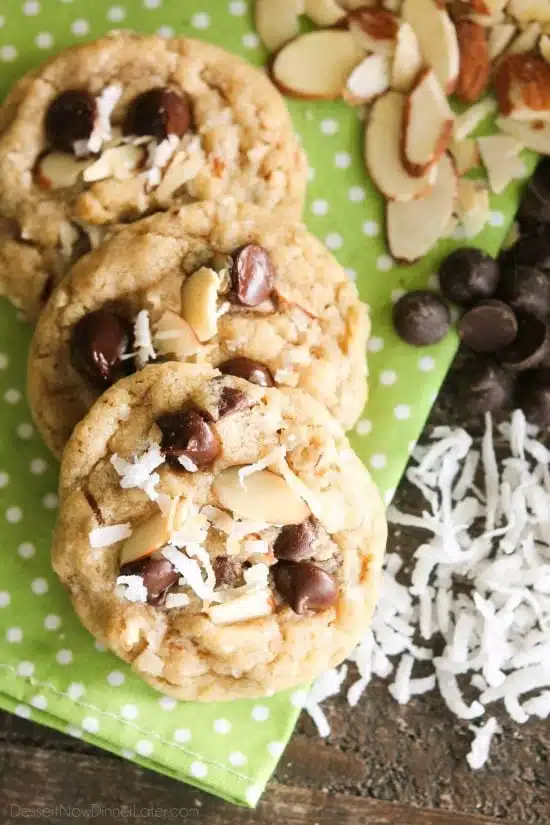 I've had these cookies on my "to try" list for a while now. I am a sucker for coconut, I love Almond Joy candy bars, and of course I love chocolate chip cookies. These cookies are a combination of all of those great flavors!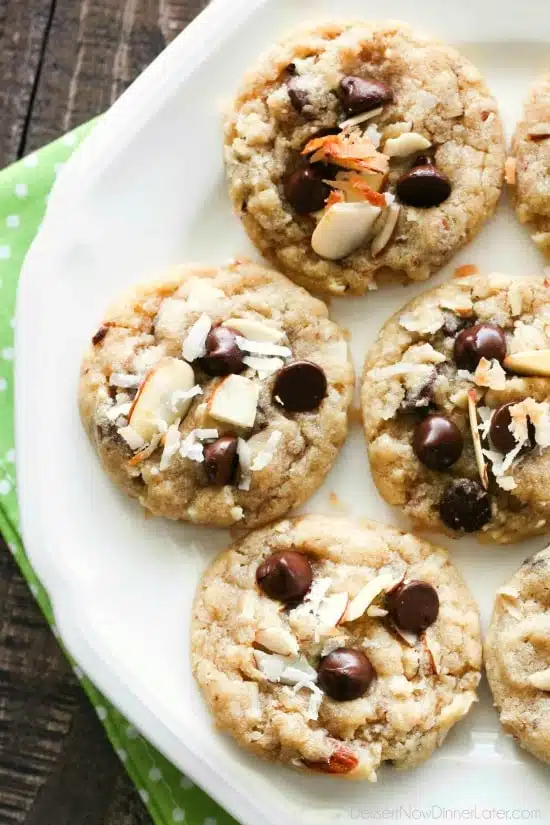 The original recipe has you refrigerate the cookie dough. I am impatient though, and don't like to refrigerate cookie dough if I can help it. (I want cookies now! Haha.) So I used one of my favorite chocolate chip cookie recipes from my friend Marcie, and adapted it to use some of the same elements from the original recipe I had saved, to create these Almond Coconut Chocolate Chip Cookies.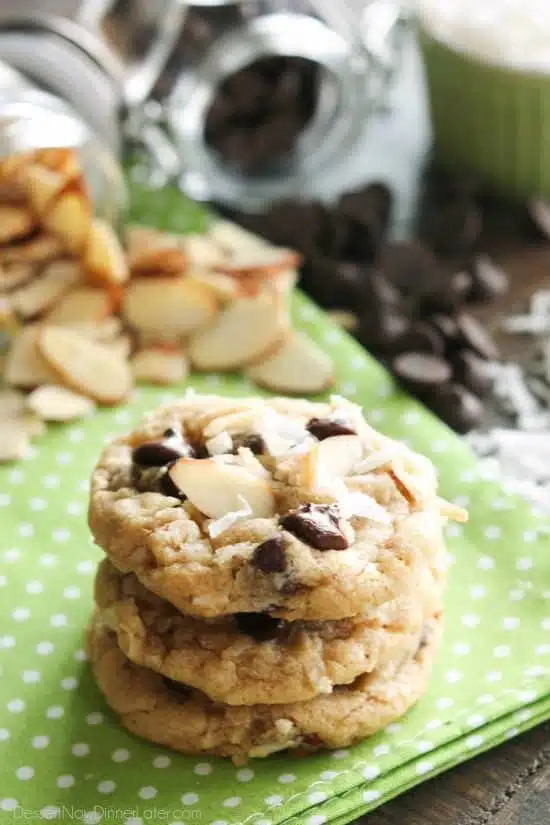 You swap a hefty amount of vanilla extract for both coconut and almond extracts, then add sliced almonds and shredded coconut along with the chocolate chips. The result transforms typical chocolate chip cookies into a totally new cookie with wonderfully delicious flavors.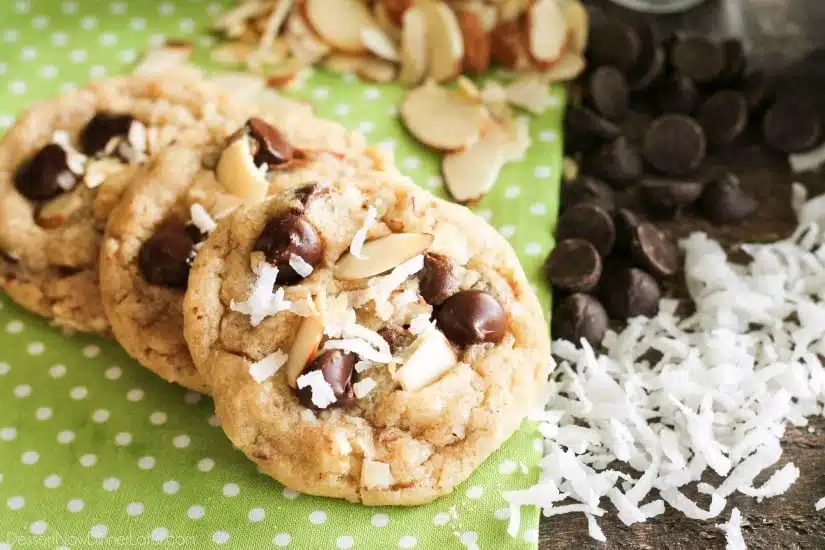 They sell a similar cookie at the local soda shop in my town, called Swig. The only difference is that theirs has pecans instead of almonds, and they totally skimp out on all the chunks that you see in my cookies. I like some of the fillers in every bite. Delicious!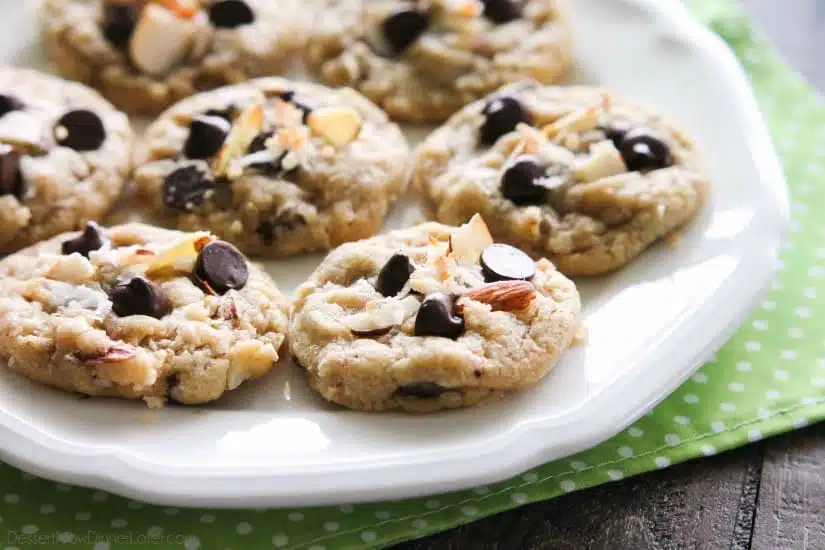 Chocolate chip cookies are tasty, but these almond coconut chocolate chip cookies are elevated and amazing! Try them ASAP!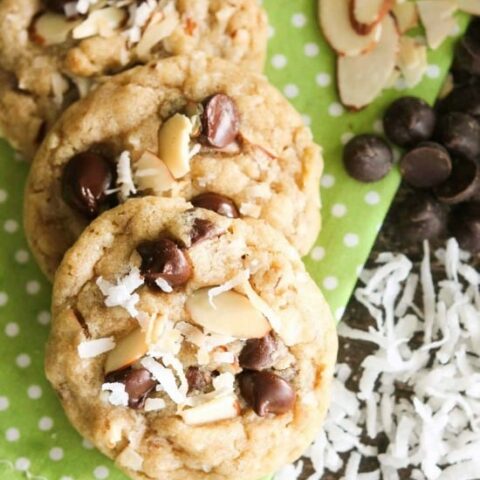 Almond Coconut Chocolate Chip Cookies
Prep Time: 15 minutes
Cook Time: 10 minutes
Total Time: 25 minutes
Yield: 5 dozen small (2 1/2-inch) or 3 dozen large cookies
Ingredients
1 cup (2 sticks) butter, room temperature
3/4 cup granulated sugar
1 cup brown sugar
1 large/XL egg
2 tsp almond extract
2 tsp coconut extract
3 cups all-purpose flour (stirred, spooned, and leveled)
1 tsp salt
1 tsp baking soda
1 cup sliced almonds
1 cup sweetened shredded coconut
2 cups (12oz) bag semi-sweet chocolate chips
*1 Tbsp milk - if needed
Instructions
Preheat oven to 350 degrees Fahrenheit.
In the bowl of a stand mixer fitted with the paddle attachment, combine the butter and sugars. Cream until light and fluffy. Add the egg and both extracts. Mix well and scrape the bowl with a spatula.
In a separate bowl, stir together the flour, salt, and baking soda. Add dry ingredients to the butter mixture until just combined, about 1 minute.
Add the almonds, coconut, and chocolate chips (save some of each to top cookies with, if desired). Mix gently on low speed until just combined, about 30 seconds. *If dough is crumbly, add 1 Tbsp of milk and mix gently until dough comes together.
Line a baking sheet with a silicone baking mat, parchment paper, or spray with cooking spray. Scoop cookie dough balls and place onto prepared baking sheet about 2-inches apart. (12 small cookies per tray or 8 large cookies per tray.) Top with extra almonds, coconut, and chocolate chips, if desired.
Bake at 350 degrees Fahrenheit for 8-10 minutes depending on size, until edges are just barely starting to brown. Allow to cool for 1 minute on tray, then transfer to a wire rack to cool completely. Store in an airtight container at room temperature up to 1 week.
Nutrition Information:
Yield: 36
Amount Per Serving:
Unsaturated Fat: 0g