Instant Pot Hard Boiled Eggs + Video
This post may contain affiliate links, meaning that I may receive a commission at no cost to you if you use a link provided. All opinions shared are my own. You can review my full disclosure policy here.
Instant Pot Hard Boiled Eggs cook perfectly in minutes and are so easy to peel! Great for breakfast and Easter eggs!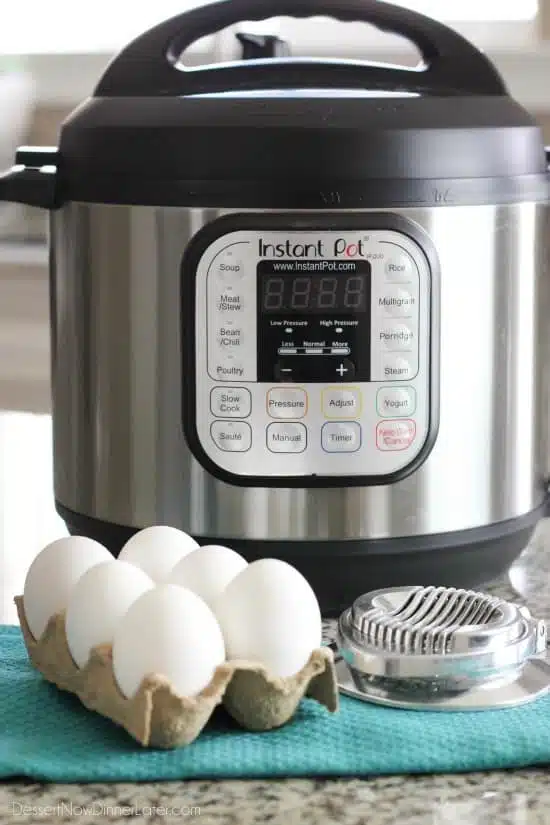 My neighbor Stephanie raves about the Instant Pot, and actually has two of them herself, which intrigued me enough to get an Instant Pot for Christmas. The Instant Pot looks a lot like my rice cooker, but can do SO much more!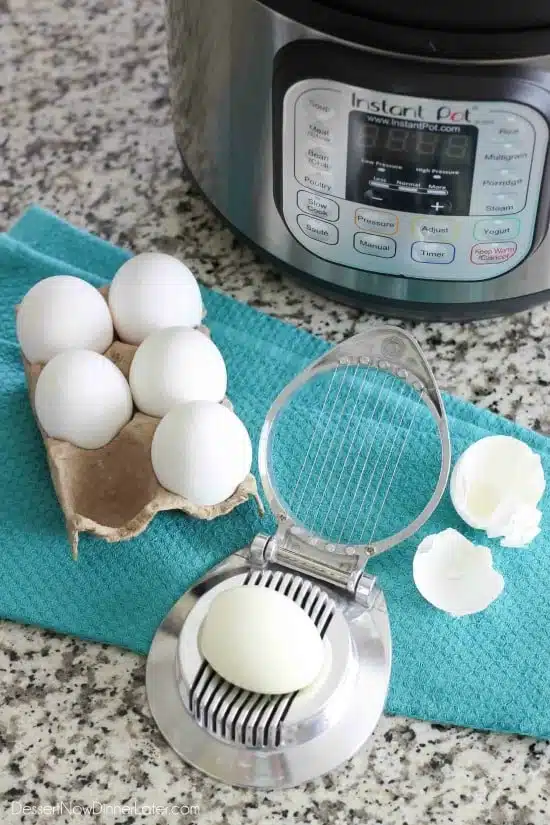 If you're like me, you might be SUPER nervous to try a pressure cooker. In my mind, high pressure equals explosions, but something about the Instant Pot seems way more approachable than an old fashioned pressure cooker.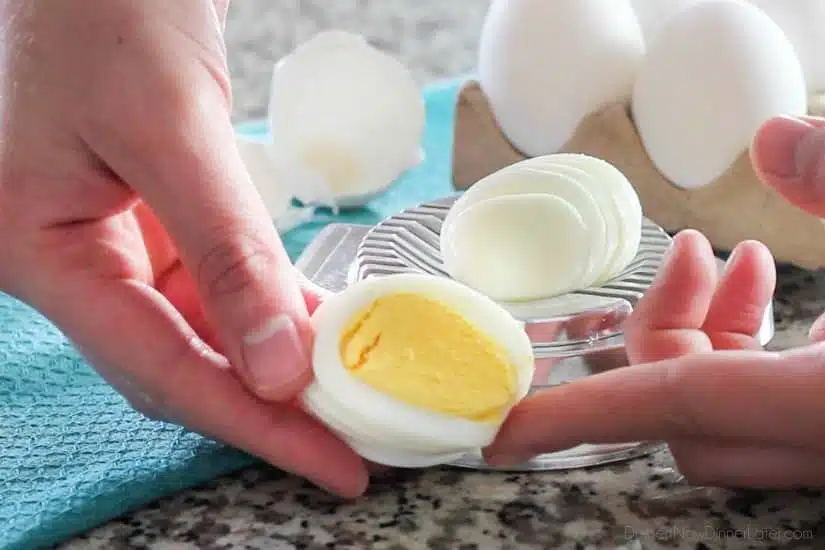 I knew I wanted a simple recipe to try for the first time so I made "boiled" eggs and I was in LOVE! Instant Pot Hard Boiled Eggs are the perfect thing to try first in your pressure cooker! It's simple to make and a great way to get your "feet wet" in the electric pressure cooker world. I even created a video (below) to show you just how easy using the Instant Pot can be!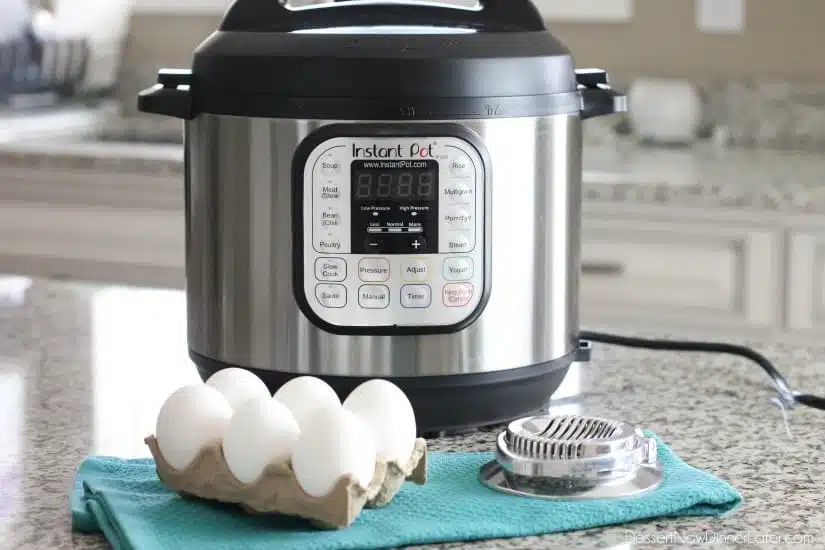 The eggs come out perfectly cooked in 5-7 minutes and are SO EASY TO PEEL! That makes it worth it right there! If Easter eggs are annoying and troublesome for you, definitely try this! You will never go back to boiling eggs again, but if you do want to boil eggs, I have a secret trick to getting Easy Peel Perfectly Boiled Eggs. (Click the link to find out more!)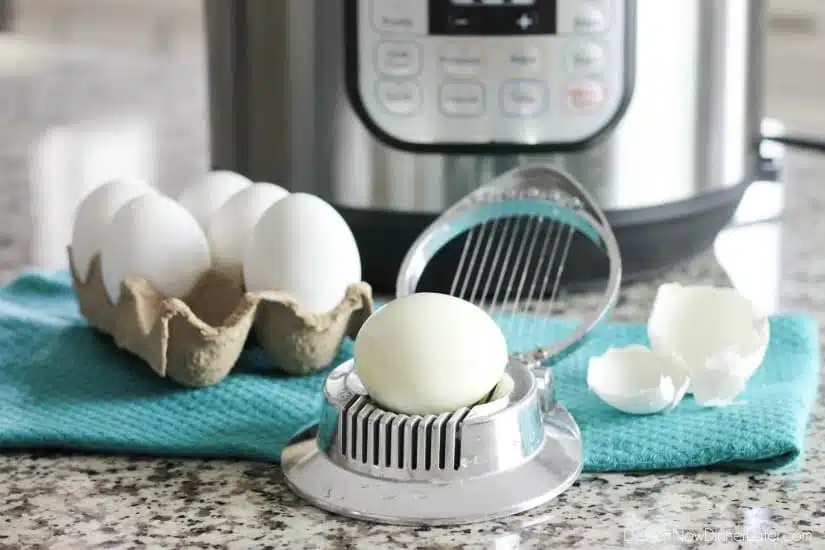 The Instant Pot makes things fast and effortless. I've only made one other recipe so far, but I'm definitely excited to try more! Do you have an Instant Pot? What's your favorite recipe? Tell me in the comments below!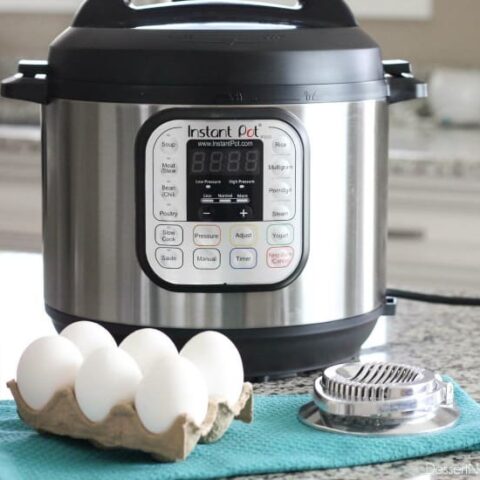 Instant Pot Hard Boiled Eggs
Ingredients
1 cup water
6 Large/XL Eggs (Or as many as you want/can fit in one layer on the steam rack without stacking eggs.)
Instructions
Insert steam rack into the bottom of the Instant Pot.
Pour one cup water in the bottom of the stainless bowl.
Place your desired number of eggs on top of the steam rack.
Close and lock the lid and make sure the vent on top is closed.
Plug in machine, power on, and press the MANUAL button.
Adjust time to either 5, 6, or 7 minutes* on the display with the "-" button. (The time will depend on your altitude and size of the egg. Test a small batch [1-2 eggs] on the shortest time, and then adjust timing for future batches if needed.)
Let cook. Once finished, turn the vent/quick release valve to the open position until you no longer hear or see steam, and the float valve is down.
Open lid. Transfer eggs to a water bath until cool enough to crack open and eat. To store: Completely cool cooked eggs in an ice water bath before storing in the refrigerator up to 1 week. To reheat in the microwave: Peel egg, poke several times all over with a fork, and heat 30+ seconds until warm.
Notes
-Instructions altered from Predominantly Paleo
*Cook times are longer at higher altitudes because water and other liquids evaporate faster and boil at lower temperatures.
Nutrition Information:
Yield: 6
Serving Size: 1
Amount Per Serving:
Calories: 72
Total Fat: 5g
Saturated Fat: 2g
Trans Fat: 0g
Unsaturated Fat: 3g
Cholesterol: 186mg
Sodium: 73mg
Carbohydrates: 0g
Fiber: 0g
Sugar: 0g
Protein: 6g
This data was provided and calculated by Nutritionix, and is an estimation only.