Lemon Sugar Cookies
This post may contain affiliate links, meaning that I may receive a commission at no cost to you if you use a link provided. All opinions shared are my own. You can review my full disclosure policy here.
Lemon Sugar Cookies are perfectly sweet and tangy with a lemon sugar cookie base and a lemon cream cheese frosting on top.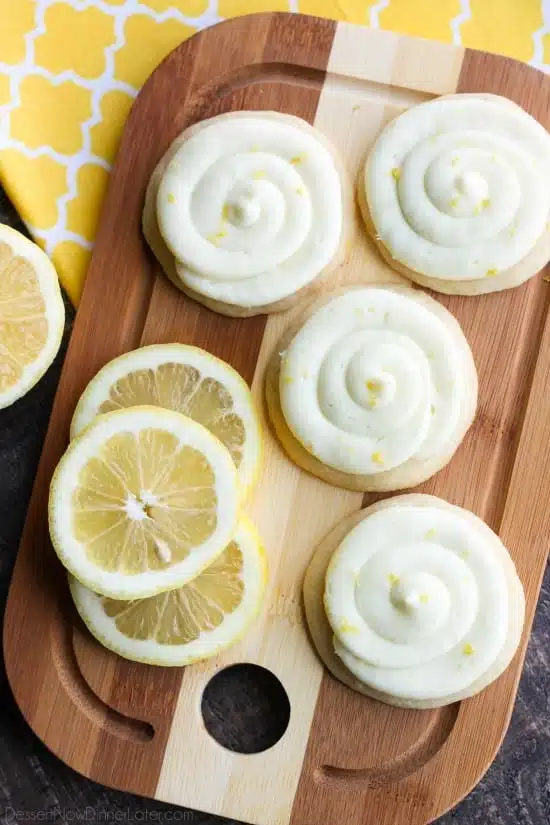 I'm kind of picky when it comes to sugar cookies. I hate a dry, crumbly cookie that HAS to have the frosting on top to keep it from making a sticky paste in your mouth. The frosting should complement a lightly sweet, chewy sugar cookie, not overcompensate for the dryness of it.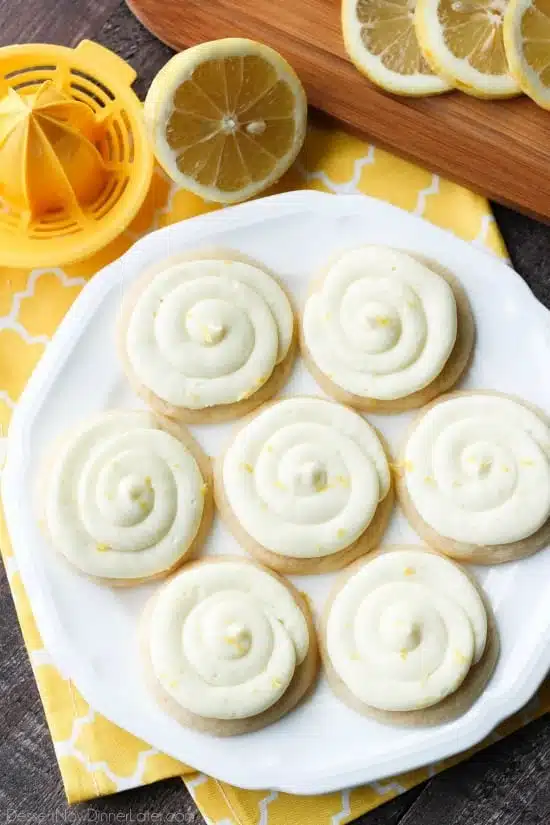 Cut out sugar cookies are not my favorite either, so with this recipe, all you have to do is scoop and press the cookie dough. By the way, it took me 3 different cookie dough batter experiments to get these lemon sugar cookies the consistency that I wanted them. I'm very happy with the end result, even if it was a trial and error type of day in the kitchen.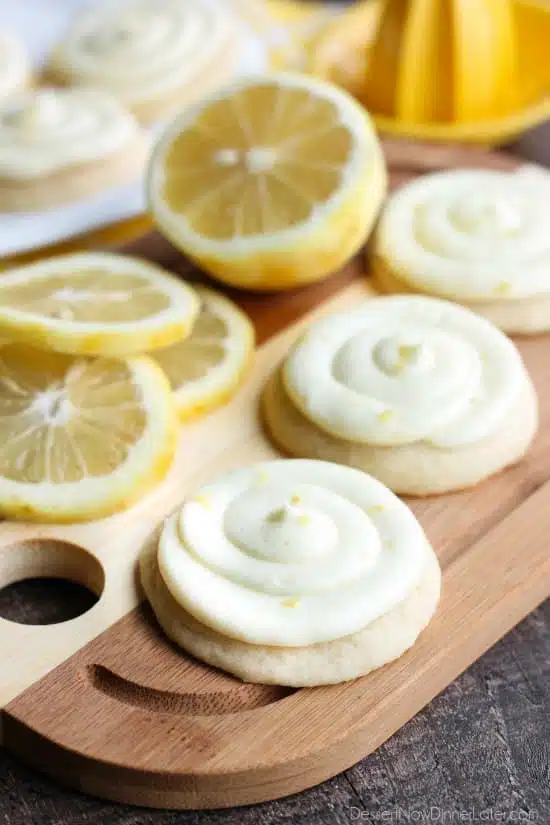 First I tried an all butter sugar cookie with lemon zest and lemon juice. The flavor was nice, but I kept adding flour to try and keep it from flattening like a pancake. The dough got tough and still went flat, so that was not going to work. The second batter I did half butter and half shortening (altered from my recipe for no roll frosted sugar cookies) with lemon zest and lemon juice for flavor. Again the flavor was nice, but I added too much flour because I was paranoid about the last batch, so it wasn't spreading enough.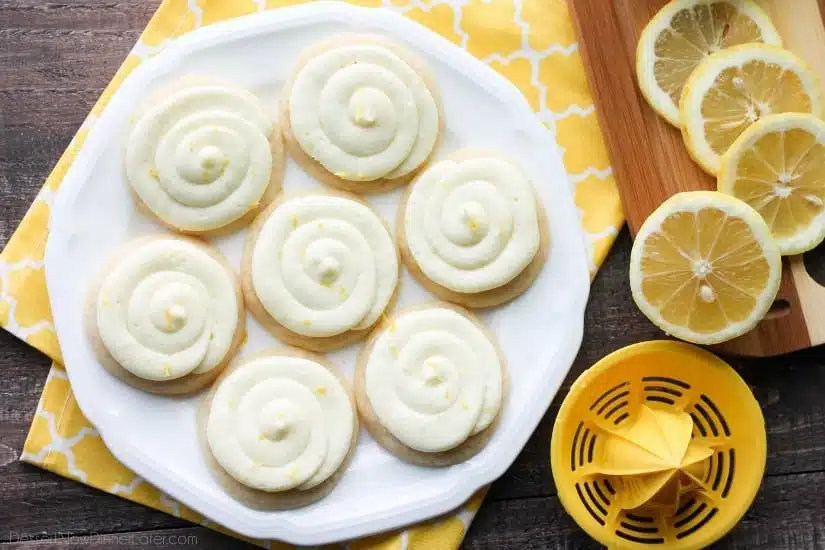 The third attempt for these lemon sugar cookies was finally a home run! I used the same recipe from batch two, but added just enough flour so the dough was still soft, yet pliable. Then I pressed it down halfway with the bottom of a cup dipped in sugar, and it baked just the way I wanted it to. The lemon sugar cookies are chewy and slightly moist, not dry and crumbly, and they have great lemon flavor.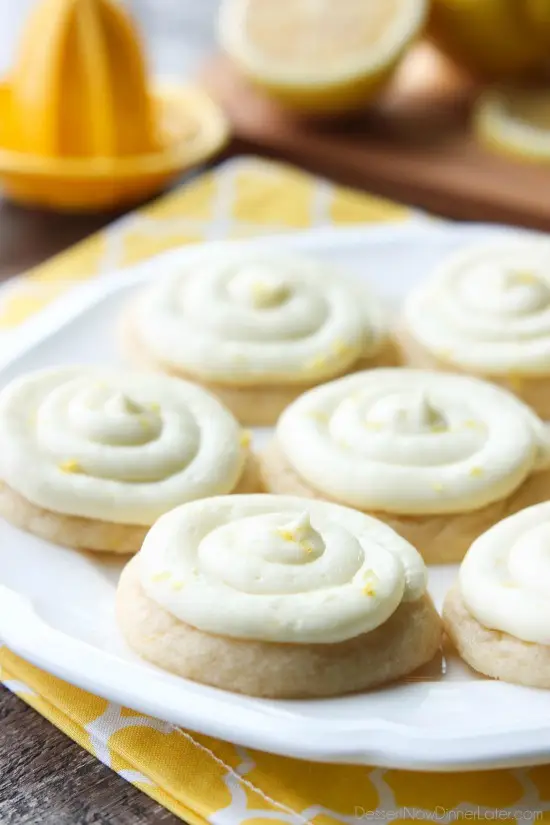 In my mind, there's nothing better to top these cookies with than a lemon cream cheese frosting, so I altered my recipe for The BEST Cream Cheese Frosting with some lemon zest and lemon juice and it was perfection! If you're a lemon fan, you NEED to make these lemon sugar cookies ASAP! I can't wait to make them again!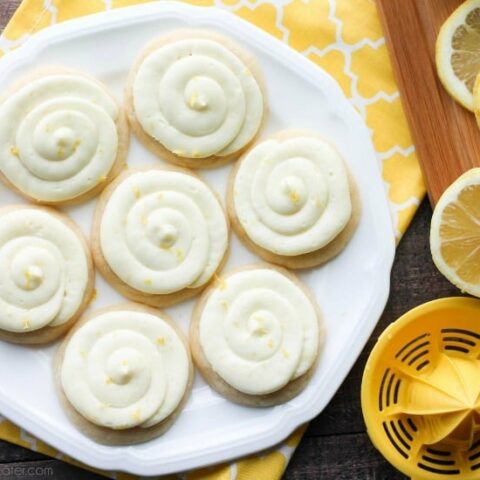 Lemon Sugar Cookies
Ingredients
Cookies:
1/3 cup butter
1/3 cup shortening or coconut oil
1 cup sugar
Zest 2 lemons
1 egg
2 Tbsp lemon juice
1 3/4 cups + 2 Tbsp all-purpose flour (I know this is a weird measurement, but the extra 2 Tbsp makes a difference.)
1 tsp baking powder
1/2 tsp salt
Frosting:
8 oz cream cheese, cold
1/2 cup (1 stick) unsalted butter, room temperature
1 cup powdered sugar
1 tsp lemon juice
Zest 1 lemon
1 drop yellow food coloring, optional
Instructions
Preheat the oven to 350 degrees Fahrenheit.
In the bowl of a stand mixer with the paddle attachment, cream the butter, shortening, sugar and lemon zest. Mix in the egg and lemon juice.
In a separate bowl combine the flour, baking powder, and salt. Slowly mix into the wet ingredients until just blended, scraping the bowl if needed. Dough will be soft and slightly sticky.
Scoop rounded Tablespoons of cookie dough a few inches apart onto a baking sheet covered with parchment paper or a silicone baking mat. Press cookie dough balls halfway down with a cup dipped in sugar.
Bake at 350 degrees Fahrenheit for 8-9 minutes. The edges should barely be browning and the top of the cookies should look matte, not shiny/wet. Allow to rest for a couple minutes before transferring to a wire rack to cool. Let cookies cool completely.
Meanwhile make frosting. Place the cream cheese and lemon zest in a mixing bowl. Using a hand mixer, beat until smooth. Gradually add the butter 2 Tablespoons at a time, and continue beating until smooth and well blended. Add powdered sugar and lemon juice (+ 1 drop yellow food coloring, if desired) all at once. Blend until just combined.
Place a coupler and round piping tip onto a pastry bag. Fill with frosting. Pipe frosting in a swirl pattern on top of the cooled cookies starting from the outside and finishing in the center. Cookies may be placed in an airtight container and refrigerated, or stored at room temperature depending on personal preference.
Nutrition Information:
Yield: 30
Serving Size: 1 cookie
Amount Per Serving:
Calories: 117
Total Fat: 8g
Saturated Fat: 4g
Trans Fat: 0g
Unsaturated Fat: 3g
Cholesterol: 21mg
Sodium: 99mg
Carbohydrates: 12g
Fiber: 0g
Sugar: 11g
Protein: 1g
This data was provided and calculated by Nutritionix, and is an estimation only.