Peanut Butter Pretzel Bites
This post may contain affiliate links, meaning that I may receive a commission at no cost to you if you use a link provided. All opinions shared are my own. You can review my full disclosure policy here.
Peanut Butter Balls are made into pretzel bites for a salty-sweet addicting treat! Perfect for parties or Christmas neighbor gifts!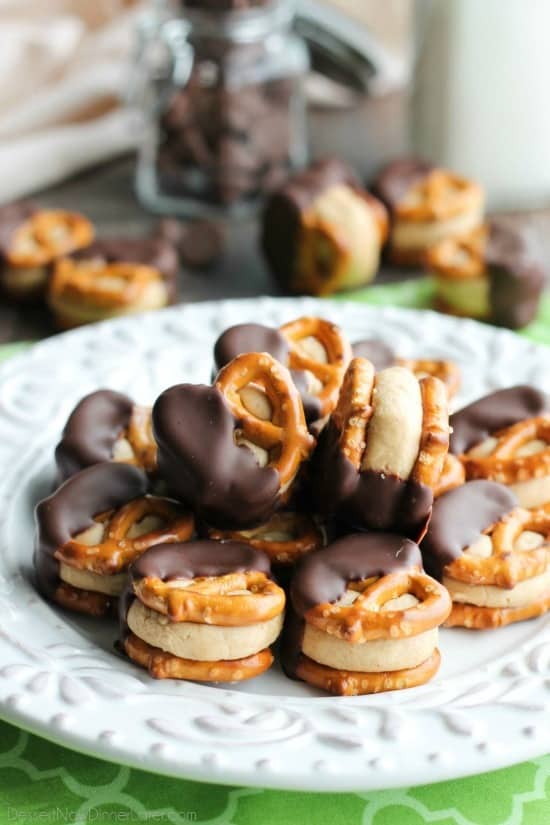 If there is one iconic holiday treat that I like to make every year, it's peanut butter balls, a.k.a. buckeyes, or whatever you want to call them. They're basically homemade Reese's Peanut Butter Cups in ball form, but better.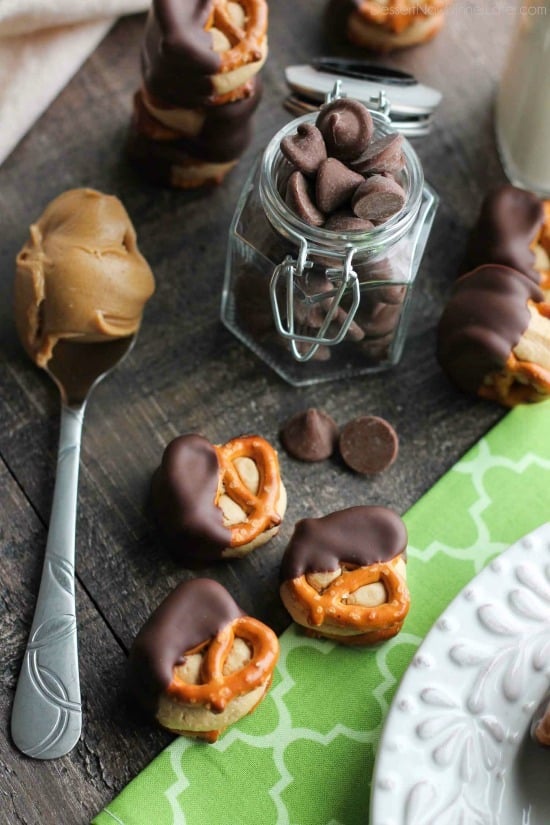 For non candy makers like myself, peanut butter balls are the easiest way to pretend you know what's up in the Christmas candy making department. They are, dare I say it … foolproof!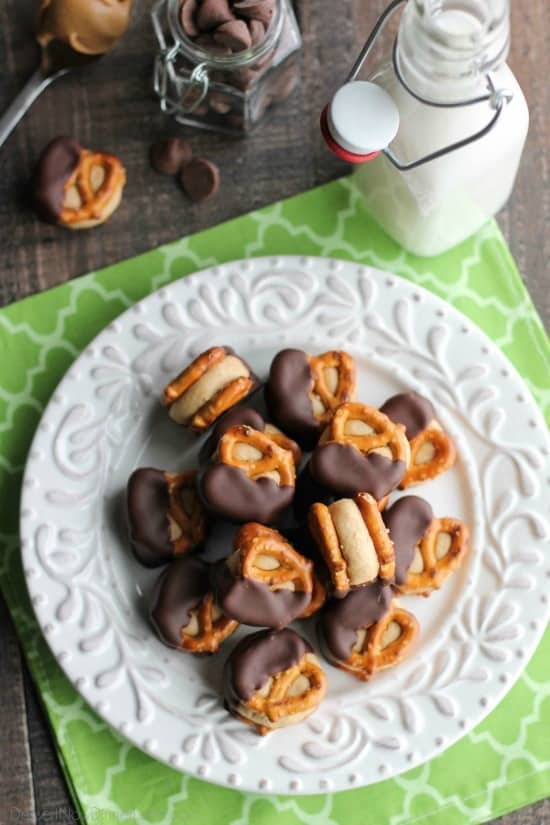 I was thinking about those peanut butter balls, and I wanted to add a twist to them. So I added pretzels and voila! Peanut Butter Pretzel Bites. Yum!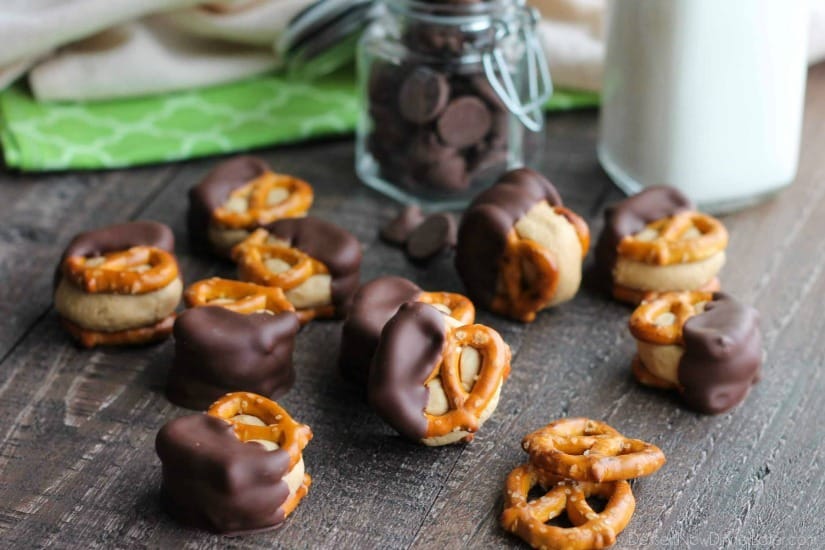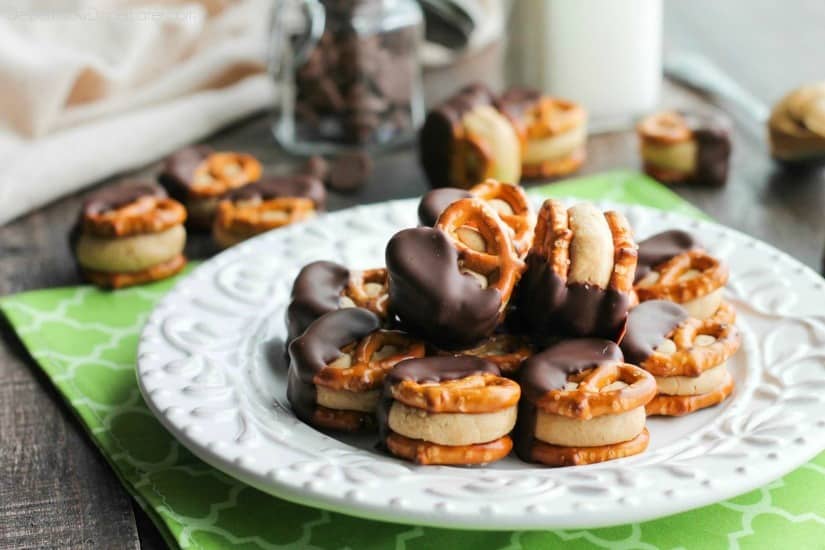 Pretzels add that little hint of saltiness that makes sweet treats even better. The pretzels also provide a great crunch factor. It's almost like eating a sandwich cookie of pretzels, chocolate, and peanut butter goodness.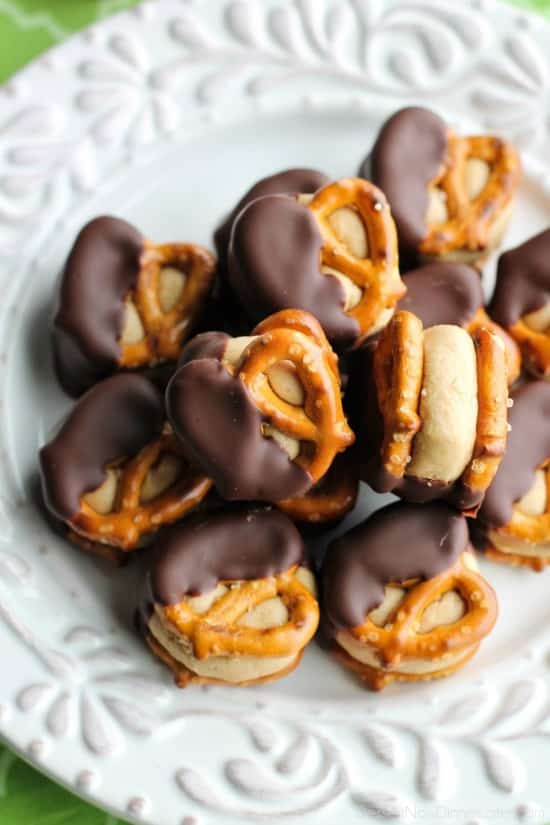 Peanut butter pretzel bites will become your next addiction, so be sure to share with friends. They will love you for it!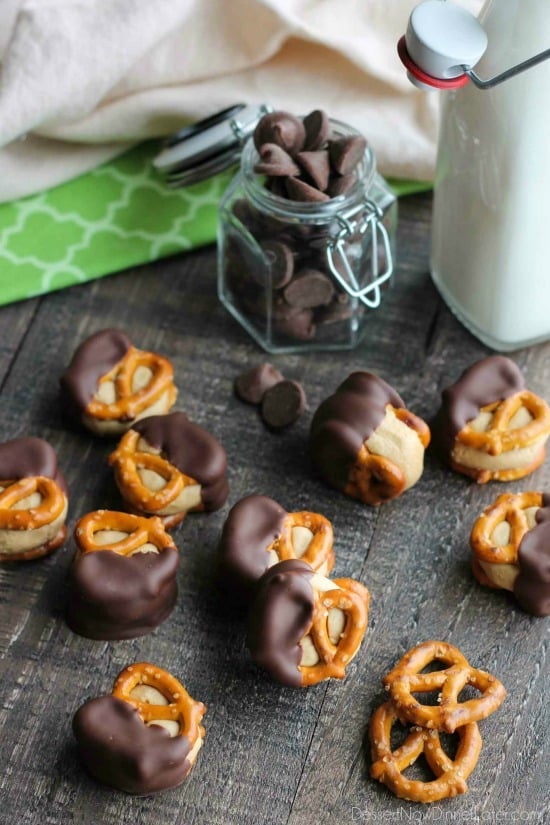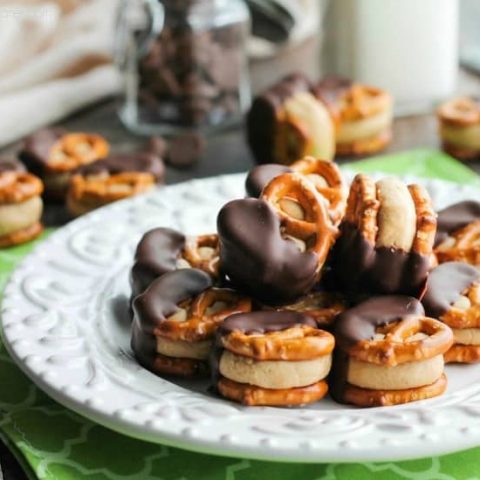 Peanut Butter Pretzel Bites
Prep Time: 45 minutes
Total Time: 45 minutes
Yield: 75 pretzel bites
Ingredients
1 1/2 cups creamy peanut butter
1/2 cup butter, room temperature
1 tsp vanilla extract
1/2 tsp salt
3 cups powdered sugar
Mini Pretzels (about 150)
1 (12oz) package semi-sweet chocolate chips
2 Tbsp coconut oil or shortening
Instructions
Combine peanut butter, butter, vanilla and salt in large bowl. Beat with an electric mixer on LOW until blended.
Add 2 cups powdered sugar, beating until blended. Beat in the last cup of powdered sugar until combined.
Shape into 1-inch balls. Sandwich/squeeze each peanut butter ball between two pretzels. Place on baking sheets fitted with a silicone baking mat, parchment paper, or wax paper. Freeze for 15 minutes or refrigerate for 30 minutes.
Place chocolate chips and coconut oil or shortening in a double boiler. (Or stainless steel bowl on top of a saucepan filled with water - make sure the water does NOT touch the bottom of the bowl!) Heat on medium-low until melted.
Dip pretzel bites halfway into the chocolate, shaking off any excess chocolate. Return to tray. Repeat until all pretzel bites have been dipped in chocolate. Place tray(s) back into fridge/freezer until chocolate is set, about 15 minutes. Store in an airtight container in the refrigerator up to 7 days.
Nutrition Information:
Yield: 75
Serving Size: 1
Amount Per Serving:
Calories: 96
Total Fat: 5.5g
Saturated Fat: 2.4g
Trans Fat: 0g
Cholesterol: 3.2mg
Sodium: 55mg
Carbohydrates: 11.7g
Fiber: 0g
Sugar: 7.7g
Protein: 1.7g
This data was provided and calculated by Nutritionix, and is an estimation only.