Dark Chocolate Peppermint Roll
This post may contain affiliate links, meaning that I may receive a commission at no cost to you if you use a link provided. All opinions shared are my own. You can review my full disclosure policy here.
Oh my word, are you guys surviving this holiday season? It's been crazy hectic since Thanksgiving & hasn't stopped for us! So if you have anotherholiday party or two to attend still, you might want to whip up this delicious Dark Chocolate Peppermint Roll.
It's beautiful to look at & tastes divine! Not too minty, and the cake is moist & flavorful. Plus it makes your mouth water just looking at it right? If not, then I am not doing my job right & I better work on my photography & food styling, stat!
Anyway, if you are a chocolate & peppermint fan, then this is the dessert for you! You'll be glad you tried it!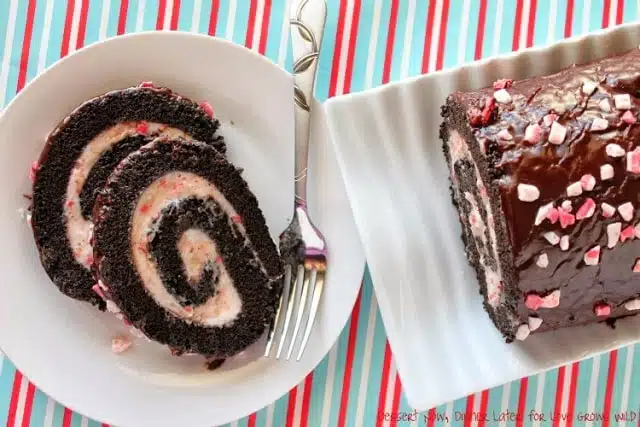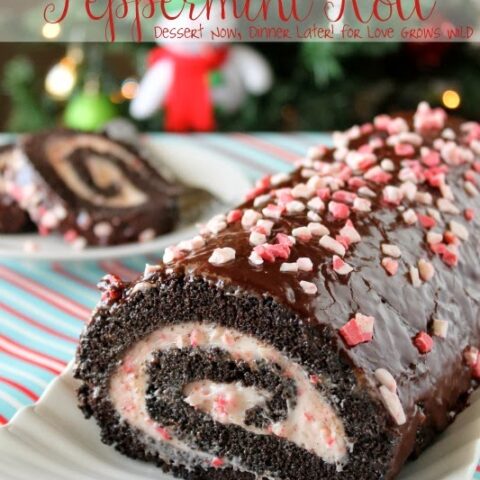 Dark Chocolate Peppermint Roll
Looking for a great holiday dessert? This beautiful Dark Chocolate Peppermint Roll is sure to be a show-stopper!
Ingredients
6 eggs, room temperature
1 cup plus 2 Tbsp white granulated sugar
3/4 tsp salt
6 Tbsp canola oil
9 Tbsp buttermilk (or milk with 2 tsp of lemon juice; let sit 10 minutes before using)
1 cup flour
8 Tbsp dark cocoa powder
2 tsp baking powder
12 Tbsp butter, unsalted
5 Tbsp heavy cream
1 tsp vanilla
2-3 cups powdered sugar
1 cup Andes Peppermint Crunch Baking Chips (plus extra to sprinkle on top)
1/4 tsp salt
2/3 cup dark or semi-sweet chocolate chips
2 Tbsp heavy cream
1 tsp vanilla
4 Tbsp powdered sugar
1-2 Tbsp warm water
Instructions
DARK CHOCOLATE CAKE: Pre-heat oven to 350˚F. Grease & flour a jelly roll pan. I like to grease & flour the edges & place a piece of parchment on the bottom. Prepare a kitchen towel to roll the cake in, by heavily dusting it with powdered sugar.
In the bowl of a stand mixer, with the whisk attachment, beat eggs, sugar & salt until frothy & pale. Add the oil & buttermilk until combined.
In a separate bowl sift the flour, cocoa, & baking powder, twice. Add to wet ingredients & mix until just incorporated. Pour batter into the prepared jelly roll pan. Bake for 15 minutes or until the cake springs back when touched; alternately check doneness with a toothpick, that when inserted in the center, comes out clean.
Let the cake cool for 2 minutes. Then flip it out onto the powdered sugar dusted towel, remove the parchment (if you used some), & then roll it up in the towel while it's still hot. Allow to cool completely.
PEPPERMINT BUTTERCREAM: Combine all ingredients & beat until you reach a smooth, spreadable consistency. Set aside until ready to use.
CHOCOLATE GLAZE: Heat chocolate chips, heavy cream & vanilla in a bowl in the microwave until melted & smooth when stirred, about 30-45 seconds. Don't let it burn though! Add powdered sugar. Stir. Add warm water until desired pouring consistency (I like to keep mine semi-thick still.) Set aside until ready to use.
Unroll the cooled cake. Spread Peppermint Buttercream on the inside of the cake, leaving a light coat where the end of the roll will be.
Tightly roll cake into a spiral. The tighter you can get it, the better it will look. Place filled cake roll onto a wire cooling rack that has been placed inside of a baking sheet. Pour Chocolate Glaze over the top of the cake. I start on one end, & let it gather up & naturally drip over the edges as I slowly work my way towards the other end. Sprinkle extra peppermint chips on top while the glaze is still wet.
Allow the chocolate to set before slicing & serving. You can store this at room temperature or in the fridge, whichever is your preference.
Nutrition Information:
Yield: 8
Amount Per Serving:
Unsaturated Fat: 0g
Recipe added 9/10/15. Also seen on Love Grows Wild.