Dark Chocolate Trail Mix Bites
This post may contain affiliate links, meaning that I may receive a commission at no cost to you if you use a link provided. All opinions shared are my own. You can review my full disclosure policy here.
You guys! These little snacks are my new favorite! I don't know about you, but I have this salty/sweet addiction & it has to be completely balanced or my mouth gets angry. Anytime I have anything sweet, I need like a cracker or chip to counteract that sweetness in my mouth. And vice versa, like after dinner, I need a piece of chocolate or sour gummy worm just to tap off my mouth. Maybe I am weird, or maybe you are like me?! These Dark Chocolate Trail Mix Bites hit that perfect balance of salty/sweet for me. And I love them!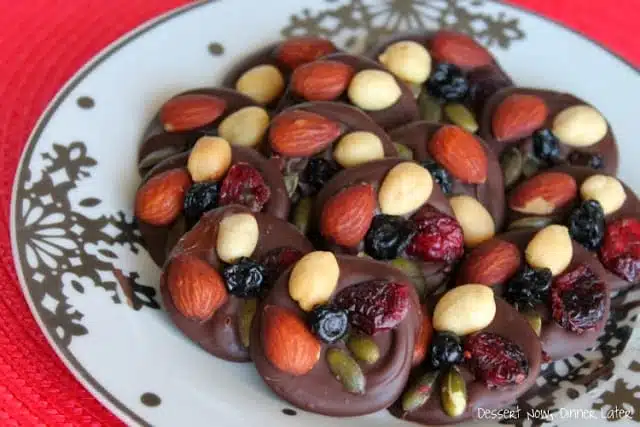 So anyway, I cannot think of an easier treat to whip up to serve at a party, gift to your neighbor, or take on a road trip. I love popping one, or two, or maybe three of these in my mouth for a little snack. They are pretty to look at & healthy too (dark chocolate, nuts & fruit…healthy!)  And the recipe is two ingredients…if you didn't gather that from the title already. See? EASY!!!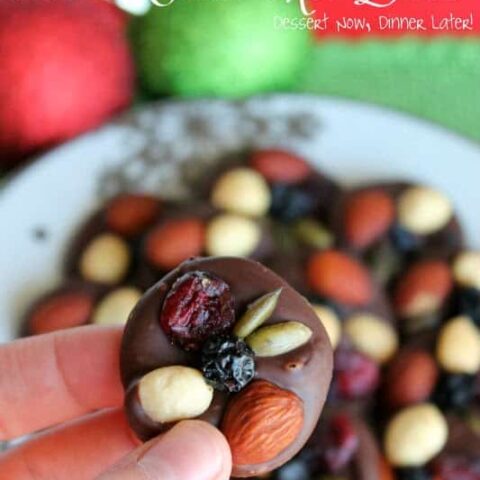 Dark Chocolate Trail Mix Bites
Ingredients
1/2 cup dark chocolate or semi-sweet chocolate chips
1/2 cup antioxidant trail mix (I just bought enough of what I needed in the bulk section at Winco, but it is some tasty trail mix!)
Instructions
Melt chocolate chips for 30 seconds in the microwave. Stir. Then do 10-15 second bursts in the microwave until melted. Don't burn the chocolate!
Dollop about a heaping teaspoon of melted chocolate onto a piece of wax paper, & spread it into a round circle with the back of your spoon. Repeat until you have made about 16 circles.
Immediately top with a variety of trail mix pieces. Let chocolate set. Enjoy!
Nutrition Information:
Yield: 8
Amount Per Serving:
Unsaturated Fat: 0g