Coffee Cake Banana Bread
This post may contain affiliate links, meaning that I may receive a commission at no cost to you if you use a link provided. All opinions shared are my own. You can review my full disclosure policy here.
Coffee Cake Banana Bread combines classic banana bread with the amazing cinnamon streusel of coffee cake. This delicious quick bread is perfect for breakfast, brunch, or dessert.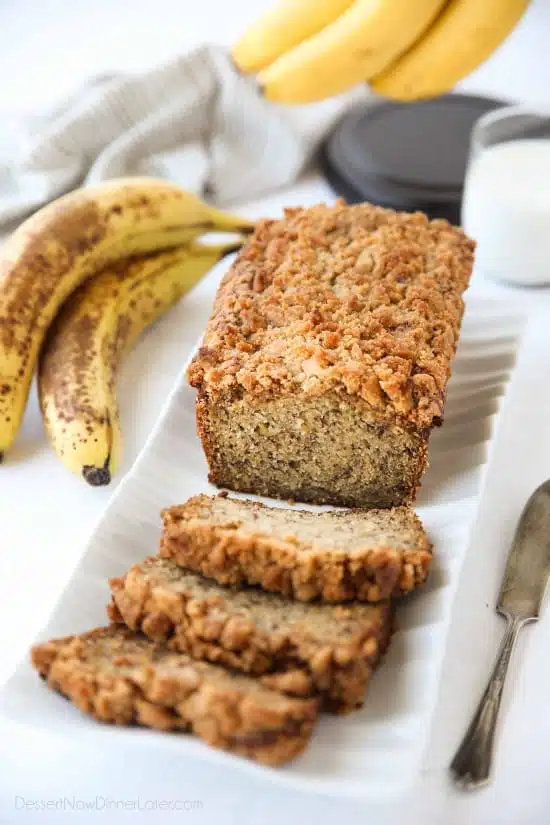 Grab those ripe bananas and turn them into something amazing. Classic Banana Bread is great and all, but adding the cinnamon streusel of coffee cake takes it to the next level. The added sweetness of cinnamon streusel from coffee cake gives it a sweet, buttery, and slightly crunchy topper.
I just love dressing up banana bread. Cinnamon swirl is an obvious combination, sour cream and berries provide added moisture and fruit flavor. You can double the chocolate or simply add chocolate chips and make muffins. There are so many ways to enjoy banana bread!
Bananas that are heavily speckled with brown spots are the best for banana bread. If you pick a yellow, but spotless banana, it won't have as deep of flavor or color. Sometimes it's good to just let those bananas go a couple extra days on the counter.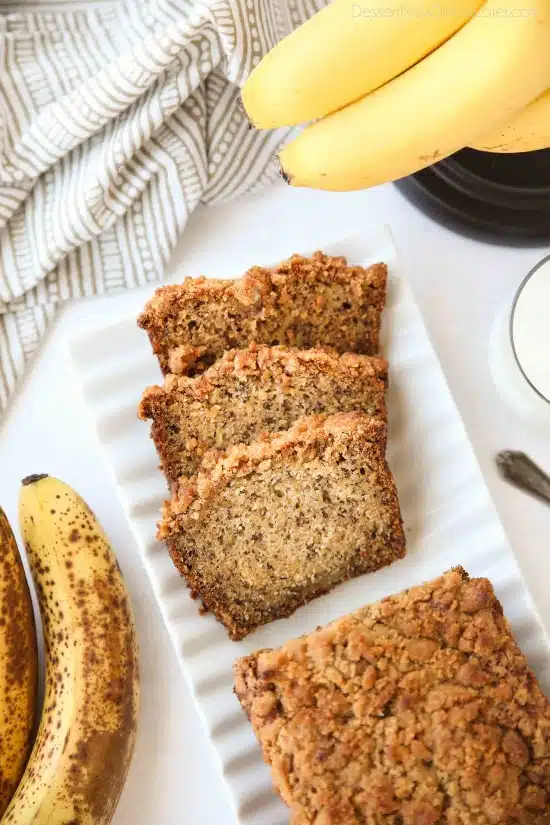 Coffee Cake Banana Bread
This coffee cake banana bread uses three (3) ripe bananas for one loaf. I don't usually measure this, but if you want to be precise, it should equal about 1 1/4 – 1 1/2 cups, mashed.
If you have a whole bunch of bananas that you want to use up, just double the recipe and make two loaves. It freezes well, or you can always gift it to neighbors.
If you would rather not freeze an extra loaf of banana bread, you can freeze the bananas themselves and use them later. Just peel them first.
TIP FOR FREEZING BANANAS: I will peel, then break or cut each banana into fourths and place the pieces in a zip-top freezer bag. Then when I go to make banana bread, I know that I need four pieces for one banana. You will need to thaw frozen bananas slightly in the microwave before using them for baking, but it prevents waste. Frozen bananas also work great for smoothies.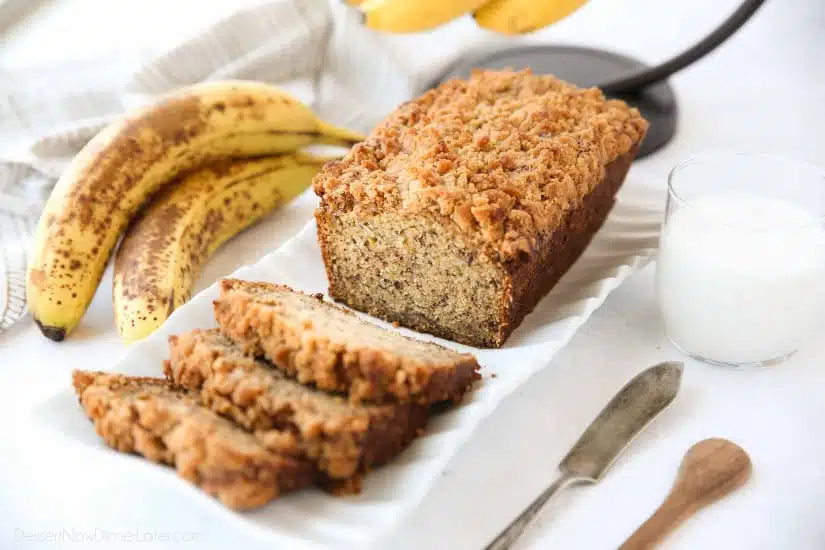 The best part of this banana bread is the crumb topping. It adds a layer of warm, sweet cinnamon in a buttery crumbly streusel. Crumb toppings are so incredibly delicious.
If you eat this coffee cake banana bread fresh from the oven, the streusel will be slightly crisp. If you store it in an airtight container for a little while before eating it, the streusel is soft and crumbly. Two different textures, but the flavor is the same. Both ways are delightful.
Grab those ripe bananas and get to making this coffee cake banana bread! You won't regret it!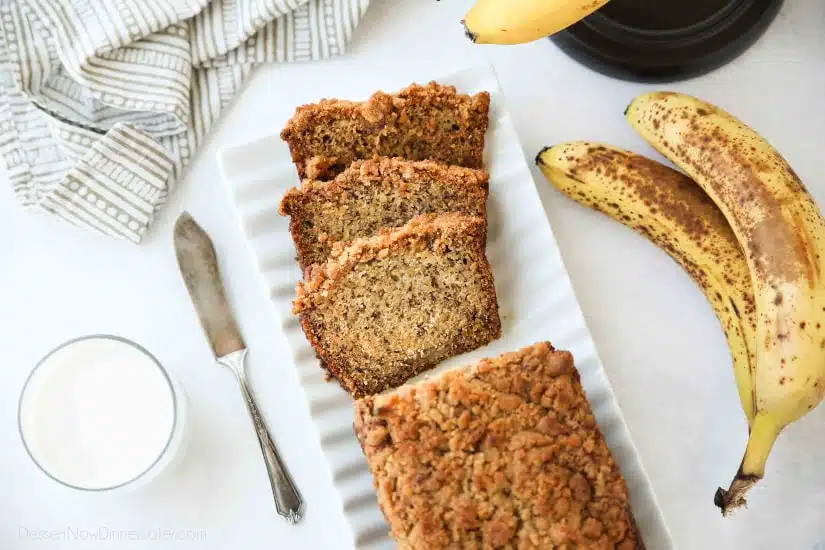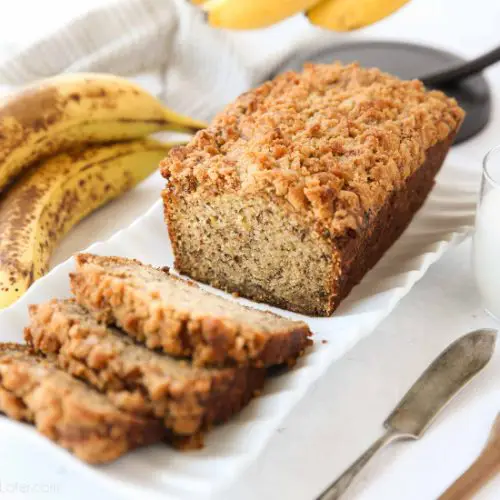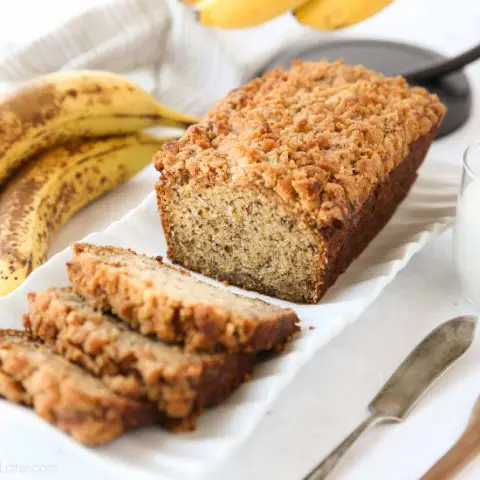 Coffee Cake Banana Bread
Prep Time: 10 minutes
Cook Time: 50 minutes
Total Time: 1 hour
Yield: 1 loaf (12 slices)
Coffee Cake Banana Bread combines classic banana bread with the amazing cinnamon streusel of coffee cake.
Ingredients
Banana Bread:
3 over-ripe bananas (approximately 1 1/4 - 1 1/2 cups mashed)
1/3 cup butter, melted
3/4 cup granulated sugar (Can use 1/2 cup or 1 cup depending on the desired sweetness.)
1 large egg
1 tsp vanilla extract
1 1/2 cups all-purpose flour
1 tsp baking soda
1/2 tsp salt
Streusel Topping:
1 1/2 Tbsp butter, cold
1/4 cup all-purpose flour
1/4 cup brown sugar
1/4 tsp ground cinnamon
Instructions
Preheat oven to 350 degrees Fahrenheit. Butter and flour an 8x4-inch bread pan, or use parchment paper on the bottom and cooking spray on the sides.
In a large bowl, mash bananas thoroughly with a fork, until smooth. Add melted butter, sugar, egg, and vanilla. Mix well.
Add the flour, baking soda, and salt. Stir the dry ingredients slightly before folding them into the wet batter. Mix until flour barely disappears. Pour batter into the prepared bread pan.
In a small bowl, combine streusel ingredients and mix together with a fork until fine crumbs. Sprinkle over the banana bread batter. (Can squeeze crumbs together for bigger chunks.)
Bake at 350˚F for 50-60 minutes, or until a toothpick comes out clean from the center. (If the top is browning faster than the bread is baking, cover lightly with foil and continue baking.)
Allow bread to cool in pan for 5 minutes before inverting; then cool completely on a wire cooling rack. Slice with a serrated knife and serve. Store leftovers in an airtight container, or wrapped tightly with plastic wrap.