Raspberry Butterflake Rolls
This post may contain affiliate links, meaning that I may receive a commission at no cost to you if you use a link provided. All opinions shared are my own. You can review my full disclosure policy here.
Raspberry Butterflake Rolls are a fun challenge for the advanced baker. Layers of butter and raspberry jam are folded together to create tender flaky layers. Make with orange marmalade for orange rolls.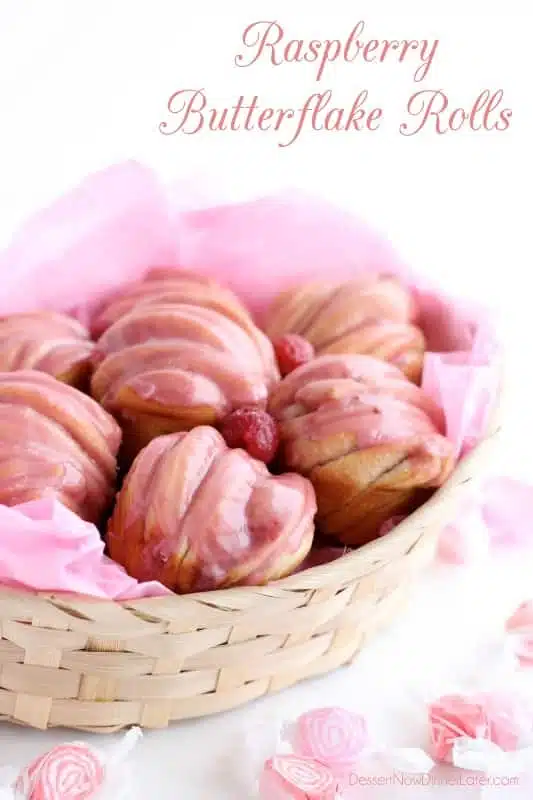 A while back, I had my friend Jason help me do a photo tutorial for Butterflake Dinner Rolls. It was such a hit, but did you know that you can make several variations of this kind of roll?
Yep! You can make Raspberry Butterflake Rolls, Orange Butterflake Rolls, or even Garlicky Butterflake Rolls.
I love these sweet Raspberry Butterflake Rolls because they are like a cinnamon roll with layers, but with jam and a fruity glaze on top.
Now, I will warn you that these are time consuming. It is kind of hard waiting until they are proofed enough to bake (mine took about 2 hours to rise), but it's totally worth it!
Make these on a lazy Saturday or Sunday. If you want, you can try and let them rise in the refrigerator overnight too.
These are the best popped in the microwave for 10 seconds and eaten warm! They are so tender and fun to pull apart!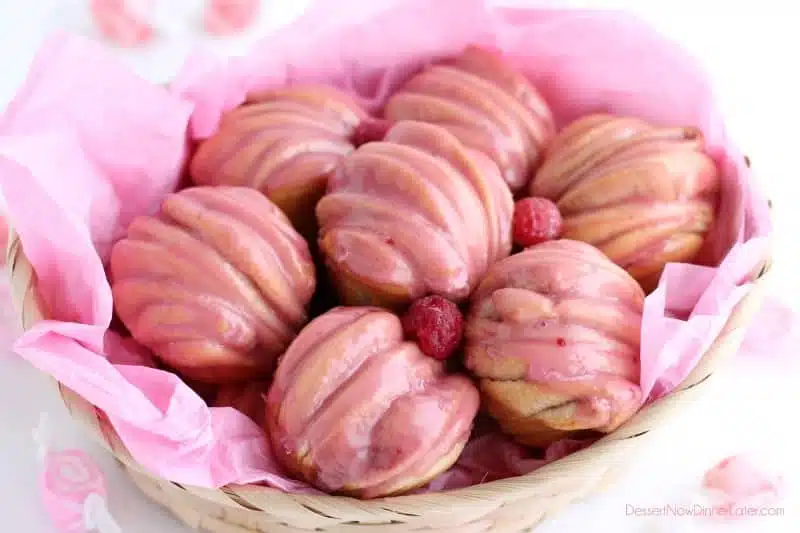 GET THE STEP-BY-STEP PHOTO TUTORIAL HERE.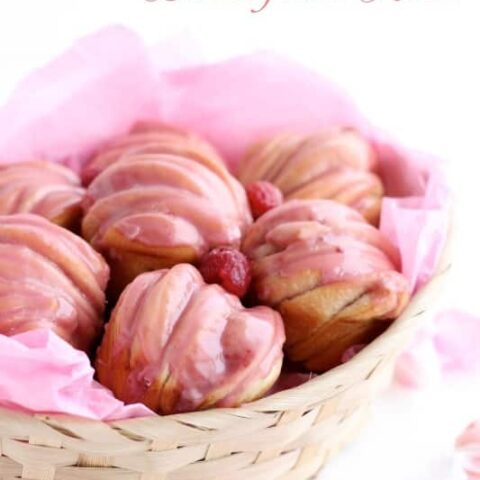 Raspberry Butterflake Rolls
Raspberry Butterflake Rolls are a fun challenge for the advanced baker. Layers of butter and raspberry jam are folded together to create tender flaky layers.
Ingredients
Bread:
1/4 lb whole eggs, whisked (about 2 large eggs)
3/4 lb warm water (approximately 1 1/2 cups water)
1 3/4 lbs flour (approximately 5 3/4 cups flour)
3 oz sugar (approximately 7 Tbsp sugar)
3 oz shortening (approximately 7 Tbsp shortening)
2 oz milk powder (approximately 7 Tbsp milk powder)
1/2 oz salt (approximately 1 Tbsp salt)
1/2 oz dry instant yeast (approximately 5 tsp yeast)
1/4 cup butter, softened
1/4 cup raspberry jelly/preserves (I use seedless)
1/4 cup butter, melted
Glaze:
2 cups powdered sugar
3 Tbsp raspberry jelly/preserves (I use seedless)
3 to 4 Tbsp water
Instructions
Place all the ingredients for the bread, except the softened butter, raspberry jelly/preserves, and melted butter, into a stand mixer with the hook attachment. Mix on medium speed for about 20-25 minutes or until the dough balls up & pulls completely away from the bowl (the bowl comes clean.) It will look sticky for a while, so be patient with it, you don't want to add a bunch of flour & dry it out.
Take the dough out of the bowl & place it on a lightly floured surface. Shape the dough into a square, cover with a towel & let it rest for 10 minutes.
Flatten dough with a rolling pin into about ½" thick square.
Spread SOFTENED butter on ⅔ of the square. Spread a thin layer of raspberry jelly on top of the butter. Do a tri-fold by folding the non-buttered side over first, then the buttered side on top of that. Place dough on a baking sheet in the freezer for 20 minutes.
Once the butter has had time to chill inside the dough, flatten again long ways to about ¼" thick. Then brush melted butter on the center half of the dough. Fold the bottom fourth of the dough up & the top fourth of the dough down so the two ends meet in the middle (book fold.) Flatten gently with the rolling pin.
Brush melted butter on the bottom half of the fold & then fold the top half over. You won't use all the butter. Save the rest for brushing the hot rolls when they come out of the oven.
Use a rolling pin & just flatten the strip of dough to roughly 1" thick & about 3 inches wide. Cut ½" to ¾" thick pieces. Take each piece, lay it flat on the table, & roll them from the top down. Put rolls into sprayed muffin pans. Cover the pans with plastic wrap that has been lightly greased with pan spray. Let rise until the rolls are a good ½ inch over the top of the muffin pans, about 1½ to 2 hours.
Bake at 350*F for 13-15 minutes. Brush the hot rolls with the remaining melted butter hot from the oven. Allow rolls to cool completely.
Make a glaze by whisking 2 cups powdered sugar, 3 Tbsp raspberry jelly/preserves, and 3 to 4 Tbsp of water in a medium sized bowl. You want the glaze to be pretty thick still, so add the water 1 Tbsp at a time. Dip the top of the cooled rolls in the glaze, scrape excess icing off using the side of the bowl. Place rolls on a cooling rack or tray to let the icing dry. *It's important to let the rolls cool all the way so the icing sticks and doesn't melt completely off. Once the icing dries, you can cover the rolls with plastic wrap, or stack them in a container to store. Makes 2½ dozen.
Notes
Step-by-Step photo instructions can be found HERE.
FOR ORANGE ROLLS: Use orange marmalade on top of a THIN layer of softened butter in step #4 for an orange or roll. Complete other steps as written. Allow rolls to cool. Combine powdered sugar mixed with a tiny bit of water to create an icing. The less water you use the thicker the glaze will be. Flavor the glaze with orange marmalade & dip the tops of the rolls in the glaze; allow glaze to dry.
FOR GARLIC ROLLS: Make Garlicky Butterflake Rolls by sprinkling garlic salt on top of the butter in step #4. Complete other steps as written. Brush hot rolls with butter & an extra sprinkle of garlic salt & even grated parmesan cheese if desired.
Recommended Products
As an Amazon Associate and member of other affiliate programs, I earn from qualifying purchases.
Nutrition Information:
Serving Size: 1 grams
Amount Per Serving:
Unsaturated Fat: 0g
Who says you just have to make rolls with this bread? Want to try something else that's fun?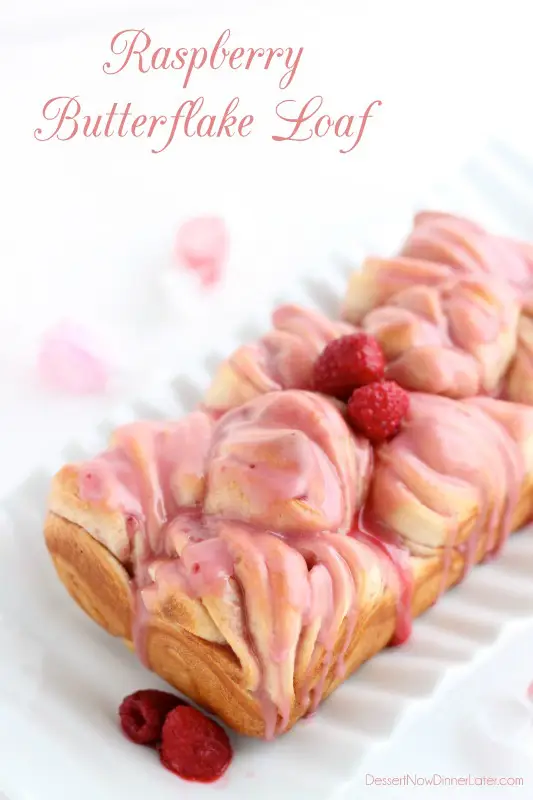 Make your butterflake rolls into a loaf by using 8 rolls in a greased, 7.5×3.5″ loaf pan. Wait until the dough rises almost to the top of the pan, or doubles in size (about 2 hours) and bake at 350*F for 15-18 minutes or until lightly browned. Allow to cool completely and spoon some glaze over the top. Wouldn't this make a cute neighbor gift?