Cinnamon Roll Pancakes
This post may contain affiliate links, meaning that I may receive a commission at no cost to you if you use a link provided. All opinions shared are my own. You can review my full disclosure policy here.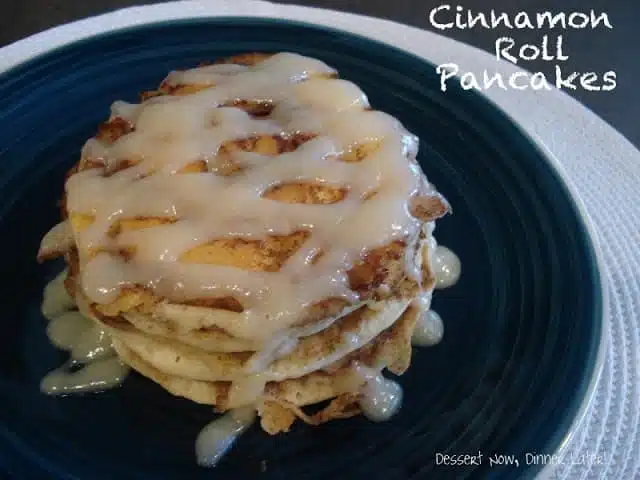 Oh my word, these pancakes, are genius! They are quick & have all the flavors of a cinnamon roll. Fluffy pancake, cinnamon sugar swirl, & a cream cheese glaze for syrup…what more could you want? I absolutely loved every bite!
If you are like me, you occasionally make breakfast for dinner; this was one of those nights & I am so glad I tried these. Mix up your breakfast (or dinner) routine & try these pancakes. They won't disappoint!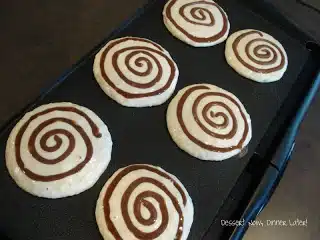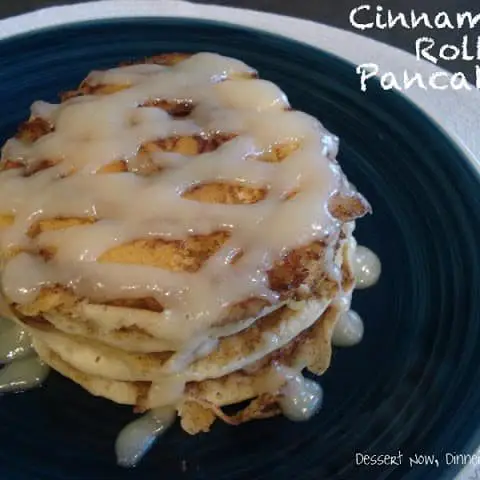 Cinnamon Roll Pancakes
Ingredients
Pancake Batter:
3 cups dry pancake mix + water as directed by package
Cinnamon Sugar Filling:
6 Tbsp butter
1/4 cup brown sugar
2 1/2 tsp cinnamon
Cream Cheese Glaze:
4 Tbsp butter
2 oz cream cheese
1 1/4 cup powdered sugar
1 tsp vanilla
Instructions
Prepare pancake mix according to directions on package. Set aside.
Prepare cinnamon sugar filling by softening butter in the microwave & adding the brown sugar & cinnamon. If the filling is very soft, put it in the freezer for 5-10 minutes or until it is a little more set. Fill into a plastic baggie & cut off a small piece of the corner (prepare for piping onto pancakes.) Set aside.
Prepare syrup by melting the butter & cream cheese in the microwave. Then add powdered sugar & vanilla & whisk until smooth. Set aside.
On a heated, greased griddle, pour pancake batter for desired size pancakes (mine were 5-6" round) & do as many as will fit on your griddle. Using the cinnamon sugar baggie, pipe a swirl on top of each pancake, starting around the edges & working your way to the center. When bubbles begin to appear on the surface flip pancakes CAREFULLY (your cinnamon sugar filling will get heated, melt, & pop at you once it hits the griddle.)
Continue cooking until lightly browned on the underside, 1 to 2 minutes more. Transfer pancakes to a clean plate & cover with a kitchen towel to keep warm.
Repeat with the rest of the pancake batter/filling.
Serve with warmed cream cheese glaze.