Pot of Gold Popcorn
This post may contain affiliate links, meaning that I may receive a commission at no cost to you if you use a link provided. All opinions shared are my own. You can review my full disclosure policy here.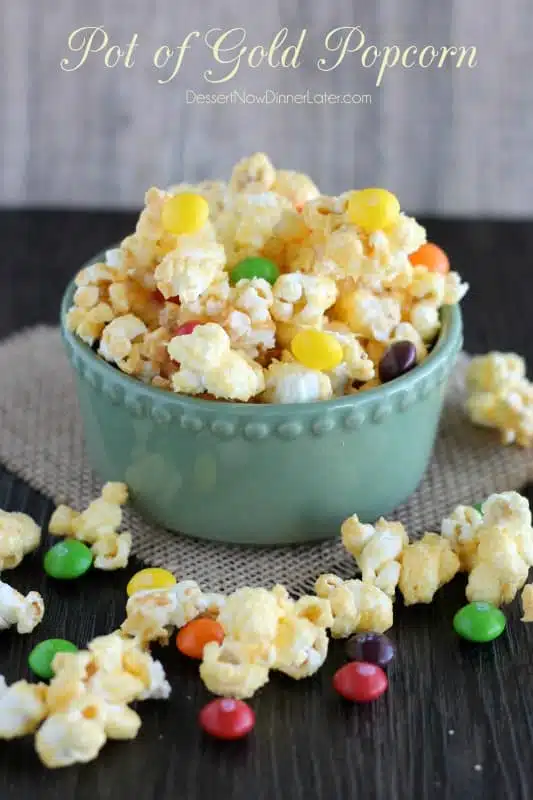 St. Patrick's Day is coming up and I have a super simple and fun treat that your kids will love! Heck, my husband ate practically all of this Pot of Gold Popcorn to himself.
When I was brainstorming this fun St. Patrick's Day treat, I knew I wanted to do some sort of Pot of Gold Popcorn. I didn't want plain old buttered popcorn or caramel corn, so this popcorn is candied with MANGO JELLO! Yep you heard it! It's "golden" with a jello and sweetened condensed milk mixture. So EASY, and addicting!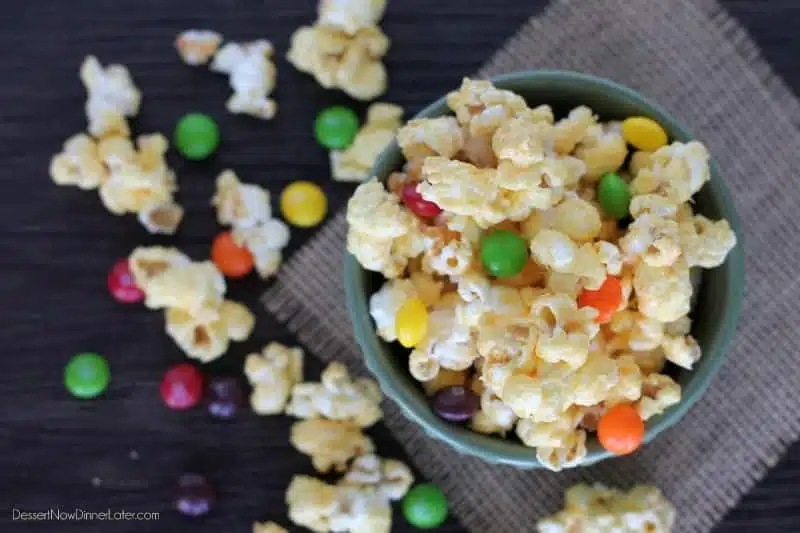 Now I will warn that this is easy, but it's kind of messy, so you absolutely want some heavy duty foil on your pan(s) and silicone spatulas are the best! To top off this pot of gold popcorn, I wanted to use the colors of the rainbow, because after all, there is always a pot of gold at the end of the rainbow right?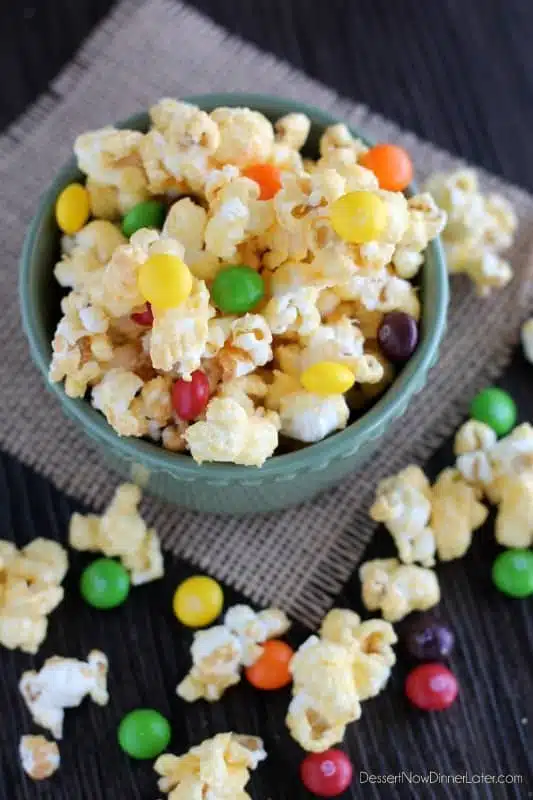 Too bad no one has been able to find the end of the rainbow, at least that I know of… so I used skittles: "Taste the rainbow!" Ta-da! We have Pot of Gold Popcorn with rainbow skittles! Yay! My kids loved this little snack and I can't wait to try even more flavors of candied popcorn. It's got a perfectly crisp crunch to them. SO GOOD! Enjoy!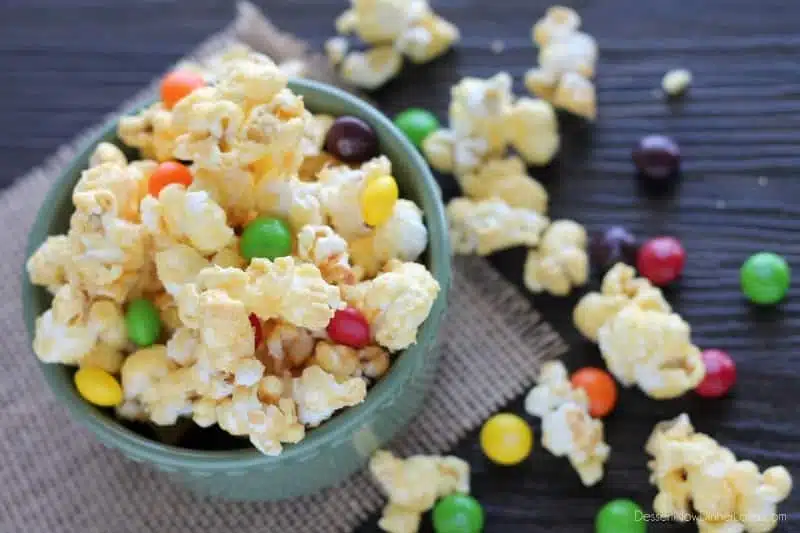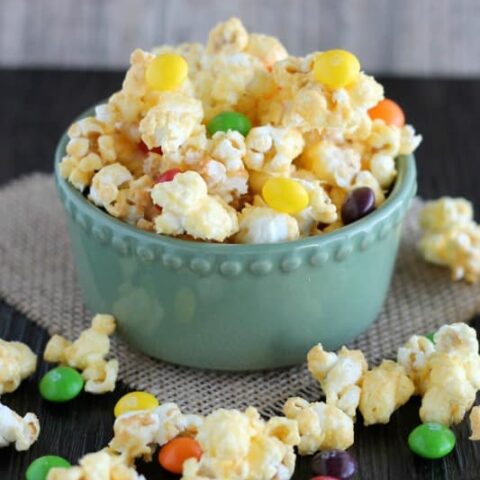 Pot of Gold Popcorn
Ingredients
12 cups air popped popcorn (about 1/2 cup + un-popped kernels)
1 (14oz) can sweetened condensed milk
1 (3oz) box Mango Jello (this is a new flavor, so if you can't find it, any golden flavor will work: lemon, pineapple, etc.)
Skittles
Instructions
Heat oven to 300*F. Line a large shallow roasting pan or two jelly roll pans with heavy duty foil, extending foil over edges of pan. Butter or heavily spray foil with pan spray.
Pop popcorn and remove any un-popped kernels. Pour popcorn into prepared pan(s). Keep warm in the oven.
Combine sweetened condensed milk and dry jello in a medium saucepan. Heat and whisk over medium heat until mixture is slightly thickened and bubbly, 4 to 5 minutes. Make sure to whisk constantly because it boils as you stir and might burn on the bottom if you aren't whisking continuously. For easy clean up, soak pan in hot water immediately.
Pour mixture over popcorn. Stir gently to coat using a long-handled wooden spoon or silicone spatula.
Bake 20 minutes, or until mostly hardened (not gooey) stirring every 5 minutes. If you are using two jelly roll pans, alternate shelves between each stirring.
Remove popcorn from the oven and stir one last time to make sure it doesn't stick to the foil. Allow popcorn to cool. Break into pieces or clusters.
Toss some skittles in with the candied popcorn and enjoy!
Nutrition Information:
Yield: 12
Amount Per Serving:
Unsaturated Fat: 0g