Candied Jalapeños
This post may contain affiliate links, meaning that I may receive a commission at no cost to you if you use a link provided. All opinions shared are my own. You can review my full disclosure policy here.
Candied Jalapeños, also known as Cowboy Candy, are great on nachos, burgers, or anything you can imagine! Sweet with heat, and easy to can for later!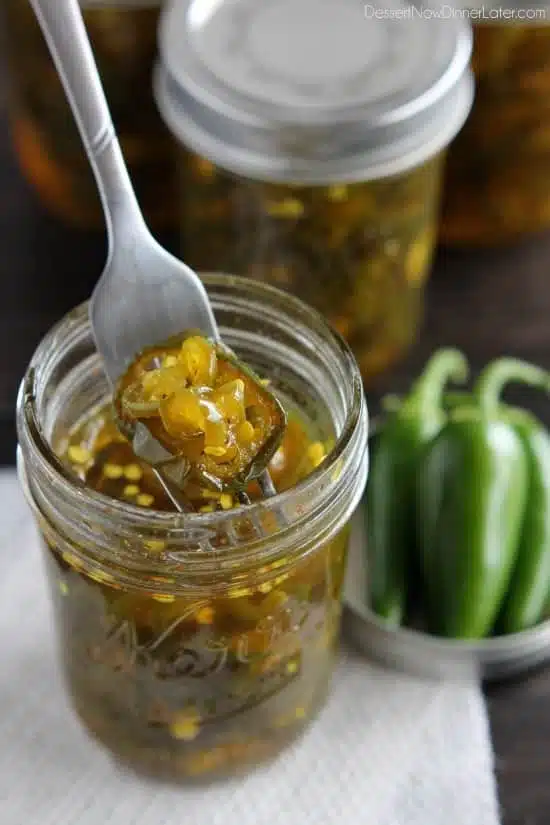 Every year we grow jalapeños in our garden just to use them for this recipe! My husband is addicted to all spicy things, so he eats these like potato chips! A while back Applebee's used to have a spicy burger that had candied jalapeños, which is where my husband first tried them, and once he tried that burger, he was hooked and we've been making candied jalapeños ever since.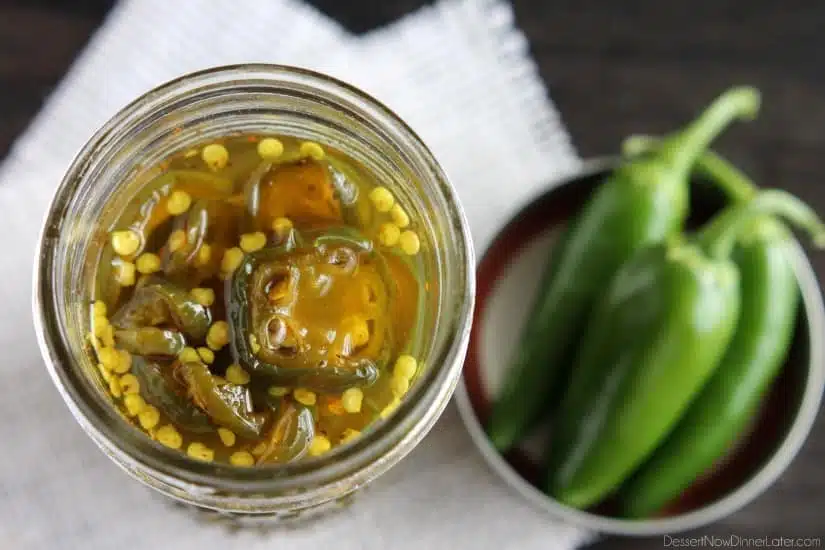 What are candied jalapeños? They are jalapeños that you slice and pickle like you would beets or other things – lots of sugar and some vinegar with spices. Some people even call these beauties Cowboy Candy. They're sweet with lots of heat!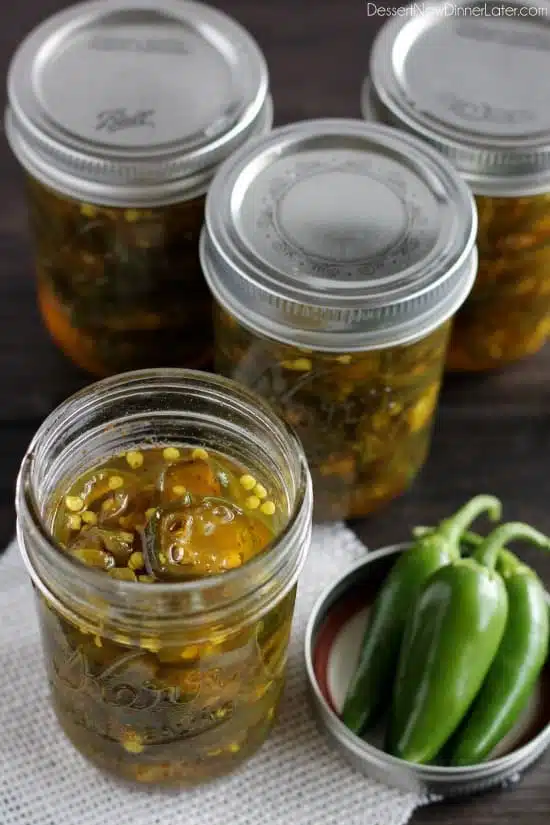 My husband likes to eat these candied jalapeños on burgers, nachos, or over some cream cheese on a cracker! Really, you can put them on anything, if spicy is your thing. You are going to love them!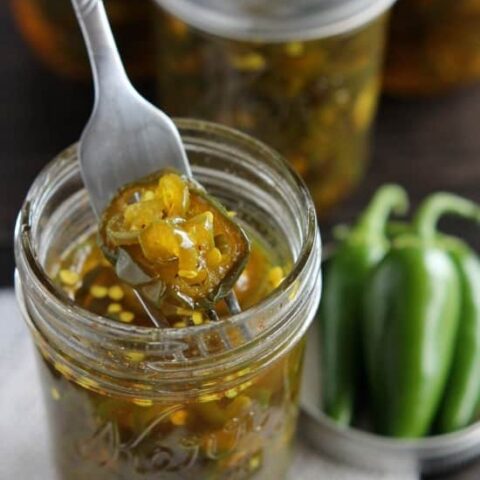 Candied Jalapeños
Ingredients
1 1/2 lbs fresh jalapeños, washed, stems removed, and sliced (instructions below)
1 cup apple cider vinegar (white vinegar works fine too)
3 cups granulated sugar
1/4 tsp turmeric
1/4 tsp celery seed
1 1/2 tsp garlic powder
1/2 tsp ground cayenne pepper
Instructions
*Be sure to wear gloves or wash your hands thoroughly after preparing the jalapeños; do NOT touch your face or eyes. Remove and discard jalapeño stems, scoop out and throw away any seeds, depending on your heat tolerance, then slice each pepper into uniform ⅛ to ¼ inch rounds. Set aside.
In a large pot, bring cider vinegar, sugar, turmeric, celery seed, garlic powder, and cayenne to a boil. Reduce heat and simmer for 5 minutes. Add the pepper slices and simmer for 4 minutes. Use a slotted spoon to transfer the peppers into clean, sterile canning jars, packing the jalapeños semi-firmly within ¼-inch of the upper rim of the jar. Turn heat up under the pot with the syrup and bring to a full rolling boil. Boil hard for 6 minutes.
Use a ladle to pour the boiling syrup into the jars over the jalapeño slices. Insert a plastic knife to the bottom of the jar two or three times to release any trapped pockets of air. Adjust the level of syrup if necessary. (*If you have leftover syrup, it's a great marinade for meat! Don't throw it out!) Wipe the rims of the jars with a clean, damp paper towel and fix on new, two-piece lids to finger tightness.
If you do NOT want to can these to the point of shelf stable, simply cool jars at room temperature for an hour and then store them in your refrigerator.
To can, place jars in a canner and cover with water by 2-inches. Bring the water to a full rolling boil. When it reaches a full rolling boil, set the timer for 10 minutes for half-pints or 15 minutes for pints. When the timer goes off, use canning tongs to transfer the jars to a cooling rack or kitchen towel. Leave them to cool, undisturbed, for 24 hours. When fully cooled, wipe them with a clean damp washcloth, double check that they've sealed properly, then label.
Nutrition Information:
Yield: 24
Amount Per Serving:
Unsaturated Fat: 0g
Recipe slightly altered and re-written from Tasty Kitchen