Coconut Red Curry Sauce & Noodles
This post may contain affiliate links, meaning that I may receive a commission at no cost to you if you use a link provided. All opinions shared are my own. You can review my full disclosure policy here.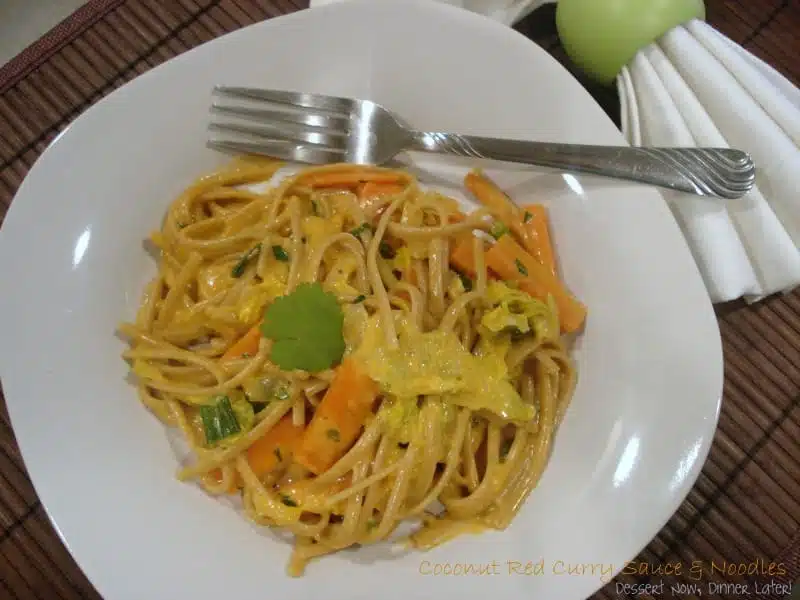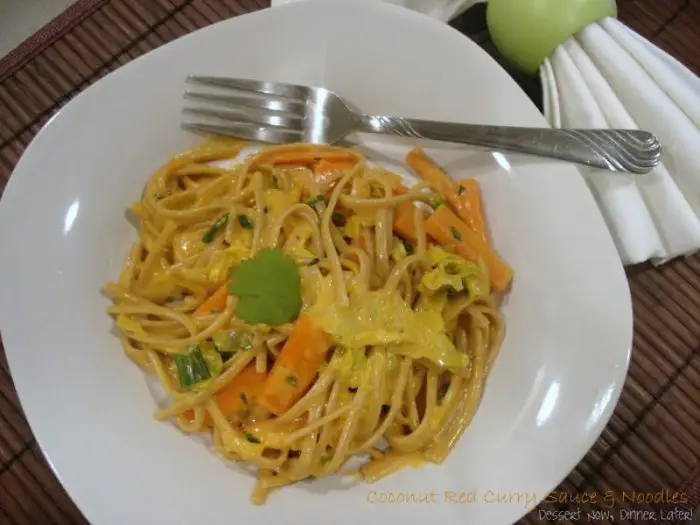 I found this recipe on a link party & really liked the sound of the dish. It is definitely different than anything I have ever tried, but I really liked it. The flavors are not as bold as I had imagined them to be, but they marry well together & it has a subtle heat at the end of each bite.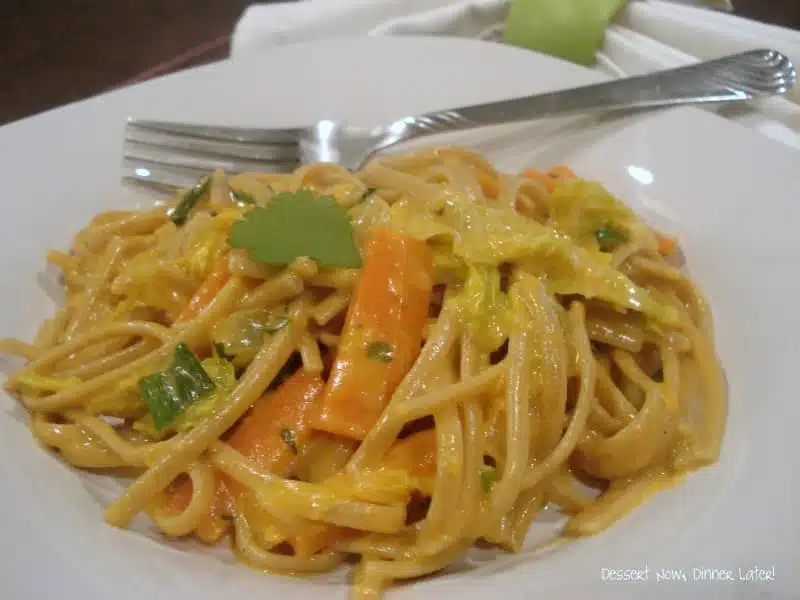 I am a big fan of noodles with vegetables. They are my favorite combination, & this recipe has some good ones. This dish originated from Bobby Flay & had tofu & mushrooms in it. Not for me thanks, I am a picky eater, but I bet chicken or shrimp (for seafood lovers) would go really well in this.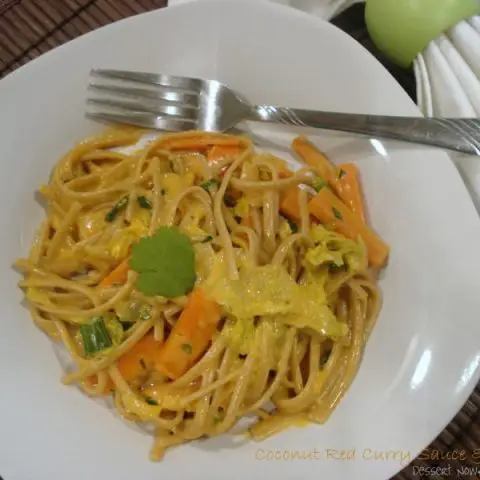 Coconut Red Curry Sauce & Noodles
Ingredients
1 Tbsp canola oil
1 one-inch piece fresh ginger, grated
1/2 medium white onion, finely diced
2 medium carrots, peeled & julienned
3 Tbsp red curry paste
1 (15oz) can unsweetened coconut milk, stirred
1 cup napa cabbage, chiffonade
1 1/2 Tbsp cornstarch
1 1/2 Tbsp COLD water
1/2 Tbsp honey
3 scallions, chopped at an angle & only the greens
2 Tbsp lime juice
Chopped Fresh Cilantro
Salt & Black Pepper
1/2 lb whole wheat linguini noodles
Instructions
Start water for noodles. Once water is boiling break noodles in half & cook in boiling water for 11-13 minutes or until directed on package.
While noodles are cooking, warm oil in a large skillet over medium heat, & cook ginger, onion, & carrots until starting to soften, about 3-5 minutes.
Add red curry paste & cook 1 minute. Whisk in coconut milk & cook for another 3-5 minutes until carrots are just about fork tender. Make a slurry with the cornstarch & cold water. Add slurry to coconut sauce until boiling & sauce thickens. Add the cabbage & cook 1 minute until starting to wilt.
Remove from heat & stir in the honey, scallions, lime juice & cilantro. Season with salt & pepper. When noodles are finished, drain them & add to sauce. Toss & serve.