Classic Italian Pasta Salad
This post may contain affiliate links, meaning that I may receive a commission at no cost to you if you use a link provided. All opinions shared are my own. You can review my full disclosure policy here.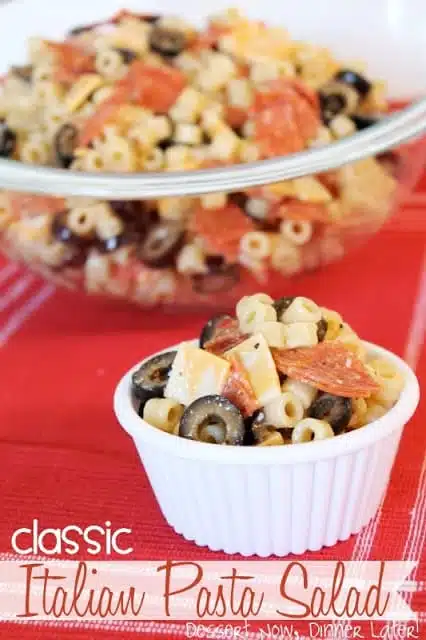 Happy 4th of July! I am totally camping right now, so it's a good thing I can schedule these posts ahead of time right? Today I am sharing a quick pasta salad that most people have at least tried, if not made it themselves. It's perfect for BBQ's or any other summer gathering.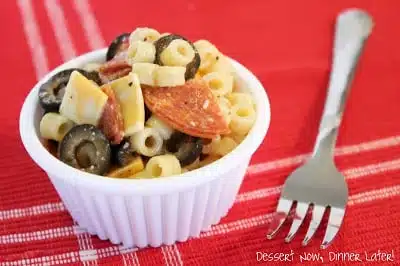 So if you need something quick to bring to your party before the fireworks tonight, this is the salad for you! It's one of my favorites! The Italian dressing just goes well with pasta, pepperoni, cheese, & olives. Yum!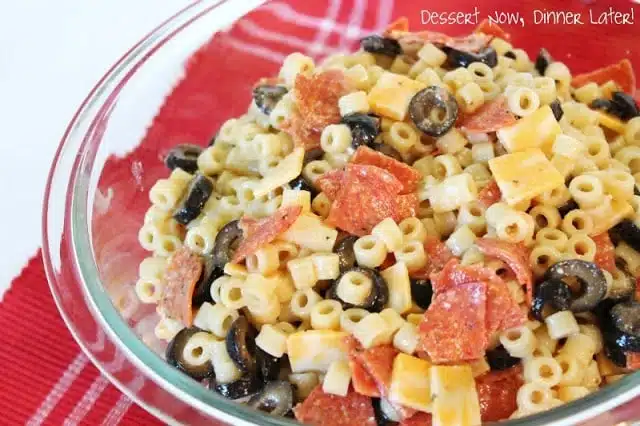 Tip of the day: When slicing olives, use an egg slicer. It saves so much time & you can slice 4-5 olives at a time! This trick also works great for STRAWBERRIES!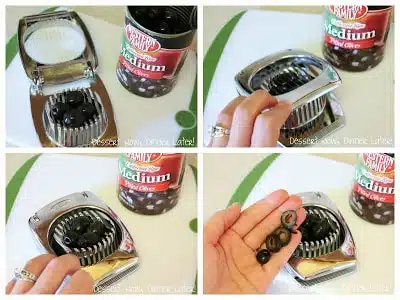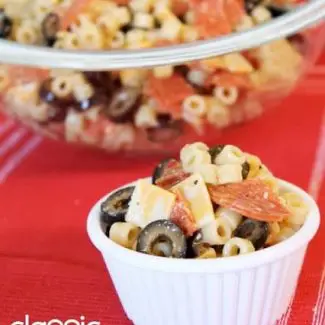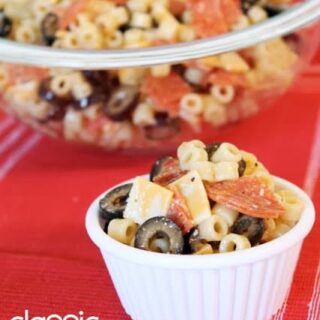 Classic Italian Pasta Salad
Ingredients
1 lb dry salad macaroni
1 (6oz) package pepperoni slices (about 90 in the package)
1 lb Colby Jack cheese block
1 (6oz) can whole medium pitted olives
1 (16 fl oz) bottle Kraft Tuscan House Italian Dressing* (or other favorite Italian dressing)
1/4 cup grated parmesan cheese
Instructions
Boil salad macaroni according to directions on the package. Drain & rinse in cold water.
Meanwhile, cut pepperoni into quarters & roughly separate the pieces.
Cut cheese into thin slices & then squares & roughly separate the pieces (or fatter cubes if desired.)
Slice olives with an egg slicer or knife.
Add everything into one bowl & top with dressing & parmesan cheese. Toss to coat. Serve immediately. Keep leftovers refrigerated.
*If preparing ahead of time, apply extra dressing to freshen the salad right before serving. The longer it sits in the fridge the more it absorbs the dressing.
Nutrition Information:
Yield: 16
Amount Per Serving:
Unsaturated Fat: 0g