Peanut Sauced Linguini & Broccoli
This post may contain affiliate links, meaning that I may receive a commission at no cost to you if you use a link provided. All opinions shared are my own. You can review my full disclosure policy here.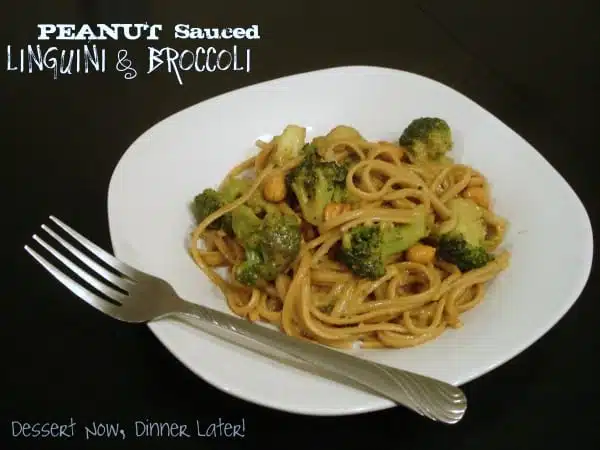 I've been craving peanut things lately. Like a good Thai Peanut Chicken Pizza, Peanut Butter Cups, Honey Roasted Peanuts, Peanut Butter & Jelly or peanut covered anything for that matter. Peanut butter is once of my weaknesses. It is so fatty, but oh so delicious. I have been searching for a good peanut sauce & I think I found a really good one.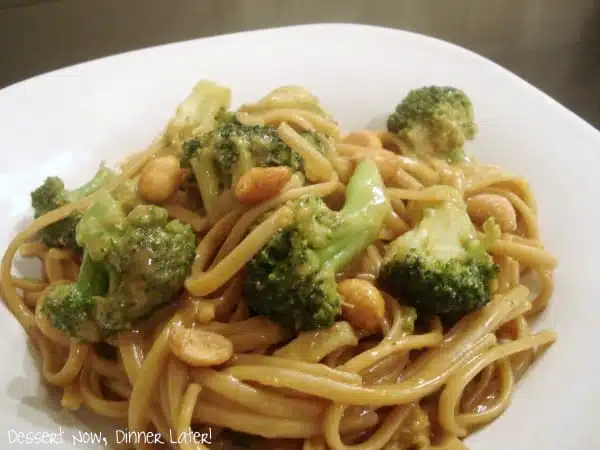 This recipe was so creamy, nutty, delicious! The peanut sauce didn't taste like pure peanut butter, like some other crap recipes I've tried lately, but you could taste the soy sauce & the slight heat of the cayenne pepper. It was a perfect balance & is a recipe we will be making again for sure. My picky 2 year old must be getting less picky b/c he actually ate this as well. YAY!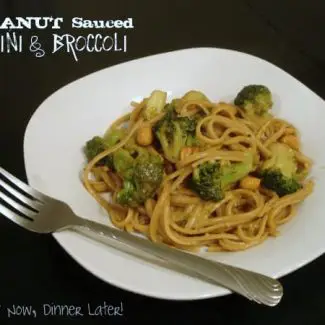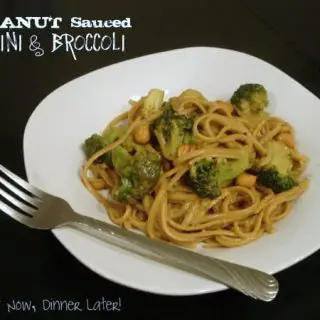 Peanut Sauced Linguini & Broccoli
Ingredients
For the Pasta:
1/2 lb. whole wheat linguini
14 oz. bag frozen broccoli florets (thawed in the fridge overnight)
2-3 cloves garlic, minced
3/4 Tbsp sesame seed oil
2 Tbsp less sodium soy sauce
1/2 tsp freshly grated ginger (or 1 tsp. ground ginger)
For the Sauce:
1/2 cup reduced fat peanut butter
1/4 cup hot water
1/4 cup apple cider vinegar
2 Tbsp less sodium soy sauce
2 Tbsp molasses
1/4 tsp + cayenne pepper (to taste)
Optional: chopped peanuts & scallions, for garnish
Instructions
In a large pot bring water to a boil & salt (if desired). Start to cook noodles according to the directions on the package.
In the meantime, in a small saucepan over medium-low heat add the peanut butter & hot water, whisking till combined. Mix in the rest of the ingredients. Keep warm until ready to add to wok. Optional: Add up to ¼ cup hot water for a thinner sauce or to desired consistency.
In a wok or pan over medium-high heat, add oil & let heat until glistening. Add broccoli florets & give the pan a shake or a stir, letting cook 1-2 minutes. Add garlic & ginger, then pour in soy sauce & stir until mostly evaporated.
By now the noodles should be done. Drain them & add them to the wok with the broccoli. Add warm peanut sauce & toss to coat the noodles/broccoli.
Add any garnishes & enjoy!