Blackened Chicken Alfredo
This post may contain affiliate links, meaning that I may receive a commission at no cost to you if you use a link provided. All opinions shared are my own. You can review my full disclosure policy here.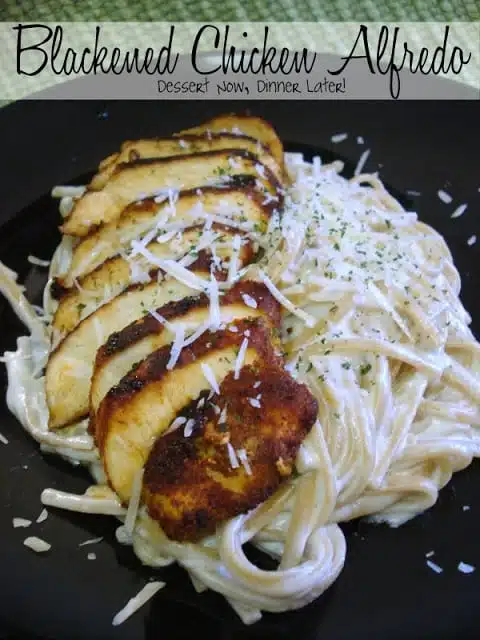 This is one of my FAVORITE meals! I don't make it often because pasta & my desire to stay thin don't go well together, but on a special occasion or once every month I like to splurge a little & have a really nice meal. This meal is perfect for fancy date night dinners at home or really whenever.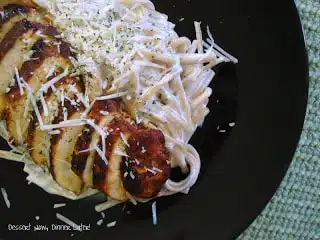 This blackened seasoning blend is one I have had since high school when I would go to the applied technology college every other day my senior year. I was trying out the culinary program there to make sure it was what I wanted to do before I went off to a big college to pursue my degree. We used this mix of seasonings at the school & I wrote it down & have saved it all these (9) years Agh! Has it been that long? Anyway, I really prefer this blackened blend over others that I have tried, I am so glad I saved it.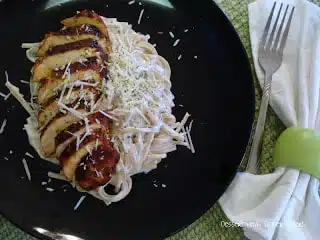 Start to finish this is a 30 minute meal; another reason to love this dish! Try it & tell me what you think! If you want to lighten it up a bit, then try my light alfredo.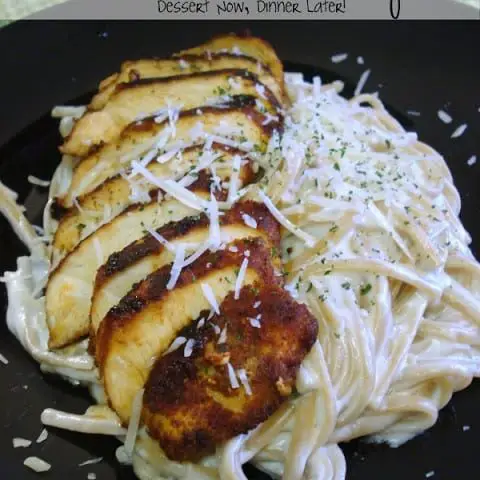 Blackened Chicken Alfredo
Ingredients
Chicken:
2 large chicken breasts (halved width-wise to make 4 breasts)
1/4 tsp dried ginger
1/4 tsp dried sage
1/4 tsp cayenne pepper
1/4 tsp black pepper
1/4 tsp garlic powder
1/4 tsp paprika
1/4 tsp salt
1 Tbsp plus 1 tsp chili powder
1 Tbsp pure olive oil
Alfredo:
2 Tbsp butter
2 Tbsp pure olive oil
2-3 garlic cloves, minced
2 Tbsp flour
1 cup heavy cream
1 cup milk
1/2 cup shredded parmesan cheese
1/4 tsp fresh cracked black pepper
1/4 tsp dried parsley
1 1/2 tsp salt
1/2 (13.25oz) box whole wheat linguine noodles
Instructions
Combine ginger, sage, cayenne, black pepper, garlic powder, paprika salt & chili powder in a bowl. Rub seasoning mix on all sides of each chicken breast.
Heat 1 Tbsp olive oil in a large saute pan. Gently place each breast into the pan. Cook 7 minutes on medium-high heat.
Start the water for, & cook the linguine noodles according to the directions on the package.
Meanwhile, prepare sauce by melting butter with the olive oil in a saucepan. Add minced garlic & simmer 1 minute. Add flour & whisk vigorously until well blended. Slowly add heavy cream & milk & whisk continuously. Add cheese, pepper, parsley & salt. Turn heat down to a low simmer. Whisk occasionally for 6-7 minutes or until thickened. Taste & adjust seasonings to taste. (NOTE: You can increase the amount of cheese if desired, but decrease the amount of salt, since cheese is high in sodium.)
Using a spatula turn chicken over, cover & cook another 7 minutes. The cooked side should be "black" from the seasonings, but not burned. Keep the heat on medium-high. Placing the lid on at this point will help keep the chicken moist while the pan is still hot enough to create the blackened sear that you want. Make sure chicken is cooked all the way through, remove from heat & allow chicken to rest 5 minutes before slicing to keep juices inside.
Once noodles are cooked, drain them. Toss with prepared alfredo. Slice chicken & serve over a bed of noodles & sauce. Sprinkle with extra parmesan cheese if desired.