Sweet & Sour Chicken
This post may contain affiliate links, meaning that I may receive a commission at no cost to you if you use a link provided. All opinions shared are my own. You can review my full disclosure policy here.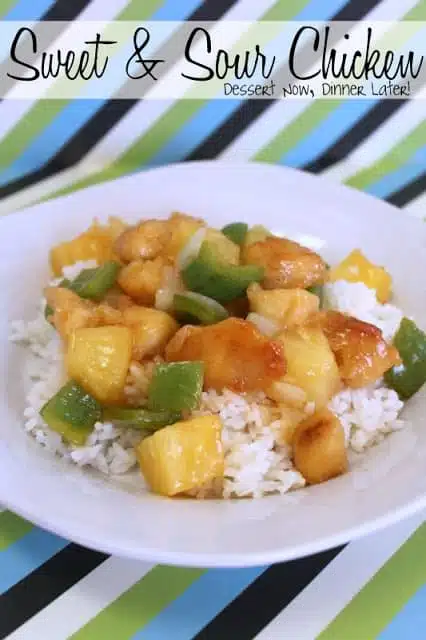 Happy Saint Patrick's Day! I hope you are wearing green today! If not, consider this a friendly reminder! Muahaha! (That was an evil laugh if you couldn't tell.) Today's post has nothing to do with St. Patrick's Day, although if you are running last minute you can still make my Key Lime Cupcakes, Tangy Lime Bars, or Shamrock Slush.
Anyway, I have been in a fatty, deep fried, Chinese mood lately & it's been a while since I have made sweet & sour chicken. I saw this recipe on Pinterest & it looked so yummy & saucy, I knew I had to make it. This made a lot for our little family of four, but it was so delicious & pretty quick to make. I think the batter for the chicken made it faster than the standard breading of flour, eggs, & crumbs. So that's always nice. One more thing about today's post that I am excited about is that I finally bought a DSLR camera, so my pictures should start looking a lot nicer. And by "should" I mean I have never before held or worked with a DSLR camera, so I am still learning. Hopefully you will start to notice the difference & my pictures will make your mouths water that much more. Let me know what you think! In the meantime, whip up this Sweet & Sour Chicken for your next weeknight or weekend dinner.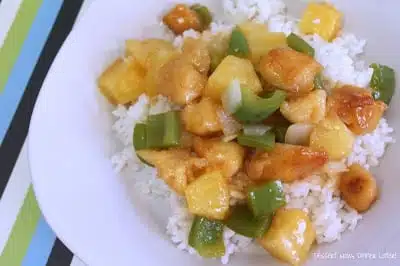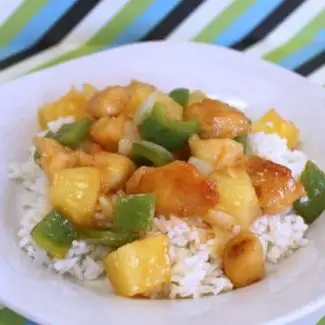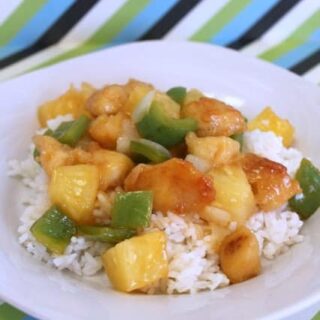 Sweet & Sour Chicken
Ingredients
Chicken and Batter:
1 lb chicken breasts (about 2 large breasts cut into 1-inch chunks)
1/3 cup flour
1 1/2 Tbsp cornstarch
1/2 Tbsp sugar
1/2 tsp salt
1/8 tsp ground black pepper
1/8 tsp baking powder
1 Tbsp oil
1/3 cup water
Canola Oil for frying (about 1/3-1/2 cup)
Sauce:
1 (20oz) can pineapple chunks
1/2 cup water
1/4 cup vinegar
6 Tbsp sugar
1/4 tsp salt
1/4 cup ketchup
2 Tbsp COLD water
1 1/2 Tbsp cornstarch
1 bell pepper, cut into 1-inch chunks
1/2 onion, cut into 1-inch chunks
Instructions
Make the batter by combining the flour, cornstarch, sugar, salt, pepper, & baking powder. Add oil & water & mix well. Set aside.
Drain can of pineapple chunks & SAVE THE JUICE. In a saucepan, combine the pineapple juice, water, vinegar, sugar, salt, & ketchup. Heat until boiling. In a separate bowl, combine COLD water & cornstarch to form a slurry/paste. Add this mixture to the boiling sauce & whisk it until it thickens (happens pretty quickly.) Turn mixture to low & keep warm.
Heat oil in a skillet. Dip chunks of chicken in the batter & drop pieces individually into the hot oil. Fry chicken until golden brown & cooked through. Allow cooked pieces to rest on a paper towel.
Once chicken is cooked, discard all but 1 Tbsp of the oil leftover in the pan. If there is no oil left, then add 1 Tbsp to your pan & heat it up. Add the pepper & onion. Saute for 3-5 minutes until soft, but still slightly firm. Add pineapple chunks, fried chicken, & sauce. Heat through. Serve over hot rice.
Nutrition Information:
Yield: 4
Amount Per Serving:
Unsaturated Fat: 0g
Recipe altered from Lil' Luna