Crispy Chicken Cordon Bleu Roulade
This post may contain affiliate links, meaning that I may receive a commission at no cost to you if you use a link provided. All opinions shared are my own. You can review my full disclosure policy here.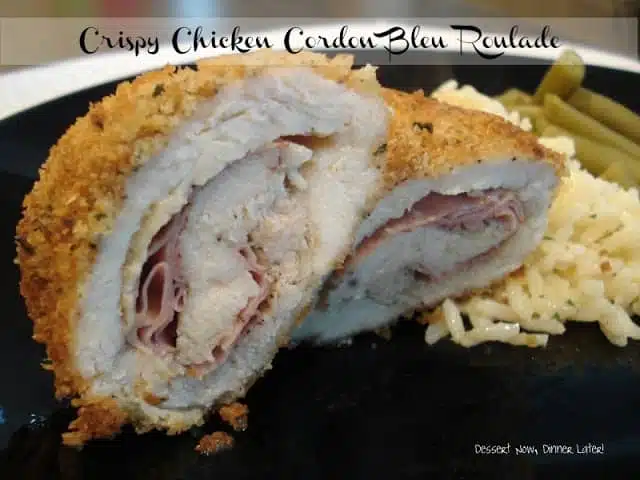 I am going to share the secret to the crispiest homemade Chicken Cordon Bleu that you will every make. It's not only the ingredients that make this so crispy, it's in the technique.
This chicken is so crispy on the outside while capturing the juices on the inside. It's not super fatty, but not completely healthy. Let's just say it's fatty enough to be crisp, but not so fatty that it's dripping from being deep fried in oil.
The secret is to pan fry it & finish it in the oven. By baking it on a cooling rack placed in a baking sheet, you allow the heat to circulate the chicken, keeping it from going soggy like it does when you bake it straight on the baking sheet. Are you excited to make this now that you know all the secrets? Ok, here is the recipe: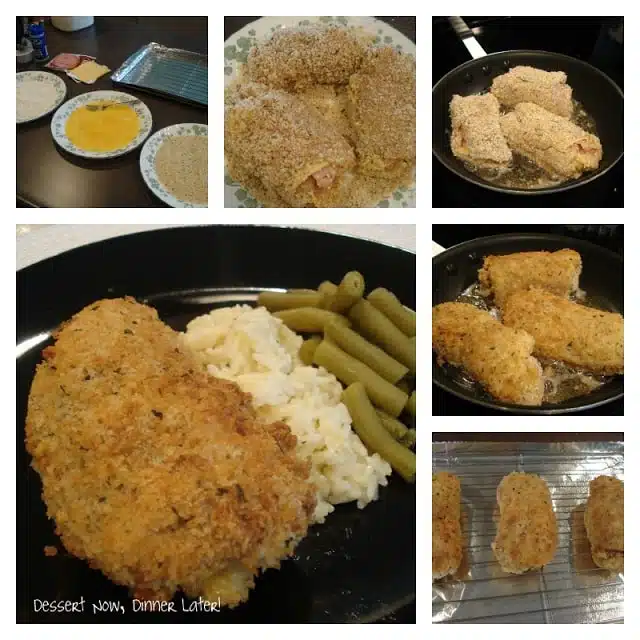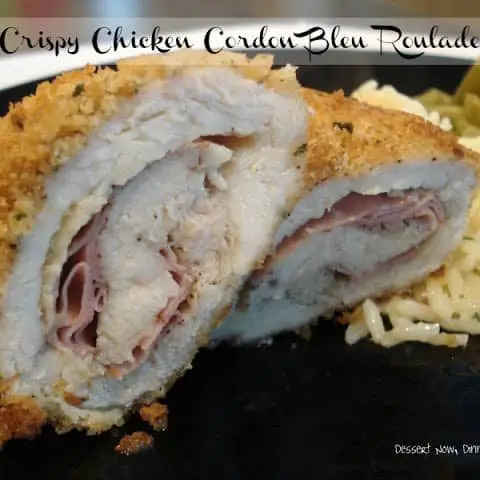 Crispy Chicken Cordon Bleu Roulade
Ingredients
4 chicken breasts, butterflied & pounded to 1/4" thickness
2-4 oz deli ham slices
4-8 slices muenster cheese
1/2 cup flour
1-2 eggs
1/2 cup panko breadcrumbs
1/2 cup italian bread crumbs
Salt & Pepper
Canola Oil
Instructions
Season chicken breasts with salt & pepper on both sides after it has been butterflied & pounded to ¼" thick.
Layer cheese & ham slices on top of chicken breasts & roll up tightly like when you make a pumpkin roll or roll up your sleeping bag. (You can use as much cheese & ham as you like in the middle, just tuck it in well so that the cheese doesn't completely ooze out during baking.)
Prepare crumb station with three plates: put the flour on one plate, eggs whisked together on a different plate, & then both bread crumbs mixed together on the last plate.
Dredge the chicken into the flour, then roll it in the egg mixture, & lastly, coat in the bread crumbs. Set aside & repeat with each rolled breast. Make sure you coat all parts of the chicken.
Prepare a baking sheet covered with foil & place a cooling rack inside the baking sheet on top of the foil.
In a large saute pan, heat a small amount of oil. Just enough to cover the bottom of the pan about ⅛". Once the oil is hot, using tongs, sear each side of the chicken breast for 30 seconds to 1 minute each side. You just want to brown the crumbs, not really cook the chicken too much. It is also a good idea to sear the seam first to help lock your fillings inside. (Brown the seam, presentation side [top], & the ends.)
Once each chicken breast is browned, place on the prepared rack inside the baking sheet.
Bake at 425*F for 20-25 minutes using a thermometer to check the doneness. (You want it to reach 165*F in thickest part of the roulades.) Allow it to rest for 3-5 minutes before serving. Enjoy your crispy chicken cordon bleu!