Key Lime Cupcakes
This post may contain affiliate links, meaning that I may receive a commission at no cost to you if you use a link provided. All opinions shared are my own. You can review my full disclosure policy here.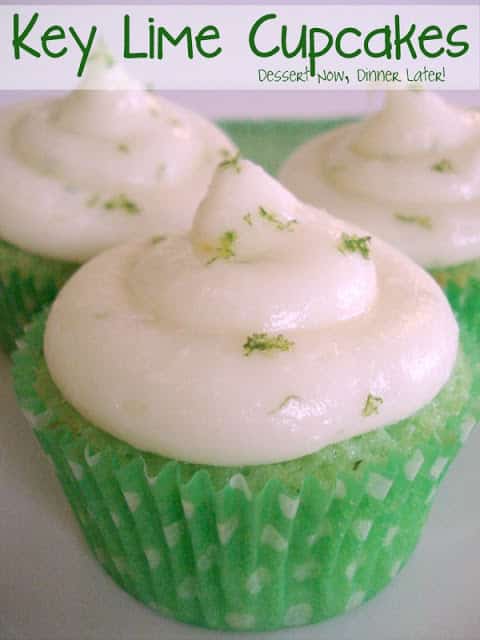 If you are newer to my blog you missed out on my "ode to limes" posts I did last year including: Lime Crinkle Cookies with Glaze, Brazilian Lemonade (Limeade), & Lime Pie (similar to Key Lime Pie). I also have a great Cilantro Lime Vinaigrette that is heavenly on my Corn Salad with Queso Fresco. So I am pretty much obsessed with citrus & extremely obsessed with limes. There is just something about that tang in my mouth that makes me happy.
I LOVE LIMES!
Anyway, I have even more lime recipes for you all. This is the first. Not only are limes awesome, but being green makes them perfect to use for St. Patrick's Day treats!
These Key Lime Cupcakes may or may not be so good that I ate like 5 of them in one day…ahem…did I just admit that? Oh well. Good thing my husband took the rest of them to work for his co-workers. I tell ya, lime treats get gobbled up when they are in my house. Anyway, if you are a citrus freak like I am, get to making these cupcakes! Delicious!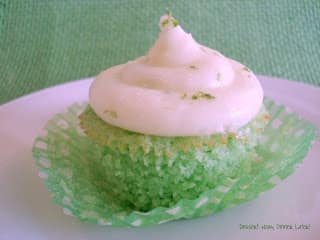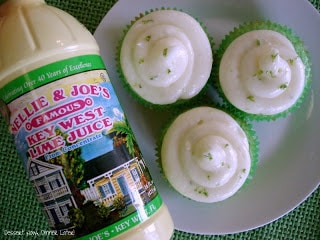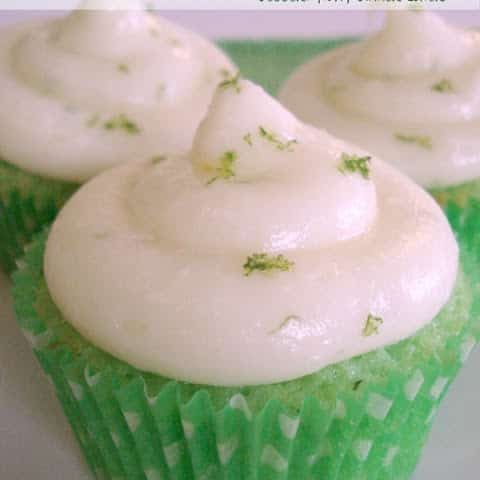 Key Lime Cupcakes
Ingredients
Cake:
1 3/4 cups all-purpose flour (cake flour is better if you have it)
1/2 tsp baking powder
1/2 tsp baking soda
1/2 tsp salt
1/2 cup 1 stick cold butter cut into 8 pieces
1 1/4 cups granulated sugar
2 large eggs, room temperature
3 Tbsp key lime juice (I used Nellie & Joe's Famous Key West Lime Juice)
1 tsp lime zest
1/8 tsp Wilton Leaf Green Food Coloring Paste
3/4 cup milk + 2 tsp lime juice (or 3/4 cup buttermilk)
Icing:
1/2 cup 1 stick cold butter cut into 8 pieces
8 oz Neufchatel cream cheese, room temperature & cut into 8 pieces
1 Tbsp key lime juice
1 tsp lime zest
3 cups powdered sugar
Instructions
Pre-heat oven to 400*F. Line muffin tins with 15-18 paper liners.
Sift the flour, baking powder, baking soda, & salt three times; set aside.
Using a stand mixer with the paddle attachment, beat the butter on low until it's softened a bit. Add the sugar & increase the speed to medium. Beat until fluffy, about 4 minutes.
Add eggs one at a time, beating well after each addition. Add the lime juice, zest, & food coloring to desired green (a little goes a long way) & beat until mixed. The mixture will look curdled.
Add the flour in three additions, alternating with the buttermilk, beginning & ending with the flour. Scrape the bowl as necessary. Mix on low until just combined. Fill each cupcake liner ⅔ full (not ¾ or they will overflow.)
Bake for 13-16 minutes or until cake springs back when touched. Cool completely before icing.
To make icing: Beat butter & cream cheese just until smooth. Add key lime juice & lime zest. Mix & scrape bowl. Add powdered sugar all at once & mix until just combined. (You may make this icing in a stand mixer or with a hand beater.) Frost cupcakes as desired.