Crockpot Sausage Potato Soup
This post may contain affiliate links, meaning that I may receive a commission at no cost to you if you use a link provided. All opinions shared are my own. You can review my full disclosure policy here.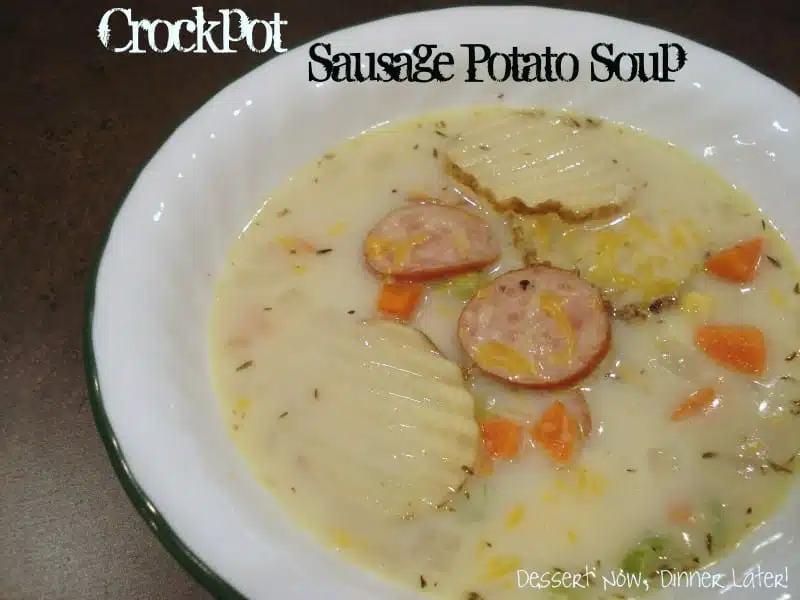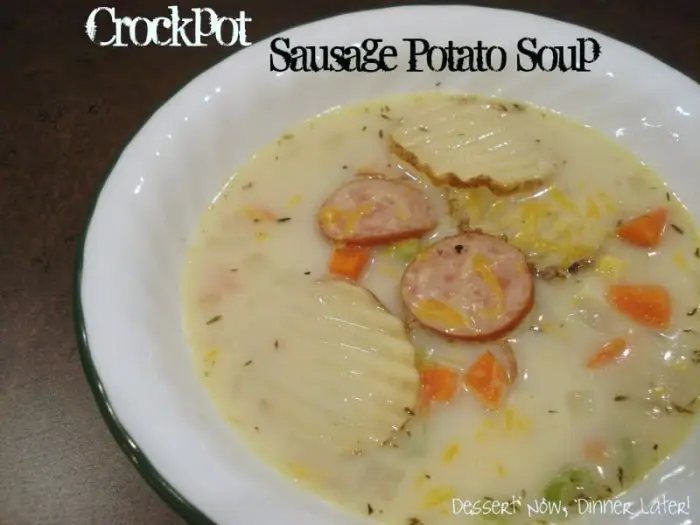 This is my throw it together, let it cook slow, enjoy it on a winter day soup. It snowed the morning I made this & there is just something about snowy days that makes you want to cuddle up with a blanket & warm up with a bowl of soup or hot cocoa. Well, I opted for soup, b/c it's more filling & less calories (you know…big new years resolution to be fit, got to maximize my caloric intake.)  
Anyway, I altered this recipe from it's original owner. I wanted more veggies & a little more flavor. It turned out really nice. Simple, yet delicious. Not bad for a lazy day!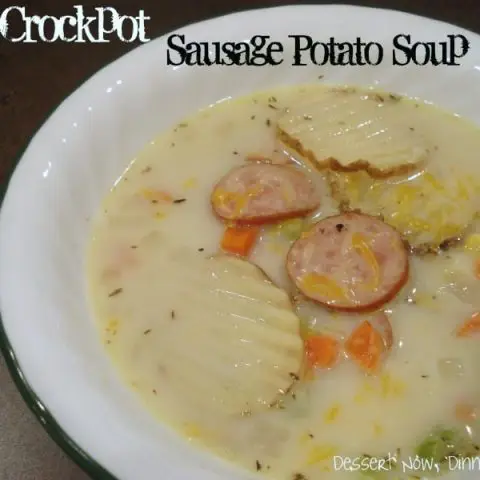 Crockpot Sausage Potato Soup
Ingredients
2 cups (or 1-14.5oz) can low sodium chicken broth
1 cup skim milk
3 small/medium potatoes, diced (I crinkle cut mine)
1 1/2 cups frozen corn
1/2 lb fully cooked chicken hardwood smoked sausage, diced
1/2 cup celery, diced
1/2 cup carrots, diced
1/2 cup onion, diced
2 cloves garlic cloves, minced
1/2 tsp garlic powder
1/2 tsp onion powder
1 tsp thyme
1/2 tsp salt
1/4 tsp pepper
2 Tbsp flour
1/2 cup skim milk
Shredded Cheese/Parsley for garnish
Instructions
Pour broth & 1 cup milk into crock pot. Add sliced potatoes & corn.
In a greased (with pan spray) large non-stick saute pan, brown sausage. Add to crock pot. Re-spray pan & put celery, carrots, onion, & garlic in now empty saute pan & add spices. Let mixture sweat for a couple minutes. Add flour until it comes together. Gradually add ½ cup milk until it thickens up. Add to crock pot.
Cook on high for 3 hours.
Enjoy topped with some shredded cheese.