Chicken and Broccoli Stuffed Twice Baked Potatoes
This post may contain affiliate links, meaning that I may receive a commission at no cost to you if you use a link provided. All opinions shared are my own. You can review my full disclosure policy here.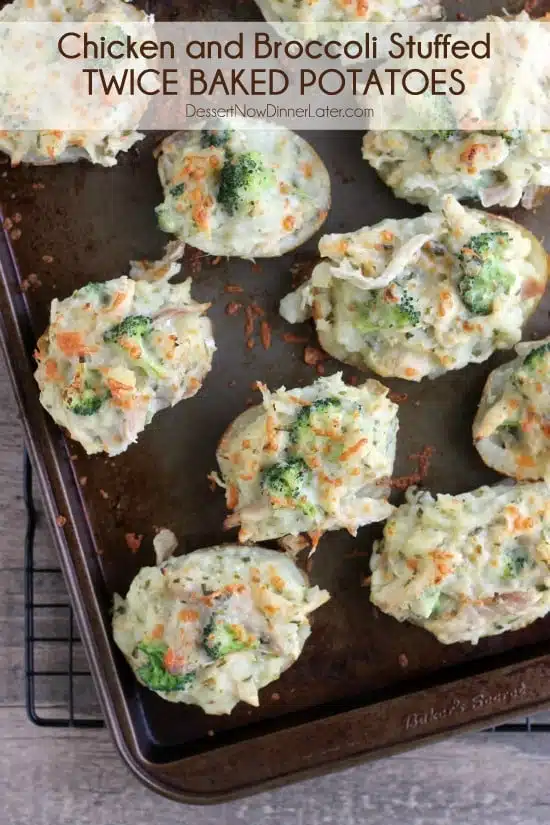 So whenever I have a bag of potatoes in my pantry, I don't know what it is, but I never seem to use all of them before they start sprouting. I know they are cheap and all, but I always feel bad wasting food.
These Chicken and Broccoli Stuffed Twice Baked Potatoes came about as an idea of how to use up some potatoes before they went bad, and they were FABULOUS!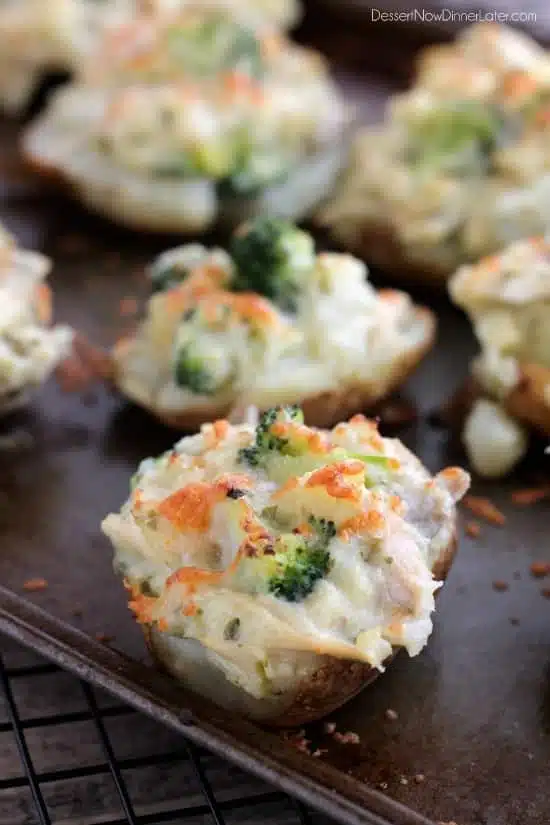 I totally used rotisserie chicken which made these even easier to make. The sauce is incredible and I love the pop of the green from the broccoli.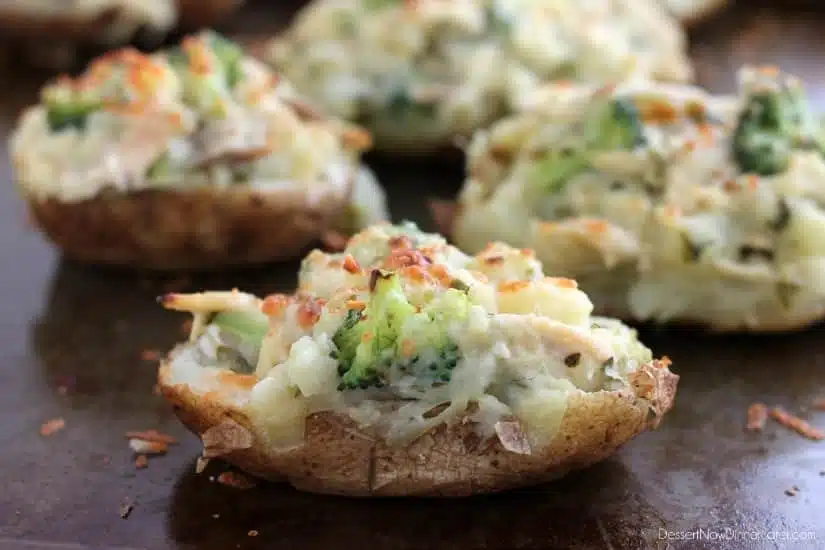 Another thing to note about these twice baked potatoes, is that my kids ate them. That's a big deal people, because I have picky kids! My son at them so fast and actually complimented my dinner…MIRACLE!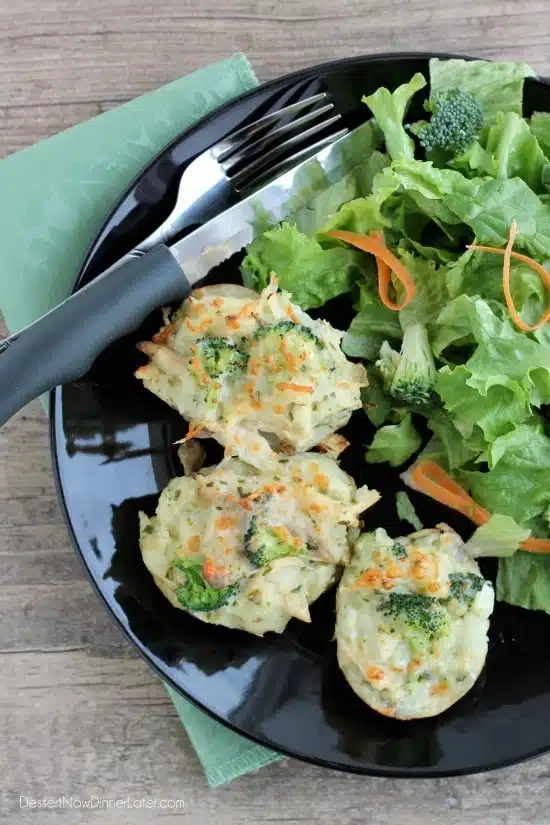 This recipe is a little lengthier than I typically like to make because you are baking the potatoes twice, but it's definitely worth the time.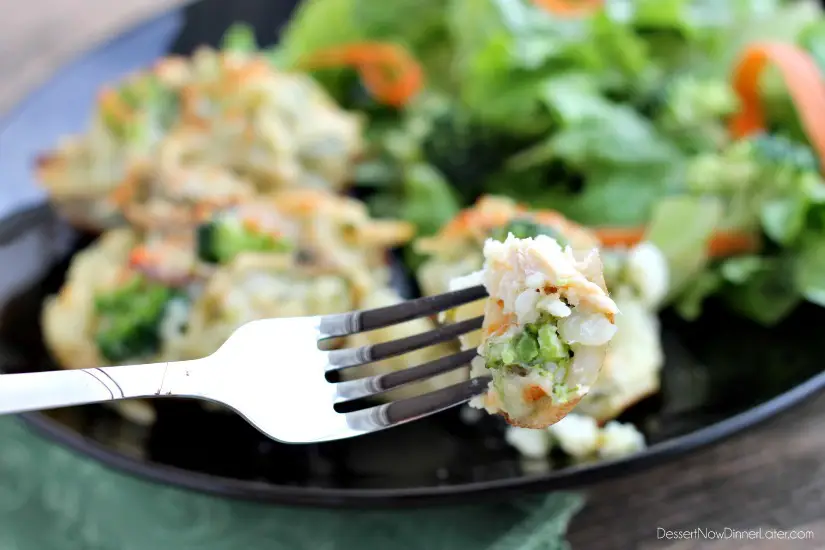 You can also check out my post on how to bake your potatoes in the crockpot, so if you want, you can start them in the morning, come home and they will be ready to finish the recipe with. The basil parmesan sauce is the bomb! You are going to love these!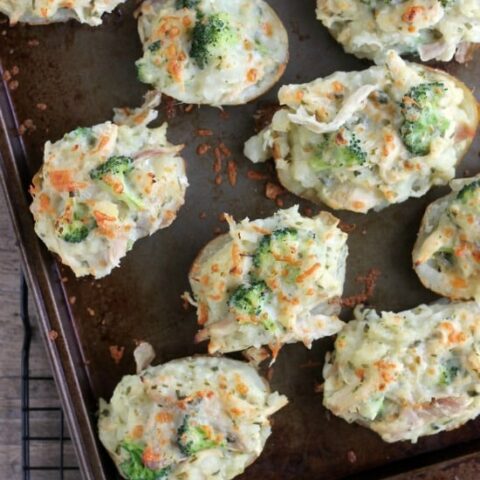 Chicken and Broccoli Stuffed Twice Baked Potatotes
Ingredients
For the Potatoes:
6 small potatoes
1 Tbsp olive oil
2 tsp kosher salt
For the Sauce:
1 Tbsp extra virgin olive oil
1/2 onion, diced
2 to 3 cloves garlic, minced
1/2 cup half & half
1/2 cup chicken broth
2 Tbsp fresh chopped basil (Or Gourmet Garden Paste)
1/2 cup shredded parmesan
1 Tbsp lemon juice
salt and pepper, to taste
Extra Fillings:
1 cup broccoli florets
1 Tbsp water
1 1/2 cup shredded rotisserie chicken
Instructions
Wash and scrub potatoes. Pierce the potatoes all over with a fork or knife and then rub the potatoes with olive oil and kosher salt. Individually wrap potatoes in foil and place them on a baking sheet. Bake at 400 degrees Fahrenheit for 1 hour, or until tender in the centers when pricked with a fork. You can alternately bake potatoes in the crockpot all day.
Meanwhile, heat extra virgin olive oil in a saucepan. Add the onion and garlic and saute until onion is translucent, about 3 minutes.
Add half & half, chicken broth, and shredded rotisserie chicken to the pan. Simmer 10 minutes. Add the fresh basil, ¼ cup parmesan, and 1 Tbsp lemon juice. Stir until incorporated and season to taste with salt and pepper.
Steam the broccoli florets in a bowl with a lid and 1 Tbsp of water, covered for 2 minutes in the microwave. Drain water, if any.
Remove potatoes from the oven, remove foil, slice potatoes in half length-wise, scoop out the centers into a bowl, and return the potato skins to the baking sheet. Mash the potato centers with a fork.
Add sauce and steamed broccoli to the mashed potatoes. Fill the skins, then sprinkle the tops with the remaining ¼ cup parmesan cheese. Bake for 10 minutes (still at 400 degrees Fahrenheit) switching to the broiler the last couple minutes to let the cheese brown. Serve immediately.
Nutrition Information:
Yield: 6
Amount Per Serving:
Unsaturated Fat: 0g