Seven Layer Burritos
This post may contain affiliate links, meaning that I may receive a commission at no cost to you if you use a link provided. All opinions shared are my own. You can review my full disclosure policy here.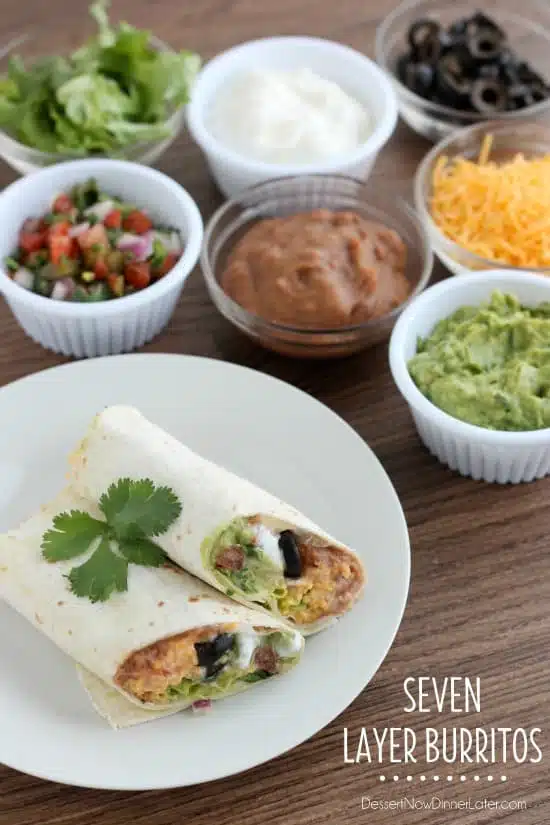 I know Cinco de Mayo has come and gone, and this dinner would be perfect for that, but I am still super excited about today's recipe anyway!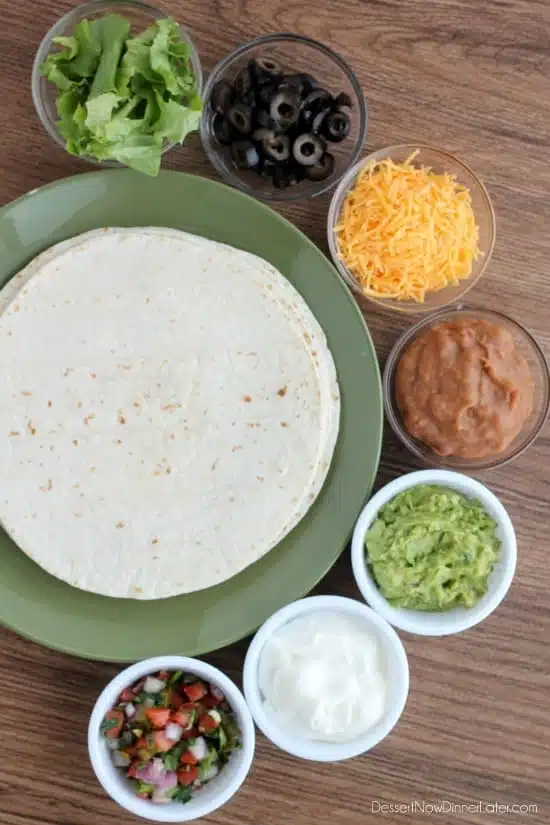 These seven layer burritos are just like the seven layer dip (refried beans, guacamole, salsa, sour cream, cheese, lettuce, and olives), but wrapped up and contained into a flour tortilla shell. It was so simple, yet flavorful, and a great switch from our normal dinners.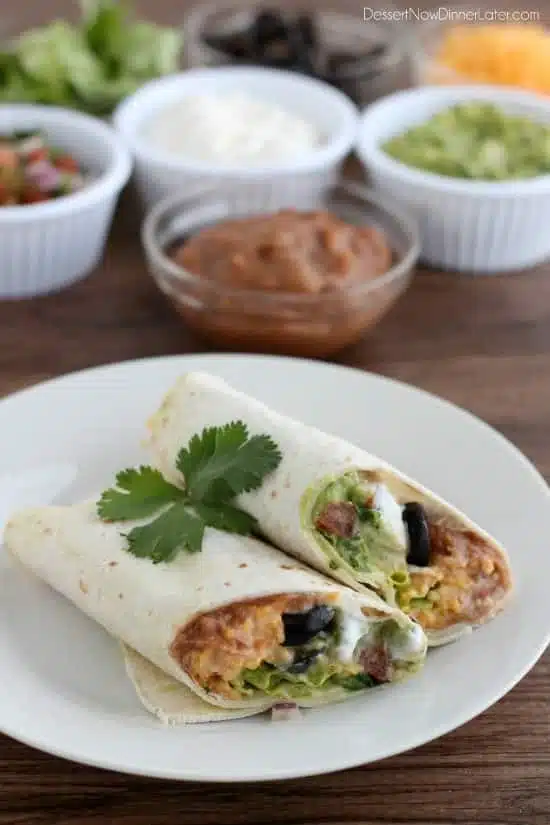 My husband and I really enjoyed the mini recipes within this full recipe for the guacamole and pico de gallo as well. They were both really good and great to scoop up onto a chip for a snack.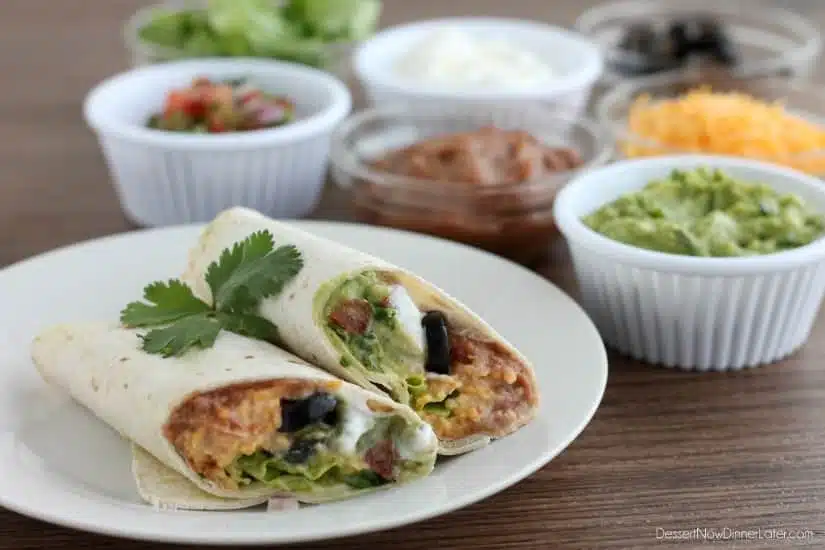 If you're stumped about what to make for dinner tonight, you could even go straight to the store, buy pico de gallo/salsa and guacamole instead of making it yourself, to throw these seven layer burritos together. This dinner really could not get any easier! Loved it!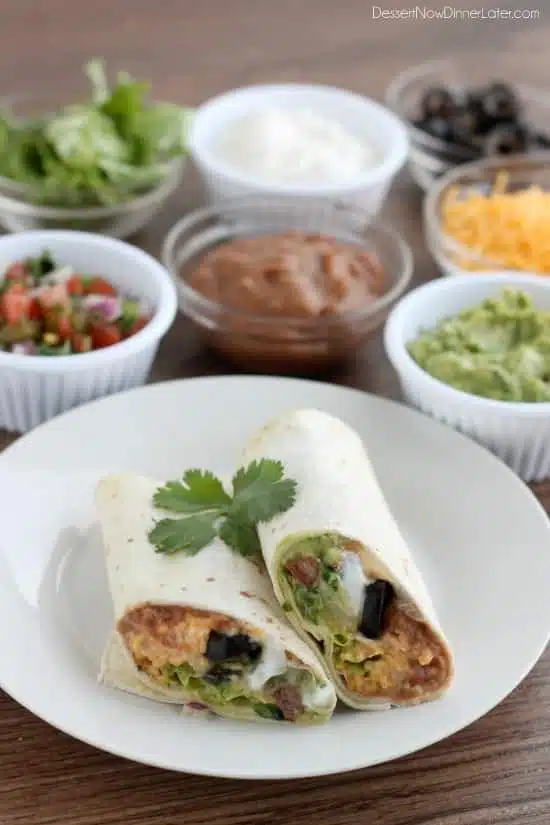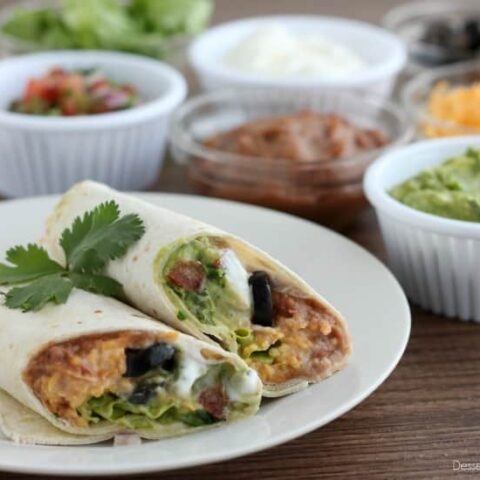 Seven Layer Burritos
Ingredients
For the Guacamole:
4 medium ripe avocados
3 Tbsp lime juice
1/2 (4oz) can diced jalapeños* (will use the rest in the pico de gallo)
1/2 tsp salt
1/4 tsp pepper
1/4 tsp garlic powder
1/2 bunch cilantro, chopped* (will use the rest in the pico de gallo)
For the Pico de Gallo:
1/2 purple onion, diced
3 tomatoes, seeded and diced
1/2 bunch cilantro, chopped
1/2 (4oz) can diced jalapeños
1/2 tsp salt
1 Tbsp lime juice
Other ingredients:
2 (16oz) cans fat free refried beans
1 package (8) burrito size flour tortillas
2 cups shredded cheddar
1 cup light sour cream
1 head green leaf lettuce, chopped
1 (6oz) can medium black olives, sliced
Instructions
Make the guacamole by cutting the avocados in half, removing the pit, and scooping out the flesh into a medium sized bowl. Mash avocados with a fork or potato masher. Add lime juice, diced jalapeños, salt, pepper, garlic powder and chopped cilantro. Mix well.
Make the pico de gallo by combining the diced purple onion, seeded and diced tomatoes, chopped cilantro, diced jalapeños, salt and lime juice in a bowl. Stir well.
Place refried beans in a bowl and heat in the microwave for 3 minutes or more, stirring occasionally, until hot.
Spread a layer of beans on a burrito size flour tortilla. Then add a layer of guacamole, pico de gallo, shredded cheddar, sour cream, chopped lettuce, and sliced olives. Fold burrito up, cut in half and enjoy!
Nutrition Information:
Yield: 8
Amount Per Serving:
Unsaturated Fat: 0g