Chicken Pot Pie Crumble
This post may contain affiliate links, meaning that I may receive a commission at no cost to you if you use a link provided. All opinions shared are my own. You can review my full disclosure policy here.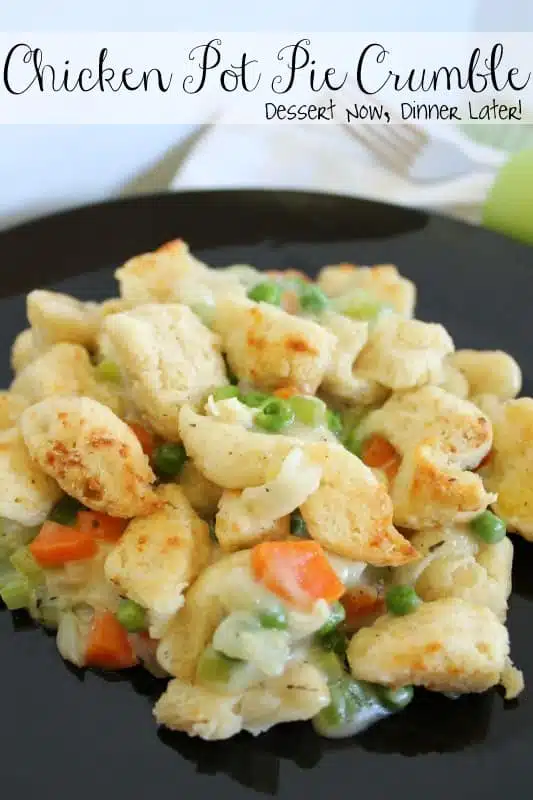 I have decided I want to make sure I have some of the good old home cooking/comfort food type recipes on here. So here is a classic chicken pot pie, made easy! Easy as in no rolling out pie crust, just make a biscuit type crumble for the topping. It still has some time consuming parts, but it is worth it! The topping has all the texture & flavor of a crust, but in large crunchy chunks on top. The filling is flavorful & creamy! YUM!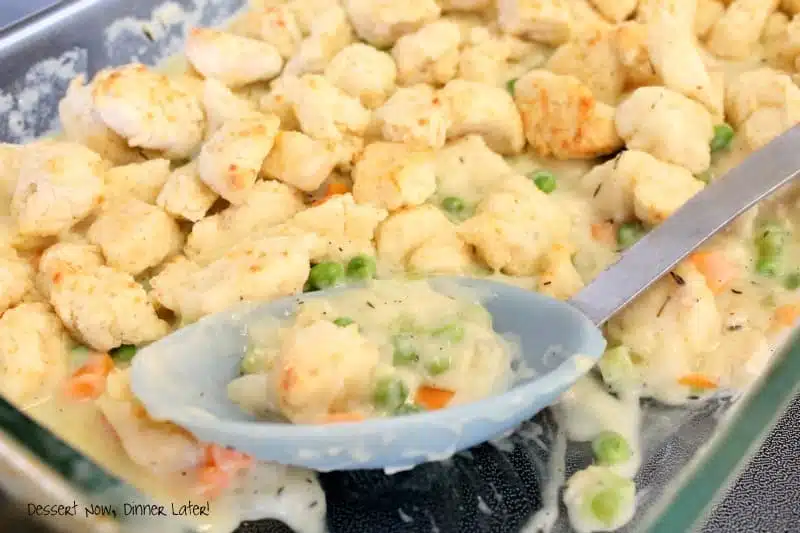 And even though my toddler distracted me & I totally forgot milk in the sauce & baking powder in the topping, it was still fantastic! But for your sakes I will post the original recipe so you can make it right, but hey even though I had a rough time making a new recipe with distractions of, "Mommy, where are my boots? Are they in my room? Are they in your room? Mommy where are they?" the whole time I was cooking, we still enjoyed this classic savory dish! It is definitely on my make again list!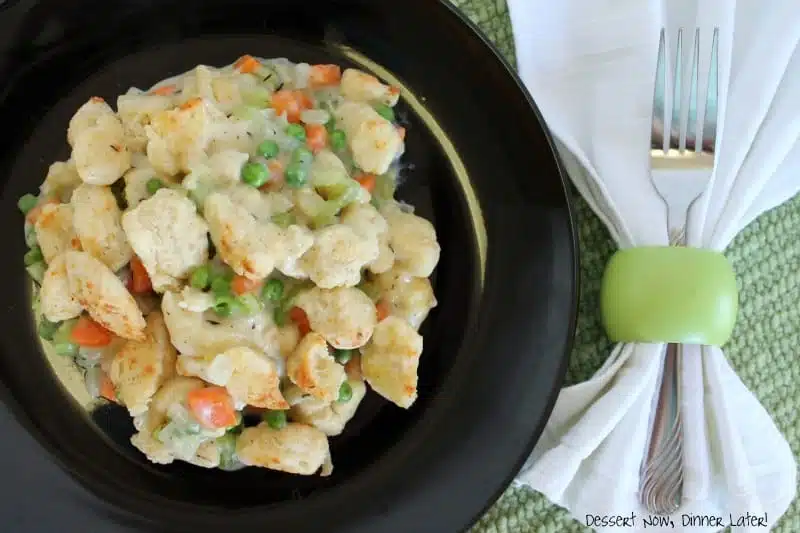 *Update 03/30/13: We make this regularly now & we just absolutely love it! One of our family favorites, so I updated the photos.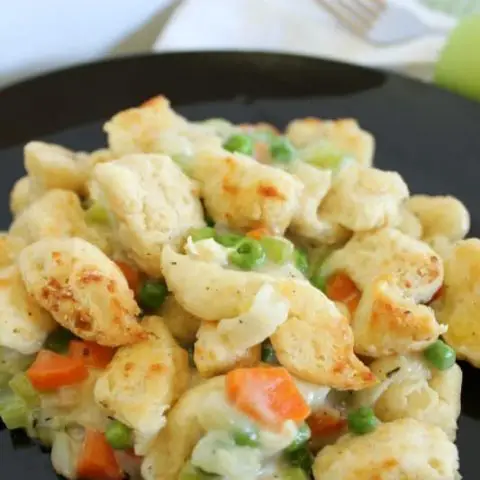 Chicken Pot Pie Crumble
Ingredients
Chicken & Sauce:
1 1/2 lbs chicken (approx. 3 chicken breasts....I used 2)
2 cups low-sodium chicken broth (or 1-14.5oz can Swanson's)
1 Tbsp olive oil
1 onion, chopped (1 cup)
3-4 carrots, peeled & sliced (1 cup)
2-3 ribs celery, chopped (1/2 cup, but I used 1 cup)
4 Tbsp butter
1/3 cup flour
1 cup milk
1/2 tsp salt
1/2 tsp pepper
1 tsp dried thyme
3/4 cup frozen peas (I used 1 cup, b/c I like vegetables)
Crumble Topping:
2 cups all-purpose flour
2 tsp baking powder
3/4 tsp salt
1/2 tsp pepper
1/8 tsp cayenne pepper
6 Tbsp butter, cut into 1/2-inch cubes & chilled
3/4 cup freshly grated parmesan cheese
1 cup heavy cream or milk is just fine, I use skim
Instructions
Simmer chicken in broth in a large pot; cook till just done, about 10-12 minutes. (If you plan in advance you can slow cook in the crockpot on high for 3 hours or low for 5 hours.) Transfer chicken to a medium bowl. Pour broth through fine-mesh strainer into a liquid measuring cup & reserve. Save empty pot for later.
Preheat oven to 400*F. In a large bowl, combine the flour, baking powder, salt, pepper, & cayenne. Sprinkle the chilled butter pieces over the top of the flour. Using your fingers or a pastry cutter, rub the butter into the flour mixture until it resembles coarse crumbs. (I used my Ninja Kitchen System on the dough setting, but you can use a food processor too & pulse until desired texture.)
Stir in Parmesan cheese. Add the cream (or milk) & stir until just combined. Crumble the mixture into irregularly shaped pieces onto a baking sheet lined with parchment/wax paper (I actually find it easiest to use scissors & cut off chunks.) Bake the crumble topping until fragrant & starting to brown, about 15 minutes, tossing halfway through. Set aside.
For the filling, heat the olive oil in the now-empty pot over medium heat. Add onion, carrots, celery, a little salt & pepper. Cover & cook, stirring occasionally, until just tender, about 5 minutes. While the vegetables are cooking, shred/cube the chicken into small bite-size pieces. Transfer the cooked vegetables to the bowl with the chicken; set aside.
Over medium heat melt butter in the empty pot. Stir in the flour & cook for one minute, stirring constantly. Slowly whisk in the reserved chicken broth & milk. Bring to a simmer & stir occasionally until the sauce thickens, about 5 minutes, taking care not to burn the bottom. Add ½ tsp salt & ½ tsp pepper. Remove from the heat & stir in the chicken, vegetables, & peas into the sauce.
Pour the mixture into a greased 9x13 pan. Scatter the crumble topping evenly over the filling. Bake at 400*F until the topping is well browned, & filling is bubbling, about 15-20 minutes. Let the casserole stand for 10 minutes before serving.