Creamy Sausage Cranberry Pillows
This post may contain affiliate links, meaning that I may receive a commission at no cost to you if you use a link provided. All opinions shared are my own. You can review my full disclosure policy here.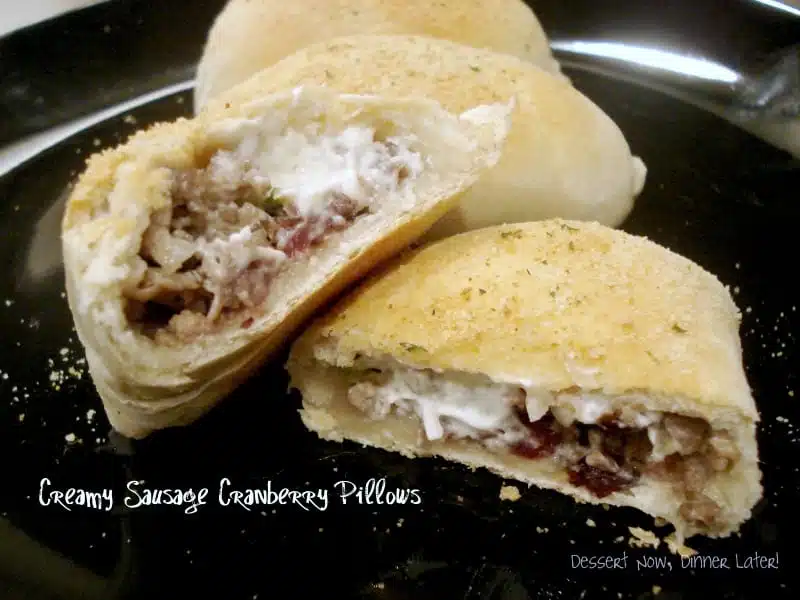 My mom makes these hamburger rollups that are really good. Part ground beef, part sausage, cheddar cheese, fluffy bread. I wanted to make something similar, like an empanada, but not fried, & not really ethnic at all.
Sausage & cranberry go really well together, & they seem to be in a lot of stuffing recipes, if you think back to Thanksgiving & anytime you searched for a stuffing recipe it would come up with a lot of variations with sausage & cranberries, so I combined those two flavors, made my favorite dough recipe, shaped them like empanadas, & added a little cream cheese to make them over the top delicious! I even sprinkled the tops with some bread crumbs to give it a more, stuffing-esque feel.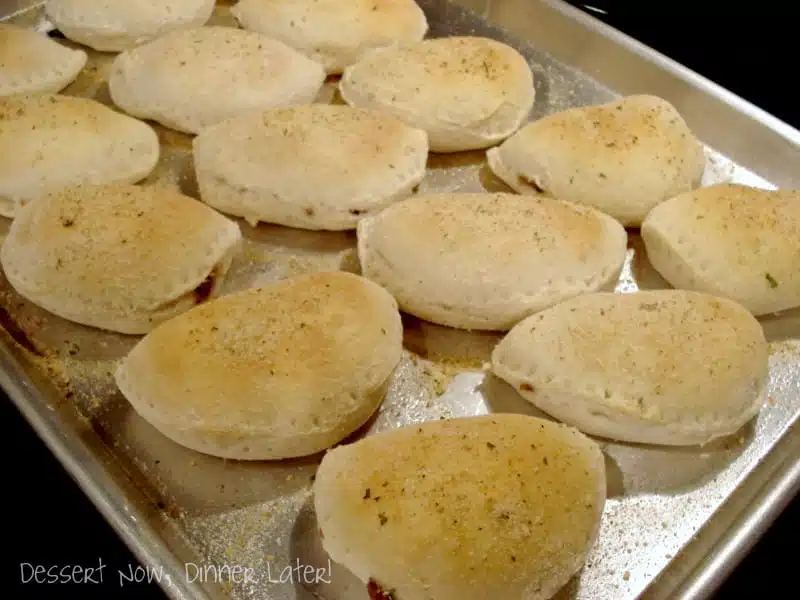 These were delicious as a meal for dinner, but you can make them smaller if you want an appetizer for a party or whatnot. Have fun with it!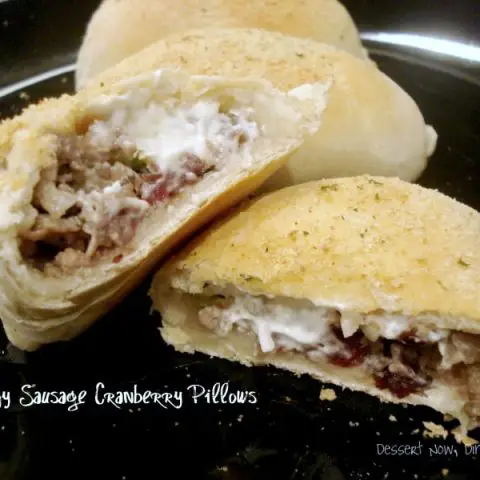 Creamy Sausage Cranberry Pillows
Ingredients
Dough:
1 1/2 cups very warm water
1 Tbsp yeast
2 Tbsp sugar
1/2 tsp salt
3 1/2 cups flour (more, if necessary)
Filling:
1/2 lb ground turkey
1/2 lb lean pork/turkey sausage
1/2 cup chopped white onions
1/2 cup Ocean Spray Original Craisins
1/2 tsp thyme
1/2 tsp salt
1/4 tsp pepper
1/4 cup green onions, chopped
8 oz (1 pkg) Neufchatel Cream Cheese
Italian Bread Crumbs
Instructions
For the dough: Mix water with yeast & sugar in a stand mixer. Let sit 5 minutes until bubbly. Add salt & flour. Knead on medium-low speed for 10 minutes; until dough is soft & elastic (add extra flour if necessary). Take dough out of bowl & round into a ball. Spray the bottom of the mixing bowl & return dough to bowl. Cover with a towel & let rise until double in size, about 30-60 minutes depending on the temperature of the room.
Take dough out of bowl, pat down & cut into 20 even pieces. Roll pieces into balls & place on a greased cookie sheet. Cover with a towel & let double in size; 30min or so. (This process is relaxing the dough so you can roll it nice & thin, but still have a fluffy bread.)
Once your rolls are almost doubled start your filling; In a large non-stick saute pan, brown sausage, drain any fat. Set aside. Brown ground turkey. Add sausage, white onion, & cranberries breaking up ingredients with your spoon or mix-n-chop. Add spices & cook until the onion is translucent. Throw in the green onions & toss up the mixture. Turn off heat & remove.
Preheat oven to 375*F. Set up your items to put together the pillows: greased cookie sheet, flour, rolling pin, cut-n-seal or fork, small bowl of water, cream cheese & knife, sausage mixture & ¼ cup measure.
Uncover rolls a few at a time, so as to not dry out the dough. Take roll, roll into an oval. Wet finger & trace the rim of half the dough for a seal. Spoon ¼ cup sausage mixture & top with a tsp or so slice of cream cheese. Fold top over & pinch edges with a fork or cut-n-seal. Place on greased cookie sheet & repeat until all pillows are finished, covering with a towel in between each pillow (don't want these your little sandwiches drying out!)
Once all the pillows are filled spray the tops with cooking spray & sprinkle with a little bit of Italian Bread Crumbs. Bake at 375*F for 15-20 minutes or until browned on the tops.