Pumpkin & Sausage Penne
This post may contain affiliate links, meaning that I may receive a commission at no cost to you if you use a link provided. All opinions shared are my own. You can review my full disclosure policy here.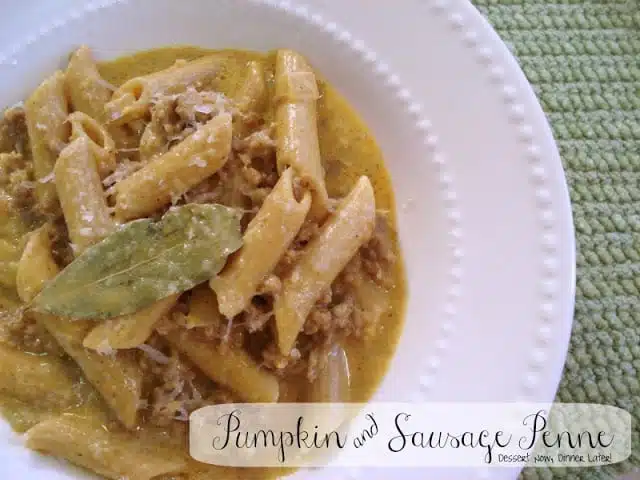 Happy Daylight Savings Time! Hope you all enjoyed that extra hour of sleep last night! Today's recipe is a comforting pasta dish that my SUPER picky 3 year old actually ate! I am still in shock!
I love my son like crazy, but I cringe at every meal because he just sticks his nose up to my food before he ever tastes it. Each dinner is a battle! I make him whatever he wants for breakfast & lunch, & I try telling him that, "Mommy is a professionally trained chef, & she will never give you something yucky" but that little booger never believes me. So when he took a big bite of the penne & didn't spit it out, it was a miracle! That must mean this dish is worth making, right?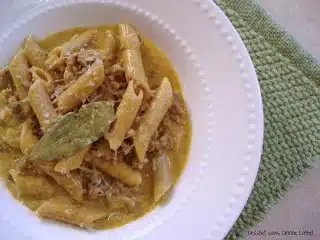 I loved how the sage & cinnamon complemented the pumpkin flavors of the dish. It was a great alternative to the regular spaghetti & tomato sauce. And anything with sausage has my name written all over it! If you have any canned pumpkin leftover from baking all those pumpkin desserts, give this savory dish a try. I think you will be as impressed as I was.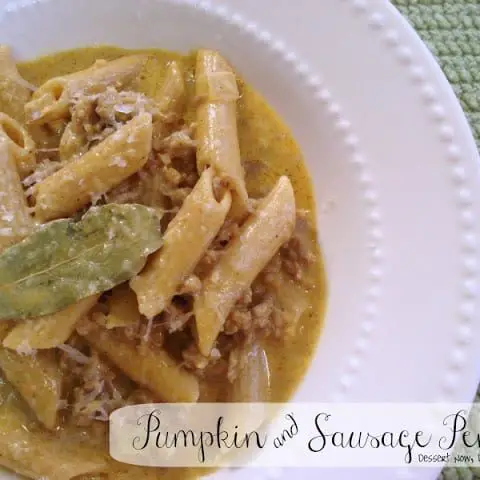 Pumpkin & Sausage Penne
Ingredients
2 cups uncooked penne pasta
2-3 Italian sausage links, casings removed
1/2 large onion, small diced
2 cloves garlic, minced
2 tsp olive oil
2/3 cup chicken broth (or white wine if you have it)
1 bay leaf
1 1/2 cup chicken broth
2/3 cup canned or fresh pumpkin puree
1 tsp dried sage
1/4 tsp each salt, pepper, & cinnamon
Dash ground nutmeg
1/2 cup heavy cream
1/4 cup shredded parmesan cheese
Instructions
Cook pasta according to package directions.
Meanwhile, in a large skillet, cook sausage over medium heat until no longer pink, breaking into crumbles. Remove with a slotted spoon; drain on paper towels. Discard all but 1 tsp. drippings.
Cook & stir onion & garlic in oil & reserved drippings over medium-high heat until tender. Add ⅔ cup of broth or white wine & bay leaf. Bring to a boil; cook until liquid is reduced by half.
Stir in 1½ cups broth, & add the pumpkin, sage, salt, pepper, cinnamon, & nutmeg; cook 1 minute longer. Add the cream & sausage; heat through. Remove bay leaf. Drain pasta & add to skillet. Toss to coat. Sprinkle with shredded parmesan cheese. (*If sauce seems thin, allow to rest for a few minutes. It will thicken the longer it sits.)
Recipe slightly altered from Taste of Home