Pumpkin Streusel Pudding Cookies
This post may contain affiliate links, meaning that I may receive a commission at no cost to you if you use a link provided. All opinions shared are my own. You can review my full disclosure policy here.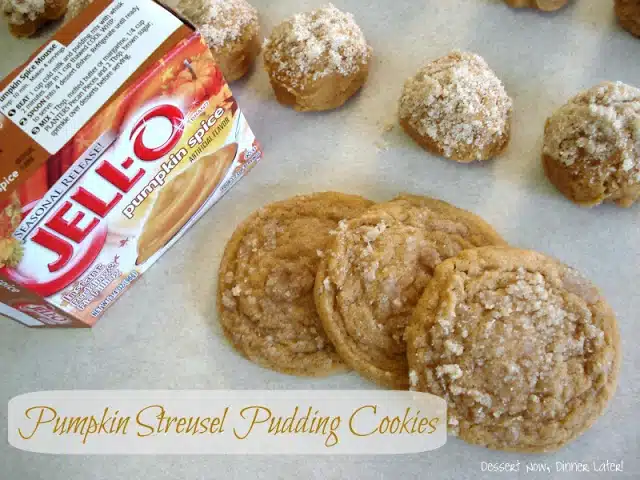 I guess I have a confession to make. I have never tried pudding cookies. Does that make me weird? I hadn't really even heard of them until I started following Nikki at Chef-In-Training like a year ago. I know I have pinned several of her versions, but this one really stood out to me & I wanted to try it immediately. I actually almost didn't post this recipe because I was slightly disappointed. The pictures were so beautiful & very enticing, but the flavors didn't scream spiced pumpkin cookies like I had hoped. Maybe put in some pumpkin pie spice to help boost the flavor.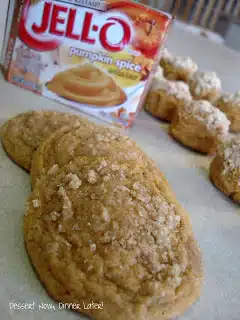 Nevertheless the cookies were still soft, chewy & sweet. They kind of taste like what I would imagine a pumpkin snickerdoodle would taste like & the pudding does make the cookie very soft & moist. I will most likely be making pudding cookies again in the future. As for these cookies…they are a fun twist for a fall treat that are quick to whip up.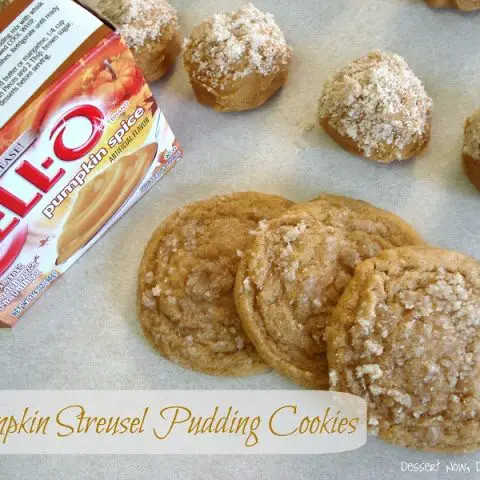 Pumpkin Streusel Pudding Cookies
Ingredients
Cookie:
3/4 cup butter, softened
3/4 cup brown sugar
1/4 cup sugar
1 (3.4oz) box pumpkin spice instant pudding mix (dry, do not prepare)
2 eggs
1 tsp vanilla
1 tsp baking soda
2 1/4 cups flour
1/2 tsp pumpkin pie spice
Streusel:
2 Tbsp butter, cold
2 Tbsp sugar
2 Tbsp brown sugar
2 Tbsp flour
1/4 tsp cinnamon
Instructions
Make streusel topping by combining sugars, flour & cinnamon. Cut butter into dry ingredients until small crumbs form. Set aside.
To make the cookies: cream butter, brown sugar, & sugar together in a stand mixer. Add dry pumpkin spice instant pudding mix & beat until well combined.
Add eggs & vanilla & mix well. Scrape bowl.
Add flour, baking soda, & pumpkin pie spice & beat until well combined.
Roll dough into 1" balls. Gently press some of the streusel topping onto the tops of the rolled dough balls. Place them on a greased/parchment lined baking sheet & bake at 350*F for 8-10 minutes.