Sassy Steak Chili
This post may contain affiliate links, meaning that I may receive a commission at no cost to you if you use a link provided. All opinions shared are my own. You can review my full disclosure policy here.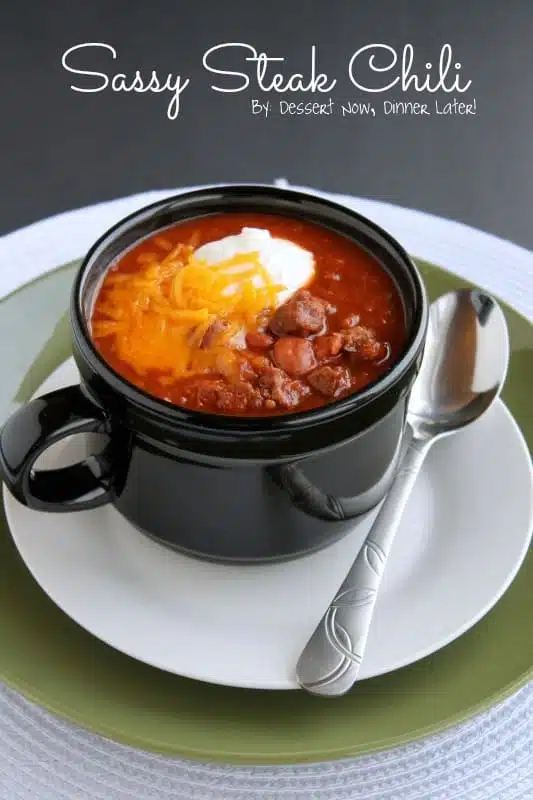 I first made this chili a couple years ago for a church chili cook-off. I probably went way overboard with excitement over a simple friendly food competition. I looked up a dozen or more recipes & found one that really stood out to me. I tweaked it to my likings & I am so pleased with it!
It's hearty with chunks of tender steak, smokey & full of heat, and warming with a hint of sweet. I ended up winning the award for "BEST Spicy Chili" in our church chili competition; winning a "Chili's" Gift Card for a whopping $10! But, you know what? I loved every minute of my little fame. I think the steak really sets this chili apart from the rest. Plus it's bold, spicy, mildly sweet & a little sassy!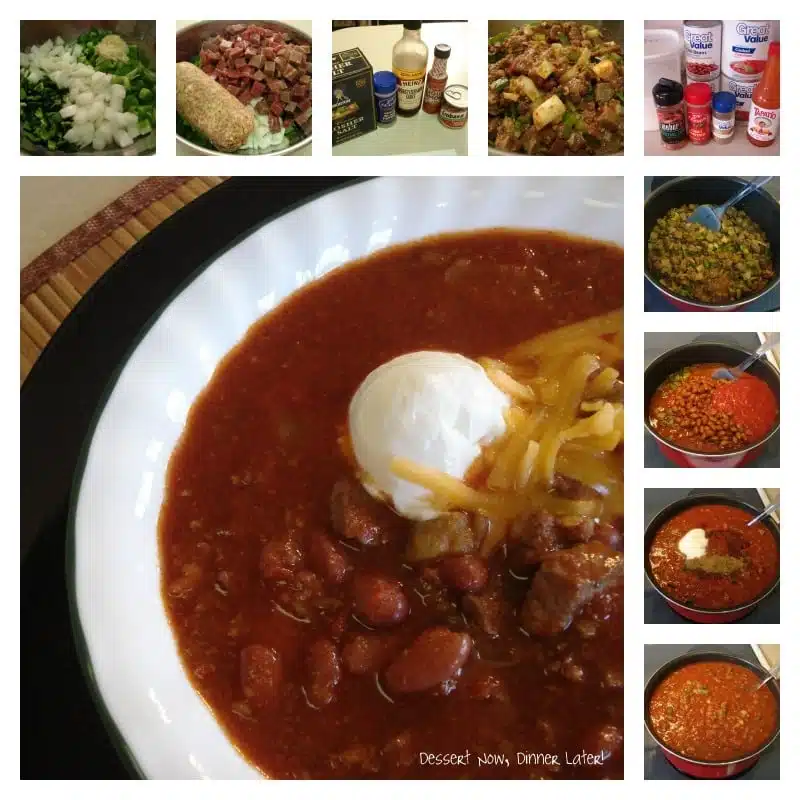 This recipe is time consuming, but it's worth the effort. I always get asked for the recipe when we feed our friends this meal, & you will want to share it with your friends because it makes a lot! That or freeze it for a later meal, which works well too. Also, this chili may or may not have put one of my friends into labor. All I know is they came over for my chili dinner one night & she had the baby by the next morning (on her due date!) Just sayin… this chili is amazing in more ways than one! Make this for your next tailgate or Halloween party. It feeds a crowd on the cheap!
*Update 10/30/13: This chili has just won it's 2nd Chili Cook-Off! BEST Spicy Chili award yet again! 2 for 2! This is chili is a winner in more ways than one. I only make it once a year, but I look forward to it every October. I have also updated the top & bottom photos in this post to hopefully make you excited to try it! 🙂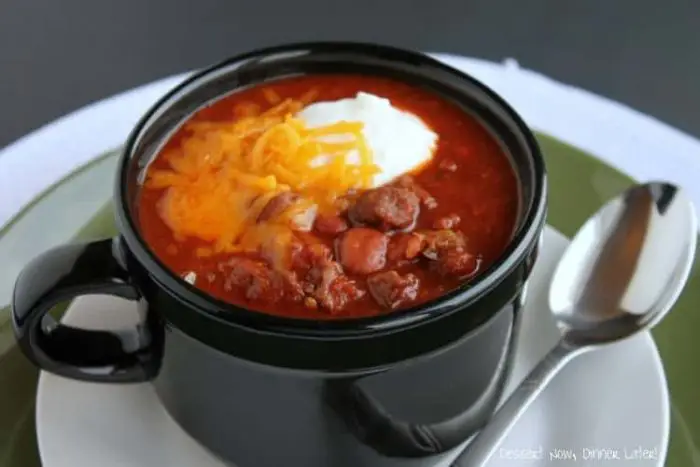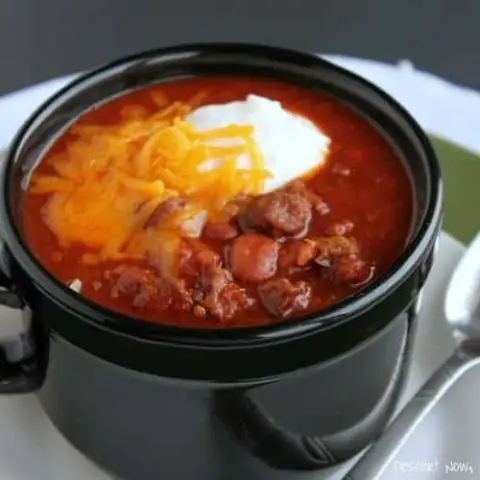 Sassy Steak Chili
Ingredients
1 large Green Bell Pepper, diced
1 large Poblano Pepper, diced
1 large Sweet Onion, diced
6 cloves Garlic, minced
2 lbs Top Round Steak, cut into 1/2-inch cubes
1 lb roll Jimmy Dean's HOT Sausage
1 Tbsp Kosher Salt
1/2 tsp Ground Black Pepper
5 Tbsp + Worcestershire Sauce
2 Tbsp + Hickory Flavored Liquid Smoke
2 Tbsp pureed Chipotle Peppers with Adobo Sauce (puree the whole 7oz can and use 2 Tbsp; freeze leftover puree*)
2 (15oz) cans Mild Chili Beans
1 (28oz) can Crushed Tomatoes
2 Tbsp + Chili Powder
5 dashes + Hot Sauce (Tapatio or Tobasco)
1 1/2 tsp + Ground Cumin
1/4 cup Granulated Sugar
Instructions
FIRST DAY: Dice the peppers and onion. Put diced vegetables in a LARGE, preferably stainless steel bowl, to prevent staining or flavoring the bowl. Add minced garlic.
Cut the steak into half-inch cubes. Add to bowl. Break up sausage into the bowl. Add kosher salt, black pepper, worcestershire, liquid smoke and chipotle puree. Rub the marinade through all meat and veggies. Make sure everything is moist and covered. I usually end up adding 1 to 2 Tbsp more combined worcestershire/liquid smoke.
Refrigerate overnight, if possible, but at least 4 hours.
SECOND DAY: After meat has marinated, give it a quick stir to absorb any juices that may have seeped out. In a large skillet, cook the meat in 3 batches. (If you cram the meat in one pot, it will take longer to cook and you'll end up steaming the meat.) Each batch will take 7 to 10 minutes on medium-high heat. As your meat browns, you'll notice liquid coming out of the meat and veggies. This is okay because that's where a lot of the flavor comes from. Don't boil it all away, but reduce it a little bit so you don't end up with soup instead of chili; then add meat and liquid straight into a large stock pot. Continue cooking in batches until all meat is browned.
Once all the browned meat is in the stock pot, add the the cans of chili beans and crushed tomatoes.
Season the chili. Start with 2 Tbsp chili powder, 5 dashes of hot sauce, 1½ tsp cumin, and ¼ cup granulated sugar. Taste and adjust seasonings, if needed.
Simmer, covered, for 2 to 4 hours. The longer the better. Stir every 30 to 60 minutes to keep from sticking to the bottom/burning. This long, slow cooking process really gives the meat a chance to become very tender, and all the flavors and spices marry beautifully. Serve with cheese, sour cream, breadsticks/cornbread/corn chips. Enjoy!
Notes
SLOW COOKER METHOD: Marinate the meat overnight, brown the meat in 3 batches, but put the meat in a slow cooker instead of a stock pot. Finish the steps as written. Cook on low for 6 to 10 hours. Stir occasionally.
*TIP: Puree the whole can of chipotle peppers in adobo sauce and freeze leftovers in an ice cube tray - 1 Tbsp of puree per cube. Once frozen, move cubes to a freezer safe plastic bag. Store up to 6 months. Try these recipes with the leftover chipotle puree.
Yield: Approximately 5 quarts of chili. (About 1 1/4 gallons)
Nutrition Information:
Yield: 16
Serving Size: 16 cups
Amount Per Serving:
Calories: 253
Total Fat: 9g
Saturated Fat: 3g
Trans Fat: 0g
Unsaturated Fat: 5g
Cholesterol: 54mg
Sodium: 609mg
Carbohydrates: 23g
Fiber: 2g
Sugar: 7g
Protein: 22g
This data was provided and calculated by Nutritionix, and is an estimation only.