Oreo Cheesecake Cake
This post may contain affiliate links, meaning that I may receive a commission at no cost to you if you use a link provided. All opinions shared are my own. You can review my full disclosure policy here.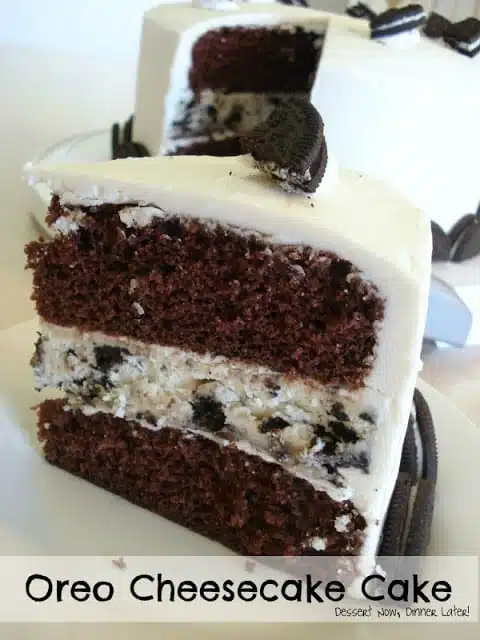 My husband isn't picky at all. So when I asked him what he wanted for his birthday cake, he really had no opinion. I looked at what ingredients we had laying around & found the recipe for this cake & asked him if it was okay that I make it for him. Of course he said, "Yes" because he is so easy going & loves anything I make for him. I have the BEST husband, ever!
Anyway, so just looking at the recipe you might be frightened because it is long & seems too hard, but it really isn't bad when it's broken up into the three parts: cheesecake, cake, frosting. This is a plan ahead cake; you can't really make it the day of & pull it off unless you are superwoman/man, but it's quite simple & the flavor makes all the details pay off in the end.


 I will also add that I had a tiny disaster when I made the chocolate cake. Apparently my cake pan is 8 1/2″ round, not 9″ round which is terribly odd. So I had a slight spill over & all that yummy fluffy, moist chocolate cake had issues coming out of the pan, so I had to resort to a boxed devil's food cake mix I had sitting in my cupboard, thank goodness, and some kind neighbors to take the broken cake off of my hands. You can tell by the pictures it's devil's food cake because it has a reddish hue.
Anyway, make the cake from scratch because it is awesome, just don't be lazy like me; use a parchment paper circle in the bottom & grease & flour the edges. You should never have problems when you do that. The parchment circle really makes a huge difference.
My last thoughts on this cake is that it is rich & sweet. Cut it into 16 pieces because one slice is plenty of cakey goodness. The frosting is yummy with the hint of white chocolate, but I made mine too stiff using 5 cups of powdered sugar & only 1/4 cup milk. Maybe make the frosting a little softer instead of stiff, so you can smooth it out better when you decorate. It sets up more because of the melted chocolate. Anyway, good luck! Have fun with it & enjoy!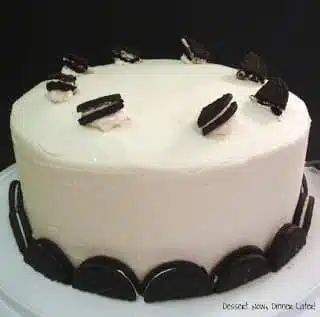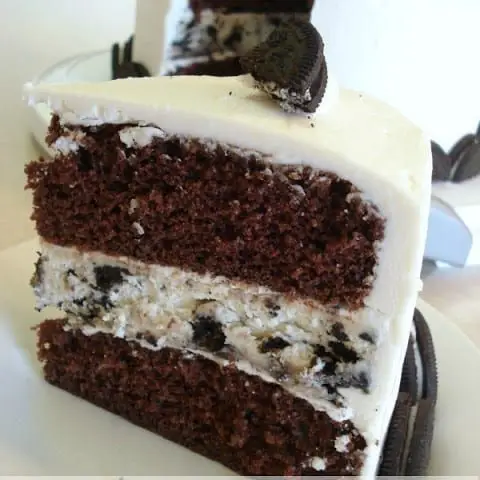 Oreo Cheesecake Cake
Ingredients
CHEESECAKE:
1 1/4 lbs (20 oz) cream cheese, room temperature
3/4 cups sugar
1/2 tablespoon vanilla extract
1/4 teaspoon coarse salt
2 large eggs
1/2 cup sour cream
6 coarsely crushed Oreo sandwich cookies
CAKE:
2 cups sugar
1 3/4 cups all-purpose flour
3/4 cup dutch processed cocoa powder
1 1/2 teaspoons baking powder
1 1/2 teaspoons baking soda
1 teaspoon salt
2 eggs
1 cup milk
1/2 cup vegetable oil
2 teaspoons vanilla extract
1 cup boiling water
FROSTING:
8 oz white chocolate chips
2 sticks butter, softened slightly to room temperature
2 tsp vanilla
Approx 4-6 cups powdered sugar
1/4 - 1/3 cup heavy cream or milk
DECORATION:
3-4 crushed Oreos
Extra Oreos for border, etc.
Instructions
CHEESECAKE: Preheat oven to 325*F. Set a kettle of water to boil. Using an electric mixer, beat cream cheese on medium until fluffy, scraping down side of bowl. Gradually add sugar, beating until fluffy. Beat in vanilla extract and salt. Beat in eggs, one at a time, scraping down side of bowl after each addition. Beat in sour cream. Fold in crushed Oreos.
Cut parchment paper in a circle and line the bottom of the cheesecake pan with the raised side of the bottom insert facing up. Wrap bottom half of pan in foil. Pour in filling; place in a roasting pan or rimmed baking sheet. Pour in boiling water to come halfway up side of spring-form pan or as high as you can in your rimmed baking sheet without spilling water in the oven.
Bake until just set in center, about 45 minutes. Turn oven OFF. Let rest in CLOSED oven for 2 hours. Run a paring knife around edge. Remove outer ring of cheesecake pan, but leave metal bottom. Wrap in plastic wrap and FREEZE OVERNIGHT.
CAKE: Heat oven to 350*F. Grease and flour the edges of two 9-inch round pans & cut a parchment circle to fit the bottom. I also will add a quick squirt of pan spray in the bottom & then add the parchment circle so it stays in place when you pour in the filling. (I HIGHLY suggest the parchment & flouring method to help remove the cake without any sticking.)
Stir together sugar, flour, cocoa, baking powder, baking soda and salt in large bowl. Add eggs, milk, oil and vanilla; beat on medium speed of electric mixer 2 minutes. Stir in boiling water (batter will be thin). Pour batter into prepared pans.
Bake 30 to 35 minutes or until wooden pick inserted in center comes out clean. Cool 10 minutes; remove from pans to wire racks. Cool completely. *OPTIONAL: Wrap cakes in plastic wrap & FREEZE OVERNIGHT with cheesecake. You can leave the parchment circle on if desired, & pull it off when it's frozen. Having frozen cake really helps to not need a crumb coat when you frost the cake, & it still thaws quickly.
FROSTING: Place white chocolate in double boiler over pot of simmering water just until it begins to melt. Stir to fully melted, remove from heat and set aside to cool slightly.
Meanwhile cream butter. Once chocolate has cooled, beat in with butter. Continue to mix at low to medium speed while adding vanilla. Gradually add in cream/milk and powdered sugar, alternating until frosting reaches desired consistency.
ASSEMBLY: Place one layer of cake on cake stand. If desired, frost top with a thin layer of frosting, and a sprinkle of crushed Oreos.
Remove cheesecake from freezer, unwrap, and remove metal bottom of the pan, then peel off parchment paper. Place cheesecake layer on top of the cake. If the cheesecake is wider than the cake, and it is necessary to to trim it, wait approximately 5-10 minutes for the cheesecake to soften, then trim it with a knife (or I used kitchen shears & cut off the overhang.)
Frost top of cheesecake with a thin layer of frosting, and a sprinkle of crushed Oreos. Place top layer of cake on top of the cheesecake, and coat entire cake with a layer frosting to act as the crumb coat. Be careful not to get any crumbs in the bowl of frosting!
Refrigerate approximately 30 minutes, then frost with as much of the remaining frosting as necessary. Top with mini Oreos, crushed Oreos, or any decoration of your choosing. Refrigerate until ready to serve.
Recipe from Erin's Food Files & method slightly edited.