Creamy White Chicken Chili
This post may contain affiliate links, meaning that I may receive a commission at no cost to you if you use a link provided. All opinions shared are my own. You can review my full disclosure policy here.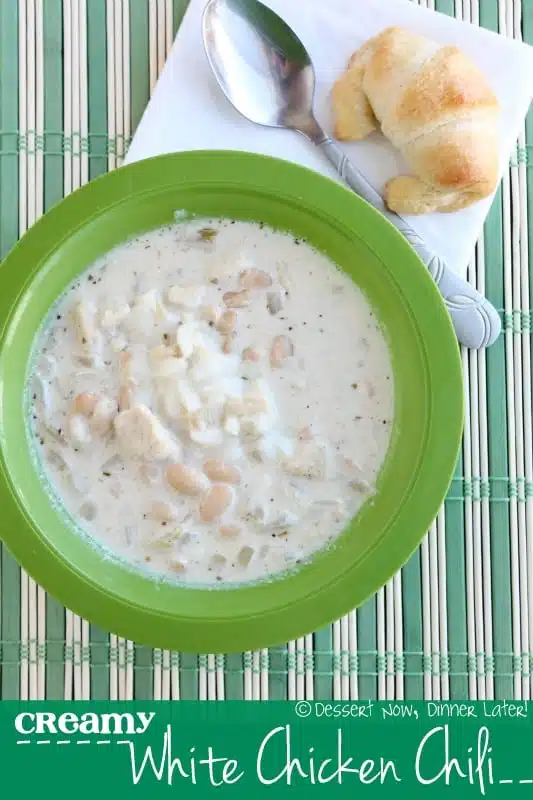 I first tried this recipe back in 2010 at a chili cook-off we had at church. It was AWESOME! I had never tried a white chili before & I love creamy white sauces/soups, so this was a real winner for me. There were two gals that brought a white chicken chili to that cook-off & so I asked both of them for their recipes & ironically enough, they were the SAME exact recipe! Haha!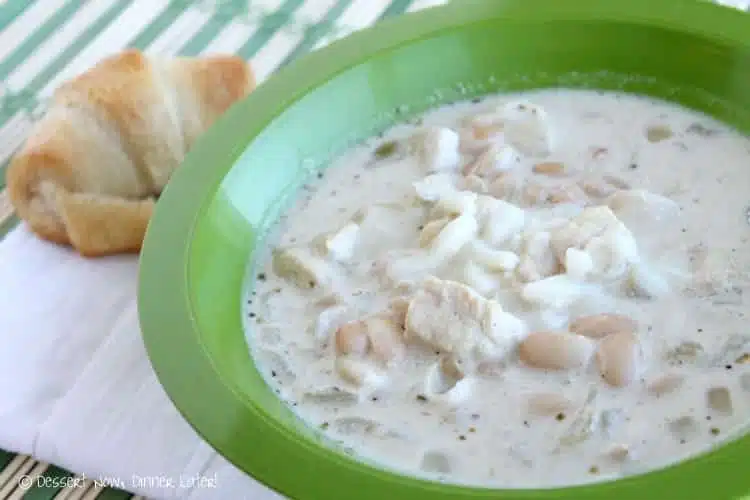 I have been searching for the original owner of the recipe & have come up blank. Every white chicken chili you search is basically this recipe, so I decided to source Taste of Home b/c they had a nice picture & a printable version if you want to click on the link I have. The way I have it typed is basically the same, but I use less chicken, & tried to lighten up the calories a tad using light sour cream, but kept the full heavy cream which makes this recipe 259 calories per cup.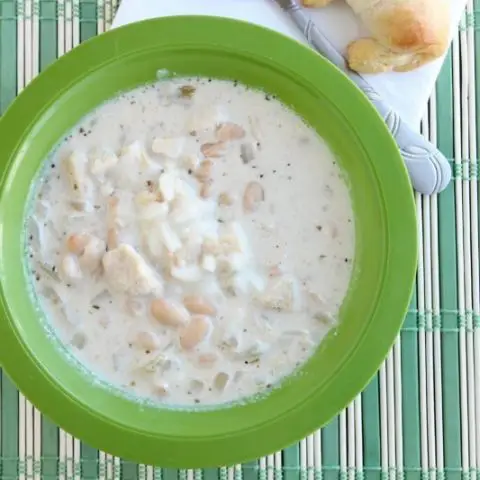 Creamy White Chicken Chili
Ingredients
12 oz (2 to 3) boneless skinless chicken breasts, cut into 1/2" cubes
1 medium white onion, chopped
1 1/2 tsp garlic powder
1 Tbsp canola oil
2 (15.5oz) cans great northern beans, rinsed & drained
1 (14.5oz) can low sodium chicken broth
2 (4oz) cans diced green chiles
1 tsp salt
1 tsp ground cumin
1 tsp dried oregano
1/2 tsp fresh ground black pepper
1/4 tsp cayenne (red pepper)
1 cup (8oz) light sour cream
1/2 cup heavy whipping cream (or half & half)
Instructions
In a large saucepan, saute the chicken, onion & garlic powder in oil until chicken is no longer pink.
Add beans, broth, chiles & seasonings. Bring to a boil. Reduce heat; simmer, uncovered for 30 minutes.
Remove from heat; stir in sour cream & cream.
*Substitute 1 can of fat free evaporated milk for the sour cream & heavy cream. Tastes just as good with less calories & fat.