The BEST Sweet Corn Bread Recipe + Video
This post may contain affiliate links, meaning that I may receive a commission at no cost to you if you use a link provided. All opinions shared are my own. You can review my full disclosure policy here.
This is the BEST sweet corn bread recipe! It's sweet, moist, buttery, and light thanks to an additional technique. It will quickly become your favorite sweet corn bread recipe!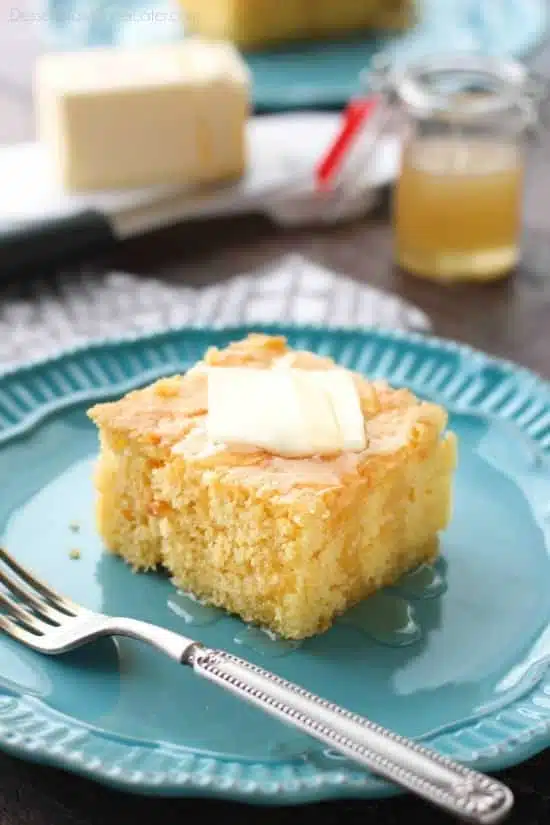 I'm so happy to finally be able to share this sweet corn bread recipe with you all! We've made it a few times, but it always gets gobbled up before I have time to photograph it, so I spent a day making a video of it, photographing it, editing everything, and here it is! This is THE ONLY sweet corn bread recipe you need from now on. I got it from my friend Sarah over at High Heels & Grills. If you want more great recipes, be sure to check her out!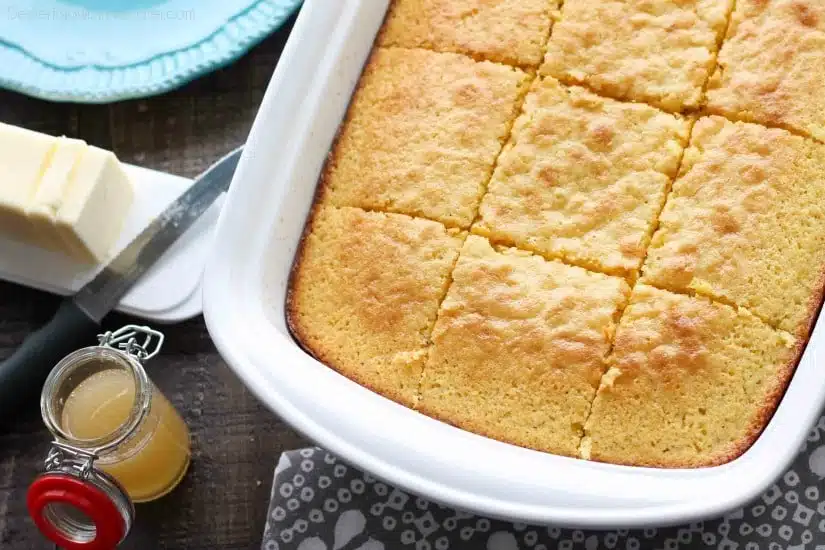 If you're like me, you've tried several corn bread recipes. They all seem fine. You've pretty much given up on having a light, moist corn bread recipe, because "maybe corn bread is supposed to be dense and dry." That's what you have butter and honey for, right? WRONG!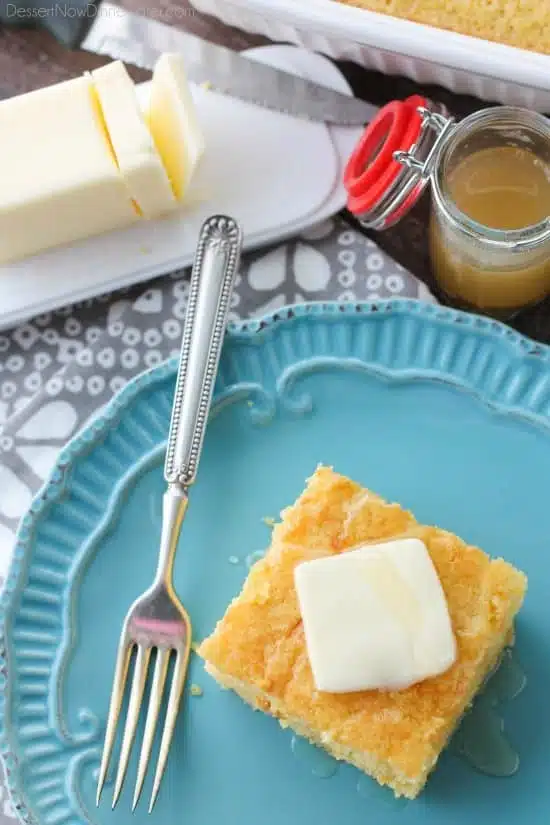 Butter and honey are mere accessories to this sweet corn bread. You really don't even need it. If it weren't for habit (and nice pictures) I wouldn't even have put any on there.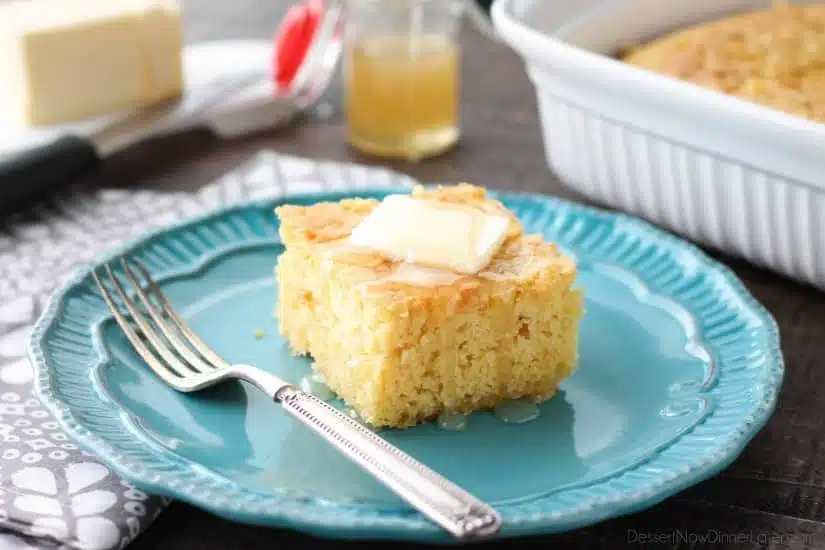 The trick to having a light and moist corn bread is folding in whipped egg whites for the light, fluffy texture, and using lots of butter and egg yolks for moistness. Of course you need a good amount of sugar for a sweet corn bread like this too.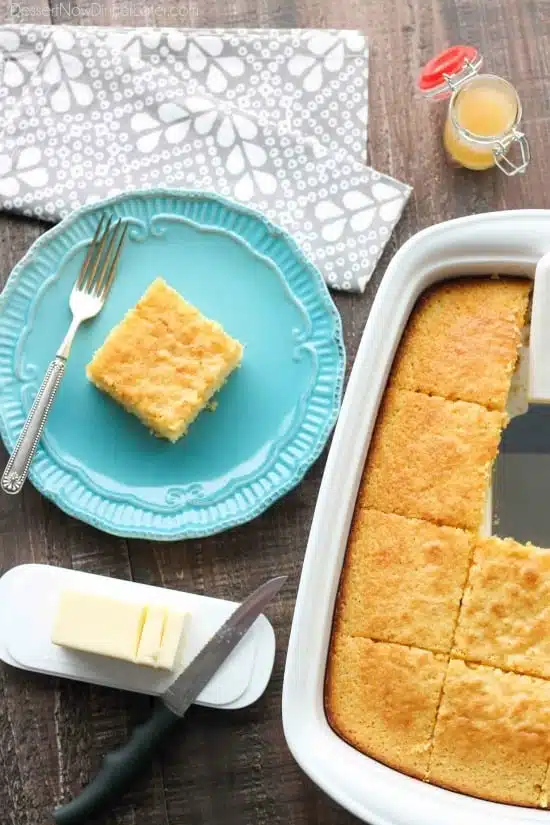 I just can't say enough good things! I hope you get the chance to try this sweet corn bread recipe. Let me know if you do! What's your favorite thing to eat with corn bread?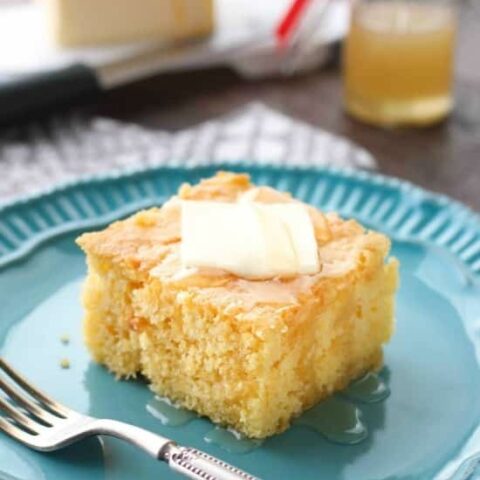 The BEST Sweet Corn Bread Recipe
Prep Time: 15 minutes
Cook Time: 30 minutes
Total Time: 45 minutes
Yield: 12 to 24 squares
Ingredients
1 cup cornmeal
2 cups all-purpose flour (Stir and scoop the flour into a measuring cup, then level it with a knife.)
1 1/2 cups granulated sugar (1 cup works great too)
1 Tbsp baking powder
1 tsp salt
4 large/XL eggs, yolks and whites separated
1 cup milk (whole milk preferred)
1 tsp vanilla extract
3/4 cup butter, melted
Instructions
Preheat oven to 350 degrees Fahrenheit.
In a large bowl whisk together the cornmeal, flour, sugar, baking powder and salt. Set aside.
In another large bowl, whisk together the egg YOLKS, milk, vanilla, and butter.
Add the dry ingredients to the wet ingredients and fold together until just incorporated.
Whip egg WHITES in a stand mixer until stiff peaks form. Gently fold into batter.
Pour batter into a greased 9x13-inch baking dish. Bake for 30-35 minutes, or until a toothpick comes out clean when inserted into the center of the cornbread. DO NOT OVER-BAKE! Best when served warm. Store in an airtight container up to 5 days.
Notes
Recipe originally from High Heels & Grills
Can make in an 18x13-inch half sheet pan. Bake at 350˚F for 20-22 minutes.
Can make with 1/2 cup butter and 1/4 cup canola oil for even more moisture.
Nutrition Information:
Yield: 12
Serving Size: 1 piece
Amount Per Serving:
Calories: 351
Total Fat: 14g
Saturated Fat: 8g
Trans Fat: 0g
Unsaturated Fat: 5g
Cholesterol: 110mg
Sodium: 445mg
Carbohydrates: 50g
Fiber: 1g
Sugar: 26g
Protein: 6g
This data was provided and calculated by Nutritionix, and is an estimation only.