Gingerbread Puppy Chow
This post may contain affiliate links, meaning that I may receive a commission at no cost to you if you use a link provided. All opinions shared are my own. You can review my full disclosure policy here.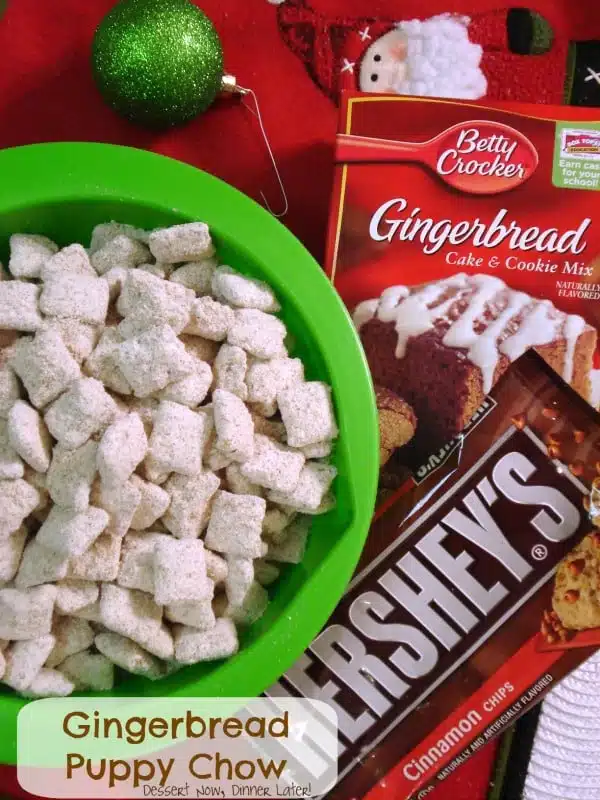 Welcome to the first day of Dessert Now, Dinner Later!'s 12 days of Christmas Sweets! I am hoping today's recipe has you coming back for all the other great recipes I have to share!
I love this time of year! Growing up I always helped my mom in the kitchen baking the pies & other desserts we would make for Thanksgiving, Christmas, or for our neighbors & friends.
That initial time in the kitchen with my mom is what drove me to pursue my degree in Culinary Arts. My favorite time of day is being in the kitchen cooking or baking our family's favorites, or trying new recipes. It's like an escape, especially if I bake late at night when the kids are in bed, as I rock out to Christmas tunes on Pandora. 🙂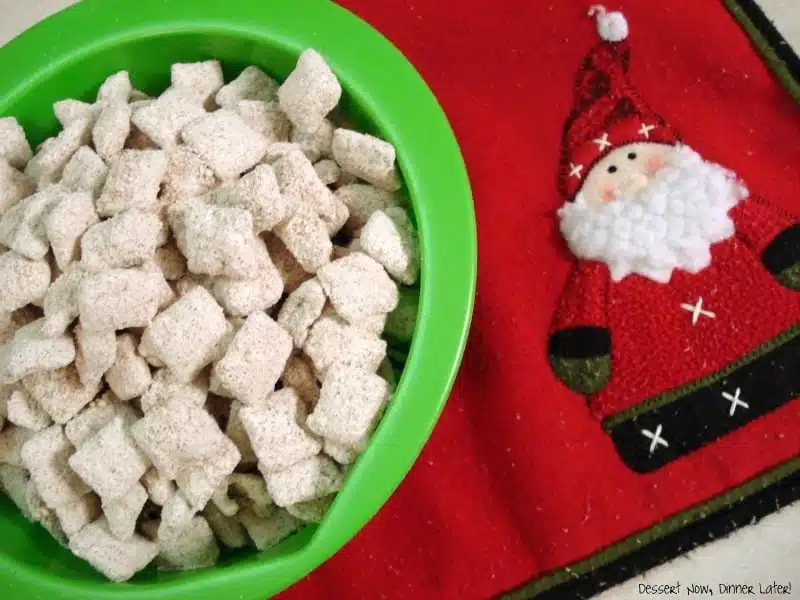 Today's recipe is always a favorite at parties. Puppy chow is so versatile that really, anything goes. My husband took this to work & one of his co-workers stuck his nose up because he only eats the peanut butter/chocolate puppy chow. Well, he had one bite, & said, "Never mind, I'll take more of that!" Haha.
This puppy chow is full of spices from the cinnamon chips to the ginger & cloves from the cake mix. I am ready to make a second batch as soon as I buy more cinnamon chips!
Enjoy today's recipe & don't forget to come back tomorrow for more great holiday treats to make!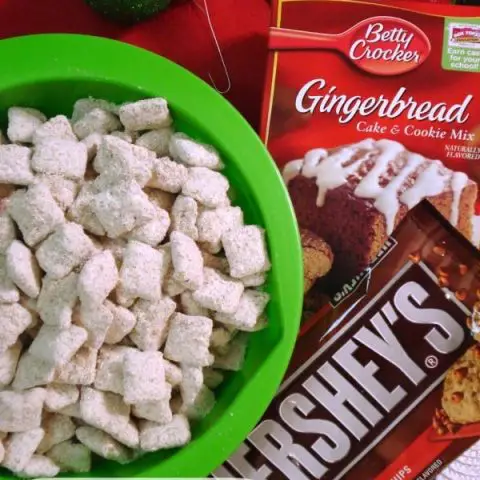 Gingerbread Puppy Chow
Ingredients
10 oz bag Cinnamon Chips (I use the Hershey's brand found at Walmart. If you can't find cinnamon chips, white chocolate chips taste great too.)
1 Tbsp shortening
5 cups Chex cereal (I prefer Rice Chex)
1 1/2 cups Gingerbread Cake Mix, cooked* (I used Betty Crocker brand, it's exactly half of the mix in the box, so you can double the recipe if you like.)
1/4 cup powdered sugar
Instructions
*Pre-cook the cake mix. Simply place the dry cake mix on a parchment lined cookie sheet and bake for five minutes at 350˚F. Cool completely. (Lift and fold the parchment paper to easily pour the cake mix.)
Melt cinnamon chips with shortening in a bowl in the microwave on HALF POWER for 60 seconds. Stir. Repeat until melted. (Mine took 2 minutes.)
Put Chex cereal in a large bowl. Pour melted cinnamon chips over the cereal. Fold gently with a spatula until evenly distributed.
Combine Gingerbread Cake Mix & powdered sugar in a gallon size ziplock bag. Add cinnamon coated cereal to the bag. Zip shut & shake until everything is covered.
Pour contents into a bowl & serve.
Notes
NOTE: Flour has naturally occurring bacteria in it and shouldn't be eaten raw. Since cake mix is primarily flour, cook it first for food safety. Do not skip this!