Creme De Menthe Brownie Sandwiches
This post may contain affiliate links, meaning that I may receive a commission at no cost to you if you use a link provided. All opinions shared are my own. You can review my full disclosure policy here.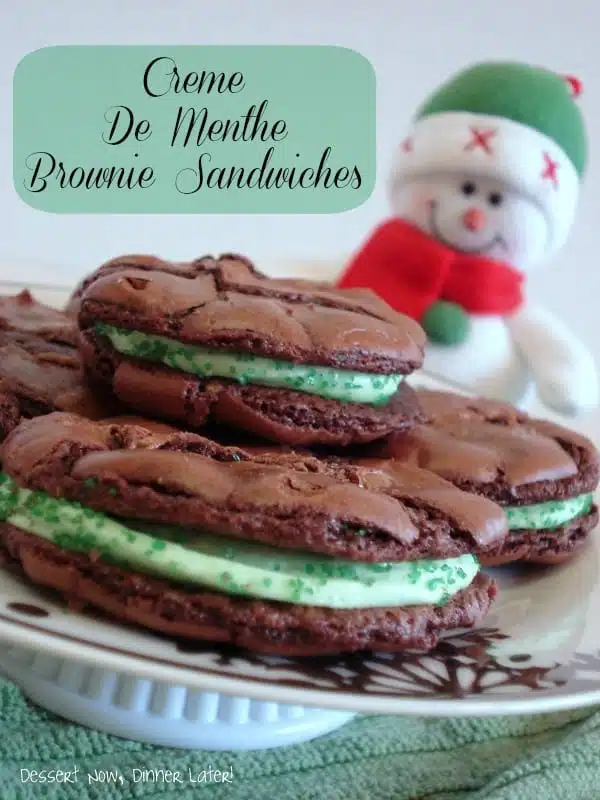 I made these for a holiday cookie exchange party that we hosted with some of our great friends & they were very well received. According to my husband, as soon as he mentioned that those were the ones I made, the other husbands ran upstairs to get some.
A lot of the wives had told me that they make a lot of my recipes & their families are enjoying my food blog. Even my husband said the other husbands were giving me "props" for the blog. It's good to know I have such great fans, even if a lot of them are people I know personally. I always love to hear feedback & which recipes they like & make frequently in their homes.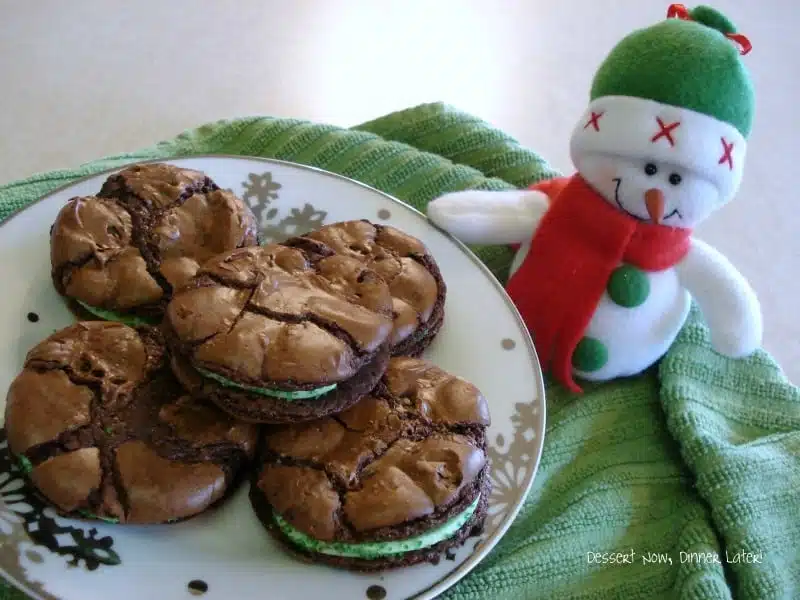 Anyway, back to this cookie. I told you all that I am on a mint chocolate kick & this is another recipe to add to the list if you are a mint fan like me. I loved the texture of the brownie cookies: soft, chewy, & fudgy. It is as if you are eating a mint brownie, but in cookie form. Perfect for holiday parties & neighbor gifts. Happy Holidays!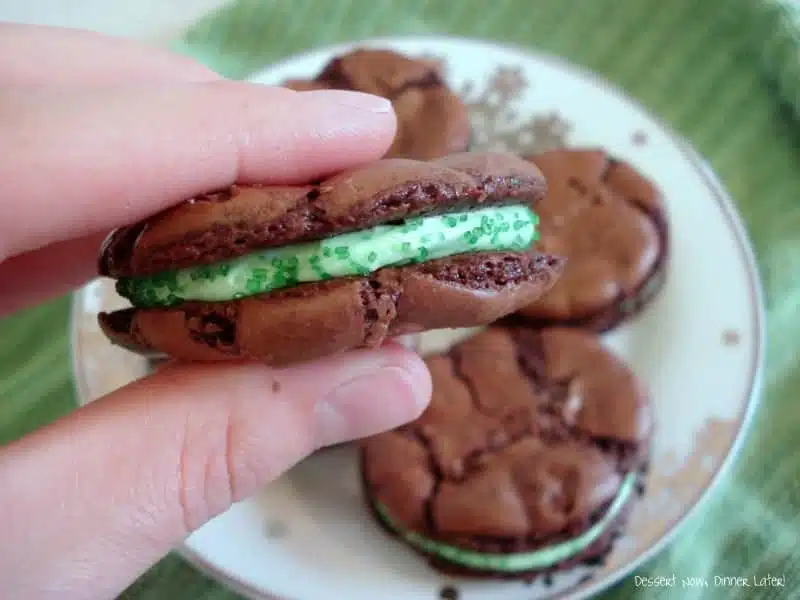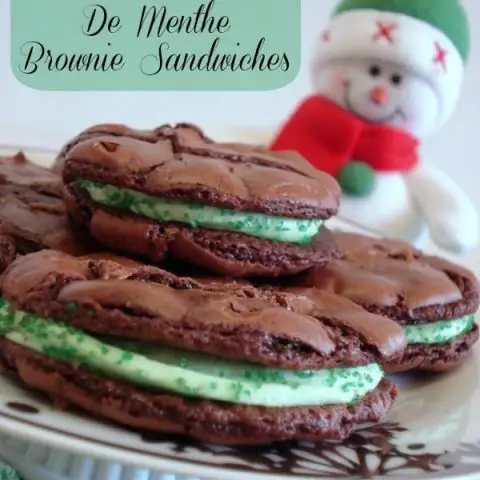 Creme De Menthe Brownie Sandwiches
Ingredients
Brownie Cookie:
12 oz (1 bag) semi-sweet chocolate chips
4 Tbsp butter
2 eggs
2/3 cup sugar
1 tsp vanilla extract
1/4 cup all-purpose flour, sifted
1/4 tsp baking powder, sifted
Creme De Menthe Buttercream:
1/2 cup butter, room temperature
1 cup powdered sugar
1 tsp + pure creme de menthe extract
green food coloring, optional
green sugar crystals, optional
Instructions
In a small saucepan over low heat, melt chocolate & butter until smooth. The mixture will be THICK, but smooth. Set aside.
Place eggs, sugar & vanilla in the bowl of a stand mixer fitted with a paddle attachment & beat for 15 minutes or until pale & creamy.
Add flour, baking powder & chocolate mixture. Mix to combine. Scraping the bowl & paddle as necessary.
Scoop 2 tablespoonfuls for each cookie (I use a #50 scoop) onto a parchment lined baking sheet.
Bake at 350*F for 10-12 minutes or until puffed & cracked. Allow to cool completely on trays.
While cookies cool, in a large bowl with a hand mixer, beat butter, powdered sugar & creme de menthe extract. You can add more mint flavoring until desired mint-iness, but don't add too much that it tastes like eating toothpaste. Add green food coloring & mix to desired color.
Put the inside of a coupler into a pastry bag & leave the band off. Fill with mint icing & swirl onto the underside of one brownie cookie. Top with a second brownie cookie, bottom side down on top of the icing. Twist & push with a little bit of pressure to make sure filling spreads to the edges without breaking the cookie. Sprinkle edges of icing with green sugar crystals. Repeat with remaining cookies.