French Onion Pasta
This post may contain affiliate links, meaning that I may receive a commission at no cost to you if you use a link provided. All opinions shared are my own. You can review my full disclosure policy here.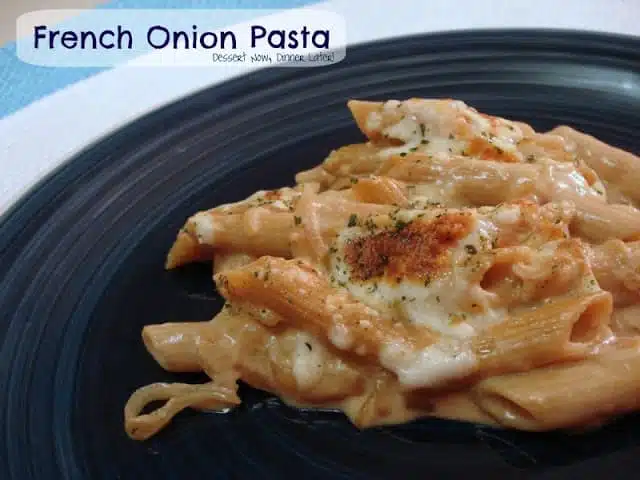 Anything with caramelized onions has my name written all over it! This recipe is absolutely amazing! So full of flavor & probably one of my new favorites.
I saw the recipe on Pinterest. I knew I wanted to change it up a tad because it just didn't seem quite "onion-y" enough to be like a french onion soup in pasta form, so I adjusted it to my likings.
This doesn't make a lot, just enough for 4 people, so if you want to use a whole 16oz box of penne, double the sauce & use a 9×13″ baking dish, but put this on your make soon list because it is that good!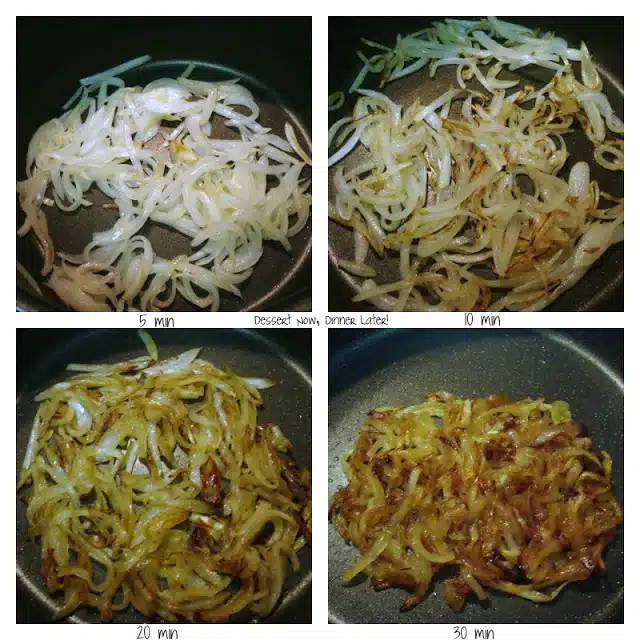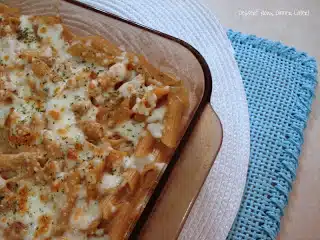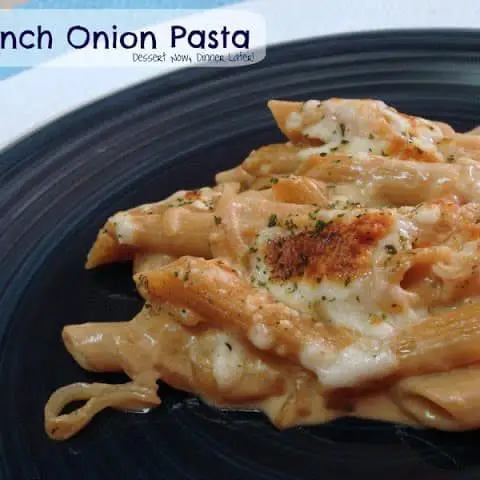 French Onion Pasta
Ingredients
1 Tbsp extra virgin olive oil
1 large sweet onion, julienned
1/2 tsp kosher salt
*1/2 tsp sugar, optional
2 cloves garlic, minced
2 Tbsp flour
1 packet onion soup mix
2 cups chicken stock or beef stock
1 cup half & half
1/2 cup shredded mozzarella cheese
2 cups whole wheat penne pasta
Instructions
In a large non-stick pot or skillet, heat oil & add onion. Cook on medium-low heat for 10 minutes. Add kosher salt & sugar if desired, stir & continue cooking, uncovered, for another 20 minutes (30 minutes total) stirring every five to ten minutes. You will want to caramelize the onions LOW & SLOW. If they look dry at all, add a tablespoon or two of water occasionally. If the onions start to stick to your pan, add a little more olive oil.
After onions have reached a nice golden brown, add the minced garlic & stir until fragrant, about 30 seconds. Add flour & onion soup mix to the onion mixture.
Start boiling water in a separate pot for the noodles. To the pot of onions: whisk in chicken stock slowly to prevent the flour from clumping. Keep heat on medium & wait for the mixture to bubble.
Add half & half, & let simmer while noodles cook according to directions on the package. (Mine said 10-12 minutes.) Don't let the mixture reach a rolling boil, just a light simmer. You don't want to evaporate all that yummy sauce you are making.
Once the noodles are cooked & drained, add them to the sauce mixture. The sauce should be thick enough to coat a spoon. Stir the noodles in the sauce & place in a 7x11" baking dish.
Sprinkle cheese over the top of the noodles. Heat cheese under the broiler in your oven until browned & bubbling. Serve & enjoy!