Mexican Manicotti
This post may contain affiliate links, meaning that I may receive a commission at no cost to you if you use a link provided. All opinions shared are my own. You can review my full disclosure policy here.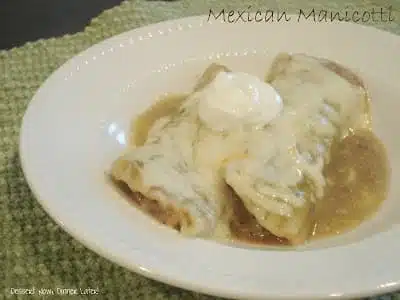 I am a big fan of intermixing different cultures' foods! I really do think that Mexican & Italian foods can be paired quite well with each other. The last dish I tried, Mexican Stuffed Shells was absolutely amazing, so I knew I wanted to try some more Mexican-Italian combinations.
This one was fairly simple, but flavorful. My husband loved it, & wants me to make it again for sure. I will be keeping this recipe handy.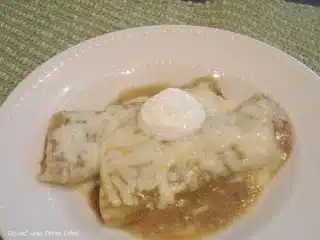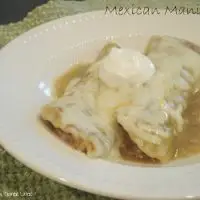 Mexican Manicotti
Ingredients
1 lb ground beef
1 can refried beans
2 Tbsp taco seasoning
1 1/2 cups shredded cheese, divided (Mexican blend or whatever you have, I actually used a mozzarella blend)
1 pkg manicotti shells (about 14 in the package)
1-15 oz bottle green taco sauce (I used La Victoria)
1 cup warm water
Sour Cream
Instructions
Cook ground beef until no longer pink, breaking up into fine pieces with your spoon. Drain fat & put in a bowl.
Add refried beans, taco seasoning, & ½ cup cheese to the cooked meat. Combine well with a spoon/spatula.
Fill dry manicotti shells with filling. You may use a zip-top baggie & cut the corner to squeeze the filling into the shells. I actually just used a spoon & would shove the filling deep inside with the handle of the spoon. There is a lot of filling, so don't be shy. Fill them up well.
Combine the green taco sauce with the warm water & pour a layer on the bottom of a large 13x9" rectangular glass baking dish. Place the filled manicotti shells over the layer of sauce. Pour remaining sauce on top of shells. Sprinkle with ½ cup cheese.
Bake at 350*F for 30 minutes. Sprinkle last ½ cup cheese on top & bake 10 more minutes until sauce is bubbly, cheese is melted, & everything is heated through.